Make this raspberry syrup, coulis, or sauce with just 2 ingredients and in just minutes, perfect for using in drinks and vegan chocolate cake, or drizzling over nice cream, pancakes, plant-based cheesecake, and more!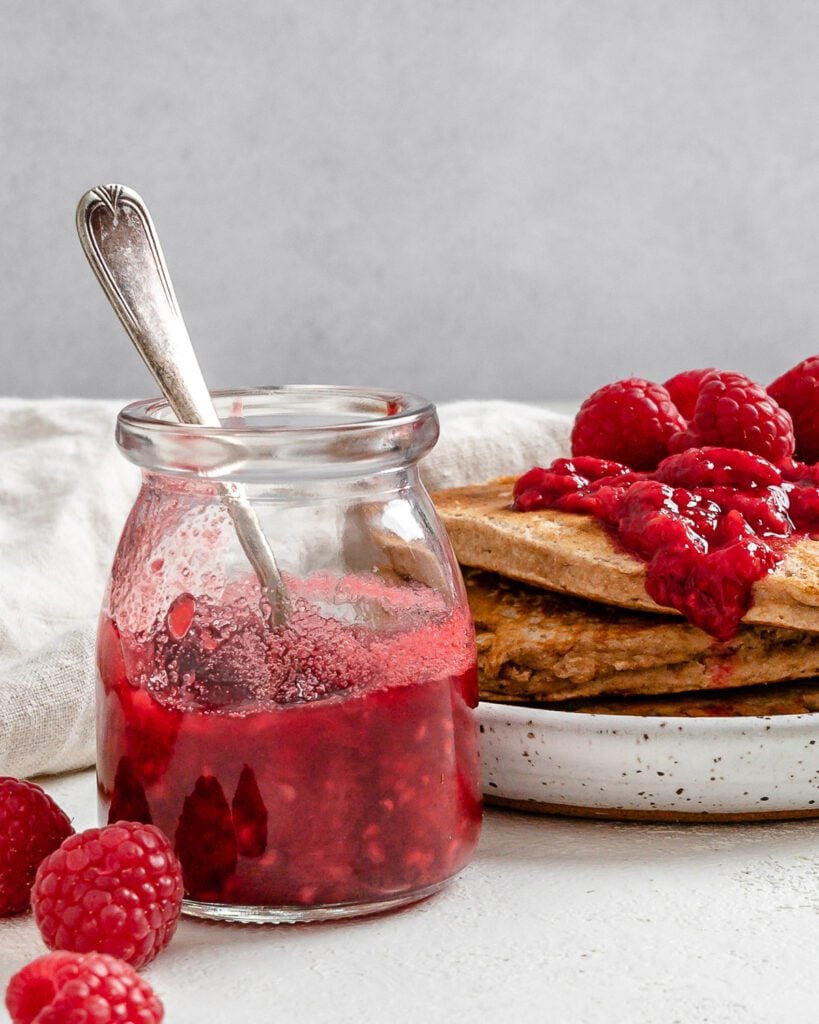 Versatile 2-Ingredient Raspberry Syrup, Coulis, or Sauce
Whether you want a quick sauce to throw over some pancakes, a spread for cake or vegan cheesecake, a dip for jalapeno poppers, or a syrup to add to lemonade, this quick and versatile 2-ingredient raspberry dessert sauce does it all. With a combination of fresh and frozen raspberries with maple syrup or the sugar of your choice, you can prepare a chunky or smooth raspberry sauce, pureed raspberry coulis, or seedless raspberry simple syrup!
While traditional raspberry syrup, sauce, and coulis are made with granulated sugar, I've used unrefined maple syrup for my version. More so, you can adjust the amount of sweetener used to taste or even make it sugar-free. I've also included several flavor variations. Plus, by using fresh or frozen raspberries, you can enjoy the homemade raspberry sauce year-round.
Best of all, no matter which you make, they all start with the same 2-ingredient base, a saucepan, and a practically effortless method. You'll be spreading, mixing, and drizzling the homemade raspberry syrup/sauce over everything in no time at all!
Raspberry simple syrup vs. raspberry sauce vs. raspberry coulis?
All three are raspberry recipes made with a base of just 2-3 ingredients, with subtle method tweaks.
For example, traditional raspberry simple syrup combines a 1:1:2 ratio of sugar, water, and raspberries simmered for 10-15 minutes, then sieves that through a sieve to produce a fairly clear raspberry syrup for drinks.
In comparison, raspberry coulis blends the simmered berry mixture into a raspberry puree, then strains it.
Lastly, a raspberry sauce (or raspberry compote/ raspberry syrup) simmers the berries and sweetener until they're just breaking down and then leaves the fruit as is or mashes it to your desired consistency, then serves as is, with no straining.
Within this post, I'll take you through how to make all the above with just 2 base ingredients in around 10 minutes!
The Ingredients
All you need to make this easy raspberry sauce recipe are two ingredients:
Raspberries: Use fresh, ripe, and in-season raspberries, when possible. However, frozen raspberries also work.
Sweetener: Traditional raspberry syrup uses granulated white sugar. However, I use maple syrup. You could also make a sugar-free raspberry syrup with erythritol, stevia, or another sugar-free sweetener. If you decide to use granulated white sugar, use organic sugar to ensure that it's vegan.
You may also need water depending on the consistency you'd like for the raspberry sauce, especially when making a simple raspberry syrup.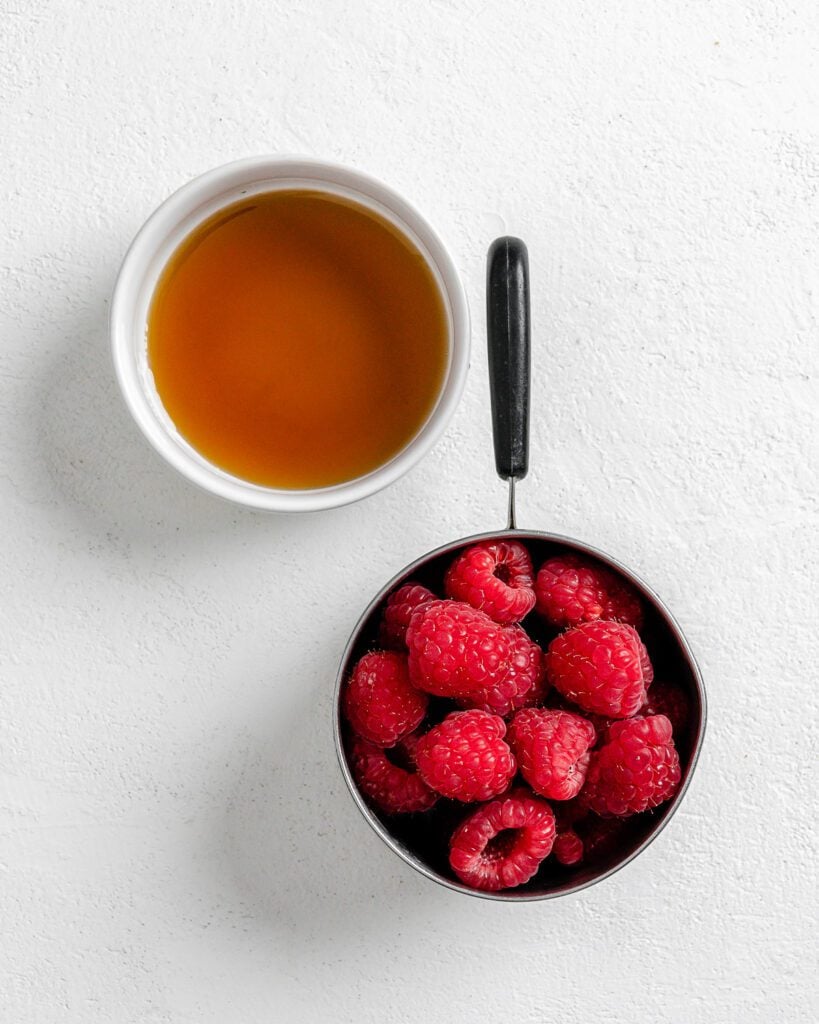 What can I add?
There are several simple ways to add more flavor to the raspberry sauce recipe.
Citrus: A splash of lemon juice, lime juice, or orange juice would work well to balance and brighten this simple raspberry syrup. Add even more zing with citrus zest.
Vanilla: Add a splash of pure vanilla extract.
Mint: Add a few mint leaves to the pan while the syrup heats. Remove before serving.
Other herbs: Basil or rosemary also pair well with raspberry.
Rosewater: Add a splash of rosewater to infuse the simple raspberry syrup/sauce with a delicate floral flavor.
Spice: Make a spicy raspberry habanero sauce (or use a jalapeño) by simmering the pepper (seeds removed) with the berries, then removing it before serving.
Vegan butter: If you're making the thick raspberry sauce, adding a tablespoon of dairy-free butter at the end of the process can help make for a richer sauce.
Please note that any ingredients added to the fresh raspberry sauce/syrup could affect the shelf life and should be added to personal taste.
How to Make Raspberry Sauce and Coulis?
1) First, wash the berries well (if they're fresh). Then transfer them to a small saucepan along with the maple syrup.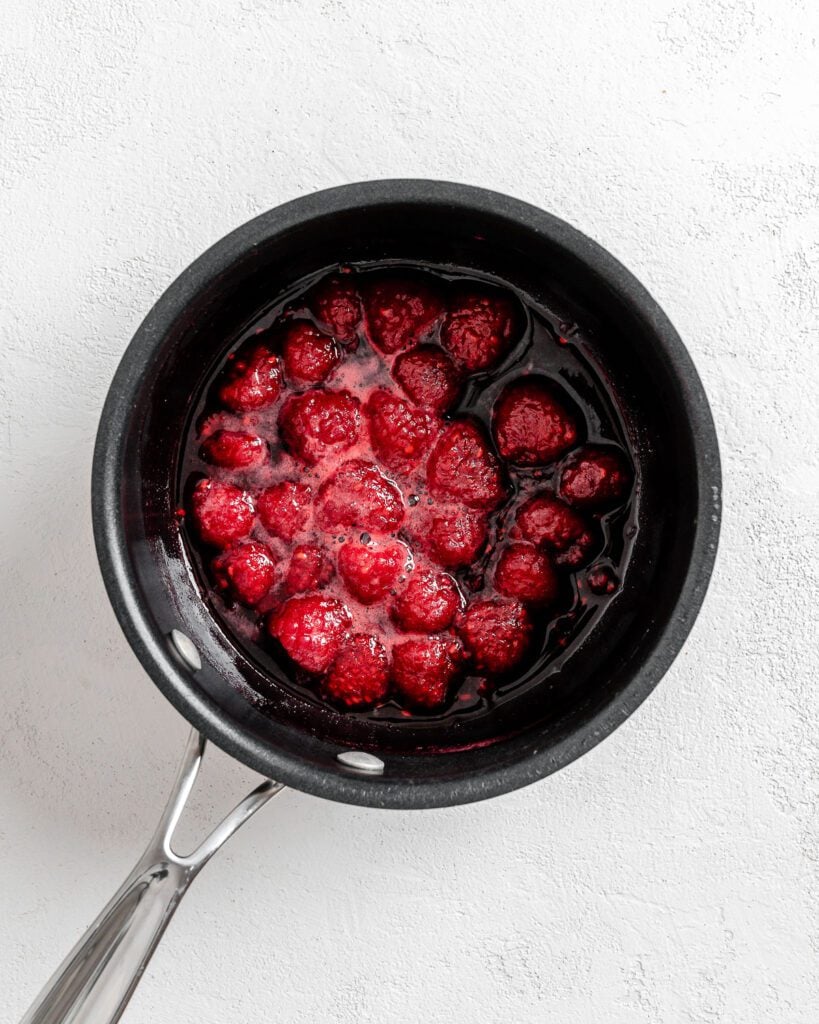 2) Cook over medium heat until the raspberries soften and release their juices.
You may need a little water if you want a slightly thinner sauce or if too much of the berry juice evaporates. Make sure not to boil the mixture, or it can burn/stick to the pan.
Then it's time to decide what type of sauce you want.
Chunky homemade raspberry sauce/ raspberry compote: Gently mash the raspberries to your desired consistency or leave them chunky.
Smooth raspberry sauce/ raspberry coulis: Completely mash the raspberries. Possibly even use an immersion blender/blender. Then optionally strain through a fine-mesh strainer (it will still be fairly thick and opaque).
For this version, you could optionally blend the berries into a smooth and velvety raspberry puree before adding it to the pan. Then simply cook for a minute or two to slightly reduce it.
FAQs
Can I use the leftover berry solids?
You could add any leftover raspberry pulp or seeds to smoothies and baked recipes or even carefully wash the seeds and plant them.
Can I use frozen raspberries?
Absolutely! The time it takes for them to break down will obviously increase, but otherwise, the method is identical.
How to thicken the syrup?
You could either simmer it for longer to further reduce OR thicken it with a small amount of cornstarch slurry.

Combine a teaspoon of cornstarch with ½ a tablespoon of water and mix until lump-free, then mix that into the homemade raspberry syrup as it simmers (increase the heat slightly if necessary as cornstarch is heat activated). Stir until it thickens. Add more if necessary.
Can I make sugar-free raspberry syrup?
Substitute the maple syrup with sugar-free sweetener and adjust the amount to taste (as each sweetener will taste different). You may need a splash of water to make up for the lack of liquid in the sweetener.
Top Recipe Tips and Notes
Adjust the sweetness: Based on how sweet the raspberries are and the type of sugar you're using.
Adjust the texture: Leave the sauce thick and pulpy, thoroughly mashed, or strain for a seedless raspberry simple syrup. It's up to you!
Adjust the consistency: For a thinner sauce, add a little water to the pan. For a thicker sauce, add cornstarch (read FAQs).
Use fresh or frozen berries: The latter will just take slightly longer to break down and may need slightly more sweetener, as they often aren't as sweet as fresh.
For a completely clear raspberry simple syrup: Make sure not to press down/mash the berries in the pan or when straining the raspberry syrup.
Making a low sugar raspberry simple syrup: Since this method requires a lot of water, this syrup will naturally be thinner. Even more so when not using the usual 1:1 ratio of sugar to water. So you may need to thicken the syrup with cornstarch (refer to FAQs).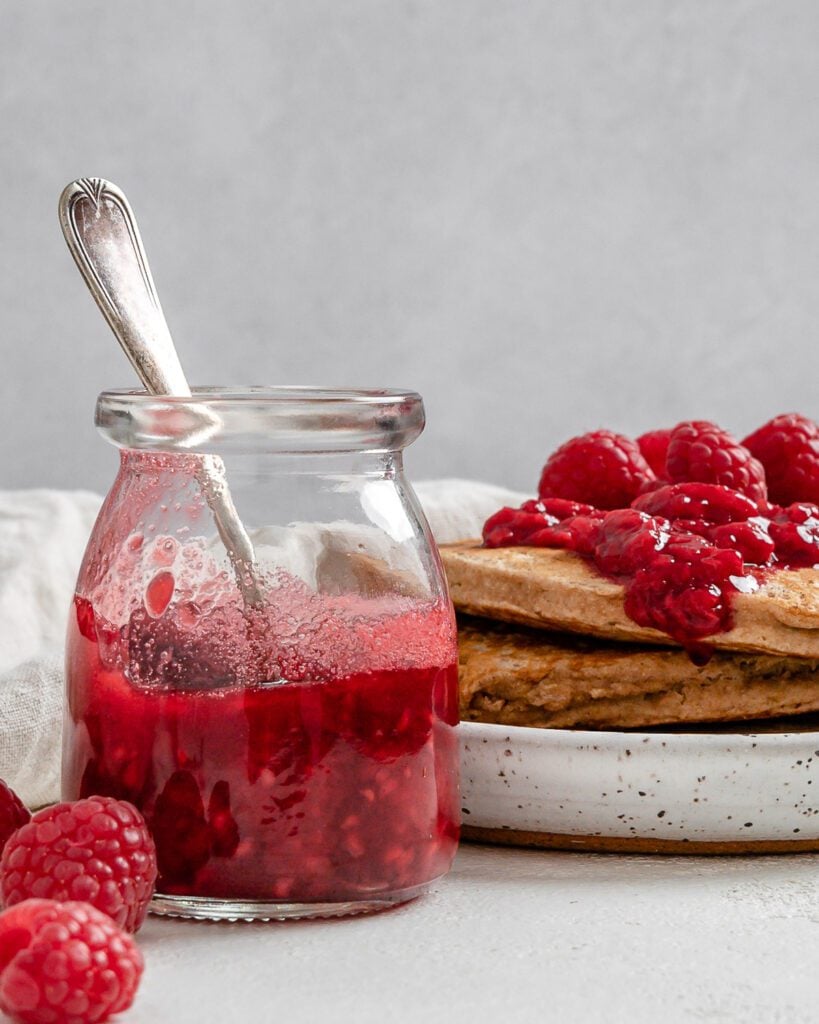 For A Raspberry Simple Syrup
What is the difference between raspberry syrup and raspberry simple syrup? The latter is usually a thinner consistency, strained of seeds, and is the perfect raspberry syrup for drinks.
Combine 2:1 parts of raspberries and water in a saucepan (i.e. 2 cups berries + 1 cup water) and the maple syrup or sugar and heat over medium-high.
For a traditional raspberry simple syrup, use a 1:1 ratio of sugar to water. However, I usually just sweeten to taste with my sweetener of choice. It won't be as 'syrupy' though, unless you use sugar.
Stir often while the raspberry syrup simmers until the sugar has melted and the raspberries have broken down (about 10 minutes).
Then, allow it to cool before pouring the raspberry simple syrup through a fine-mesh sieve in a heat-proof bowl. For a clear syrup, don't press the berries at all.
If you want a thicker raspberry syrup, continue to simmer the strained syrup for a further 10-15 minutes or add some cornstarch (read FAQs).
Usage Recommendations
Thanks to the versatility of this recipe, there are tons of ways to enjoy this sauce/syrup/coulis; choose which you use (i.e., raspberry sauce vs. raspberry coulis vs. raspberry syrup) based on the texture and consistency you're looking for.
Spread the thick raspberry sauce over vegan chocolate cake or other cakes
Use the (chunky or smooth) raspberry syrup for pancakes, waffles, or fresh toast
Mix into club soda
Use the raspberry simple syrup to make lemonade
Mix into club soda
Use the chunky or smooth raspberry sauce for a dairy-free cheesecake topping
Add the raspberry simple syrup to iced tea
Mix into hot cocoa
Drizzle over nice cream
Add to dairy-free yogurt bowls
Add to oatmeal and overnight oats
To top or mix into chia pudding
Serve the raspberry dipping sauce with jalapeño poppers
Mix into a vinaigrette
Let me know in the comments how else you enjoy this simple 2-ingredient raspberry syrup/sauce.
Storage Instructions
Fridge: Allow it to cool and then store it in an airtight bottle/jar in the fridge for 3-4 days. Enjoy it chilled or warm.
Meanwhile, the raspberry simple syrup may last longer, depending on how much sugar you've used. For example, with a 1:1 ratio, it will store in the fridge for 2-3 weeks.
Freezer: You can freeze the raspberry sauce/syrup for 2-3 months, then thaw it in the fridge overnight.
More Vegan Berry Recipes
If you try this 2-ingredient raspberry syrup recipe, I'd love to know what you think in the comments below. I'd also really appreciate a recipe card rating!
Photos by Alfonso Revilla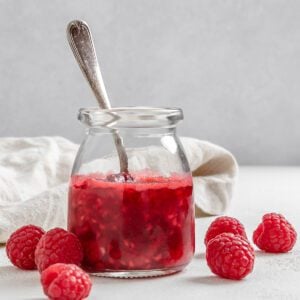 2-Ingredient Raspberry Syrup
Make this raspberry syrup, coulis, or sauce with just 2 ingredients and in just minutes, perfect for using in drinks and vegan chocolate cake, or drizzling over nice cream, pancakes, plant-based cheesecake, and more!
Equipment
measuring cups

measuring spoons

small saucepan
Ingredients
1

cup

of fresh raspberries (frozen will work too)

2 to 3

tablespoons

of maple syrup
Instructions
Place raspberries in a small saucepan with maple syrup. Cook on medium heat for 1 minute until raspberries just begin to soften and release juices.

Mash lightly if desired and pour over waffles or pancakes of choice.
Nutrition
Calories:
43
kcal
Carbohydrates:
10
g
Protein:
1
g
Fat:
1
g
Saturated Fat:
1
g
Polyunsaturated Fat:
1
g
Monounsaturated Fat:
1
g
Sodium:
1
mg
Potassium:
68
mg
Fiber:
2
g
Sugar:
7
g
Vitamin A:
10
IU
Vitamin C:
8
mg
Calcium:
18
mg
Iron:
1
mg
Disclaimer: Although foodsharingvegan.com attempts to provide accurate nutritional information, kindly note that these are only estimates. Nutritional information may be affected based on the product type, the brand that was purchased, and in other unforeseeable ways. Foodsharingvegan.com will not be held liable for any loss or damage resulting for your reliance on nutritional information. If you need to follow a specific caloric regimen, please consult your doctor first.