Fluffy, moist, tender vegan blueberry zucchini muffins are bursting with berries and nutrients thanks to the hidden zucchini. You need just 2 bowls and 10 ingredients for these egg-free, dairy-free, vegan zucchini muffins with refined sugar-free, gluten-free, and oil-free options below!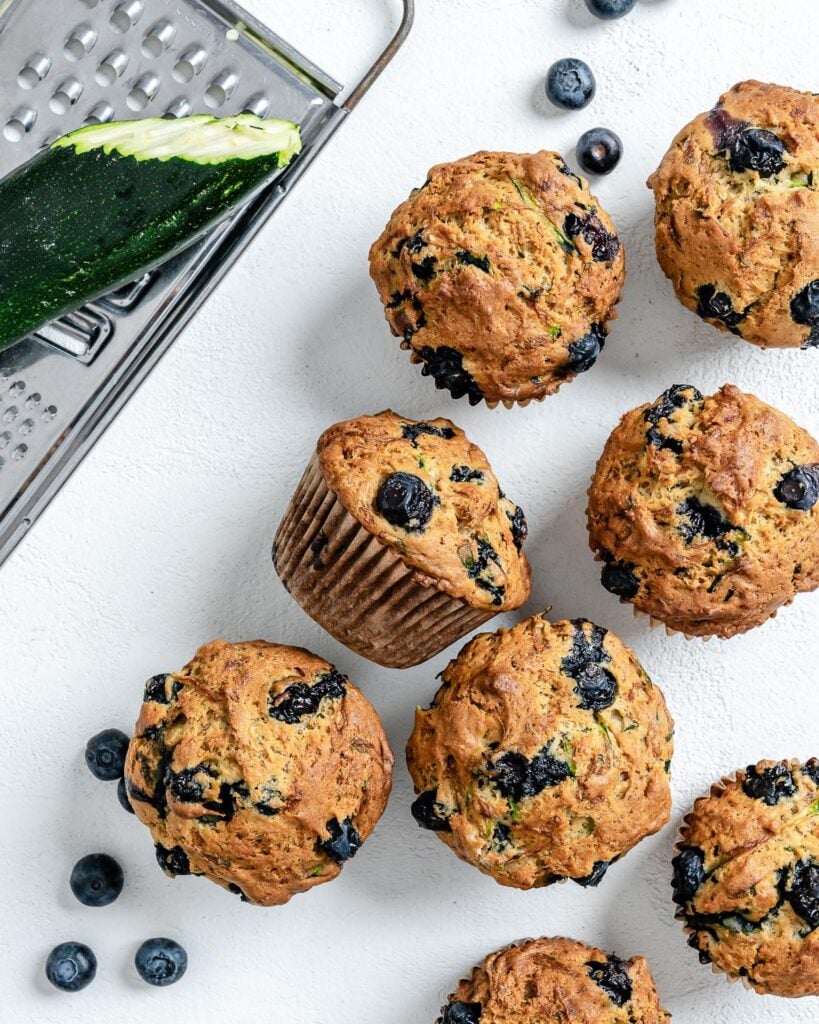 Moist Vegan Zucchini Muffins with Blueberries
During blueberry season, I practically add these tasty morsels to everything. I've already shared a simple blueberry vinaigrette, and they're welcome additions to any smoothie or vegan milkshake. Now, it's the turn of something a little sweeter with these easy vegan blueberry zucchini muffins.
These vegan zucchini muffins are fluffy, tender, and packed with bursting blueberries in every bite. The addition of zucchini helps keep this treat moist and pack in hidden nutrients, all without adding any flavor. Which is perfect for picky eaters.
Requiring just a couple of bowls, an ingredients list of inexpensive pantry staples, and just a few minutes of hands-on prep work, this recipe for zucchini muffins is incredibly simple to prepare. Better yet, they're even easier to customize.
Experiment with all your favorite add-ins like vegan chocolate chips, walnuts, or perhaps even lemon zucchini muffins. You could also make some healthier swaps, such as using unrefined sugar, a portion of whole wheat flour, making an oil-free version, and more.
Once baked, you can store these zucchini bread muffins in the refrigerator for a week or the freezer for up to three months. So you always have one on hand to enjoy as part of your breakfast/brunch, a snack, or even dessert.
The Ingredients
These easy zucchini muffins are made up primarily of pantry staples. These include:
The Dry Ingredients
Flour: Use all-purpose flour or a 50/50 combination of AP flour and whole wheat flour. I haven't tried making 100% whole wheat zucchini muffins, though it may work.
Sugar: Use regular sugar (organic will always be vegan) or an unrefined sugar like coconut sugar or date sugar. Note that each will affect the flavor and color of the vegan zucchini muffins differently.
Baking Powder: Provides lift and texture in the muffins.
Salt: Enhances the various flavors in the blackberry muffin recipe.
The Wet Ingredients
Oil: Use any neutral oil like vegetable oil, canola oil, avocado oil, etc. This will help yield a tender crumb.
Dairy-free Milk: Use any vegan milk. I.e., almond milk, oat milk, rice milk, cashew milk, etc.
Flax egg: You'll need ground flaxseed and water. You can grind the seeds yourself in a coffee/spice grinder or high-speed blender.
Vanilla extract: Use pure, natural vanilla for the best flavor.
Zucchini: (courgette) Use one that's ripe and free from too many blemishes.
Blackberries: You can use fresh or frozen blueberries (no need to thaw).
Optional add-ins & Recipe Variations
You can adapt these zucchini bread muffins in several ways and with several add-ins.
Spices: Cinnamon and nutmeg both work well in these vegan zucchini muffins.
Lemon: Lemon blueberry zucchini muffins are a particular favorite of mine. Add 1-2 teaspoons of lemon zest (organic, unwaxed) to the batter.
You can swap the lemon out for lime or orange with equally delicious results. Adding lemon juice in place of some vegan milk may increase the flavor.

However, I can't guarantee results as the leavening agent may be affected and require recipe tweaks.
Vegan chocolate chips: Use your favorite dairy-free semi-sweet chocolate chips or chunks (sugar-free chocolate if preferred). Add a small amount in addition to the berries, or swap out the berries entirely for delicious vegan chocolate zucchini muffins.
Other berries: This recipe should work well with other berries, too – like raspberries, blackberries, chopped strawberries, etc.
Sugar topping: Sprinkle coarse sugar over the top of the batter before baking.
Coconut: Add 2-3 tablespoons of unsweetened shredded coconut to the batter.
Nuts/Seeds: Add a handful of chopped nuts or seeds to the batter. Walnuts, pecans, or pistachios would work particularly well in these blueberry zucchini muffins.
Jelly/Jam: Swirl a small amount into the batter before baking or core the baked muffins and fill them in with jam before serving.
Frosting: Turn them into cupcakes with a simple buttercream frosting or lemon glaze.
How to Make Vegan Blueberry Zucchini Muffins?
1) First, preheat the oven to 400F/200C and prepare a muffin tin with silicone or parchment paper liners.
2) Then, in a small bowl, combine the water and ground flaxseed and mix well for a minute. Leave it in the refrigerator for at least 5 minutes. At the same time, grate the zucchini using the medium holes on a box grater or a grater disk in a food processor. Then, add it to a nut milk bag or several layers of cheesecloth and squeeze to remove all excess liquid.
You can add this strained liquid to stocks, soups, or smoothies to avoid waste.
3) In a large mixing bowl, combine the flour, sugar, salt, and baking powder. Stir well, form a well in the center, and add the oil, flax egg, vegan milk, vanilla extract, and zucchini. Gently mix until just combined.
4) Fold in 1 cup of blueberries, reserving ¼ cup as a topping.
5) Then, divide the batter between the cupcake/muffin pan liners (filled to the top). Press the remaining blueberries into the top of the batter.
6) Bake the blueberry zucchini muffins for around 35 minutes, or until they're golden and a toothpick inserted into the center of a muffin comes out clean (a few crumbs are fine).
Then, remove the muffins from the oven and transfer them to a cooling rack for at least 20 minutes.
FAQs
Can I make them gluten-free?
I usually recommend attempting muffin recipes with a 1:1 substitution of an all-purpose gluten-free flour blend, like King Arthur's or Bob's Red Mill. Avoid single flours like almond flour or coconut flour.

Let me know in the comments if you try and how it worked.
Can I make oil-free muffins?
You may be able to replace some or all of the oil with either unsweetened applesauce or vegan Greek yogurt. However, as these blueberry zucchini muffins are very moist anyway, I can't be sure how they may affect the results. Let me know if you try.  
Can I make them sugar free?
You could try this recipe with a sugar alternative like erythritol or stevia. However, it can affect the texture of the bake. If you try, let me know in the comments.
Can I make a vegan zucchini bread loaf?
It's usually fairly easy to adapt a muffin recipe into a quick bread loaf. Simply pour the batter into a lined loaf tin and bake until a toothpick comes out clean. First, check at 35-40 minutes and every few minutes until it's ready.
Can I make mini zucchini muffins?
That shouldn't be an issue. You'll need two mini muffin trays, and I recommend checking on them between 15-20 minutes and every few minutes until a toothpick inserted into the center comes out clean.
Should I peel the zucchini?
There's no need. The peel adds tons of extra nutrients and fiber with no taste. All you'll notice are some flecks of green in the muffins. Otherwise, it's unnoticeable.
Make-Ahead and Storage Instructions
Make ahead: Prepare the muffin batter, minus the baking powder and zucchini, 1-2 days in advance (and store covered in the fridge). To use it, allow it to come back to room temperature, add the remaining ingredients, and bake.
At room temperature: Store the zucchini bread muffins loosely covered (otherwise, they become soggy) for 2-3 days.
In the fridge: Store them covered/in an airtight container lined with paper towel for 5-7 days.
In the freezer: First, flash-freeze the vegan zucchini muffins spread out across a baking tray. Then transfer them to a large freezer-safe Ziplock/Stasher bag and store them for up to 3 months.
Allow them to thaw in the fridge overnight or on the counter for several hours. You could also use microwave them for 30-45 seconds (in 15-second increments).
Serving Recommendations
You can enjoy a muffin alone for breakfast or as a snack (including in a lunchbox). There are several other ways to enjoy these vegan zucchini muffins, too, including:
Enjoy warm and slathered with dairy-free butter OR spread with nut butter or blueberry preserves.
Toast and then top with a scoop of nice cream.
Enjoy toasted with a dollop of dairy-free yogurt and extra berries.
Top Recipe Tips and Notes
Thoroughly drain the zucchini: Thanks to the berries, these vegan zucchini muffins are already moist, so it's essential to thoroughly squeeze out the excess moisture from the grated zucchini.
For quick prep: Use a food processor grating disk to shred the zucchini in seconds.
Measure the flour correctly: Use a spoon to add the flour to your measuring cup without pressing or packing it down. Then use the back of a knife to level off the top. Otherwise, you may add too much, and the zucchini bread muffins will be dense.
Don't over mix the muffin batter: Otherwise, you risk overworking the gluten and affecting the texture and rise. A few lumps in the batter are okay.
Use fresh baking powder: Make sure it's in date and/or test it with a bit of hot water (it should fizz immediately).
More Vegan Bakes
Photos by Alfonso Revilla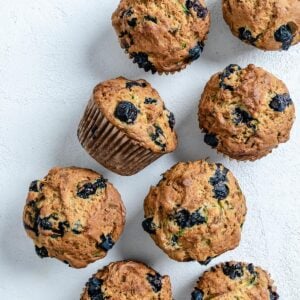 Vegan Blueberry Zucchini Muffins
Fluffy, moist, tender vegan blueberry zucchini muffins are bursting with berries and nutrients thanks to the hidden zucchini. You just need 10 ingredients for these egg-free, dairy-free, vegan zucchini muffins with more options below!
Equipment
measuring cups

measuring spoons

cupcake tin

small bowl
Ingredients
1

tablespoon

of ground flaxseeds

2 ½

tablespoons

of warm water

1 ½

cups

of all-purpose flour

¾

cups

of granulated sugar

½

teaspoon

of salt

2

teaspoons

of baking powder

⅓

cup

of vegetable oil

⅓

cup

of plant-based milk

1 ½

teaspoons

of pure vanilla extract

½

cup

of grated zucchini

1 ¼

cups

of fresh blueberries
Instructions
Preheat oven to 400 degrees F. Line muffin tin with liners.

In a small bowl, thoroughly mix together the ground flaxseeds and warm water for 1 minute. Place in the refrigerator for 5 minutes.

In a large bowl, combine the flour, sugar, salt, and baking powder and mix well. Form a well in the flour mixture and add the vegetable oil, flax meal mixture, plant-based milk, vanilla extract, and grated zucchini. Gently mix together. Fold in 1 cup of the blueberries, reserving ¼ cup for topping.

Fill your cupcake tin with batter (filled to the top). Top with remaining blueberries, pushing them gently into the top of the batter.

Bake for 35 minutes or until the muffins are golden on top and a toothpick comes out of the center of the muffin clean.
Nutrition
Calories:
232
kcal
Carbohydrates:
36
g
Protein:
3
g
Fat:
9
g
Saturated Fat:
1
g
Polyunsaturated Fat:
5
g
Monounsaturated Fat:
2
g
Trans Fat:
1
g
Sodium:
237
mg
Potassium:
64
mg
Fiber:
1
g
Sugar:
19
g
Vitamin A:
25
IU
Vitamin C:
3
mg
Calcium:
71
mg
Iron:
1
mg
Disclaimer: Although foodsharingvegan.com attempts to provide accurate nutritional information, kindly note that these are only estimates. Nutritional information may be affected based on the product type, the brand that was purchased, and in other unforeseeable ways. Foodsharingvegan.com will not be held liable for any loss or damage resulting for your reliance on nutritional information. If you need to follow a specific caloric regimen, please consult your doctor first.