This one bowl, 7-ingredient, EASY vegan lemon cake recipe is super fuss-free and a wonderfully sweet-tart, moist, and fluffy eggless lemon cake! Perfect for afternoon tea and special occasions, frosted or glazed!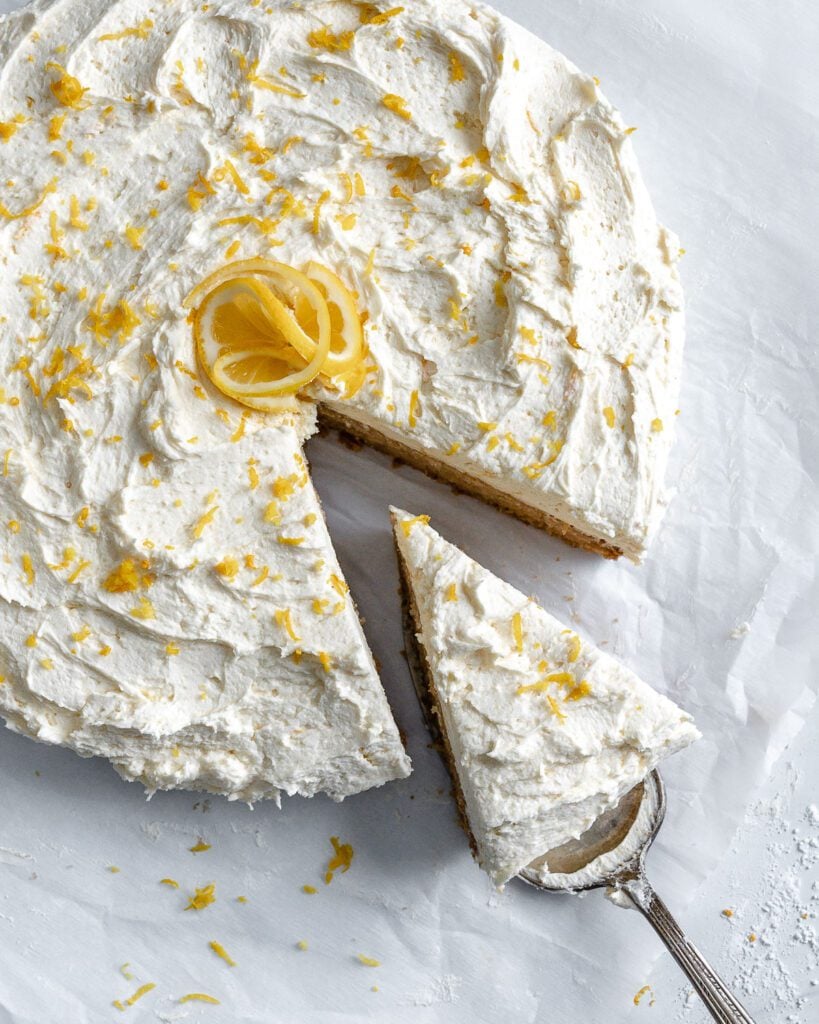 Moist, Zingy, Fuss-Free Vegan Lemon Cake
I love baking, especially when the recipe is super simple and made up of pantry staples, like this easy vegan lemon cake recipe! This cake requires no fancy tools, one bowl (no need to mix the wet and dry ingredients separately), and a handful of basic ingredients (minus any dairy or eggs). The result is the best dairy-free lemon cake I've ever made!
I've really taken things back to basics for this recipe, with a simple (and classic) combination of regular flour, sugar, oil (not vegan butter), etc. However, keep scrolling for ingredient substitutions, as well as several ways to adapt the recipe (including making a delicious vegan blueberry lemon cake, lemon poppy seed cake, etc.!).
Plus, although this cake is egg-free, the combination of baking soda and vinegar helps to provide all the lift and structure needed with no kind of egg replacer. It is wonderfully moist and fluffy with just enough zingy lemon flavor to impress without overwhelming with mouth-puckering acidity. Honestly, it's perfect for impressing vegans and non-vegans alike! It's also versatile—bake it in a regular cake pan, as a lemon loaf, or as a sheet-pan cake and top it with vegan curd, glaze, or frosting. It's up to you!
Personally, I love a big slice topped with decadent vegan lemon buttercream and plenty of fresh raspberries! Enjoy it for afternoon tea, picnics, potlucks, and on special occasions like birthdays and Easter!
The Ingredients
Flour: The best flavor will come from regular white all-purpose flour (or cake flour). However, a combination of AP and white whole wheat flour (50/50) should also work.
Sugar: It's best to use regular granulated white sugar for the best flavor (use organic to ensure it's vegan). While it's possible to use other, less refined sugars (like coconut sugar), this will affect the color and flavor of the cake and isn't as pure 'lemony.'
Baking soda: Will help provide this eggless lemon cake with lift and fluffier texture.
Vinegar: Use white vinegar (or apple cider vinegar) to activate the baking soda for the correct texture.
Lemon: Use an organic (unwaxed) lemon, if possible, as this vegan lemon cake recipe requires juice and zest.
Vanilla extract: It's always best to use all-natural, pure vanilla for the best flavor.
Salt: A pinch enhances the various flavors in the vegan lemon cake recipe.
Water: Alternatively, any dairy-free milk would work.
Oil: Any neutral cooking oil would work, including vegetable oil, canola oil, melted coconut oil, etc. Even olive oil could work but will affect the flavor. You may substitute some of the oil for applesauce (up to 50%, so it doesn't affect the flavor too much), though I haven't tried.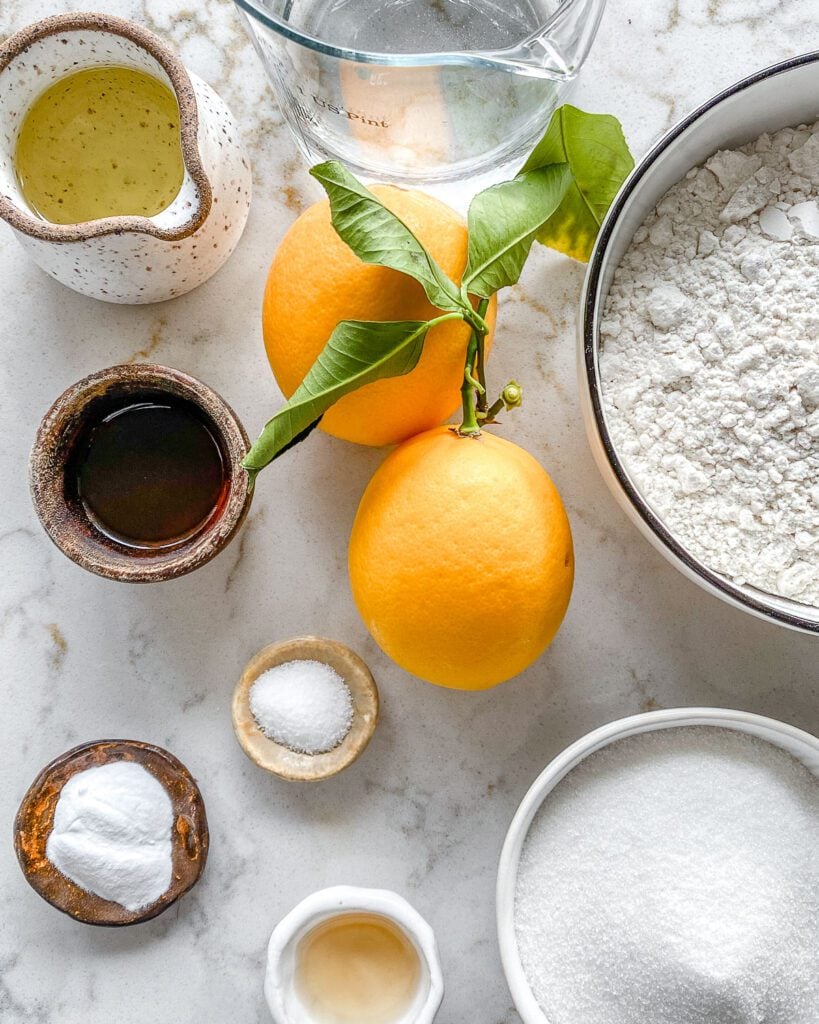 Optional add-ins & Recipe Variations
The simplicity of this vegan lemon cake recipe means that you get to have lots of fun with potential mix-ins as well as toppings/decorations (for the latter, scroll below the method section).
Poppyseeds: Vegan lemon poppy seed cake is delicious and only requires the simple addition of 2-3 tablespoons of poppy seeds to the cake batter.
Coconut: A few tablespoons of unsweetened shredded coconut is a great way to add extra texture and flavor. Plus, you could double it up with coconut frosting.
Cranberries: Add ⅔ cup fresh or frozen cranberries or a few tablespoons of dried cranberries for pockets of sweet and sour flavor.
Berries (fresh or frozen): Several types of berries pair well with tangy lemon. I particularly love to make vegan blueberry lemon cake or a raspberry version. Add ½-⅔ cup of the berries to the batter.
Floral flavor: Both rose and lavender work well with this zesty lemon cake. Add a small amount of rosewater (1-2 tablespoons) OR food-grade lavender (just 1-2 teaspoons) to the cake batter. Alternatively, you could add these flavors to the frosting/glaze.
Earl grey: Use strongly brewed Earl Grey tea in place of the water in the recipe OR add 1-2 tea bags (the contents within) to the batter.
How to Make Vegan Lemon Cake?
This easy vegan lemon cake recipe requires just a few minutes to prepare and four simple steps!
1) First, preheat the oven to 350F/175C and lightly grease a cake pan (or use parchment paper to line the pan). At the same time, zest and juice the lemon.
To get the most out of your lemon, first, zest it (use a microplane, avoiding the bitter white pith). Then, microwave the lemon for 20-30 seconds and roll it fairly firmly back and forth on the counter. This will help to extract the maximum amount of juice.
2) In the bowl of a stand mixer, combine all the ingredients until smooth, but be careful not to over-mix the batter. Alternatively, you can use a large mixing bowl with an electric hand mixer or a whisk.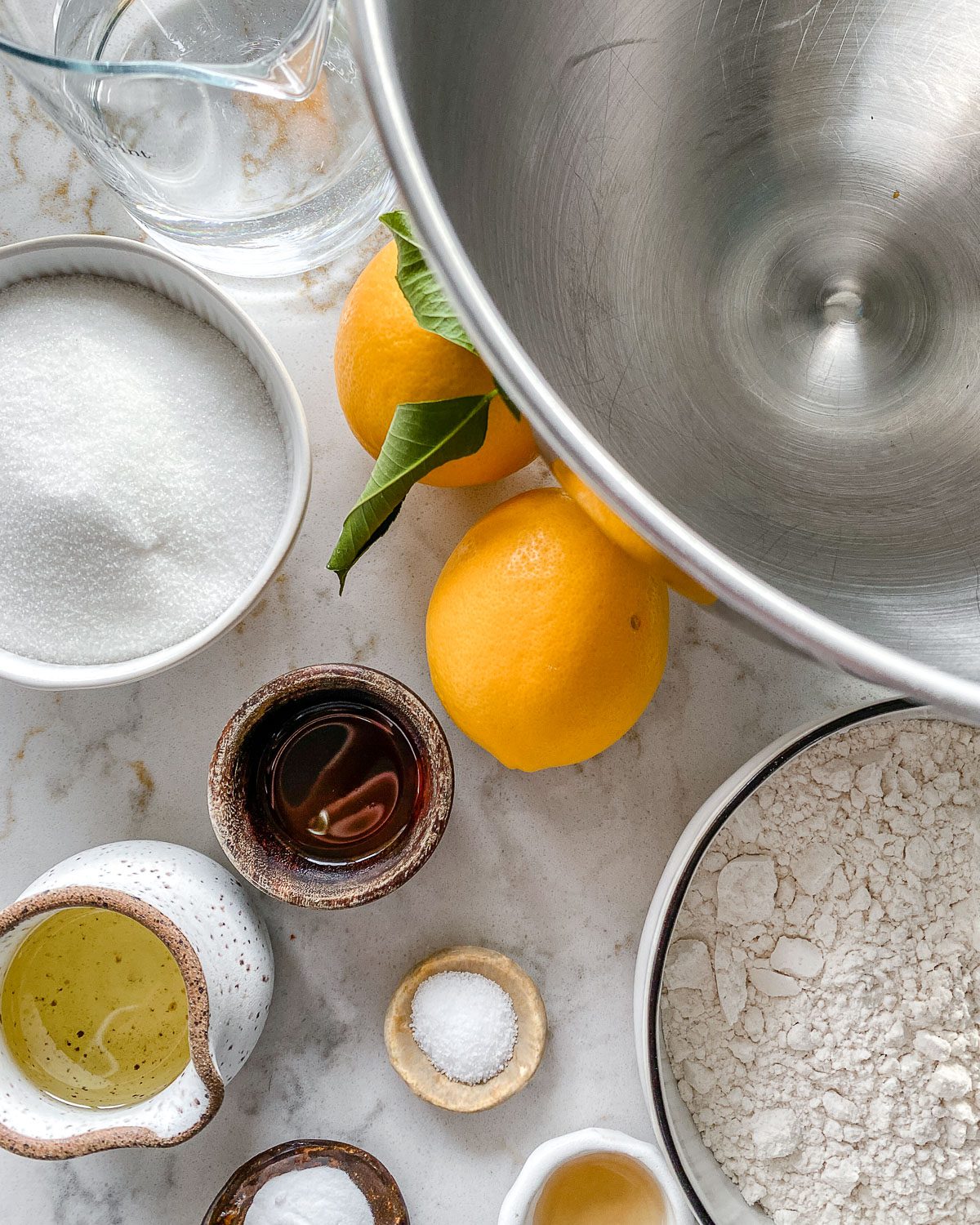 3) Next, pour the batter into a 9-inch cake pan and tap it against your kitchen surface to release any air bubbles. Then, transfer to the oven and bake for 30-35 minutes, until a toothpick inserted into the center comes out clean (a few crumbs is fine, but no wetness).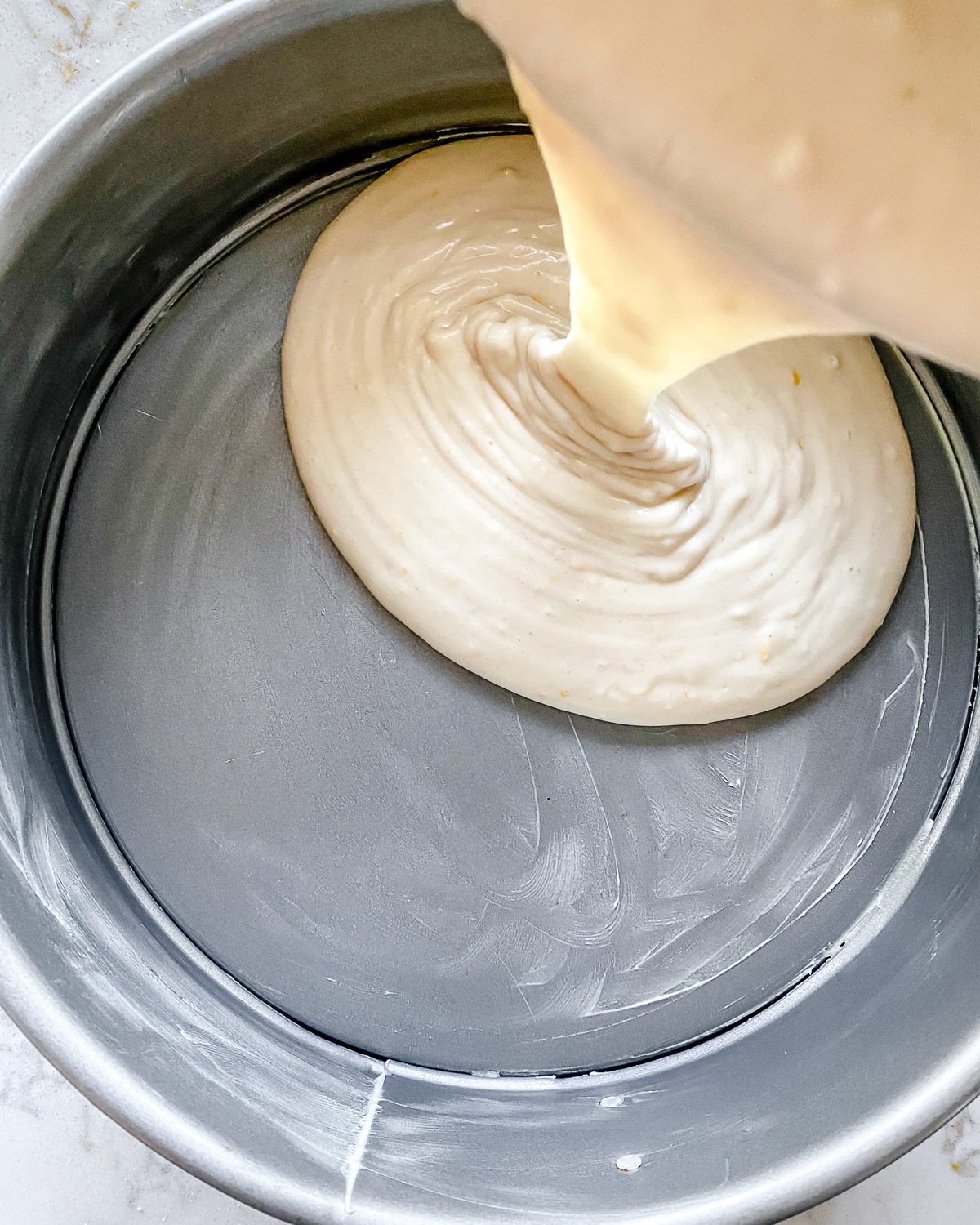 4) Once baked, allow the cake to cool in the pan for at least 20 minutes before removing and allowing it to cool completely before decorating/serving!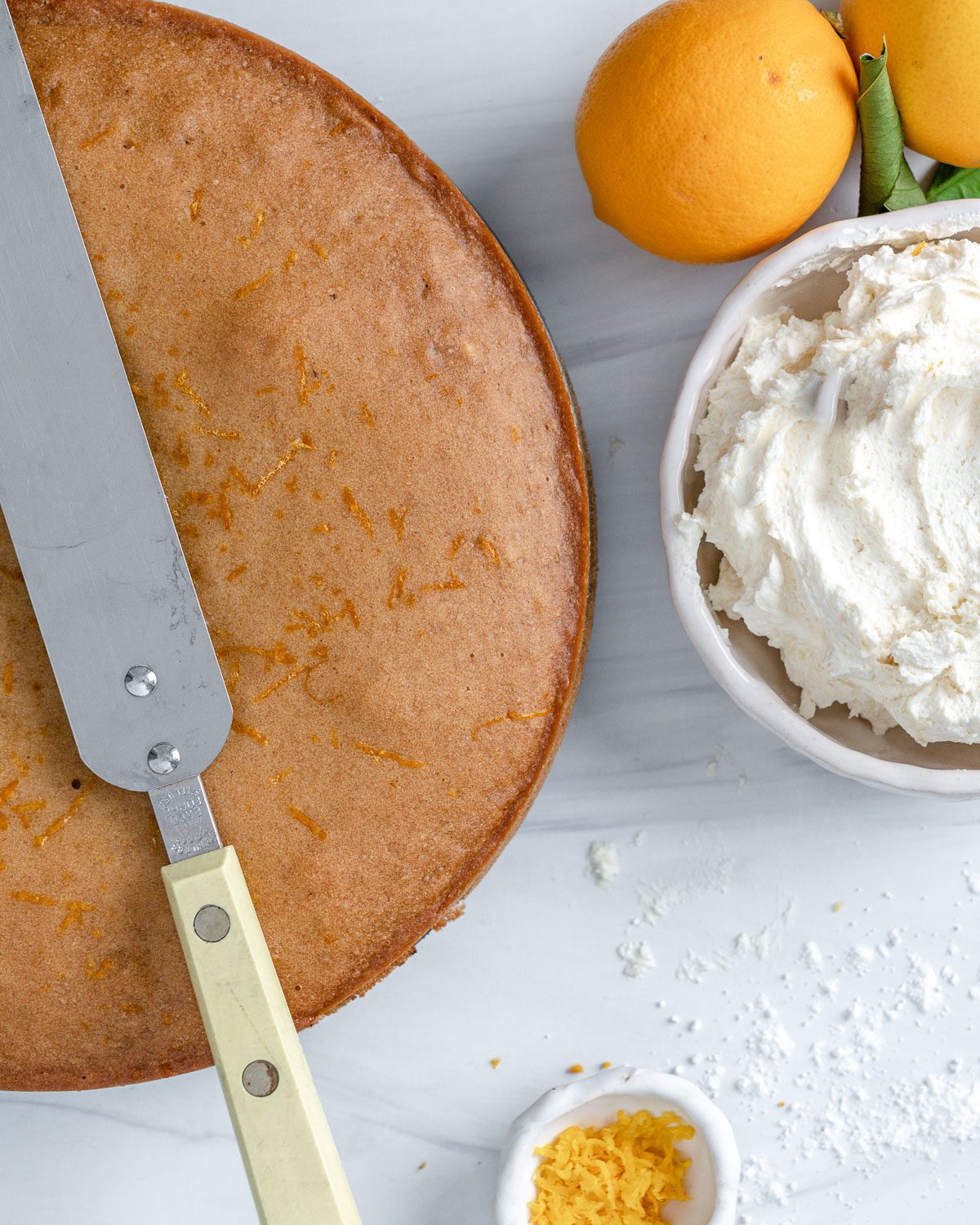 Filling and Decoration Options
Lemon Drizzle/syrup: All you need is powdered sugar and lemon juice (and optional zest). The difference between the two is as simple as heating the syrup (until syrupy, of course) or leaving it unheated to use as a lemon glaze.
To use the lemon syrup, allow the cake to cool for 20 minutes. Then, after transferring it to a wire rack, use a skewer to prod lots of holes over the entire top of the cake. Spoon/brush the syrup over the cake, allowing it to soak in as the cake cools.
Buttercream frosting: You could use a vegan lemon/organge frosting or strawberry/ raspberry frosting.
Vegan lemon curd: As a filling between the cake layers, with a light vegan cream filling (i.e., whipped coconut cream).
Candied lemon zest/peel: Add a few pieces as a garnish.
Fruit jam: Most berries pair well with lemon, so you could add a layer of strawberry or raspberry jam if making a sandwich cake (possibly also with frosting).
Berries: Fresh berries make for a juicy addition between cake layers and/or as a decoration.
Vegan white chocolate drizzle: Use your favorite vegan white chocolate, melt, and drizzle it over the vegan lemon cake for a subtle pop of extra sweetness to the treat.
How to Store?
There are several ways to store this zesty vegan lemon cake, including at room temperature, in the refrigerator, or even frozen for later.
At room temperature: Cover it loosely on the countertop and store for 2-3 days, though 2 is best as it will begin to dry out by the third.
In the fridge: Store in a container for 5-7 days, with or without frosting/glaze.
In the freezer: It's best to freeze this dairy-free lemon cake completely undecorated and whole (to keep it from drying out). Though you can also freeze it frosted and pre-sliced. Make sure to wrap it well with plastic wrap (or use an airtight container if frosted) and place it in a Ziplock/Stasher bag. Store for up to 3 months.
Leave the cake out on the countertop to thaw before decorating and enjoying!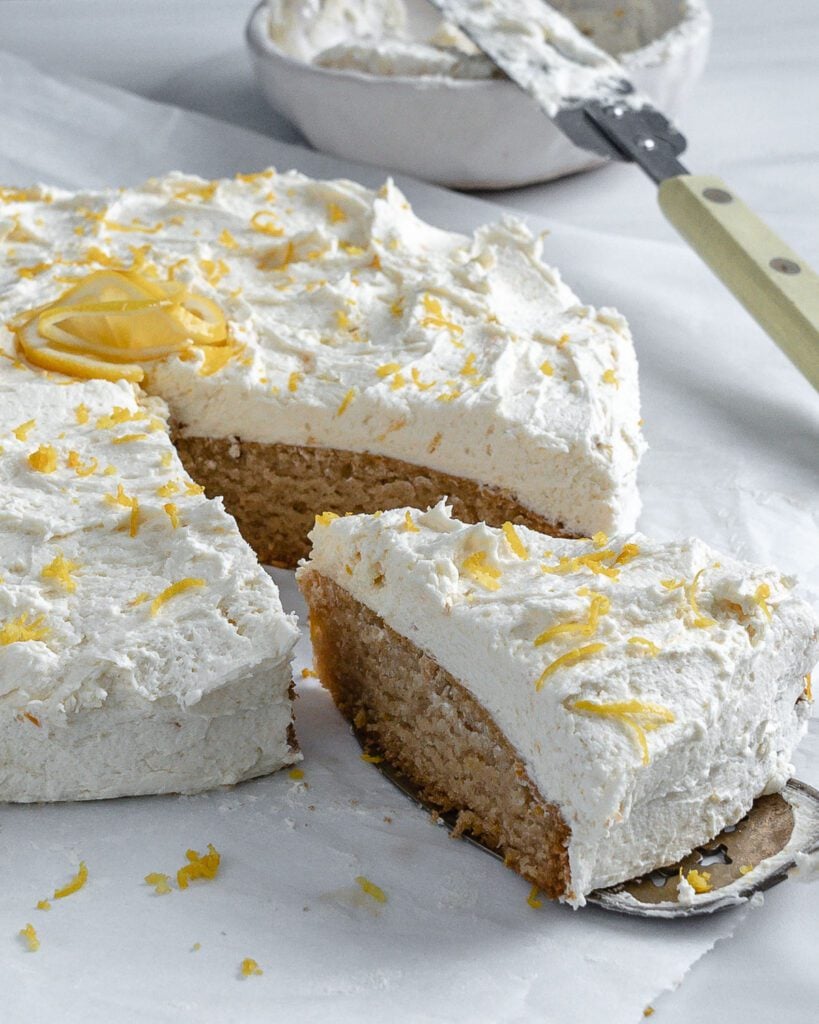 FAQs
Can I make dairy-free lemon cake in advance?
Absolutely! You can prepare the batter (minus the baking soda) the night before and store it covered in the refrigerator. Then, allow it to come back to room temperature before adding the leavening agents and baking.

You can also bake the cake 2-3 days in advance before frosting/decorating it OR store it in the freezer for several months!
Can I adapt this recipe to a loaf tin or sheet pan?
You could do either and adjust the baking time accordingly. For example, I recommend increasing the baking time by 5-10 minutes for a vegan lemon loaf cake. For a sheet cake, I'd check on it 5 minutes earlier, then continue until ready. Either way, bake until a toothpick inserted in the center comes out clean.

As a bonus, this vegan lemon batter may also work to make cupcakes, too!
Can I make vegan, gluten-free lemon cake?
You could experiment with using an all-purpose gluten-free flour blend (like Bob's Red Mill or King Arthur's). I haven't tried this, though, so I can't guarantee the results.
Can I use lemon extract instead of juice?
Technically yes, but the amount will need to be reduced, and you won't have the extra zing of the lemon zest. I highly recommend using fresh lemon for the best flavor, and then, if preferred, you could use just a drop or two of extract to boost the flavor.
Can I use another citrus?
Absolutely, feel free to swap out the lemon for orange or lime.
Top Recipe Tips and Notes
Use the level and spoon measuring method: Rather than scooping your measuring cup into the flour bag, spoon the flour into your measuring cup. Then level with the back of a knife. This way, you avoid adding too much flour to the recipe and ending up with a dense cake.
Don't overmix the batter: Otherwise, you may end up with a dense, unrisen cake.
Save leftover lemon juice/zest: It can be stored in the freezer for several months for another time.
Adjust the sweetness: You could experiment with reducing the amount slightly if preferred. Though I don't recommend removing too much, as it also keeps the cake soft/moist. I haven't tried the recipe with a sugar-free sweetener, so you would likely need other recipe tweaks, to add extra moisture back to the batter.
Adjust the zing: If you prefer a subtler lemon flavor or even more zing, simply adjust the amount to taste.
For a brighter colored cake: Add a small amount of turmeric powder or natural yellow food coloring to this dairy-free lemon cake.
Don't skip the cooling time: As this is a dairy-free, eggless lemon cake, it's very fragile immediately out of the oven. Giving it time to cool and further 'firm' is necessary to avoid a super crumbly cake.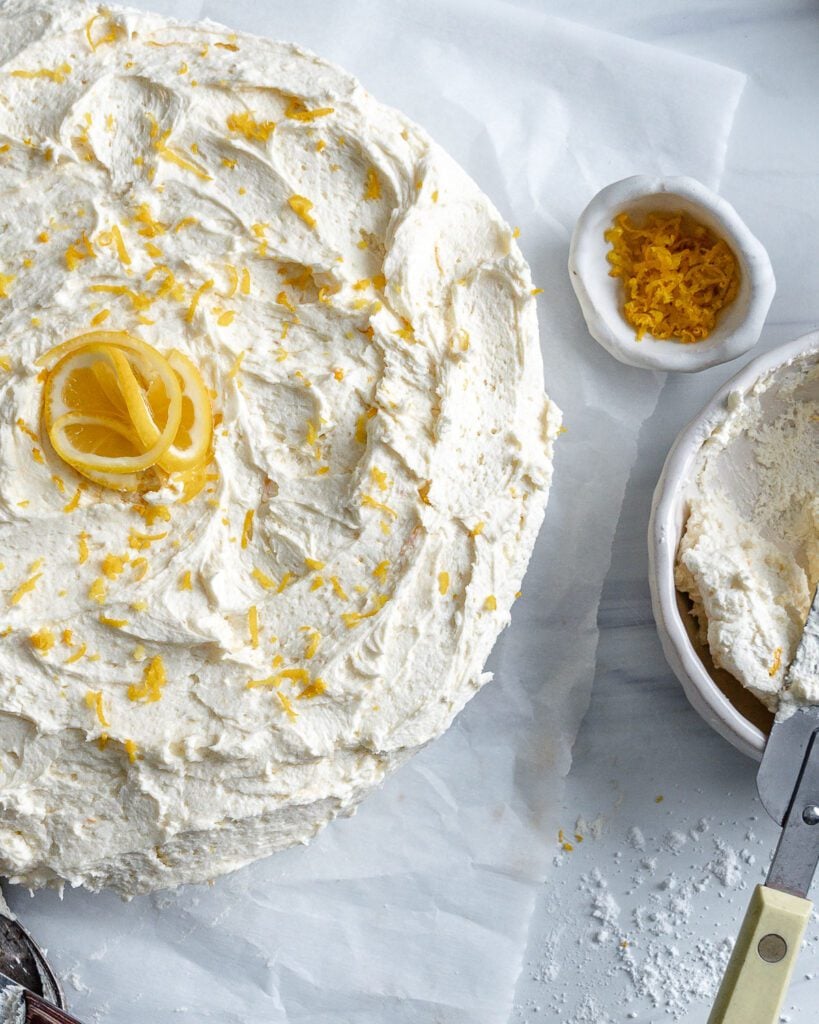 If you tried this vegan lemon cake recipe (as written or with substitutes), I'd love to know what you thought. I'd also really appreciate a recipe card rating!
More Vegan Dessert Recipes
Photos by Alfonso Revilla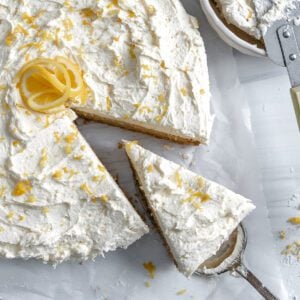 Easy Vegan Lemon Cake
This one bowl, 7-ingredient, EASY vegan lemon cake recipe is super fuss-free and a wonderfully sweet-tart, moist, and fluffy eggless lemon cake! Perfect for afternoon tea and special occasions, frosted or glazed!
Equipment
measuring cups

measuring spoons

electric mixer
Ingredients
1 ½

cups

of all-purpose flour

¾

cup

of granulated sugar

1

teaspoon

of baking soda

½

teaspoon

of salt

1 ½

teaspoons

of vanilla extract

1

teaspoon

of white or apple cider vinegar

¼

cup

+ 1 tablespoons of canola or vegetable oil

1

cup

water

1 ½

tablespoons

of lemon juice

2

tablespoons

of lemon zest
Instructions
Preheat the oven to 350 degrees (175 degrees C). Lightly grease a cake pan.

In the bowl of an electric mixer (or in a large bowl using a handheld electric mixer), mix together all the ingredients until smooth. You can also mix this by hand if you don't have either.

Pour the batter into the pan.

Bake for 30 to 35 minutes. Test by sticking a toothpick in the middle. If the toothpick comes out dry, the cake is done.
Nutrition
Calories:
222
kcal
Carbohydrates:
37
g
Protein:
2
g
Fat:
7
g
Saturated Fat:
1
g
Polyunsaturated Fat:
4
g
Monounsaturated Fat:
2
g
Trans Fat:
1
g
Sodium:
285
mg
Potassium:
33
mg
Fiber:
1
g
Sugar:
19
g
Vitamin A:
1
IU
Vitamin C:
3
mg
Calcium:
8
mg
Iron:
1
mg
Disclaimer: Although foodsharingvegan.com attempts to provide accurate nutritional information, kindly note that these are only estimates. Nutritional information may be affected based on the product type, the brand that was purchased, and in other unforeseeable ways. Foodsharingvegan.com will not be held liable for any loss or damage resulting for your reliance on nutritional information. If you need to follow a specific caloric regimen, please consult your doctor first.