These vegan jalapeno poppers use simple vegan ingredient swaps to make this delicious vegan party food/appetizer with just 4 ingredients (and plenty of optional add-ins) and either baked or air fried (not deep-fried) in under 30 minutes! This recipe is also an original recipe created alongside Michelle Cehn (founder of World of Vegan) from the Friendly Vegan Cookbook!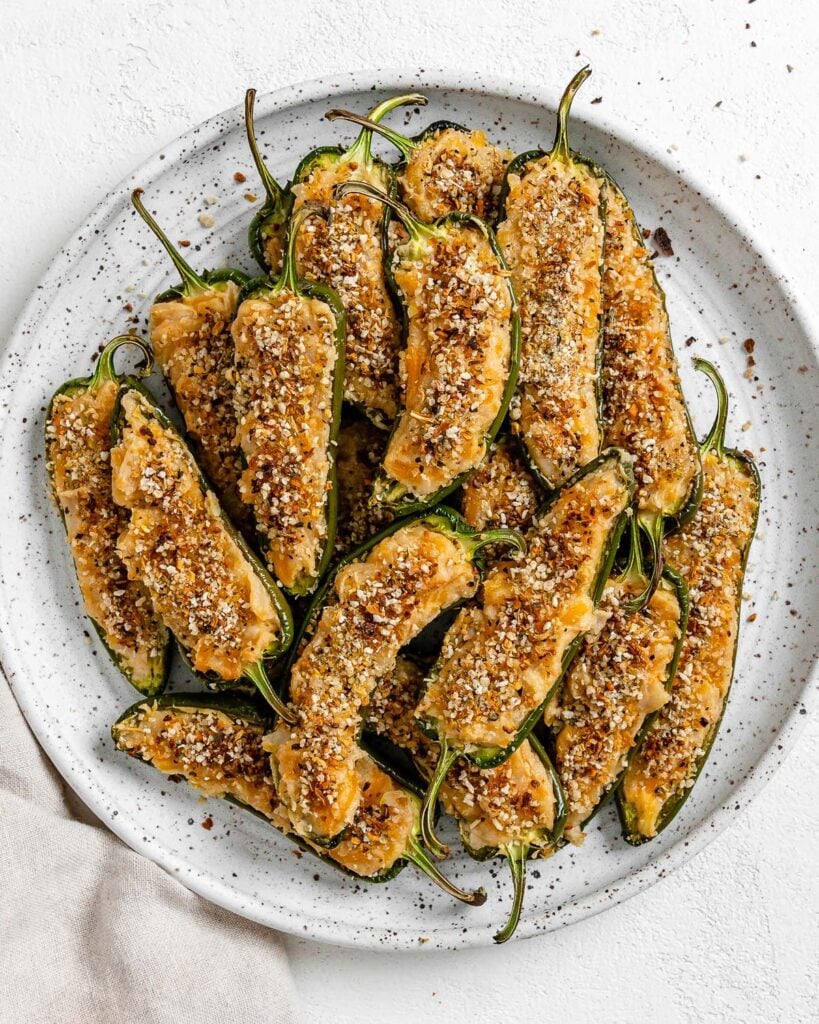 What Are Jalapeno Poppers?
Jalapeno poppers are a popular restaurant, game day, and party appetizer. This homemade vegan stuffed jalapenos recipe swaps out the dairy for simple store-bought vegan alternatives (no nuts or homemade 'cheeze' here). As a result, the recipe requires just 4 base ingredients and plenty of optional add-ins to make them even more flavorful and/or hearty.
More so, you can make baked or air fryer jalapeno poppers rather than deep frying them, for a healthier, lighter, less greasy vegan finger food. They're also wonderfully quick and easy to prepare, too. Just slice, mix, fill, and bake until tender and bubbly.
Each bite consists of the heat from the tender jalapenos, somewhat tamed by the rich and creamy, 'cheesy' filling, with added crunch from the breadcrumb topping. Best of all, they can be prepared in advance and stored in the fridge or freezer for a super fuss-free, crowd-pleasing vegan party food that will disappear in minutes!
The Ingredients
This dairy-free jalapeno poppers recipe relies on simple vegan ingredient swaps for a fuss-free recipe.
Jalapeno peppers: Pick slightly bigger jalapenos than average (so they're easier to handle and stuff) that are fresh, firm, and bright green without blemishes. Other fairly mild chilies would also work.
You could also use Serrano peppers, which are hotter than jalapenos.
Vegan cream cheese: I used Tofutti, but you can use whatever your favorite brand of dairy-free cheese is (Go Veggie, Trader Joe's, etc.). Use soft vegan cream cheese. Otherwise, you may need to microwave it for 10-15 seconds to make it more easily mixable.
Vegan Shredded Cheese: Use a vegan cheese that melts well, like a vegan cheddar-style or mozzarella (or a combination).
Breadcrumbs: Use regular or gluten-free breadcrumbs or panko breadcrumbs (which are lighter but super crispy).
Combine the panko breadcrumbs with a spoonful of vegan butter and toast in a skillet over medium-low until golden and toasty for a super crispy topping.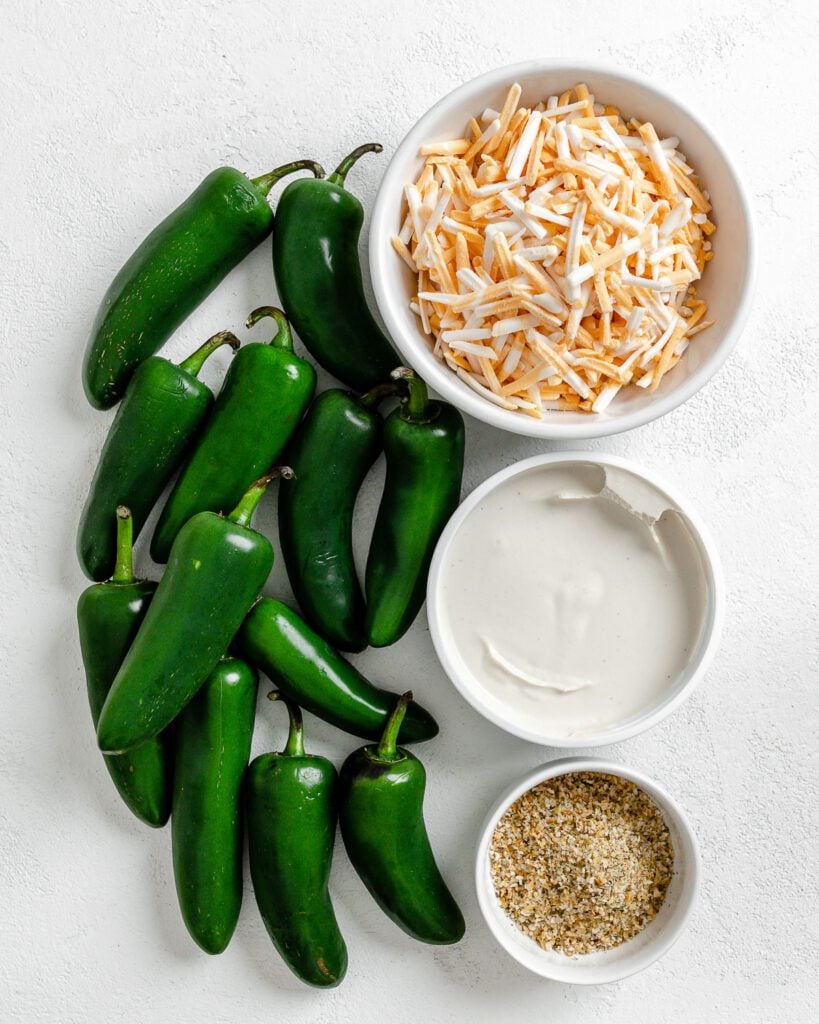 Optional add-ins & Recipe Variations
The above recipe is for the simplest base vegan jalapeno poppers you can make. There are several ways to create a more complex flavor profile, though. Including adding a teaspoon of any of the below to the vegan cheese mixture:
Parsley
Cilantro
Green onions
Chives
Citrus zest (lemon or lime zest)
Green olives (or black olives)
Cumin
Finely chopped jalapeños/ red pepper
You could also experiment with:
Garlic powder: A small amount mixed into the vegan cheese mixture will add depth. Onion powder would also work well.
Paprika: A large pinch of smoked paprika is a welcome addition to these homemade jalapeno poppers.
Nutritional yeast: To boost the 'cheesy' flavor further in the filling.
Other seasonings: There are several seasonings you could experiment with, such as Cajun seasoning, garam masala, curry powder, taco seasoning, etc.
Vegan bacon: Cook 1-2 slices, finely chop them, then mix into the vegan cheese stuffing.
Vegan ground beef: Use your favorite vegan 'minced meat' and pre-cook it before adding it to the plant-based cream cheese mixture.
Mushrooms: Sauteed and finely chopped before they're added to the stuffing.
Artichoke: Finely chopped and mixed into the plant-based cream cheese filling.
Corn: Canned or frozen, mixed into the vegan cheese filling.
No breadcrumbs: Feel free to omit them and sprinkle with shredded plant-based cheese instead.
Crescent dough: Wrap each baked jalapeno popper in a crescent triangle. Place the pepper over the widest part of the triangle and wrap it around. Then bake.
How to Make Vegan Jalapeño Poppers?
1) First, preheat the oven to 400 degrees F and line a baking tray with parchment paper.
2) Then, slice each jalapeño pepper in half lengthwise and scrape out all the seeds and ribs from each pepper with a small spoon or knife. Then spread the peppers across the baking sheet.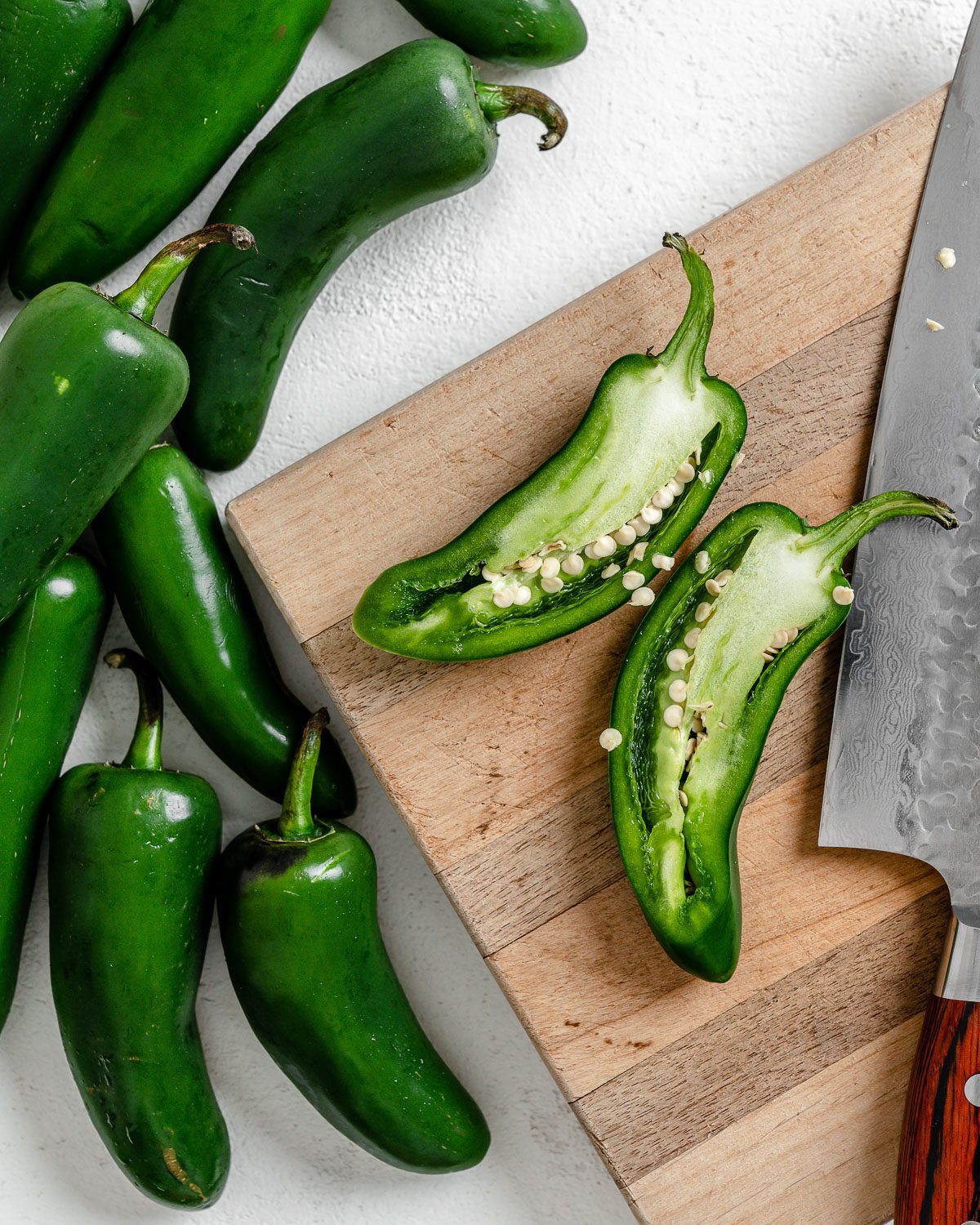 These parts are where most of the heat comes from, so removing them makes the jalapeños more palatable. You can optionally cut off the stems, but they make for a good handle.
3) In a small bowl, combine the dairy-free cream cheese and shredded vegan cheese and mix well.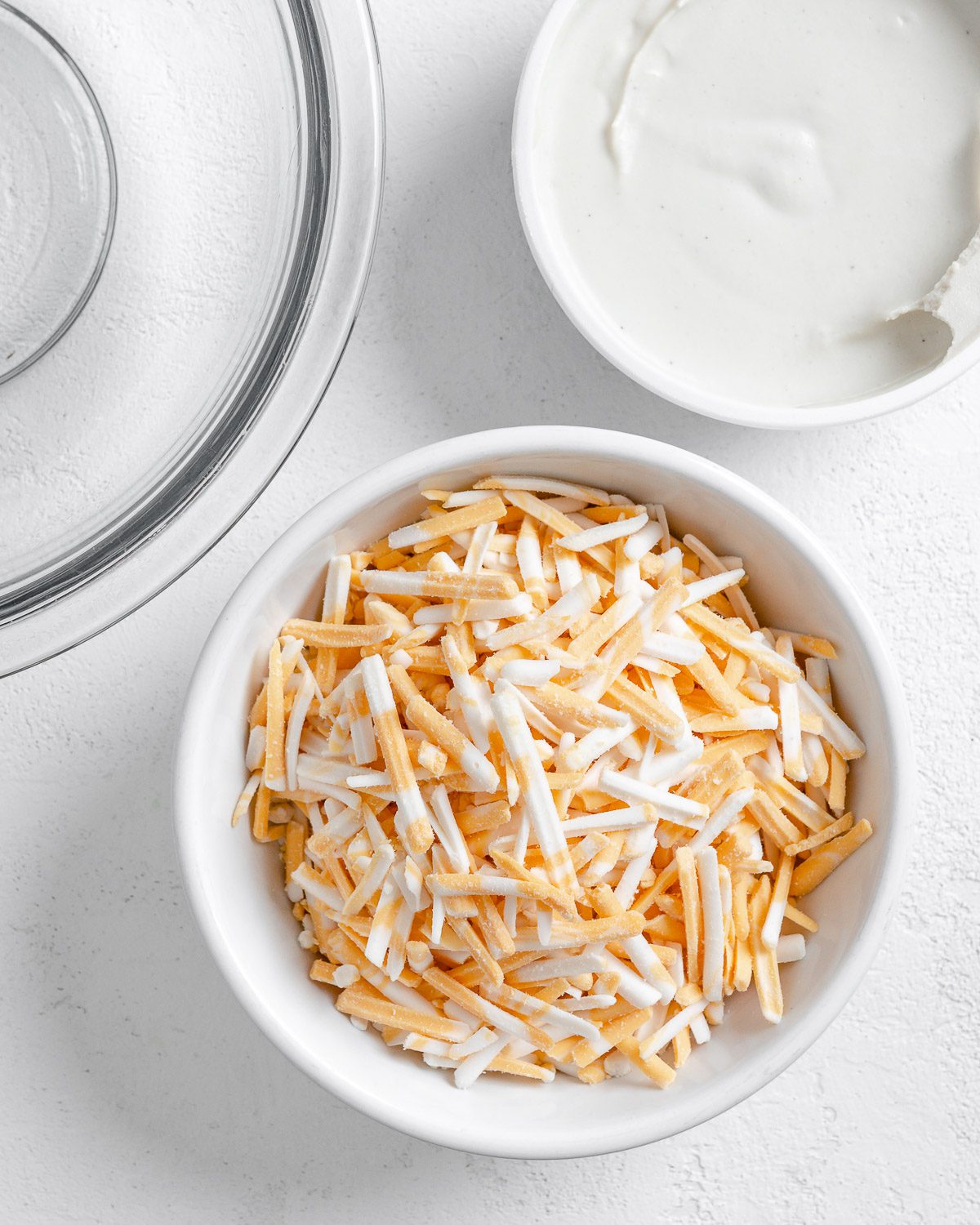 4) Then, divide the plant-based cheese mixture between all the halved peppers, filling them to the top and sprinkling them with breadcrumbs over the top.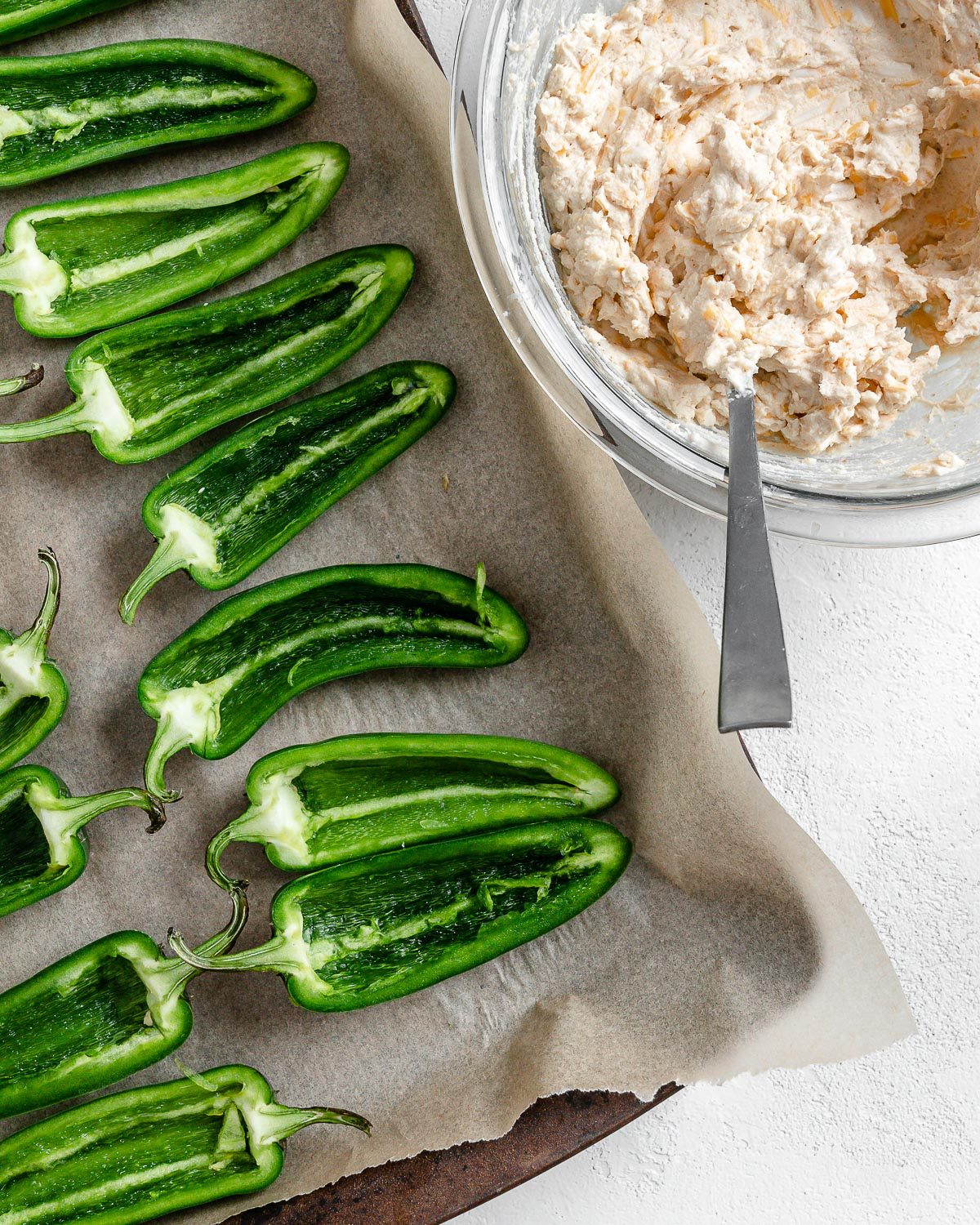 5) Bake for 20-25 minutes, or until the vegan cheese has melted and the jalapeños are lightly browned and tender.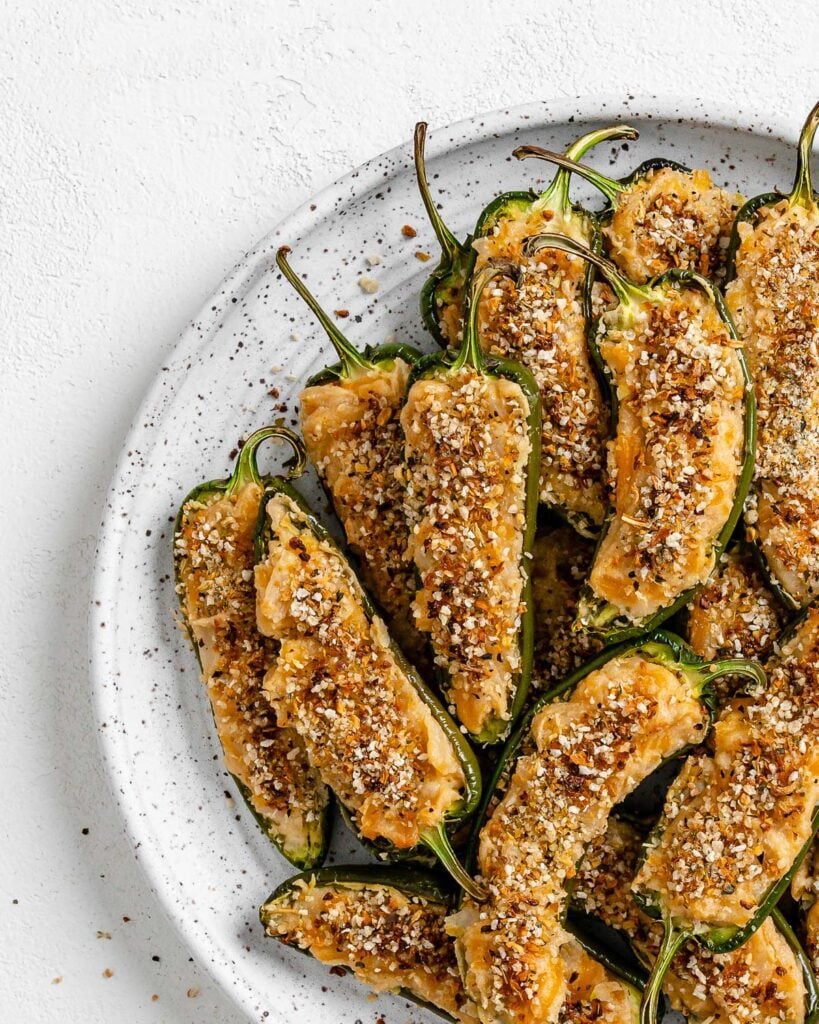 Air Fryer Jalapeno Poppers
Free up oven space and enjoy this treat even sooner when making air fryer jalapeno poppers.
Prepare and assemble the vegan jalapeno poppers as written above.
Then, spread a layer of the stuffed jalapeno peppers in the air fryer basket, with space in between. Cook in batches as necessary.
Air fry at 380F/190C for 8-12 minutes, depending on the size of the jalapenos.
FAQs
How spicy are jalapeño poppers?
Once the ribs and seeds have been removed from the jalapenos, these vegan jalapeno poppers are mild-medium heat. Note that larger jalapenos are generally less spicy than smaller ones.
How do you reduce the heat of jalapeno poppers?
Remove all the ribs and seeds from the peppers for the mildest option.
How to grill jalapeno poppers?
Rub the outside of the peppers and the grill with oil. Then place the peppers on a grill, stuffed-side-up. Cook for 10-14 minutes until the peppers are charred, and the vegan cheese has melted.
What to serve with jalapeno poppers?
I recommend serving them with a creamy dipping sauce like a vegan ranch dressing, creamy avocado dressing, or even a simple raspberry sauce.

Enjoy them alongside your favorite appetizers and finger foods on game days and at parties.
Can you freeze jalapeno poppers?
I'm a big fan of freezing the un-baked but assembled vegan stuffed jalapenos. However, I don't recommend freezing the baked poppers, as the textures are off once thawed.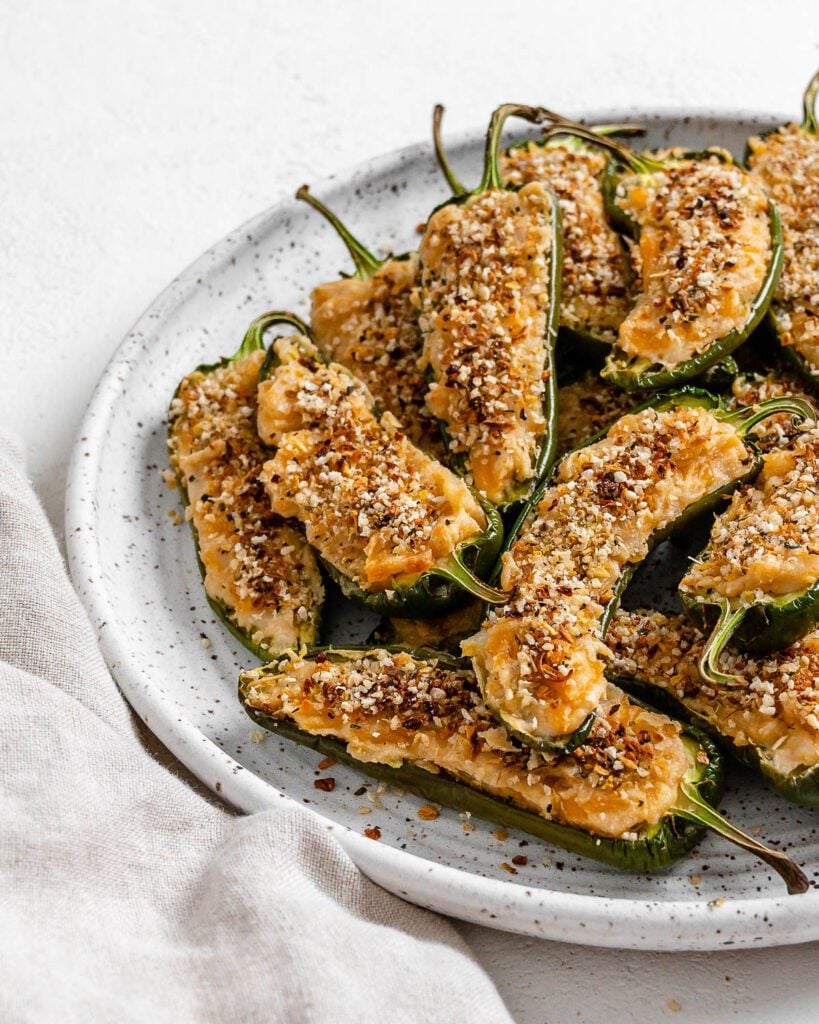 Top Recipe Tips
Use even-sized peppers: That way, they'll cook evenly.
Adjust the heat level: How much of the ribs, seeds, and membrane you remove from the jalapeños will determine how hot they are. For the mildest option, remove everything. If you want a hotter version, leave the ribs in the pepper. For the hottest, leave the ribs and mix a few seeds into the vegan cheese filling.
Be careful handling chilies: Wear gloves as the heat not only irritates the skin, but it clings to it too, meaning it can still burn your skin/eyes several hand washes later! Also, avoid touching your eyes, nose, and mouth when dealing with peppers.
Don't overbake the peppers: Otherwise, they won't hold their shape.
If any peppers don't sit flat: Slice a thin layer off the bottom of the pepper so that it sits flat. Otherwise, the cooked stuffing will slide out and make a mess.
Experiment with the dairy-free cream cheese: Some brands melt when heated, so won't work well for this recipe. So it may be best to test a small amount of your chosen dairy-free cream cheese in advance.
Make-Ahead and Storage Instructions
Make ahead: You can prepare the stuffing 3-4 days ahead and store it covered in the fridge. Alternatively, prepare the entire vegan jalapeno poppers up until the point of baking them and store them covered in the fridge for 2-3 days.
You can also freeze the prepped homemade jalapeno poppers. Stuff the peppers and lay them on the tray (not touching) to flash freeze. Once solid, transfer them to a freezer-safe container/Ziplock/Stasher bag for up to a month. You can bake them from frozen for 30-35 minutes.
Store: Allow them to cool and store them covered in an airtight container for up to 3 days.
Reheat: You can reheat the vegan stuffed jalapenos back in the oven at 325F/160C until they're warmed through (around 15 minutes). A microwave would also work, though the breadcrumb topping won't be as crispy.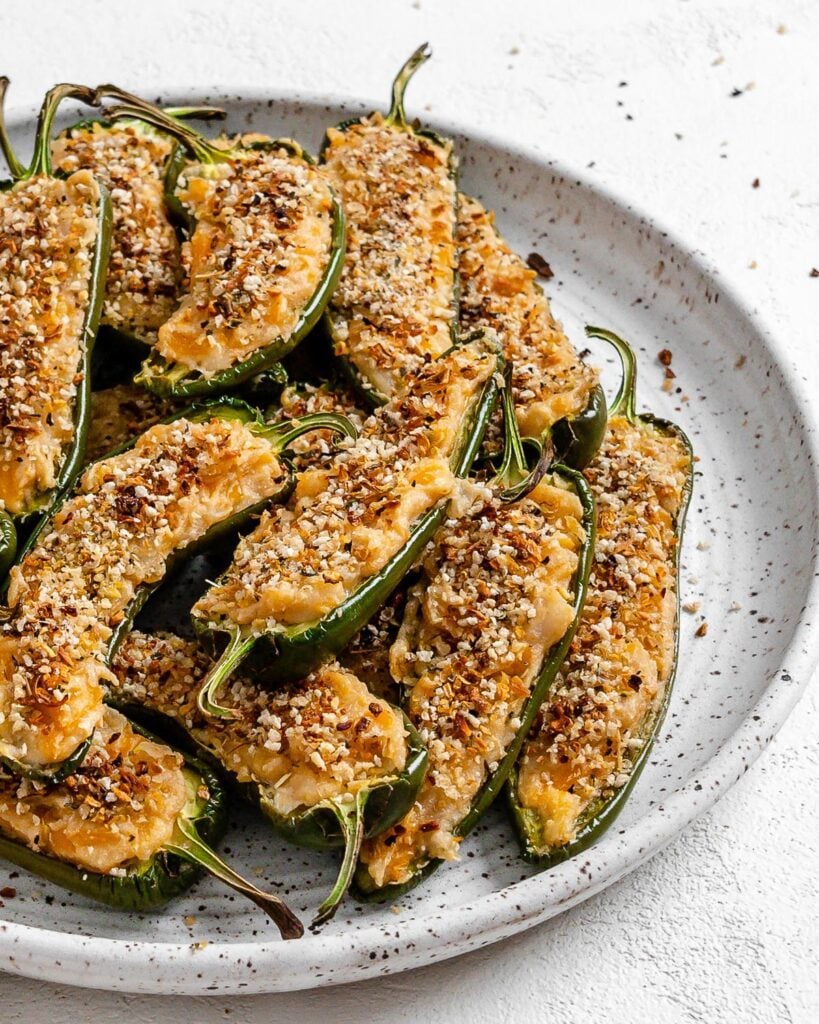 If you try this easy vegan jalapeno poppers recipe, I'd love to know what you think in the comments below. I'd also really appreciate a recipe card rating!
Photos by Alfonso Revilla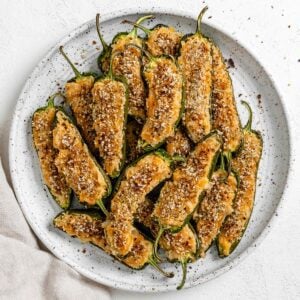 Easy Vegan Jalapeno Poppers
These vegan jalapeno poppers use simple vegan ingredient swaps to make this delicious vegan party food/appetizer with just 4 ingredients (and plenty of optional add-ins) and either baked or air fried (not deep-fried) in under 30 minutes!
Equipment
knife set

baking sheet

small bowl
Ingredients
12

jalapeño peppers

1

(8-ounce) tub of vegan cream cheese

1

(8-ounce) package of vegan shredded cheese

A handful of breadcrumbs
Instructions
Preheat the oven to 400 degrees F.

Slice each jalapeño pepper in half (lengthwise) and scrape out all of the seeds until each piece is clean and smooth inside. The seeds and ribs are the spiciest parts of a pepper, so this will make them more palatable.

Lay the peppers out on a baking sheet with the hollowed bellies facing up.

In a small bowl, mix the vegan cream cheese and shredded vegan cheese together.

Scoop the vegan cheese mixture into each halved pepper and fill to the brim. Sprinkle bread crumbs on top.

Bake for 20 to 25 minutes, or until the vegan cheese is melted and the jalapeños are lightly browned.
Notes
Be careful not to touch your eyes after handling jalapeño seeds! The oils will remain
on your hands for a while so be careful. You can use gloves while removing the seeds to
prevent any problems.
To create a more complex flavor profile in your poppers, you can add 1 teaspoon of
finely chopped parsley, cilantro, green olives, cumin, or a sprinkle of finely chopped
Jalapeño or red pepper to the cheese mixture.
Nutrition
Calories:
137
kcal
Carbohydrates:
11
g
Protein:
3
g
Fat:
10
g
Saturated Fat:
3
g
Polyunsaturated Fat:
1
g
Monounsaturated Fat:
1
g
Sodium:
295
mg
Potassium:
44
mg
Fiber:
2
g
Sugar:
1
g
Vitamin A:
151
IU
Vitamin C:
17
mg
Calcium:
36
mg
Iron:
1
mg
Disclaimer: Although foodsharingvegan.com attempts to provide accurate nutritional information, kindly note that these are only estimates. Nutritional information may be affected based on the product type, the brand that was purchased, and in other unforeseeable ways. Foodsharingvegan.com will not be held liable for any loss or damage resulting for your reliance on nutritional information. If you need to follow a specific caloric regimen, please consult your doctor first.