These vegan peanut butter blondies are chewy, gooey, fudgy, and loaded with peanut butter and jelly flavor, with no need for dairy and eggs!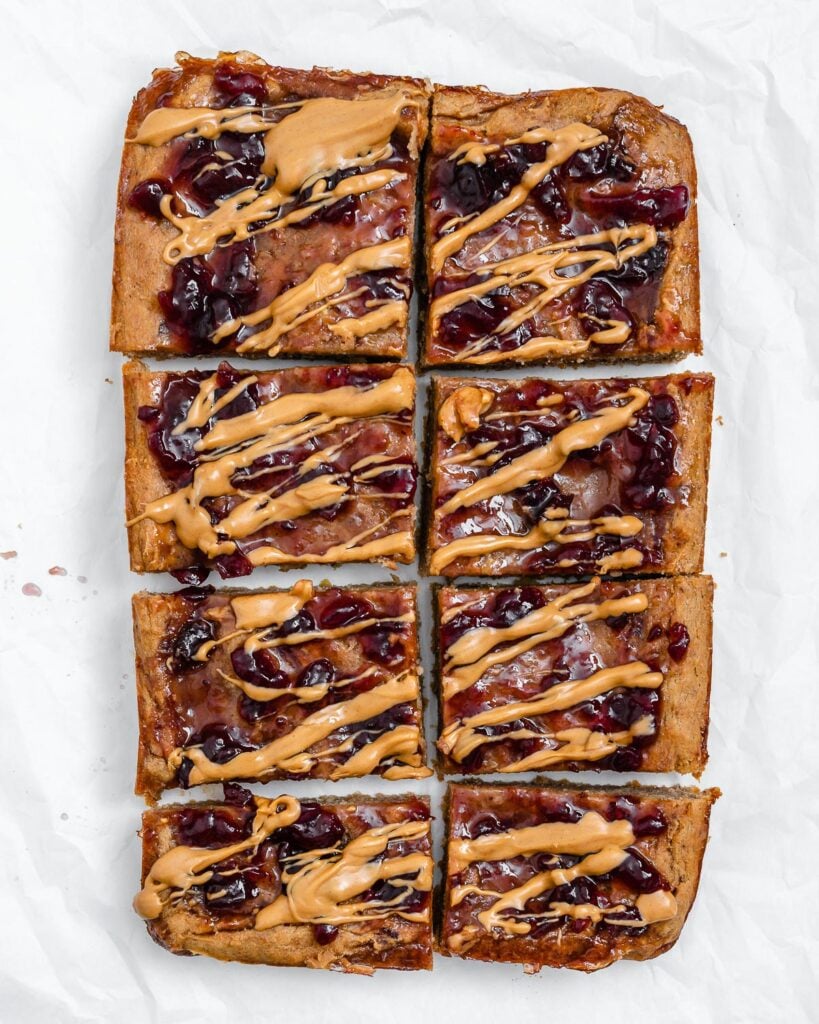 Rich and Chewy Vegan Blondies with Peanut Butter
If you're a fan of peanut butter and jelly desserts (who isn't?!), then you'll adore these vegan blondies flavored with peanut butter and fruit preserve (aka 'jelly'). They have gorgeous crisp edges with a dense, gooey peanut butter flavored (or the nut/seed butter of your choice!) interior and a sweet and fruity swirled top. The results are moreish and then some, you'll see!
Even better, I stripped this vegan peanut butter blondie recipe down to bare basics (while still achieving amazing results!). It contains no hard-to-find ingredients, only a couple of bowls, and a whisk/wooden spoon. You don't even have to mix the dry and wet ingredients separately. Instead, just chuck everything in a bowl, whisk, and voila, it's ready to pour into your pan, swirl with the topping, and bake!
Even without the dairy and eggs, these brownie blondie bars are still rich and decadent and will impress even non-vegans. Unlike many vegan blondie recipes, these are also 100% chickpea-free (though they contain a couple of sweet ripe bananas for flavor and texture)!
What Is The Difference Between Brownies and Blondies?
The difference between the two is actually very simple. Think of a blondie as a cocoa-free version of a brownie. Instead, they rely on a 'blonde' vanilla (almost butterscotch-like thanks to the brown sugar) base rather than a rich plant-based chocolatey one.
More so, blondies are denser and even more chewy/gooey than many regular brownies! The combination of decadent texture and fairly plain 'base' means there's also plenty of opportunity for flavor experimentations, like this version for peanut butter and jelly blondies. Plus, keep reading for more optional mix-ins and recipe variations.
Bring them to your next gathering (or whip them up as a mid-week snack!) and watch them disappear in minutes. If you do have any leftovers, which is rare, then you can even freeze them for up to 3 months so they're always at hand!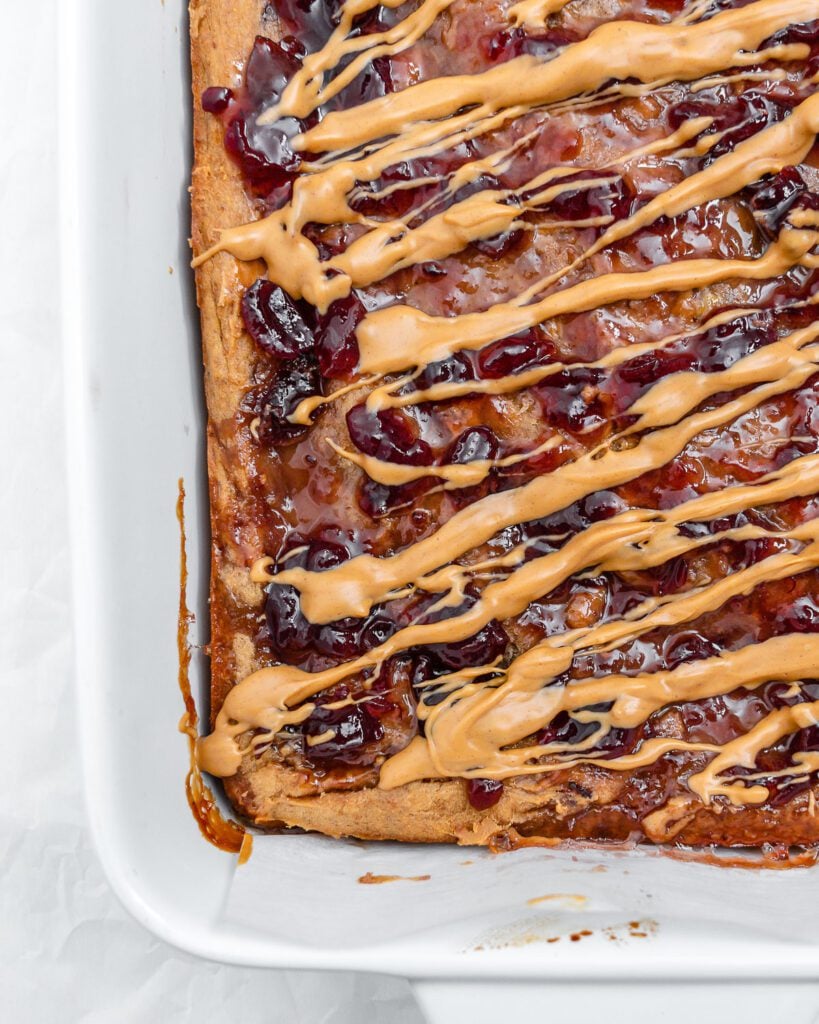 The Ingredients
Flour: I used regular all-purpose flour, though white whole-wheat flour should also work. To make gluten-free, vegan blondies, you could experiment with an all-purpose gluten-free flour blend (like Bob's Red Mill).
Sugar: We used brown sugar for extra moisture and caramel flavor. Coconut sugar would also work in this vegan blondie recipe.
Baking Powder: Will help provide lift and the correct texture.
Vanilla extract: Use natural, pure vanilla for the best flavor.
Salt: A pinch in baked goods helps to add a wonderful depth of flavor.
Oil: Any neutral cooking oil would work, including vegetable oil, canola oil, etc. Melted vegan butter should also work well, though melted coconut oil can be greasy.
For an oil-free version, you may swap out some or all of the oil with unsweetened applesauce. However, I haven't tried, so I can't guarantee results. Let me know in the comments if you try.
Plant-based milk: Use any dairy-free milk (almond milk, soy milk, coconut milk, etc.)
Banana: Use ripe to slightly over-ripe bananas.
Flax eggs: A combination of ground flaxseeds and water will make the perfect egg substitute for these vegan blondies.
Peanut butter: I recommend using creamy peanut butter (smooth or crunchy). Other nut or seed butters would also work like almond butter (almond butter blondies with raspberries and vegan white chocolate are a favorite of mine!) or even sesame seed butter.
Preserves: Use the fruit preserves/jam of your choice. Raspberry, strawberry, grape, etc.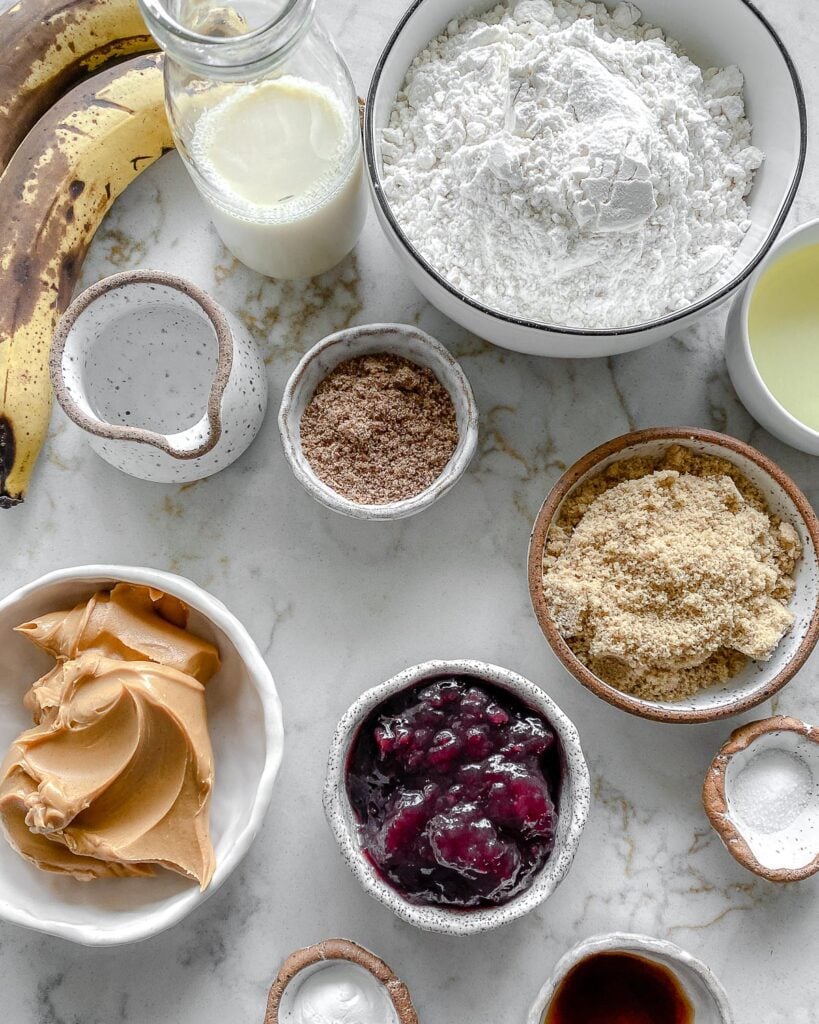 Optional add-ins & Recipe Variations
Biscoff: Swap out the nut butter for Biscoff (with or without the preserves) for any Biscoff-loving fan.
Jammy dodgers: If you live somewhere where you're able to purchase mini jammy dodgers (a jam-filled sandwich biscuit), they make for a perfect garnish to gently press into the peanut butter and jam blondies before baking.
Berries: Add a handful of fresh berries (raspberries, chopped strawberries, etc.) gently pushed into the top of the peanut butter blondie batter before baking. Peanut butter and raspberry blondies are delicious!
Coconut: A few tablespoons of unsweetened shredded coconut is a great way to add extra texture and flavor.
Vegan white chocolate: You can add vegan white chocolate chips within the vegan blondies OR drizzle it over the blondies and allow it to set before serving.
Nuts: For extra texture, add a handful of chopped nuts or seeds (peanuts, macadamias, almonds, walnuts, pecans, etc.)
Molasses: Adding just a spoonful of molasses deepens the flavor and makes for super gooey vegan blondies.
How to Make Vegan Peanut Butter Blondies?
First, preheat the oven to 350F/175C and lightly grease a 9x13-inch baking pan. At the same time, combine the ground flaxseed and water in a small bowl and mix well for a minute before setting aside in the refrigerator for 10 minutes.
To make it easier to remove the peanut butter and jelly blondies from the pan, line it with parchment paper, leaving a slight overhang over the sides.
Next, use a fork or potato masher in a large bowl to mash the bananas until smooth. Then, stir in the remaining ingredients (apart from the fruit preserves) and mix until well combined.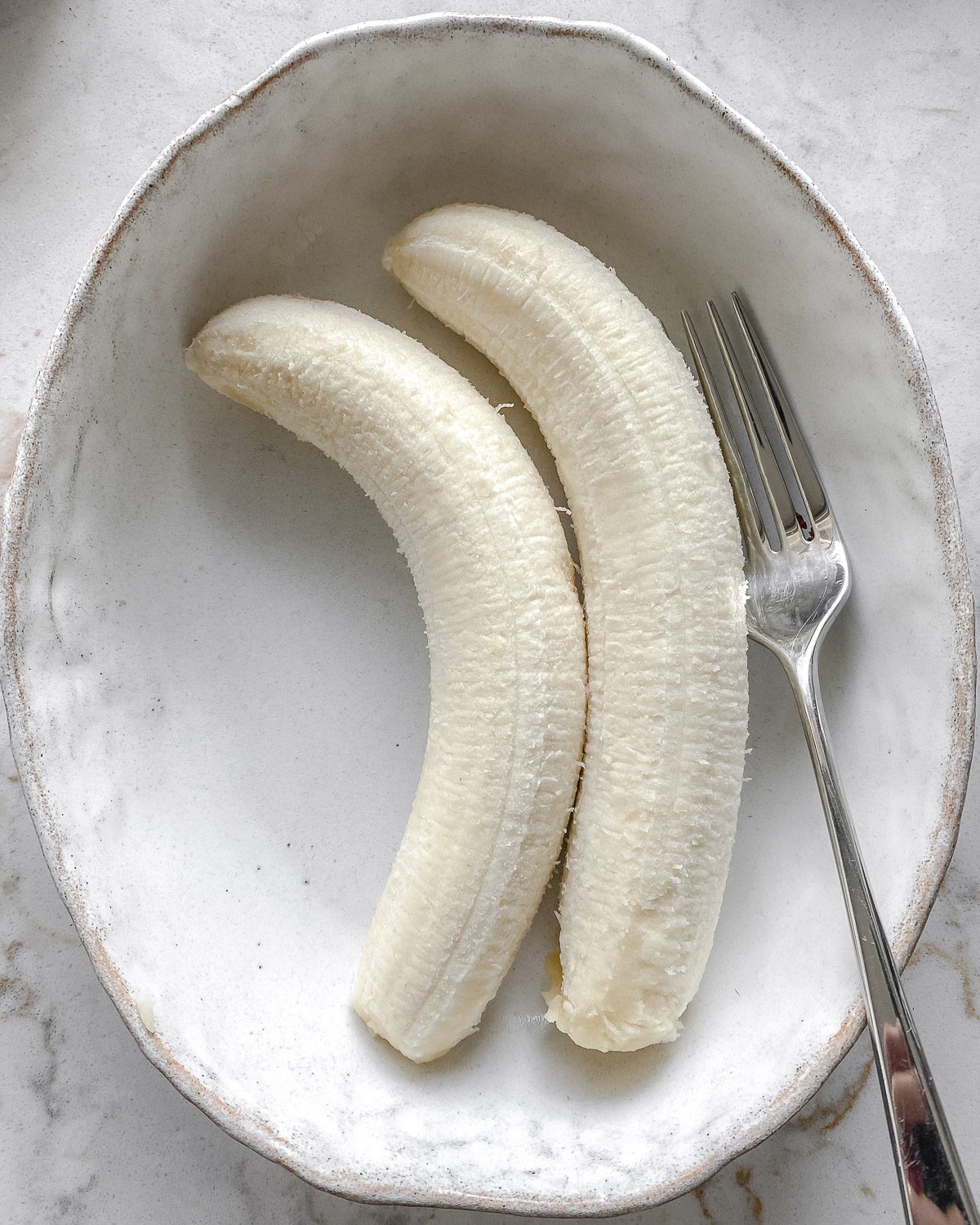 To avoid overworking the gluten, you could start by adding all the other ingredients, then adding the flour at the end, stirring until just combined. If you find your peanut butter is hard, microwave it for 10-20 seconds, or until runny, before adding it to the batter.
Next, pour the batter into the prepared pan and tap it against your kitchen surface to release any air bubbles. Then, using a spoon, add dollops of the fruit preserved across the top of the batter, using a skewer/knife to create swirls.
You can optionally also add a few tablespoons of peanut butter to the top in swirls as well.
Transfer the pan to the oven and bake for 40-50 minutes, (ovens vary so it's worth first checking at 30-35 minutes) or until a toothpick inserted into the center comes out clean or almost clean. It will continue to bake from residual heat as they cool outside of the oven, so be careful not to overbake it.
Once baked, allow the blondies to cool in the pan for at least 20 minutes before removing them and allowing them to cool completely on a wire rack before slicing into individual blondie bars. Optionally drizzle with melted peanut butter and enjoy!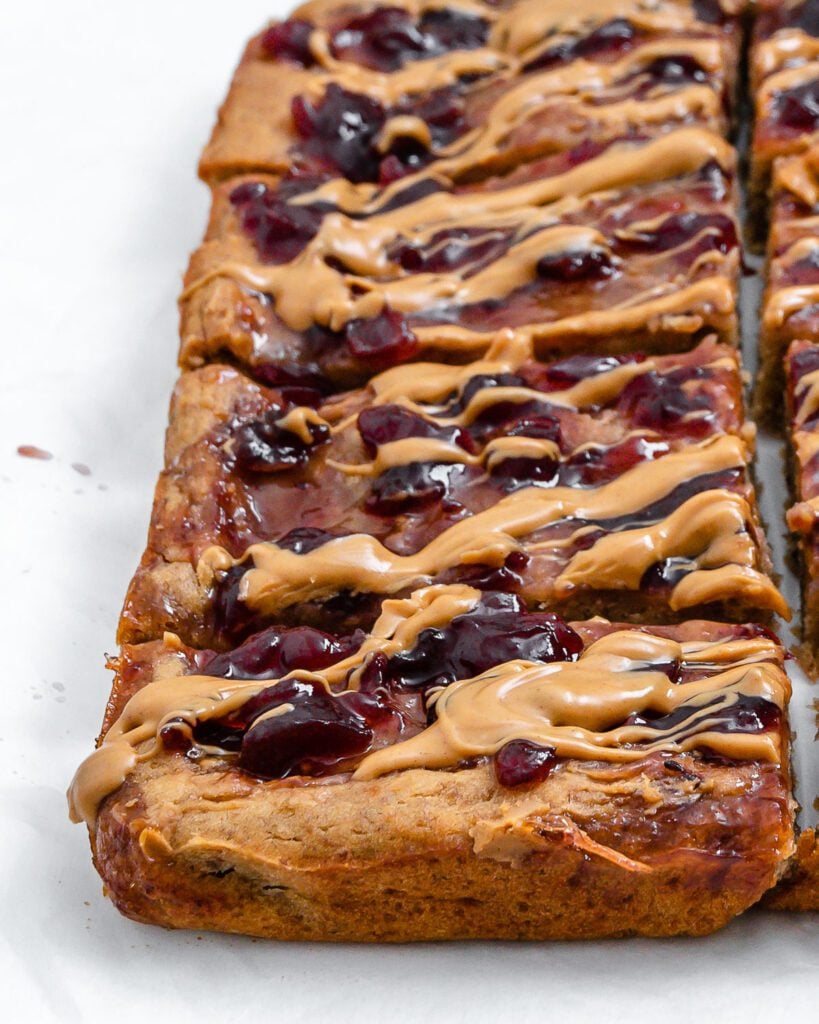 How to Store?
At room temperature: Cover the peanut butter and jelly blondies loosely on the countertop and store for 2-3 days. However, if you want to store them for longer, a fridge is preferable.
In the fridge: Store in an airtight container for 7 days.
In the freezer: First, flash freeze the peanut butter and jam blondies separately on a baking tray, then transfer them to a freezer-safe bag/container for up to 3 months.
You can allow a bar to thaw at room temperature for several hours, in the fridge overnight, or using the defrost setting in your microwave.
FAQs
Why are my vegan blondies cakey?
Usually, this is down to them being overbaked or if you've made an ingredient swap.
Can I make these sugar-free?
Personally, I haven't tried. However, you could experiment with using a sugar-free brown sugar substitute (to mimic the taste) and use a sugar-free fruit jam/preserve.
How to serve peanut butter and jelly blondies?
You can enjoy peanut butter jelly blondies alone OR with a scoop of vanilla nice cream (or berry, coconut, peanut butter, etc.). Alternatively, enjoy with some vegan coconut whipped cream and berries.

I love to warm mine up for just 10-15 seconds in the microwave for a super decadent treat!
Can I omit the fruit preserve/jam/jelly?
Absolutely. If you'd prefer to make these as plain peanut butter blondies, they still taste divine!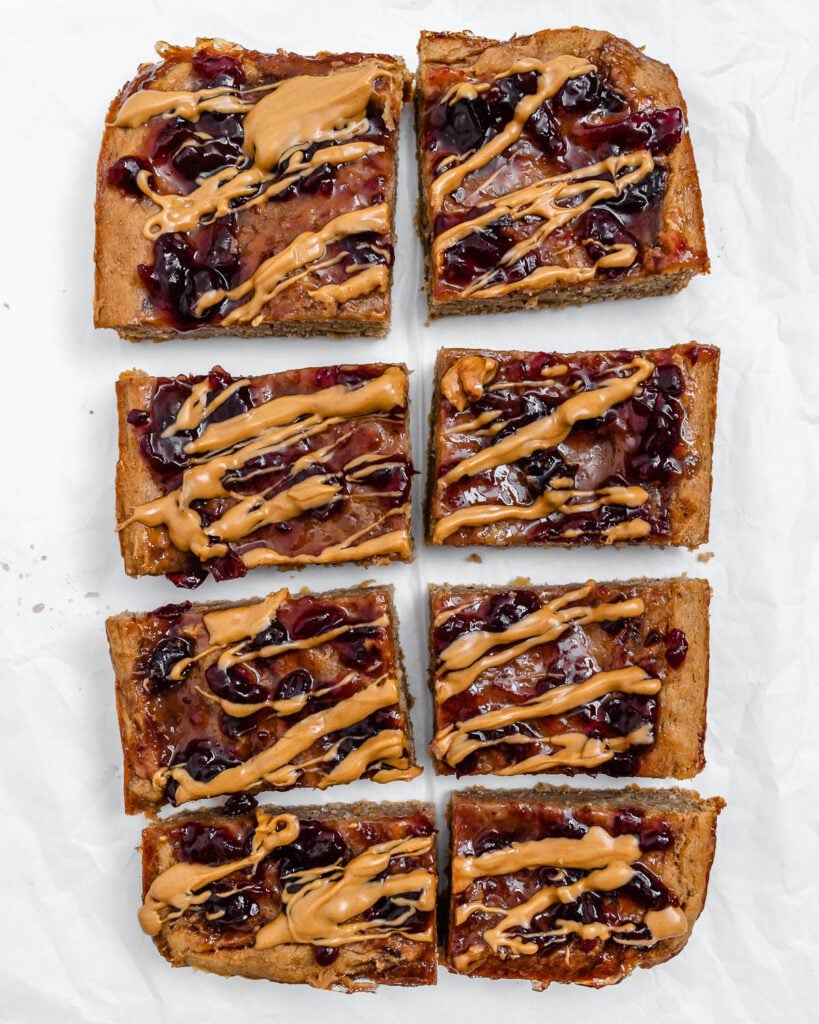 Top Recipe Tips and Notes
Don't overmix the batter: If you overwork the gluten flour, the vegan blondies may sink in the middle. If using gluten-free flour, you don't have to worry about this.
Adjust the sweetness: You could experiment with reducing the amount slightly. I don't recommend removing too much, as it also keeps the blondies soft/moist. I haven't tried the recipe with a sugar-free sweetener, but you would likely need other recipe tweaks for additional moisture.
Adjust the baking time: If you prefer your vegan blondies to be cakier or gooier, adjust the baking time. Keep an eye on them the first time you make the recipe to discover what timing works best for you.
For mini blondie bites: For regular-sized bars, you can cut it into 12 pieces; for individual peanut butter blondie bites (perfect for a dessert bar/ grazing platter), you can cut them into 24 pieces (first slice the bar into 6 pieces, then divide each of those into four).
If you try this vegan peanut butter and jelly blondies recipe (as written or with substitutes), I'd love to know what you think. I'd also really appreciate a recipe card rating!
More Sweet Vegan Snacks
Photos by Alfonso Revilla
Vegan Peanut Butter Blondies [PB&J Blondie Bars]
These vegan peanut butter blondies are chewy, gooey, fudgy, and loaded with peanut butter and jelly flavor, with no need for dairy and eggs!
Equipment
measuring spoons

measuring cups

9x13 baking dish

small whisk
Ingredients
2

Tablespoons

of ground flaxseeds

5

Tablespoons

of water

2

ripe bananas

peeled

¾

cup

of peanut butter

¼

cup

of vegetable or canola oil

½

cup

of plant-based milk (any variety)

1

teaspoon

of vanilla extract

2

cups

of all-purpose flour

½

cup

of brown sugar

1 ½

teaspoons

of baking powder

½

teaspoon

of salt

¾

cup

to 1 cup of fruit preserves

Melted peanut butter for drizzling on top

optional
Instructions
Preheat the oven to 350 degrees F and lightly grease a 9x13 baking pan or dish.

In a small bowl, beat together the flaxseed meal and water for 1 minute. Place in the refrigerator for 10 minutes.

Using a fork or potato masher, mash the bananas and stir in the peanut butter, oil, plant milk, vanilla, flour, sugar, baking powder, salt, and flaxseed mixture until it's well-combined.

Pour the batter into the prepared baking pan, use the fruit preserves to create a layer of swirls on top of the batter, and bake for 50 minutes. Test by sticking a toothpick in the middle of the loaf. If the toothpick comes out dry, the loaf is done. If it's not, bake in 5-minute increments until the toothpick comes out dry.

Drizzle melted peanut butter on top, optional.
Nutrition
Calories:
498
kcal
Carbohydrates:
72
g
Protein:
10
g
Fat:
21
g
Saturated Fat:
3
g
Polyunsaturated Fat:
6
g
Monounsaturated Fat:
11
g
Trans Fat:
1
g
Sodium:
372
mg
Potassium:
354
mg
Fiber:
4
g
Sugar:
35
g
Vitamin A:
19
IU
Vitamin C:
5
mg
Calcium:
102
mg
Iron:
2
mg
Disclaimer: Although foodsharingvegan.com attempts to provide accurate nutritional information, kindly note that these are only estimates. Nutritional information may be affected based on the product type, the brand that was purchased, and in other unforeseeable ways. Foodsharingvegan.com will not be held liable for any loss or damage resulting for your reliance on nutritional information. If you need to follow a specific caloric regimen, please consult your doctor first.