This basic strawberry smoothie with yogurt is thick, creamy, bursting with flavor, and made in just minutes with 3 base ingredients (dairy-free and vegan!) and plenty of optional add-ins to experiment with!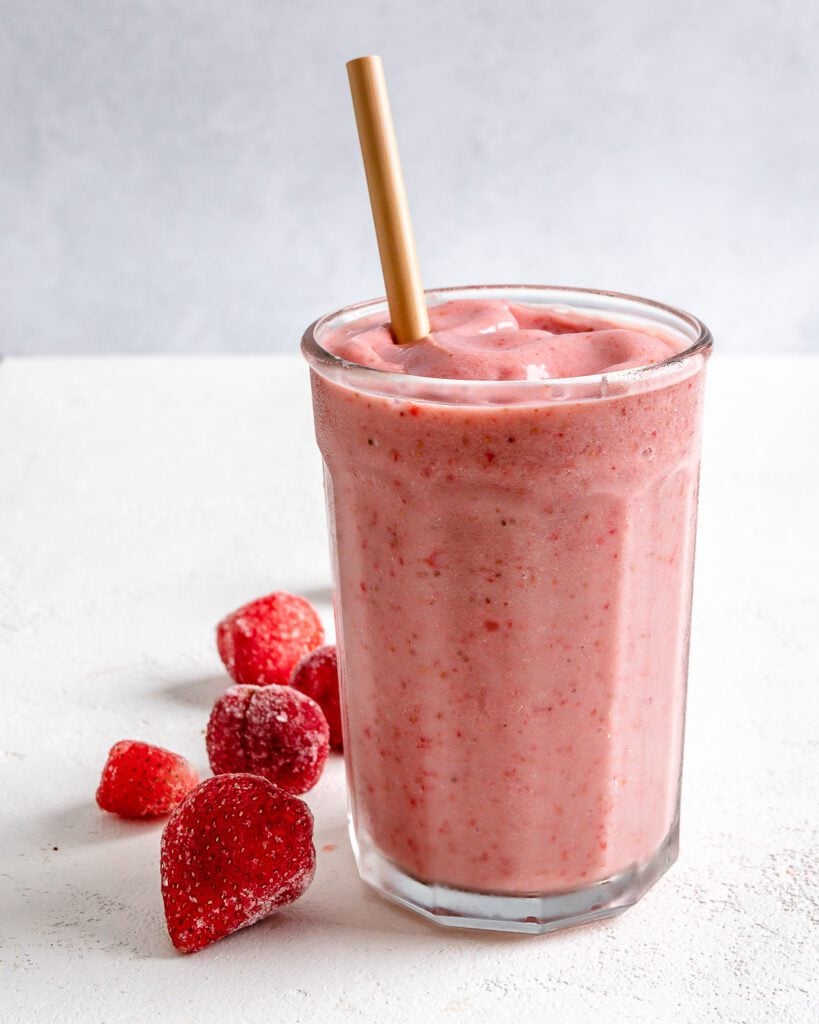 Simple, Versatile, Basic Strawberry Yogurt Smoothie
Let me ask you a serious question. Is there EVER a wrong time for a smoothie (or a creamy banana milkshake)? No, but seriously, this vegan strawberry smoothie with plant-based yogurt is perfect for enjoying as part of breakfast, brunch, a mid-day snack, post-dinner treat, etc. No matter when the cravings strike, this easy strawberry yogurt smoothie is here to please and perfect for satisfying a sweet tooth!
Thanks to a thriving market, it's never been easier to prepare this vegan strawberry smoothie, either, with dairy-free versions of milk and yogurt. No one would even guess it's dairy-free. For those who aren't fans of bananas, you're in luck too, as I've ditched banana for super creamy yogurt instead.
Even better, you can make this healthy strawberry smoothie with just a handful of inexpensive kitchen staples in a couple of minutes, making it perfect for starting the day off right, even on busy mornings.
It's also SUPER versatile. Enjoy it on its own (in a glass or as a smoothie bowl) or use it as the base for tons of other ideas. Keep reading for all my favorite flavor variations and add-ins (including adding banana, strawberry peanut butter smoothie, strawberry raspberry smoothie, a strawberry protein smoothie, and many more).
As you can probably tell, there is no shortage of kind words I have for this easy strawberry smoothie recipe, so let me zip it now and get on with the recipe!
Easy Strawberry Smoothie Ingredients
This healthy strawberry smoothie recipe with yogurt requires just three base ingredients, with an optional fourth.
Strawberries: You can use fresh or frozen. I used frozen for a thick, creamy frozen strawberry smoothie.
If you're using pre-packaged frozen strawberries, make sure to choose ones that are 100% fruit and don't contain sugar.
Plant-based yogurt: I used dairy-free strawberry yogurt, but use dairy-free vanilla yogurt or unsweetened plain dairy-free yogurt if preferred.
Plant-based milk: Use your preferred dairy-free milk. Soy milk, almond milk, oat cashew, etc. For a richer version, use full-fat canned coconut milk.
Sweetener: (optional) Give the strawberry yogurt smoothie a taste before deciding to add sweetener. You can use agave, maple syrup, dates or your choice of sweetener (including a sugar-free sweetener like erythritol) to taste.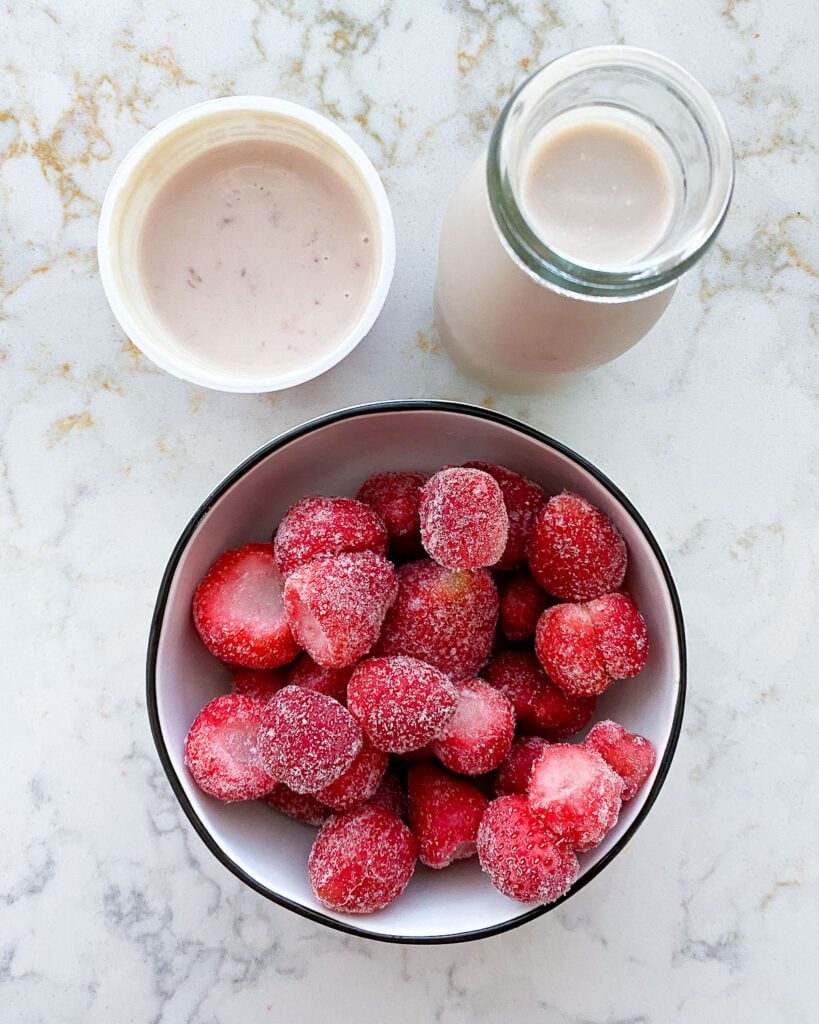 Optional add-ins & Recipe Variations
Above is a wonderful, delicious 'base' healthy strawberry smoothie. However, there are plenty of ways to adapt the recipe. Whether you want to enjoy a hearty breakfast strawberry oatmeal smoothie or a dessert-like treat. Keep reading for all my top favorite additions.
For Flavor
Vanilla extract: A few drops of pure vanilla will enhance the 'dessert-like' flavor of the strawberry yogurt smoothie.
Raspberry strawberry smoothie: Use a 50/50 blend of raspberries and strawberries.
Cocoa powder: To create a decadent strawberry chocolate smoothie, add a tablespoon of unsweetened cocoa powder plus nut butter.
Other fruits: There are plenty of other fruits that pair well with this frozen strawberry smoothie, including:

Strawberry banana smoothie (add ½ banana)

Cinnamon: Add a pinch for a subtle flavor throughout the drink.
Vegan ice cream: For a fruity dessert option, prepare a strawberry smoothie with vegan iice cream (omit the yogurt). I recommend vanilla, berry, peanut butter, or even dairy-free chocolate ice cream. Frozen plant-based yogurt would also work well.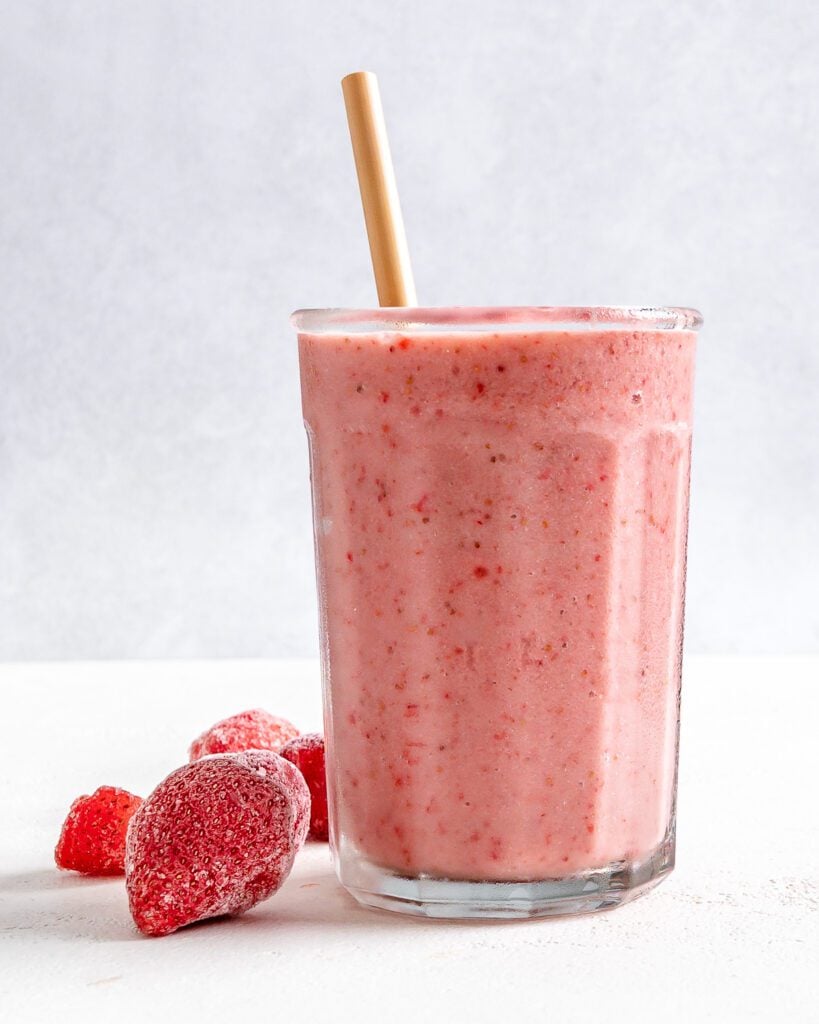 For Additional Nutrients
All of the below ingredients can be added to boost the levels of protein, fiber, and/or healthy fats in the strawberry yogurt smoothie. It's just a bonus that they taste great, too!
Protein powder: Add a scoop of your favorite vegan protein powder. You could use unflavored, vanilla, strawberry, peanut butter, etc. If it's too thick, add some additional water or dairy-free milk.
Chia seeds/ flaxseed/ hemp seeds: Add 1-2 tablespoon for extra protein and fiber along with heart-healthy fats and omega fatty acids.
Nut butter: You only need one tablespoon. Not only does this make a richer, creamier frozen strawberry smoothie, but it also helps to add more satiating healthy fats, protein, fiber, and several vitamins/minerals. My favorite option is a strawberry peanut butter smoothie, but almond butter also works well. For a nut-free version, sunflower seed butter could work.
Spinach/Kale: Adding a large handful of leafy greens may not yield the most appetizing-looking color. However, a strawberry spinach smoothie packs in nutrients and fiber, AND you can't even taste the greens!
Avocado: Swap out some dairy-free yogurt for avocado, for creaminess and healthy fats (plus antioxidants!).
Oatmeal: Adding fiber-rich oats (¼-⅓ cup) will help add texture and create a more satiating version for breakfast/brunch.
To serve this as a strawberry smoothie bowl, it's best to use frozen strawberries and some frozen dairy-free milk ice cubes or reduce the milk. This will help give it a thicker consistency. Then, you can serve it in a bowl and top it with all your favorite toppings like granola, nuts/seeds, or a drizzle of nut butter, additional fruits, shredded coconut, cacao nibs/vegan chocolate chips, etc.
How to Make A Strawberry Smoothie with Yogurt?
Add all the ingredients to a blender, placing the liquid and dairy-free yogurt closer to the blades. Blend until smooth and creamy. Then, give it a taste and add sweetener if preferred (to taste).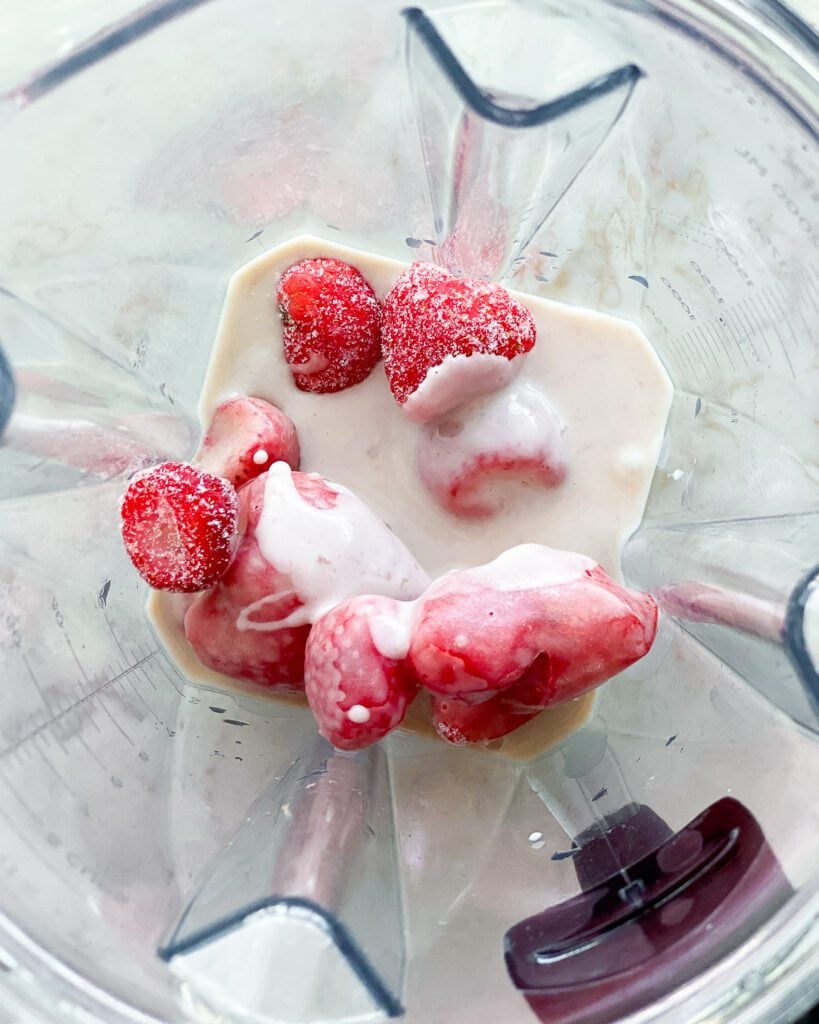 Transfer the fresh strawberry smoothie to your serving glass of choice and enjoy it as-is or with the toppings of your choice!
Storage Instructions
Make-Ahead: You can wash and freeze fresh strawberries in advance and store them in the freezer, ready for whenever a craving strikes.
Once prepared, it's best to enjoy the frozen strawberry smoothie immediately. If you use fresh strawberries, you could store any leftovers in an airtight container in the fridge for up to a day. Then, give it a good shake/stir before drinking.
FAQs
Can you freeze smoothies?
It isn't something I ever do. However, I have read that it's possible. I recommend freezing it in portion sizes (i.e., in an XL ice cube tray or in small Ziplock/Stasher bags) for up to 3 months. Then simply allow it to thaw overnight before enjoying.
Can I make the strawberry smoothie without dairy-free yogurt?
Absolutely. Feel free to omit the vegan yogurt. If you still want it to be thick, add some frozen banana or other fruit instead (though banana will be 'creamiest').
Is a strawberry yogurt smoothie healthy?
While healthy means something different to many, I consider this a healthy treat. With a combination of fruit and plant-based yogurt, this vegan strawberry smoothie is packed with several antioxidants, vitamins (including vitamin C), minerals (potassium, folate, etc.), and a low amount of added sugar and fat (depending on the plant-based yogurt used). You can even boost the healthfulness of the recipe further with the addition of healthy whole grains (fiber) and nut butter/seeds (protein).
Can you make a strawberry smoothie without plant-based milk?
Of course, it will just be thicker (possibly ready to turn into a delicious strawberry smoothie bowl!).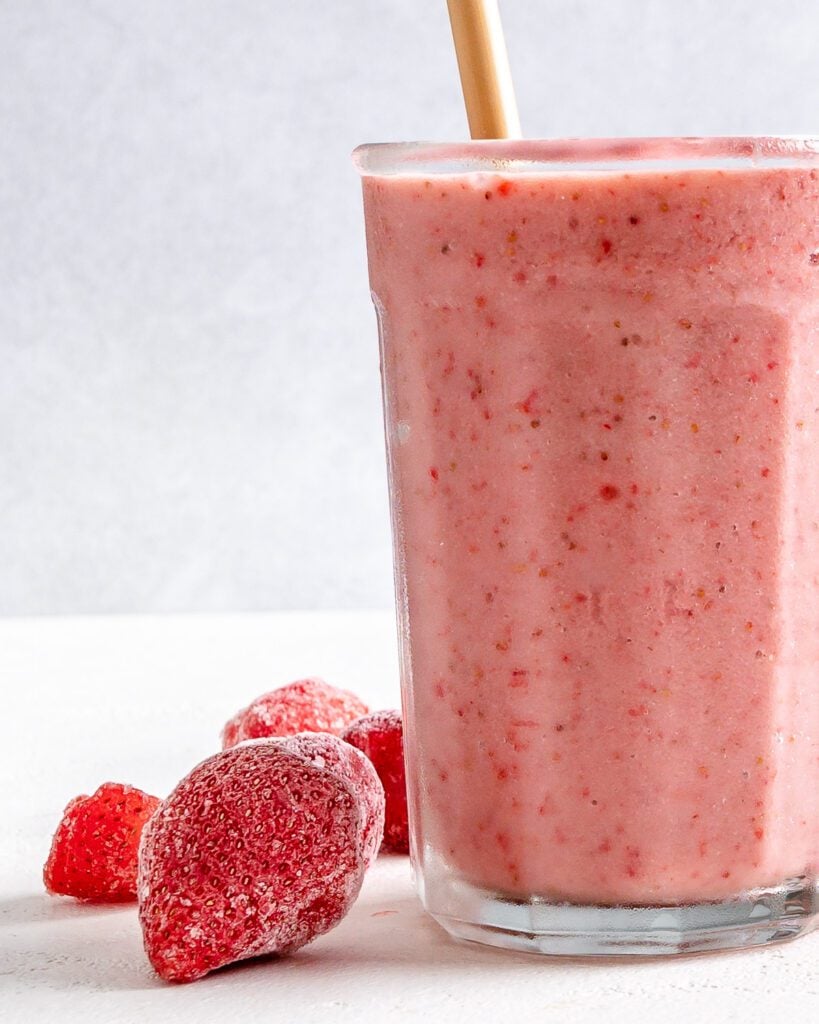 Top Recipe Tips and Notes
Add the liquid first: This is especially important when using frozen fruits, as it will help the blades work.
For a balanced meal: If you want to create a version that will make for a balanced breakfast/meal, for example, I recommend ensuring there is a combination of healthy fats, protein, fiber, carbs, etc. For example, adding oats, a handful of spinach/kale, and a spoonful of nut butter.
Enjoy in a glass or bowl: Turn this recipe into a strawberry smoothie bowl and top with all your favorite toppings for a hearty, nutritional meal.
Avoid ice cubes: Use frozen fruit and/or frozen plant milk/yogurt cubes to achieve that thick slushy consistency without watering down the flavor.
When using a low powered blender: It may be best to only add any frozen elements a little at a time so as not to overwork the motor/blades.
To adjust the thickness: Simply reduce/increase the amount of dairy-free milk.
Turn it into popsicles: Have any leftovers? Pour it into a popsicle mold and enjoy it as a frozen dessert at another time.
If you try this easy vegan strawberry smoothie recipe, I'd love to know what you think in the comments below. I'd also really appreciate a recipe card rating!
Photos by Alfonso Revilla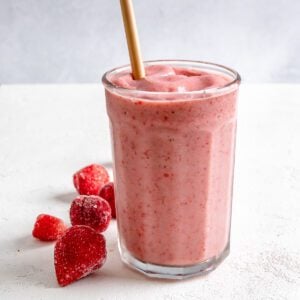 Strawberry Smoothie with Yogurt
This basic strawberry smoothie with yogurt is thick, creamy, bursting with flavor, and made in just minutes with 3 base ingredients (dairy-free and vegan!) and plenty of optional add-ins to experiment with!
Ingredients
1

(10-ounce) package of frozen strawberries

1

(5.3-ounce) package of vegan strawberry yogurt

½

cup

of plant-based milk

Agave or maple syrup, to taste (optional)
Instructions
Add all ingredients to a blender and blend until completely smooth and creamy.
Nutrition
Calories:
124
kcal
Carbohydrates:
20
g
Protein:
8
g
Fat:
2
g
Saturated Fat:
1
g
Polyunsaturated Fat:
1
g
Monounsaturated Fat:
1
g
Cholesterol:
5
mg
Sodium:
105
mg
Potassium:
217
mg
Fiber:
4
g
Sugar:
13
g
Vitamin A:
67
IU
Vitamin C:
83
mg
Calcium:
173
mg
Iron:
1
mg
Disclaimer: Although foodsharingvegan.com attempts to provide accurate nutritional information, kindly note that these are only estimates. Nutritional information may be affected based on the product type, the brand that was purchased, and in other unforeseeable ways. Foodsharingvegan.com will not be held liable for any loss or damage resulting for your reliance on nutritional information. If you need to follow a specific caloric regimen, please consult your doctor first.