This easy antioxidant-rich blueberry vinaigrette is fresh, sweet, tangy, and needs just 5 ingredients (plus salt and pepper) and 5 minutes to transform your salads from okay to YAY!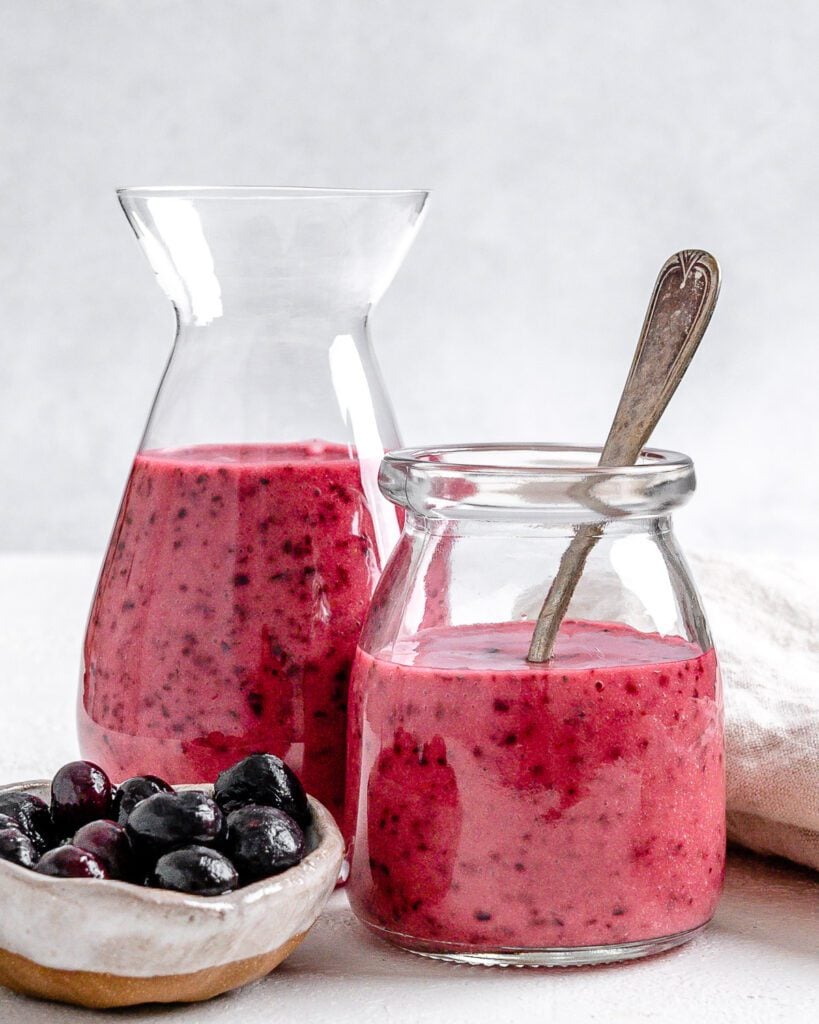 5-Minute Summery Blueberry Vinaigrette Recipe
When I was younger, I lived on a strict budget, which meant I often dressed salads in a simple lemon-olive oil style vinaigrette. However, recently I was making a salad and was going to chuck some leftover blueberries in for little 'bursts' of flavor when it occurred to me that I could prepare a simple blueberry vinaigrette to enjoy the flavor in every bite.
This blueberry salad dressing combines regular lemon vinaigrette ingredients with lots of blueberries for a dressing that's fun, fresh, and fruity. Even better, it requires just a handful of versatile ingredients (most of which are pantry staples), a blender or food processor, and five minutes (or even less!). Once ready, you'll want to pour it over every salad to give it a fruity boost!
Best of all, by making your own blueberry dressing, you get to be 100% in control of the ingredients and flavor (and even cost!), so have fun experimenting to tweak this recipe to your liking!
The Ingredients
This blueberry dressing recipe requires just a handful of pantry-friendly ingredients, including:
Blueberries: You can't make a blueberry vinaigrette without plenty of fresh blueberries (or frozen, thawed first). Ripe, in-season berries will provide the best flavor.
Top Tip: This same recipe and method will work with several other types of berries, so you can easily adapt it to a strawberry, raspberry, blackberry, etc., vinaigrette.
Lemon: You'll need both lemon juice and lemon zest to add extra zingy flavor to the berry vinaigrette. Lime juice would also work.
Vinegar: This is fairly versatile. You could use apple cider vinegar or balsamic vinegar. I prefer a blueberry balsamic dressing, but let me know your preference in the comments.
Olive oil: Use a good-quality light and fruity extra-virgin olive oil or plain olive oil. Avocado oil may also work, but the flavor differs.
Sugar: Use a granulated or liquid sweetener (refined, unrefined, or even sugar-free like Stevia) if preferred. Adjust the amount to taste.
If you want a nicely emulsified blueberry dressing, I recommend using maple syrup or agave syrup.
Salt & black pepper: Added to taste.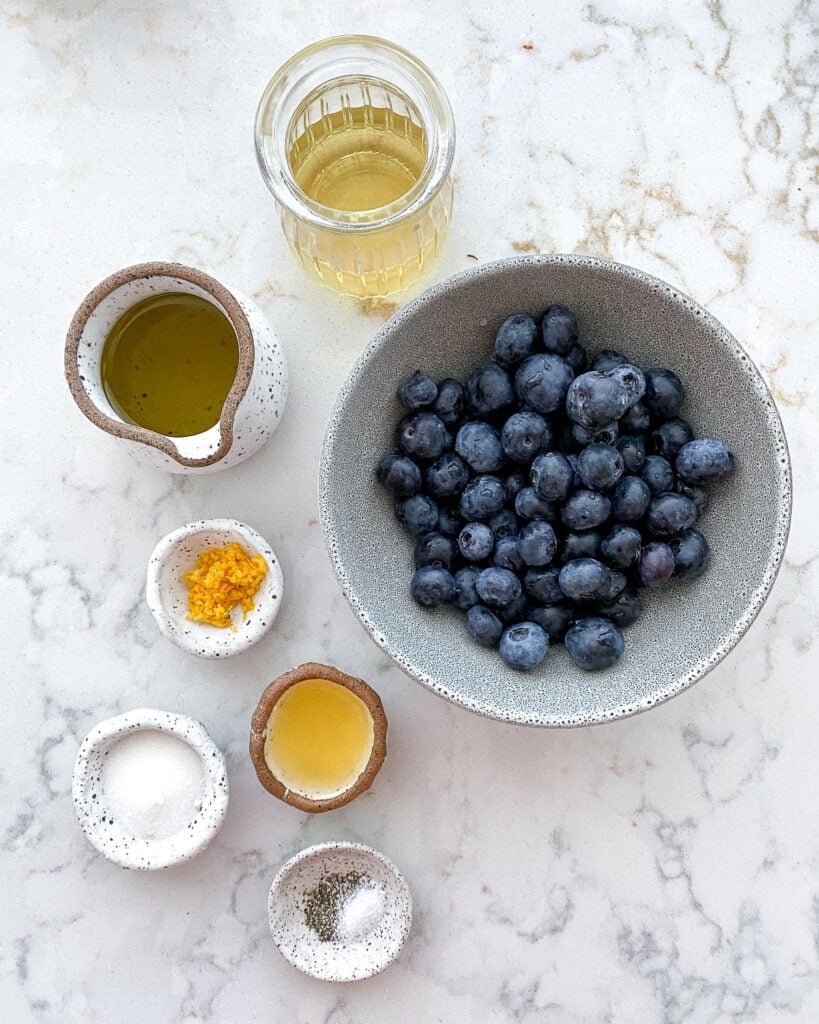 Optional add-ins & Recipe Variations
Orange juice: Swap out some or all of the lemon juice/zest for orange instead.
Dijon mustard: A small amount of mustard not only adds tang but is also an emulsifier.
Dairy-free yogurt: For a creamy blueberry salad dressing, add a small amount of unsweetened dairy-free yogurt.
Cinnamon: Just a pinch.
How to Make Blueberry Vinaigrette?
This blueberry salad dressing requires just a couple of steps and just minutes to prepare.
1) First, rinse your blueberries and zest and juice the lemon. Be careful not to include the bitter white pith.
2) Then process the blueberries in a blender or food processor until pureed/smooth.
3) Add all the remaining ingredients and pulse until well combined.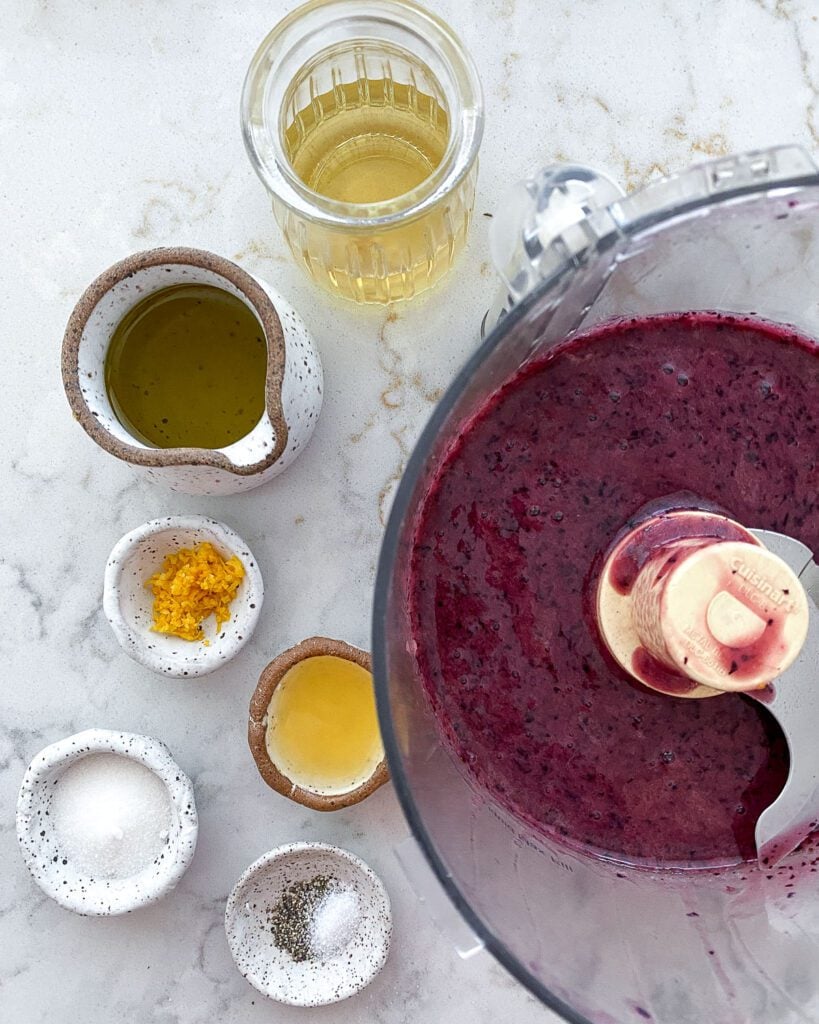 Finally, give the blueberry vinaigrette a quick taste test and adjust any of the elements if preferred (i.e. more acid, more sweetener, etc.)
The Storage Instructions
Fridge: Store any leftover blueberry salad dressing in an airtight bottle/jar in the refrigerator for 7-10 days. I highly recommend making it a day in advance to give all the flavors the chance to meld and marinate.
The oil may solidify slightly in the fridge. Also, if you didn't use an emulsifier in the recipe (like maple syrup or agave), then the oil and vinegar will eventually separate while resting. However, you can just bring it back to room temperature, give it a good shake again before serving, and you'll be good to go.
Serving Recommendations
Unsurprisingly, this blueberry salad dressing tastes excellent over salads. I particularly love using it with leafy greens like spinach or a kale salad.
It also works well with a fruity salad like something with apple and walnuts, a grilled peach salad, etc.
I've also previously used it in grain salads and as a marinade/sauce for tofu and vegan 'chicken.'
Last of all, this berry vinaigrette would also work as a dip for veggies and bread. The mix of sweet and savory is delicious!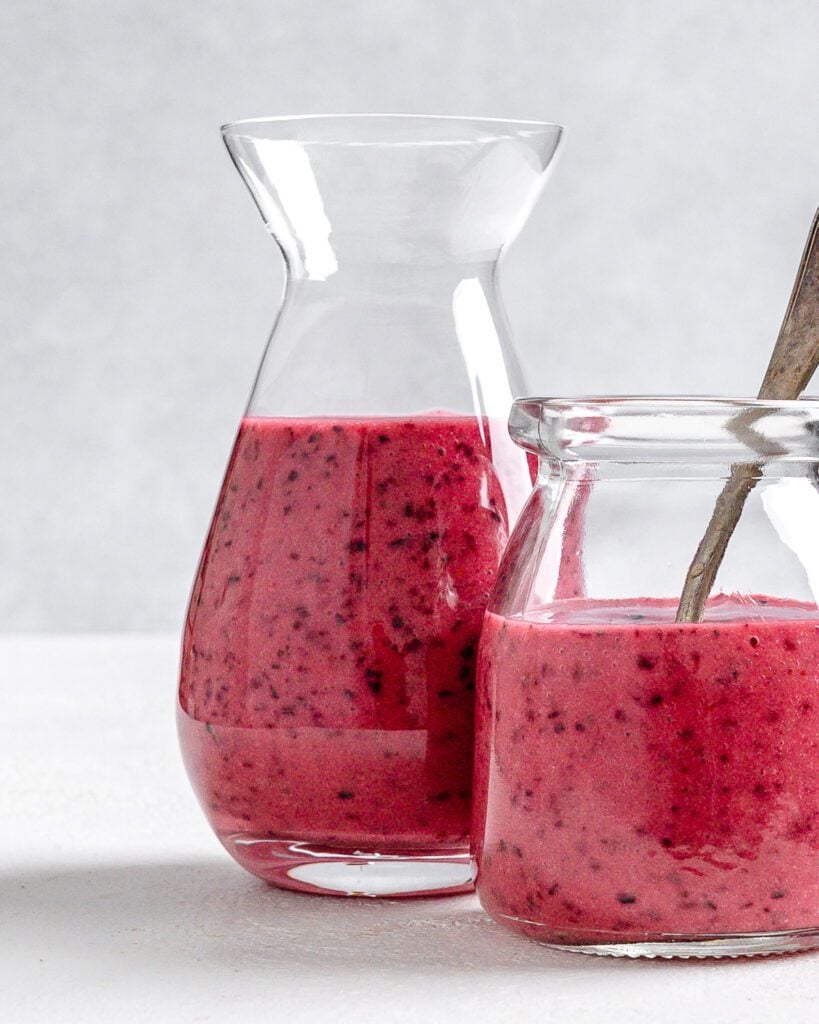 FAQs
Can I use frozen blueberries?
If you allow them to thaw first, I don't see why not. I highly recommend freezing the biggest, juiciest ripe blueberries while they're in season to use out of season.
Do I need to keep the blueberry dressing refrigerated?
Yes, you do. Otherwise, the mashed berries will spoil quickly.
Can I reduce the amount of oil used?
Technically yes, though the blueberry dressing won't have as much of a silky mouthfeel.
Can I make blueberry vinaigrette without a blender?
It's possible to mash the blueberries by hand (using a mortar and pestle or placing them in a bag and bashing with a rolling pin). Then add all the ingredients to a mason jar and shake. However, the berry vinaigrette will obviously be 'chunkier,' with more discernable berry pieces.
Can I use balsamic glaze instead of balsamic vinegar?
I haven't tried, though it should work, it will just be sweeter. If using the glaze, I don't think you'd need any additional sugar in the blueberry balsamic dressing.
Can you freeze it?
Since there's no dairy in it, I think that would be okay for up to 3 months. You'll need to re-blend/whisk it upon thawing to emulsify it again, but otherwise, I can't think of any issues you'd have. Use an ice cube tray to freeze portioned amounts (of 1-2 tablespoons), too.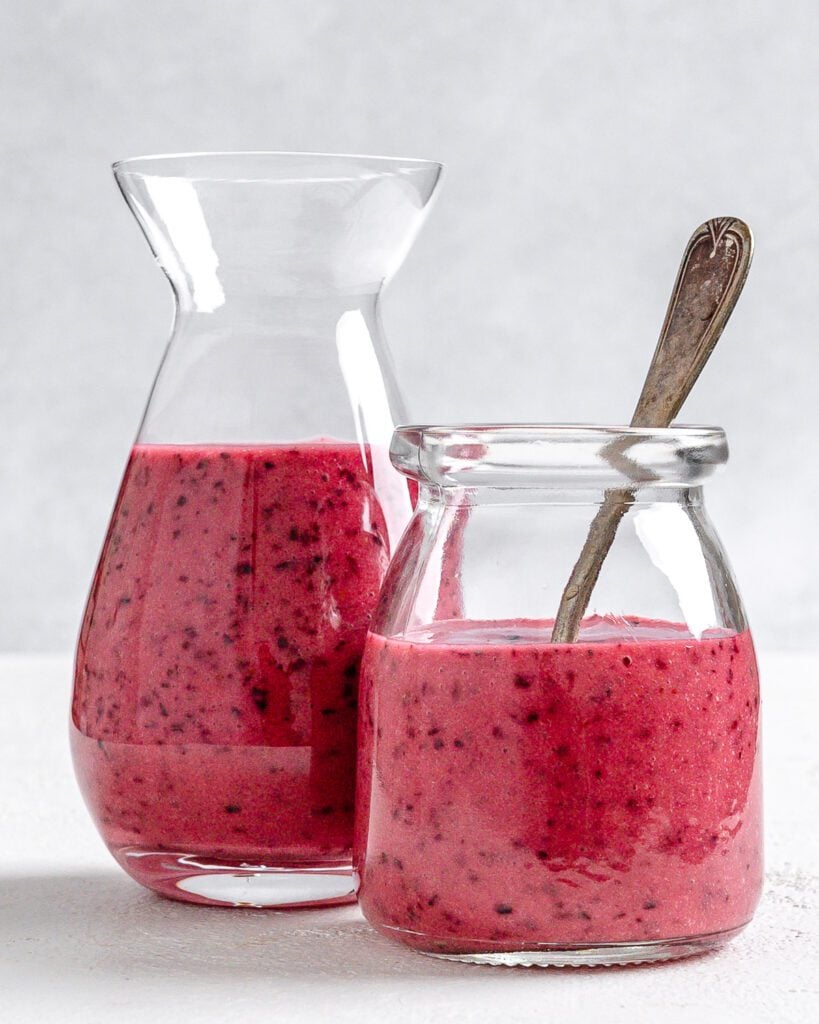 Top Recipe Tips/Notes
Allow it to rest: Even though you're able to use the vinaigrette immediately, it will taste even better after an hour of resting in the fridge. This allows all the flavors to meld and makes for a better overall flavor.
Adjust the ratios: It's easy to tweak any elements in this dressing to your liking. You could even reduce the amount of oil for a thicker dressing.
Enjoy at room temperature: Olive oil can thicken when chilled, so it's best to bring the dressing back to room temperature before serving it.
The texture: Once blended, I don't have an issue with the blueberry skins. However, if you do, then strain the mixture.
To thin a small amount: Add a little water or dairy-free milk rather than having to rely on more oil.
Use the right type of olive oil: Some extra-virgin olive oil has a very distinct, robust flavor. For this vinaigrette with blueberries, you want one that's light and fruity, so it doesn't compete too much with the delicate berry flavor.
If you try this simple blueberry vinaigrette recipe, I'd love to know what you think in the comments below. I'd also really appreciate a recipe card rating!
Photos by Alfonso Revilla
Easy Blueberry Vinaigrette
This easy antioxidant-rich blueberry vinaigrette is fresh, sweet, tangy, and needs just 5 ingredients (plus salt and pepper) and 5 minutes to transform your salads from okay to YAY!
Equipment
measuring cups

measuring spoons

blender

food processor
Ingredients
1

(6-ounce) package of blueberries

½

tablespoon

of lemon rind, grated

1

teaspoon

of lemon juice

⅓

cup

of red wine or apple cider or balsamic vinegar

¼

cup

of olive oil

2 to 3

teaspoons

of sugar (depending on your sweetness preference)

Sprinkle of salt and pepper, to taste
Instructions
In a food processor or blender, puree the blueberries. Add in the lemon rind, lemon juice, vinegar, olive oil, sugar, salt, and pepper. Blend for a few seconds until well-combined.
Nutrition
Calories:
78
kcal
Carbohydrates:
4
g
Protein:
1
g
Fat:
7
g
Saturated Fat:
1
g
Polyunsaturated Fat:
1
g
Monounsaturated Fat:
5
g
Sodium:
1
mg
Potassium:
25
mg
Fiber:
1
g
Sugar:
3
g
Vitamin A:
12
IU
Vitamin C:
3
mg
Calcium:
3
mg
Iron:
1
mg
Disclaimer: Although foodsharingvegan.com attempts to provide accurate nutritional information, kindly note that these are only estimates. Nutritional information may be affected based on the product type, the brand that was purchased, and in other unforeseeable ways. Foodsharingvegan.com will not be held liable for any loss or damage resulting for your reliance on nutritional information. If you need to follow a specific caloric regimen, please consult your doctor first.