This thick and creamy blueberry banana smoothie combines frozen fruit with flax meal for a simple, flavorful, and nutrient-dense breakfast or mid-day pick-me-up! Dairy-free, gluten-free, no added sugars, and plenty of flavor variations below!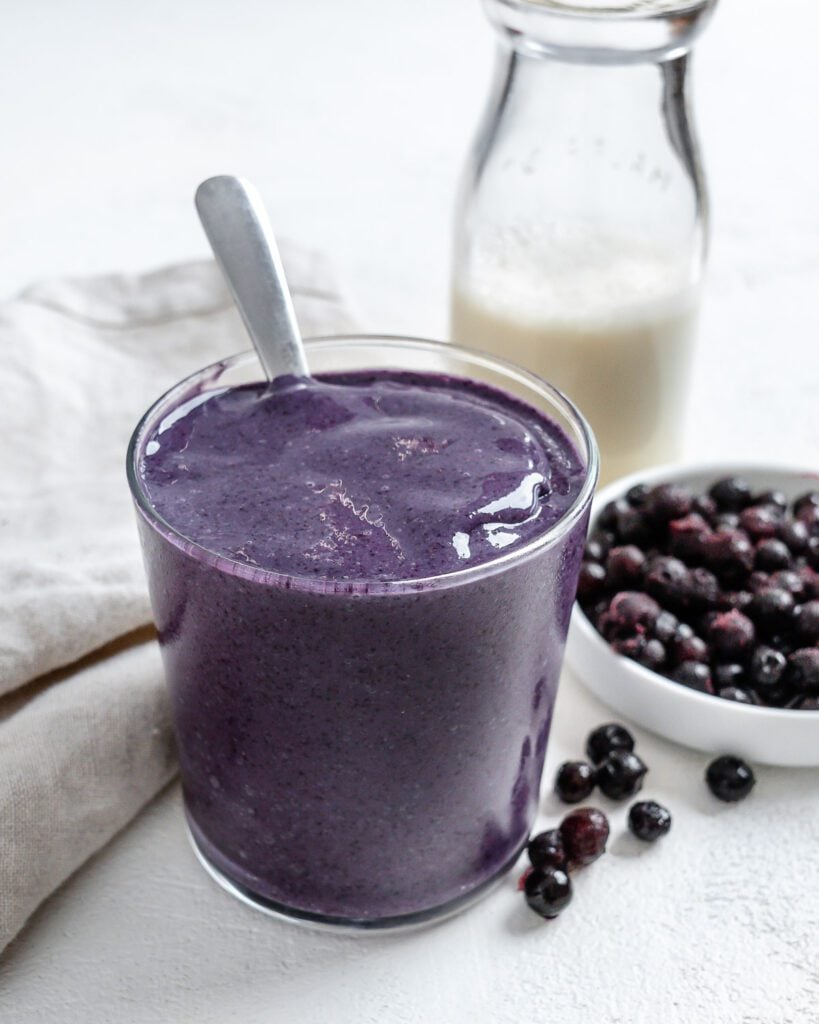 A Delicious Healthy Blueberry and Banana Smoothie
Whether you want a healthy breakfast, mid-afternoon pick me up, or snack, this simple blueberry banana smoothie is thick and creamy thanks to frozen fruit and is naturally sweetened, and packed with nutrient-dense plant-based ingredients.
With blueberries, banana, non-dairy milk, and flax seeds or meal, this 4-ingredient quick and simple blueberry smoothie recipe takes just a couple of minutes to prepare. It also provides a boost of energy, fiber, antioxidants, and a refreshing, fruity flavor, of course.
The classic flavor combination leaves plenty of room for experimentation too. Add nut butter for healthy fats and protein, leafy greens for a nutrient boost, oats for some satiating, staying power, etc. There's a healthy blueberry smoothie for every occasion!
If you want to try other simple, refreshing vegan drinks, you might enjoy this strawberry yogurt smoothie, simple strawberry juice, or creamy banana milkshake!
The Ingredients
You only need 4 ingredients for this blueberry smoothie recipe.
Blueberries: Use fresh blueberries or frozen blueberries. If using frozen, use ones that are 100% fruit with no added sugars.
Frozen blueberries are usually cheaper and taste fine. However, if you're able, we recommend buying blueberries in bulk while they're in season and freezing them for later.
Banana: Use a ripe fresh or frozen banana. The latter will make a thicker, creamier, healthy blueberry smoothie.
Plant-based milk: You can make this blueberry smoothie with vegan milk of all kinds. I.e., almond milk, cashew milk, oat milk, soy milk, etc.
Flaxseed: Use ground flaxseed meal or substitute it with chia seeds or hemp seeds. Both will add extra protein, fiber, and omega-3s.
The fruit should be sweet enough on its own. However, if desired, add a small amount of your favorite sweetener. Maple syrup, agave, dates/ date paste, etc. A sugar-free sweetener would also work.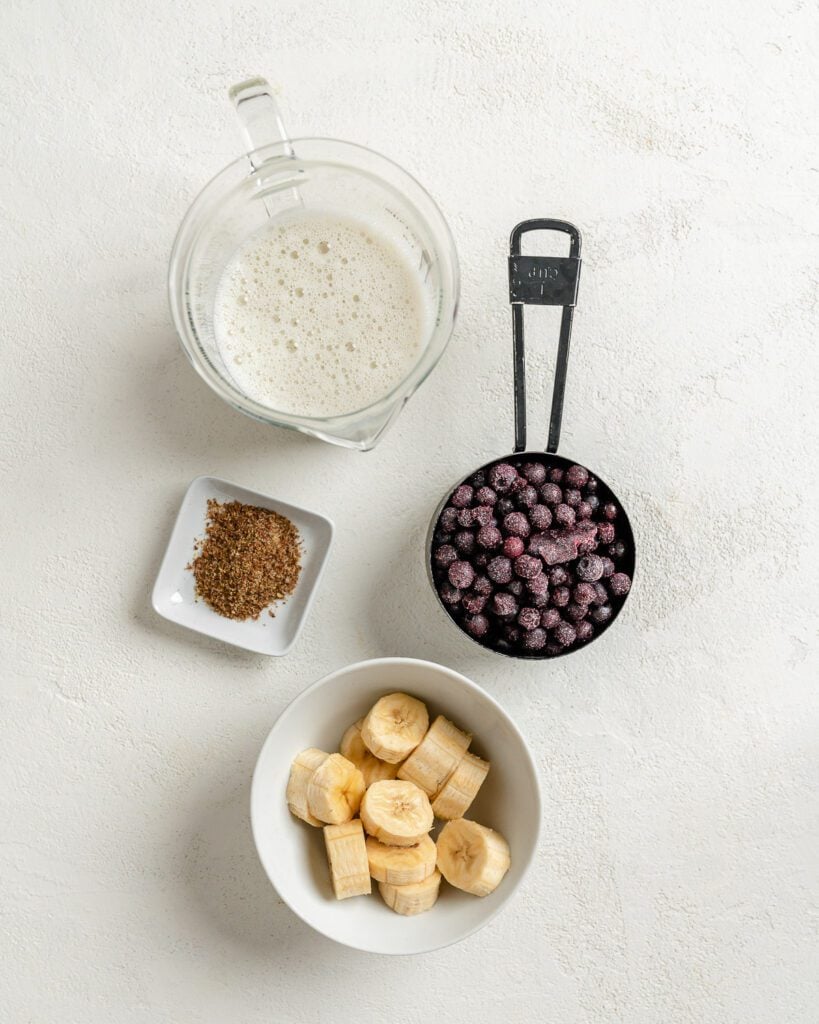 Optional Add-Ins & Recipe Variations
As with all simple smoothie recipes, there are many ways to adapt this recipe both with taste and nutritionally. Below are just a few of my top recommendations, whether you want to experiment with flavor or turn this from a snack to a blueberry breakfast smoothie.
For Flavor
Vanilla extract: A small amount helps bring out all the flavors from the berries.
Citrus: Orange, lime, and lemon all taste delicious alongside blueberry. Add a splash of juice to the frozen blueberry smoothie at the end or ramp it up further with ½ -1 teaspoon of citrus zest.
Coconut water: Replace the dairy-free milk with coconut water for an easy blueberry smoothie with a tropical twist.
Cinnamon: Add a pinch or more to taste.
Cocoa powder: Add a tablespoon of unsweetened cocoa or cacao powder for a moreish vegan blueberry chocolate smoothie packed with antioxidants.
Ginger: A small amount of minced ginger (½ tsp) or ginger powder (small pinch) will add a little zing.
Mint: Add a few mint leaves.
Dairy-free yogurt: For a thicker, creamier shake, substitute some of the vegan milk for unsweetened dairy-free yogurt.
Other fruits: Easily boost the flavor of this frozen blueberry smoothie by substituting some of the blueberries for another fruit. My favorite combinations include:

Strawberry blueberry smoothie
Mango blueberry smoothie (replace the banana with mango)
Blueberry pineapple smoothie
Blueberry raspberry smoothie
Peach blueberry smoothie
Apple blueberry smoothie
For Additional Nutrients
If you want a healthy blueberry breakfast smoothie filled with protein, fiber, healthy fats, etc., look no further. Choose your add-ins based on your nutritional goals.
Seed or nut butter: A blueberry peanut butter smoothie not only tastes rich and delicious but it's also packed with more satiating protein, healthy fats, fiber, etc. Almond butter, cashew butter, or sunflower seed butter would also work. That is why this is my favorite (and most popular) addition to a blueberry smoothie with plant milk.
Leafy greens: Spinach and kale are a great nutrient booster to this healthy blueberry smoothie, as you can add a large handful or two, and you can't even taste them.
Avocado: For a thick, creamy blueberry avocado smoothie with additional heart-healthy fats and antioxidants, add ½ a small avocado.
Oatmeal: For extra fiber and satiating power, add around ¼ cup of rolled oats to make a breakfast blueberry oatmeal smoothie.
Protein powder: Add a scoop of your favorite vegan protein powder. Use unflavored, vanilla, or berry-flavored powder. Add extra plant-based milk if necessary.
My favorite fully loaded blueberry breakfast smoothie combines the 4 base ingredients with ¼ cup oats and a tablespoon of almond butter. The added fiber, protein, and heart-healthy fats help to keep me full until lunch, AND it tastes amazing!
How to Make this Blueberry Smoothie?
1) Add all the ingredients to a high-speed blender and process until smooth and creamy.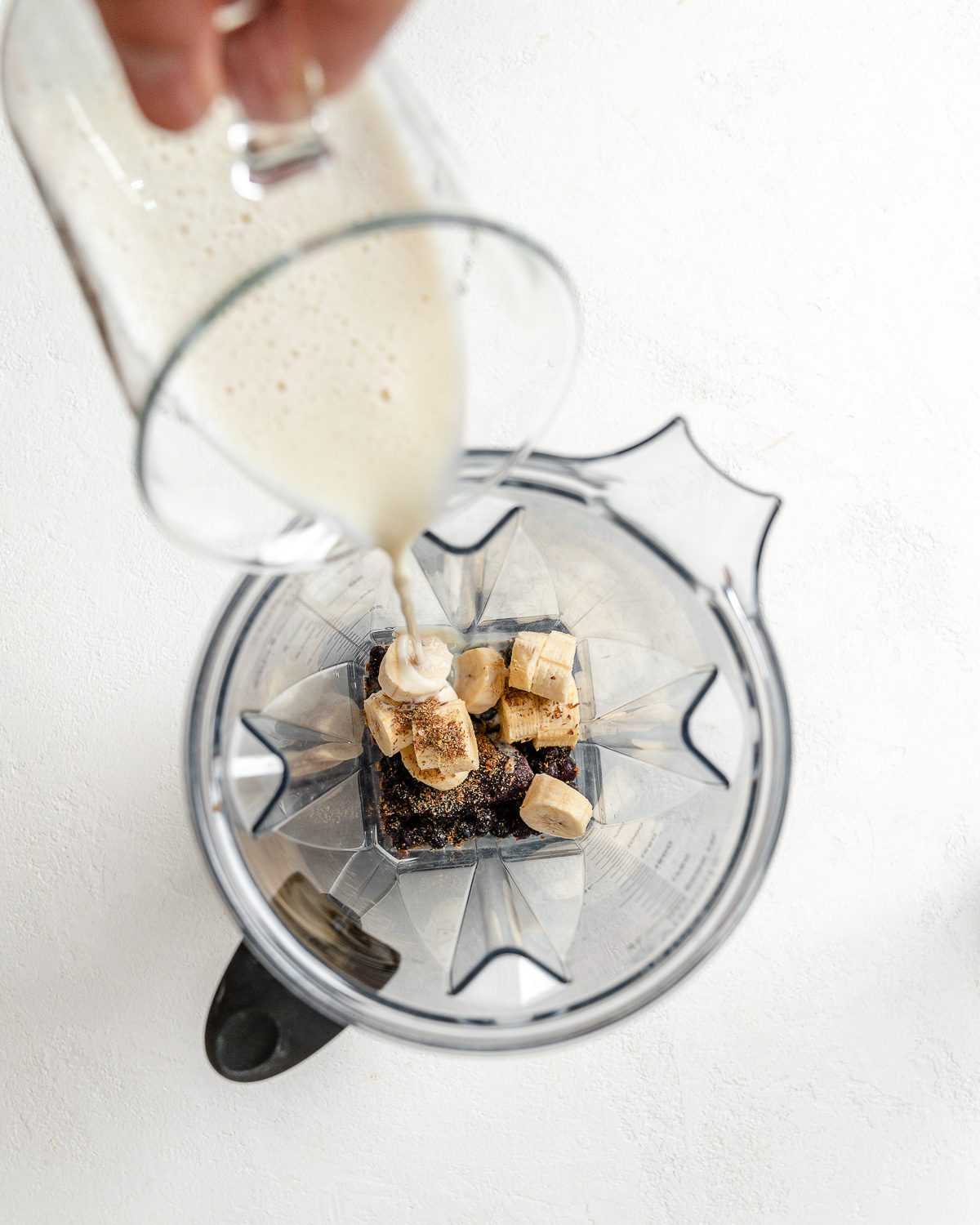 2) Transfer the blueberry banana smoothie to a glass or bowl, optionally top with any toppings, and enjoy!
Storage Instructions
Make ahead: You can purchase ripe, in-season fruit for smoothies and flash freeze it in advance. That way, they're always ready in the freezer when needed.
Store: If you've used frozen fruits, it's best to consume the blended healthy blueberry smoothie immediately. When using fresh fruit, you can store it in the fridge for up to a day. However, the sooner you enjoy it, the better.
Freeze: It is possible to freeze smoothies in Ziplock/Stasher bags or ice cube trays for up to 3 months. Thaw in the fridge before enjoying once more.
FAQs
Can I make it into a smoothie bowl?
If you use all frozen fruit, the smoothie should be thick enough for a smoothie bowl. You can then top it with all your favorite toppings. Some of my favorites include coconut flakes, cacao nibs, granola, a drizzle of nut or seed butter, extra berries and fruits, chopped nuts/seeds, etc.
Are blueberry smoothies good for you?
Blueberries pack a superfood punch. They're packed with antioxidants, several vitamins, and minerals (including vitamin C, K, and manganese), and pack in several health benefits. When combined with fiber and potassium-rich bananas and the dairy-free milk of your choice, a blueberry banana smoothie makes for a nutrient-dense, filling healthy breakfast or snack.
Can I make smoothies with a low-powered blender?
It won't be as easy, especially when using frozen ingredients. However, it should be possible. Add the liquids first and the frozen ingredients on top. That will help. Also, give the machine breaks as needed and scrape down the sides. You can also allow the fruit to thaw for 10-15 minutes, so it's still chilled but not fully frozen.
How to freeze bananas for a smoothie?
Choose bananas that are erring on the side of overripe, with a few black spots. Peel them, then slice them in ½-1-inch pieces (which will be easier for your blender to process). Spread the banana slices across a parchment-lined tray and flash freeze until solid. Then, transfer to an airtight container/Ziplock/Stasher bag and freeze for up to 6 months.
Can I substitute the banana?
Yes, you could use avocado, a thick vegan Greek yogurt, other fruits (like mango or pineapple), or frozen blanched cauliflower in its place.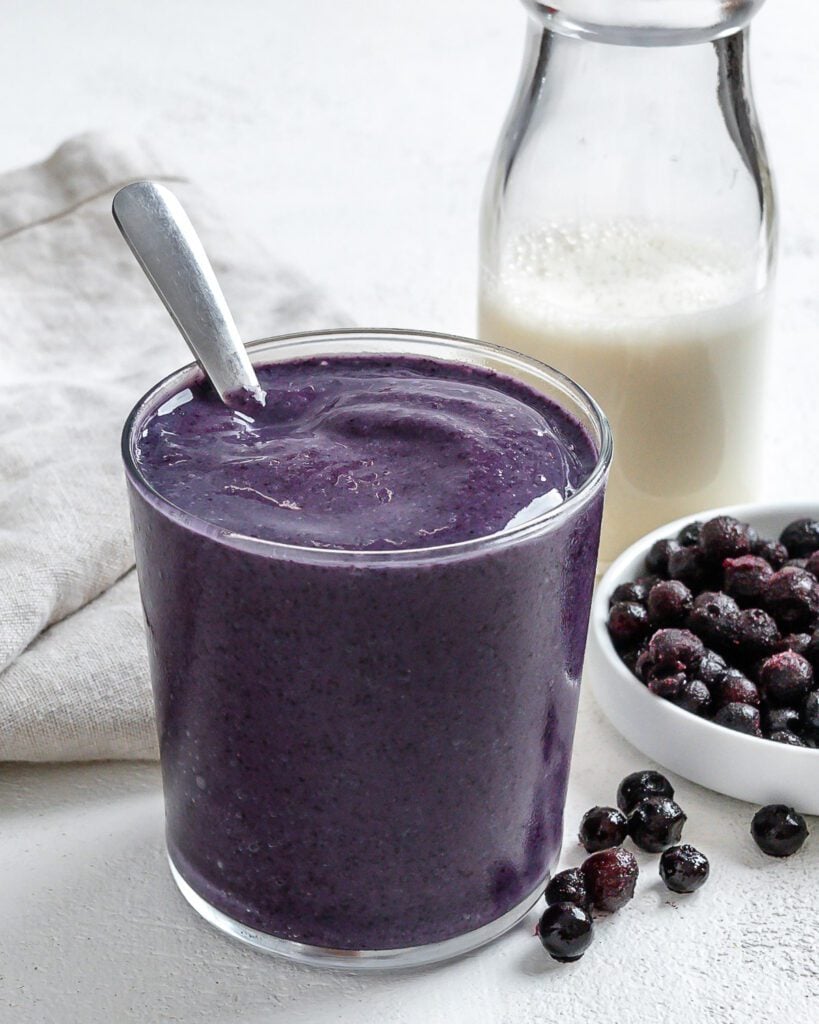 Top Tips For The Best Results
Avoid ice: It will melt quickly and water down the smoothie. The frozen fruit does a great job of making ice unnecessary while still having a super thick smoothie.
Place liquids first: This will help the blender work best. Then, add soft fruits/greens next, and finally, frozen ingredients last.
Don't go crazy with extra fruits: They all add extra sugars, and you can easily go overboard without realizing it.
Frozen vs. Fresh fruits: I love using frozen fruit as it turns smoothies into a super thick, creamy, almost ice-cream shake style treat. Fresh fruits will be more like a creamy vegan milkshake consistency.
Use the leftovers: If you've accidentally made too much, pour the leftovers into an ice-cube tray or popsicle mold and enjoy them as a frozen treat.
Adjust the consistency: By adjusting the amount of plant-based milk added.
If you try this easy blueberry banana smoothie recipe, I'd love to know what you think in the comments below. I'd also really appreciate a recipe card rating.
Photos by Alfonso Revilla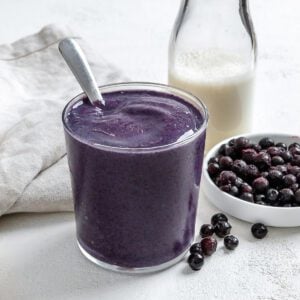 Simple Blueberry Banana Smoothie
This thick and creamy blueberry banana smoothie combines frozen fruit with flax meal for a simple, flavorful, and nutrient-dense breakfast or mid-day pick-me-up! Dairy-free, gluten-free, no added sugars, and easy to modify!
Equipment
measuring cups

measuring spoons

my favorite knives

blender
Ingredients
1

banana

cut into chunks, and frozen

1

cup

of frozen blueberries

1

cup

of plant-based milk

½

tablespoon

of flax seeds or meal
Instructions
Add all ingredients to a blender and blend until completely creamy.
Nutrition
Calories:
251
kcal
Carbohydrates:
51
g
Protein:
5
g
Fat:
6
g
Saturated Fat:
1
g
Polyunsaturated Fat:
3
g
Monounsaturated Fat:
2
g
Sodium:
329
mg
Potassium:
577
mg
Fiber:
9
g
Sugar:
29
g
Vitamin A:
155
IU
Vitamin C:
25
mg
Calcium:
328
mg
Iron:
1
mg
Disclaimer: Although foodsharingvegan.com attempts to provide accurate nutritional information, kindly note that these are only estimates. Nutritional information may be affected based on the product type, the brand that was purchased, and in other unforeseeable ways. Foodsharingvegan.com will not be held liable for any loss or damage resulting for your reliance on nutritional information. If you need to follow a specific caloric regimen, please consult your doctor first.