These vegan blackberry orange cupcakes (flavor variations included!) are the perfect way to use up seasonal blackberries. They're light, fluffy, and moist while also 100% egg-free, dairy-free, and perfect for enjoying at breakfast, brunch, or as a mid-day snack!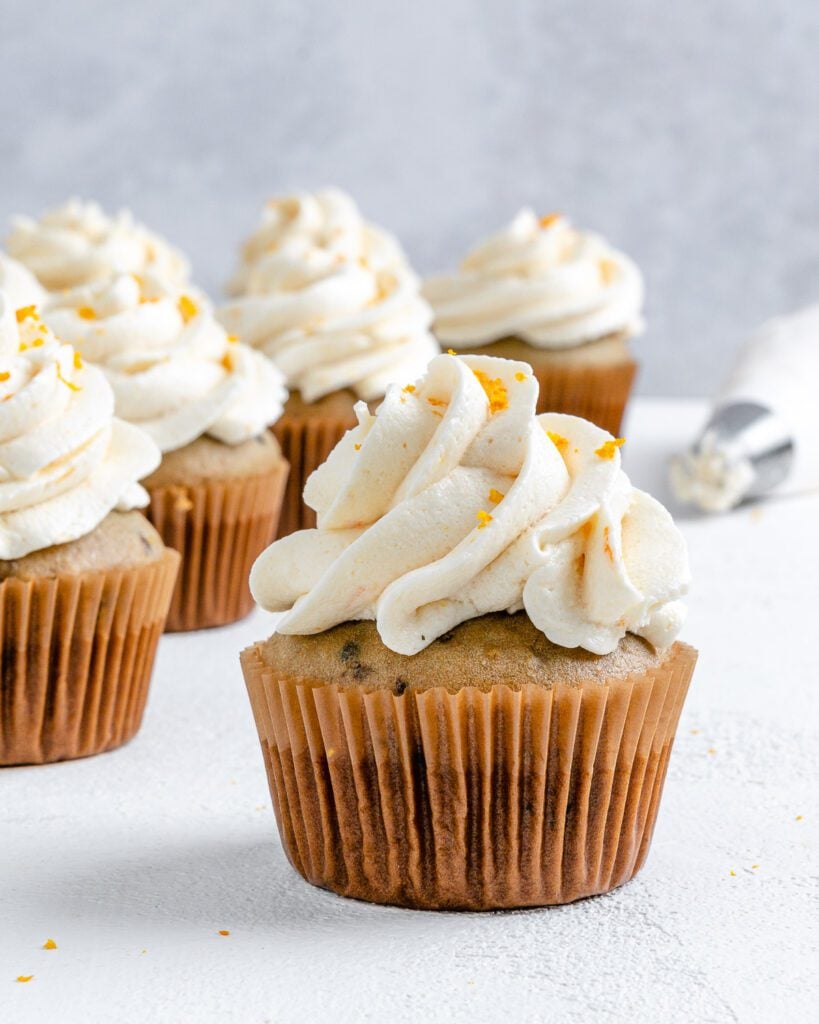 Easy Summery Vegan Blackberry Cupcakes
When it comes to baked goods, blackberries are often overlooked for more popular berries like blueberries, raspberries, and strawberries. However, if you have blackberry bushes nearby or just love the fruit, it's more than deserving of its place in many goodies like cakes, pies, and these vegan blackberry cupcakes!
These easy blackberry cupcakes are bursting with blackberry flavor (fresh or frozen so you can enjoy them all winter, too), come together in just one bowl, using pantry staples and just a few minutes of hands-on prep.
In this version, I've lightly elevated the blackberry flavor with the addition of orange zest. However, you can also adapt them to lemon blackberry cupcakes, add a pinch of warming cinnamon, crunchy nuts, or even a frosting. Keep reading for all my top recommendations!
Even better, I've included several ways to adapt this blackberry cupcake recipe to your dietary needs, including gluten-free, refined sugar-free, oil-free, etc. Once baked, enjoy a vegan blackberry muffin for breakfast, a snack, or dessert, and save the rest in the freezer for up to 3 months!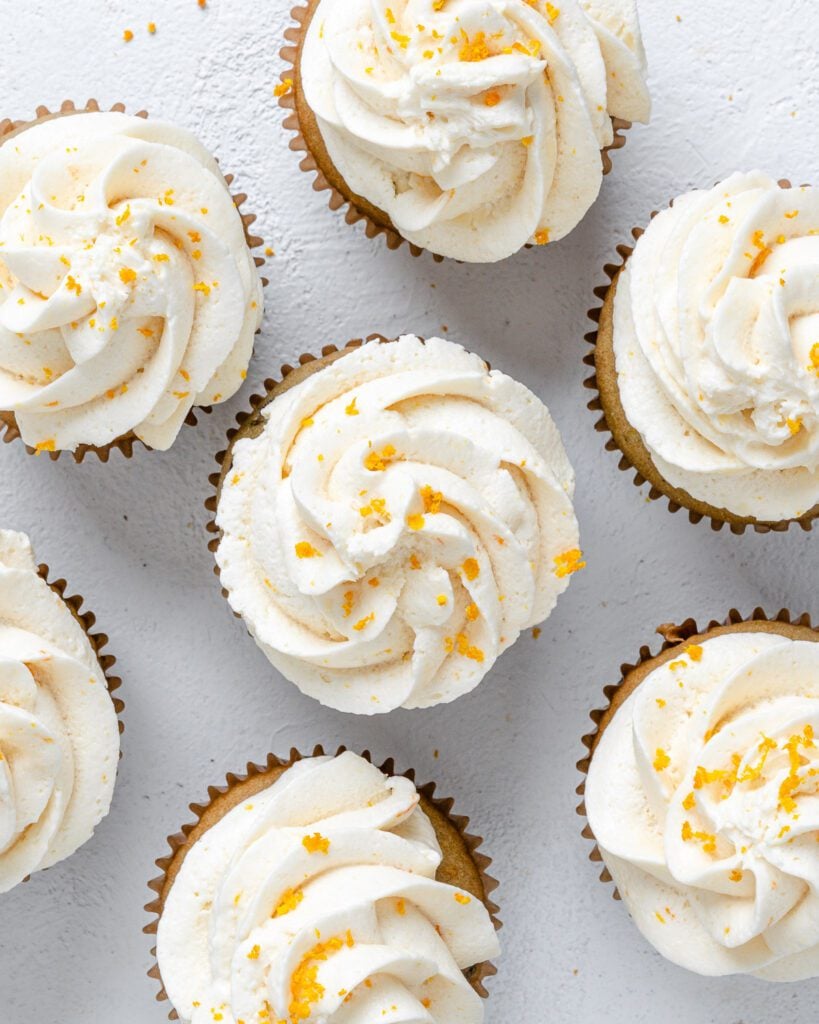 The Ingredients
Flour: You can use all-purpose flour or a 50/50 combination of AP flour and whole wheat flour. I haven't tried making 100% whole wheat blackberry cupcakes yet, but feel free to experiment.
Sugar: Use regular sugar (using organic cane sugar ensures it's vegan) or unrefined sugar like coconut sugar or date sugar. Note that each will affect the flavor and color differently.
Baking Soda: Needed for lift and texture.
Vinegar: White vinegar or apple cider vinegar will activate the baking soda to provide the correct lift and fluffy texture.
Salt: Enhances the various flavors in the blackberry muffin recipe.
Water: Dairy-free milk would also work.
Oil: Use any neutral cooking oil like vegetable oil, canola oil, avocado oil, melted coconut oil, etc.
When using coconut oil, the remaining ingredients must all be at room temperature. Otherwise, it can solidify and won't disperse correctly into the batter.
Vanilla extract: Use pure, natural vanilla for the best flavor.
Blackberries: You'll need fresh blackberries or frozen and thawed (since we're mashing them). In season blackberries are best, to avoid overly sour berries.
Orange zest: It's best to use an organic, unwaxed orange (otherwise, you'll need to remove the wax first). Alternatively, you can make lime or lemon blackberry cupcakes using lime/ lemon zest.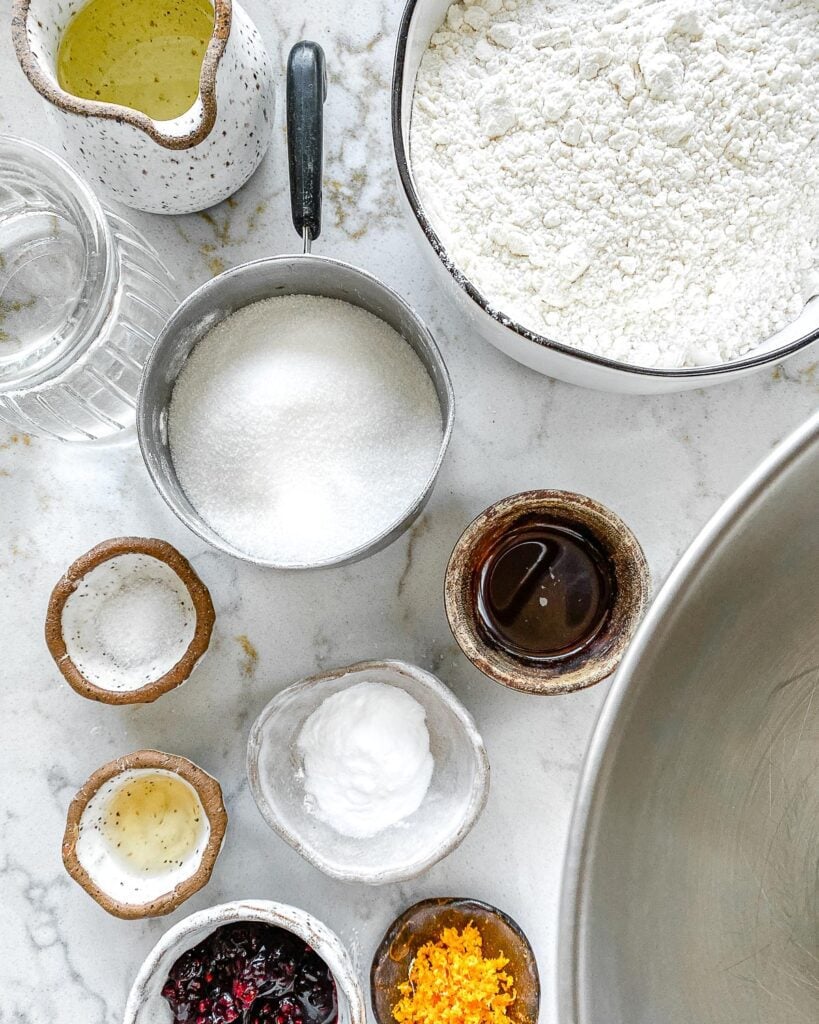 Recipe Variations
There are several delicious variations you can try with these vegan blackberry cupcakes, including:
Cinnamon: Add a large pinch to the batter. Alternatively, you could create a sugar crust with demerara sugar (or another coarse granulated sugar) and cinnamon.
Chai spice: Warming spices pair wonderfully with this vegan blackberry cupcakes recipe.
Lemon blackberry cupcakes: Along with substituting the orange zest for lemon, you can also add a spoonful of lemon juice to the batter in place of water and/or drizzle the muffins with a lemon glaze (powdered sugar and lemon juice).
Poppy seeds: You'll need around 2 tablespoons of poppy seeds for blackberry lemon poppy seed cupcakes, plus the above changes. They'll also work with orange zest.
Blackberry jam muffins: Core the muffins once baked, spoon in some jam, and top off with the cap again. Alternatively, you could dollop each unbaked muffin with a spoonful of jam, swirl it over the top, and then bake.
Blackberry white chocolate muffins: Either add some dairy-free white chocolate chips/ chunks to the muffin batter or top the muffins with a plant-based white chocolate drizzle.
Blackberry streusel muffins: For extra decadence, make blackberry muffins with crumble topping. All you need is a combination of vegan unsalted butter/coconut oil (3-4tbsp), all-purpose flour (around ⅓ cup), regular/brown sugar (3-4tbsp), and a pinch of cinnamon. You could add some oats or chopped walnuts for extra crunch in the streusel topping.
Almond extract: Just ½-1 teaspoon is needed for a flavor-enhancing, slightly nutty flavor.  
Other Berries: These vegan cupcakes would also work with raspberries, blueberries, etc. OR even use 50/50.
Nuts: Add a handful of chopped pecans or walnuts for texture, protein, and heart-healthy fats.
Frosting: Try out different frostings like vanilla, blackberry, or orange toppings to mix it up.
How to Make Vegan Blackberry Cupcakes?
First, preheat the oven to 375F/190C and prepare a cupcake tin with silicone or parchment paper liners.
Then, in a large bowl (either the bowl of a stand mixer or a large mixing bowl), mash the blackberries into a paste and zest a teaspoon of orange zest into the same bowl.
Add in all of the remaining ingredients and stir until well combined.
Don't over-mix the batter, as it can lead to dense/sunken/gummy vegan blackberry cupcakes. If there are a few lumps, that's fine.
Divide the blackberry cupcake batter between the muffin liners, filling them each ¾ full.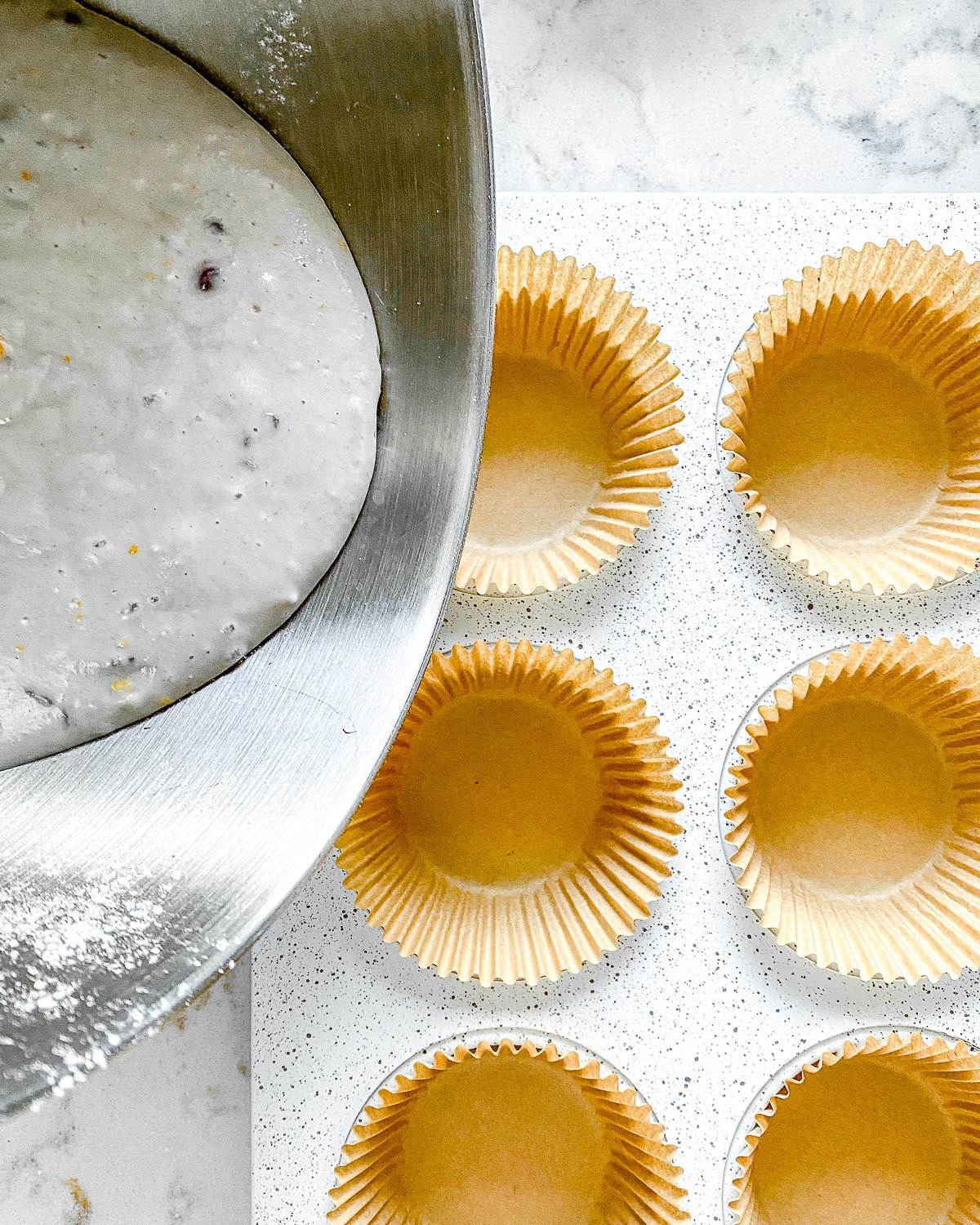 Optionally, you can chop additional blackberries into tiny pieces and press them into the top of each cupcake.
Then, bake for 25-30 minutes, or until a toothpick inserted into the center of a cupcake comes out clean (a few crumbs are fine, but no wet batter).
Allow the cupcakes to cool on a wire rack for 20 minutes, then enjoy! Allow them to cool entirely first before adding your favorite frosting!
Make-Ahead and Storage Instructions
Make ahead: Prepare the cupcake batter, minus the baking soda, 1-2 days in advance. Store it, covered with plastic wrap, in the fridge. Then, allow it to come back to room temperature for at least 30 minutes before adding the baking soda and continuing with the recipe.
At room temperature: Store the vegan blackberry cupcakes loosely covered for 2-3 days.
In the fridge: Store covered/in a container lined with paper towel for between 5-7 days.
In the freezer: First, flash-freeze the cupcakes on a baking tray (not touching) until solid. Then transfer to a large freezer-safe Ziplock/Stasher bag and store for up to 3 months.
When you want one, it will thaw on the countertop within several hours, in the fridge overnight, OR you can use a toaster oven/microwave from frozen.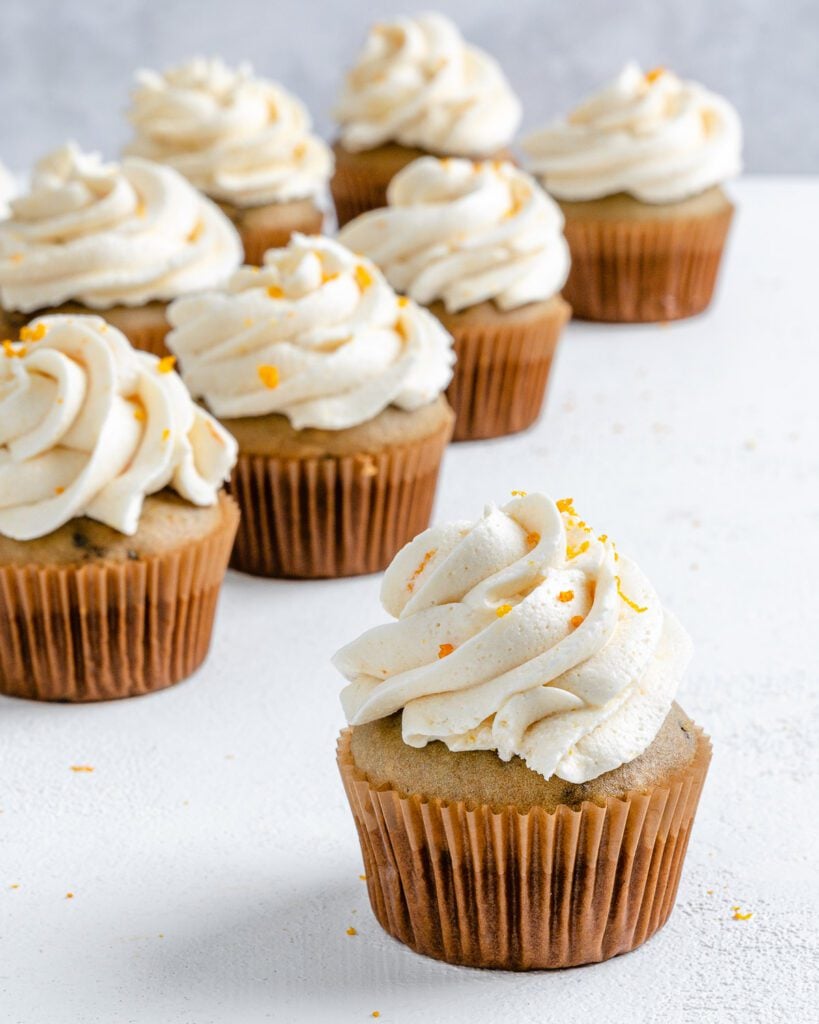 How to Serve?
Enjoy one of these vegan blackberry cupcakes as a quick snack or breakfast. Make it even more of a treat with:
A spread of your favorite nut/seed butter
Blackberry jam
Toasted with a slather of vegan butter
Toasted with a scoop of nice-cream
A dollop of dairy-free yogurt and sprinkle of muesli/granola and cinnamon
FAQs
Can I make them gluten-free blackberry cupcakes?
I haven't tried, though I've had success using a 1:1 substitution of all-purpose gluten-free flour blend (like King Arthur's) for previous bakes. Avoid single flours like almond flour/coconut flour for this recipe.
Can I make these oil-free?
You may be able to replace some or all of the oil with either unsweetened applesauce (or possibly mashed banana - but that adds more flavor) or vegan yogurt. I haven't tried, though, so I can't guarantee results.
Why mash the blackberries?
This helps the flavor distribute into the batter more evenly, so there's some in every bite. If you'd prefer, you can chop and fold in larger pieces instead.
Can I use frozen blackberries?
If you'd prefer larger pieces distributed in the batter, then you can use frozen berries. Chop them from frozen and fold them into the batter. This will help avoid purple vegan blackberry cupcakes, too. You may also need to add 3-4 minutes to the baking time.
Can I make a vegan blackberry loaf?
It should work. Pour the batter into a lined loaf tin and bake at the same temperature until baked through (using a toothpick to test). I recommend first testing at around 35 minutes.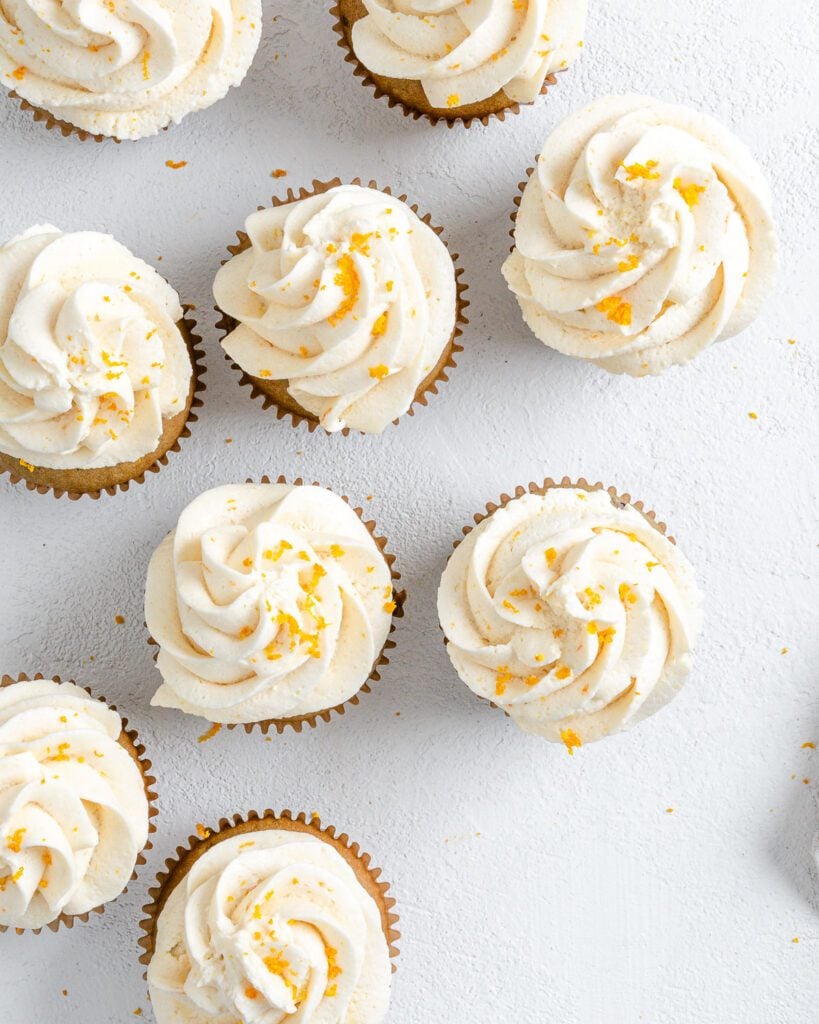 Top Recipe Tips and Notes
Save the leftover orange zest/juice: Zest the orange before juicing it and store any extras in an ice-cube tray. Freeze until solid, then transfer to a Ziplock/Stasher bag for 6 months.
For swirled batter: By using mashed blackberries, the batter turns fairly purple. If you want more obvious swirls of color, mix the batter and then fold in the blackberries just 1-2 times before transferring to the muffin tray.
Adjust the sugar amount: You can reduce the sugar or experiment with a granulated sweetener (like erythritol) for sugar-free blackberry cupcakes. However, I haven't tried the latter, so the batter may need additional tweaks (usually a small amount of additional moisture).
To remove wax on fruit: Soak the orange in hot water for a few minutes, then scrub well and rinse.
Test the baking soda: First, make sure it's in date. If it's close to the BBE date, test it by combining a small amount with vinegar. It could bubble and froth immediately.
To make mini cupcakes: Test that they're baked after 15 minutes or until a toothpick inserted into the center comes out clean.
If you try this easy vegan blackberry orange cupcake recipe (as written or with substitutes), I'd love to know what you think in the comments below. I'd also really appreciate a recipe card rating!
Photos by Alfonso Revilla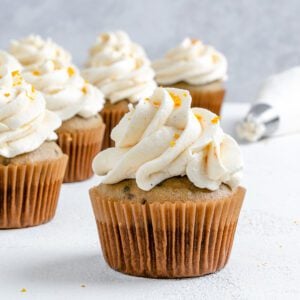 Vegan Blackberry Orange Cupcakes
These vegan blackberry orange cupcakes are the perfect way to use up seasonal blackberries. They're light, fluffy, and moist while also 100% egg-free, dairy-free, and perfect for enjoying at breakfast, brunch, or as a mid-day snack!
Equipment
measuring cups

measuring spoons

electric mixer

large bowl

cupcake tin
Ingredients
1 ½

cups

of all-purpose flour

¾

cups

of granulated sugar

1

teaspoon

of baking soda

½

teaspoon

of salt

1 ½

teaspoons

of vanilla extract

1

teaspoon

of white or apple cider vinegar

¼

cup

+ 1 tablespoon of canola or vegetable oil

1

cup

of water

6

blackberries, mashed into a paste

1

teaspoon

orange zest
Instructions
Preheat the oven to 350 degrees (175 degrees C). Line a cupcake tin with silicone or paper baking cups.

In the bowl of an electric mixer (or in a large bowl using a handheld electric mixer), mix together all the ingredients until smooth.

Pour the batter into each baking cup until it's three-quarters full.

Bake for 25 to 30 minutes. Test a cupcake by sticking a toothpick in the middle. If the toothpick comes out dry, the cupcakes are done.
Nutrition
Calories:
148
kcal
Carbohydrates:
25
g
Protein:
2
g
Fat:
5
g
Saturated Fat:
1
g
Polyunsaturated Fat:
3
g
Monounsaturated Fat:
1
g
Trans Fat:
1
g
Sodium:
190
mg
Potassium:
20
mg
Fiber:
1
g
Sugar:
13
g
Vitamin A:
3
IU
Vitamin C:
1
mg
Calcium:
4
mg
Iron:
1
mg
Disclaimer: Although foodsharingvegan.com attempts to provide accurate nutritional information, kindly note that these are only estimates. Nutritional information may be affected based on the product type, the brand that was purchased, and in other unforeseeable ways. Foodsharingvegan.com will not be held liable for any loss or damage resulting for your reliance on nutritional information. If you need to follow a specific caloric regimen, please consult your doctor first.