These mashed potato bowls combine creamy vegan garlic mashed potatoes with roasted vegetables and creamy cashew sauce (or gravy). It's delicious, nutritious, easily adaptable, cozy, comforting, and satisfying!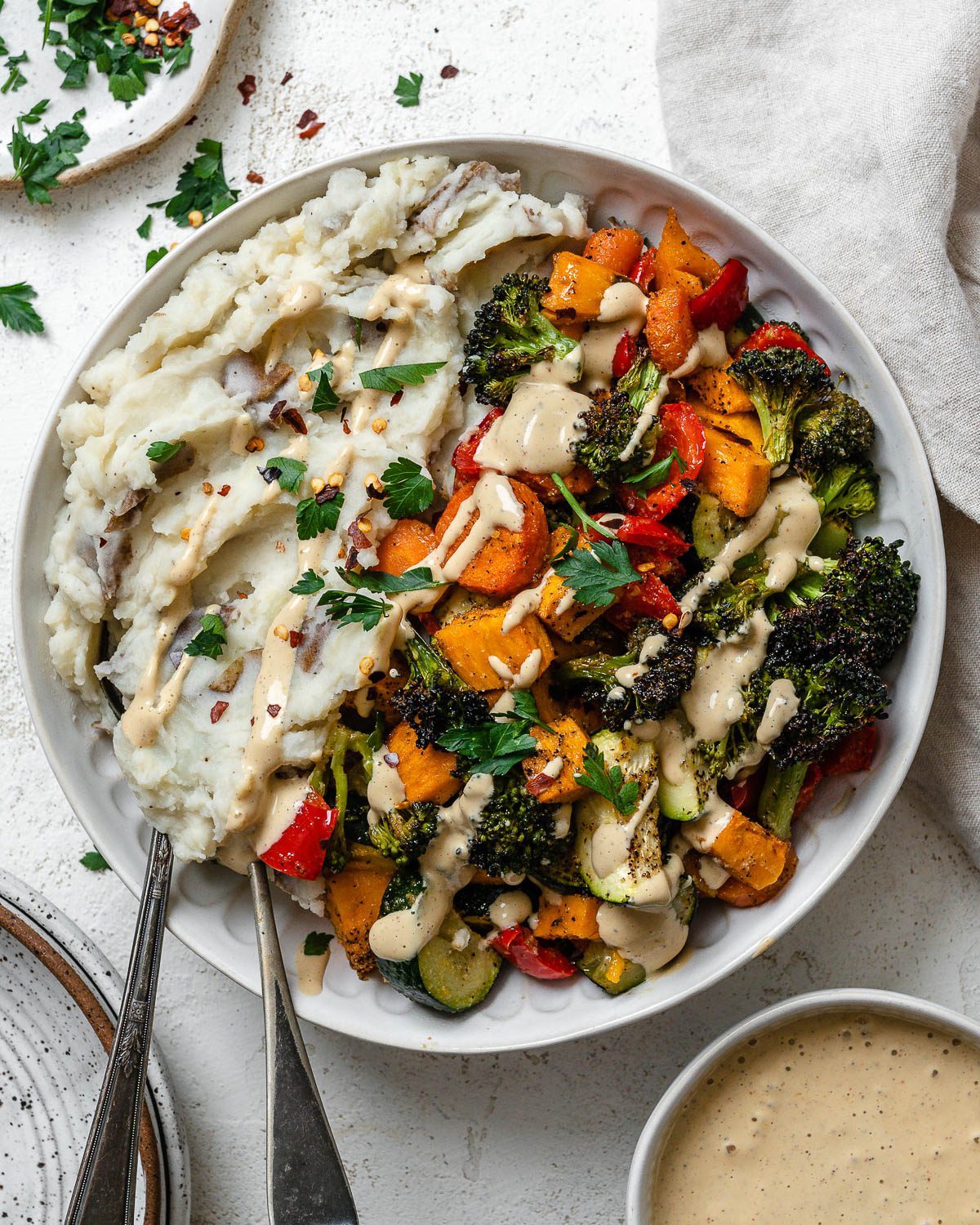 What is a Loaded Mashed Potato Bowl?
A loaded mashed potato bowl recipe combines creamy mashed potatoes with your toppings and sauce of choice to create a filling, satisfying meal. For many, it likely brings to mind KFC mashed potato bowls with popcorn chicken and sweetcorn, smothered in brown gravy.
While, the KFC potato bowl is a vegan's nightmare, that doesn't mean you can't enjoy delicious, satisfying, easy meals with mashed potatoes that are 100% free from animal products. Like this vegetarian mashed potato bowl made with buttery vegan garlic mashed potatoes, roasted vegetables (great for Thanksgiving/ Christmas leftovers) and optional cashew-cream dressing.
However, there are endless ways to adapt this vegan mashed potatoes recipe to what you have in your kitchen, so keep reading for all my top mashed potato bowl ideas!
The Ingredients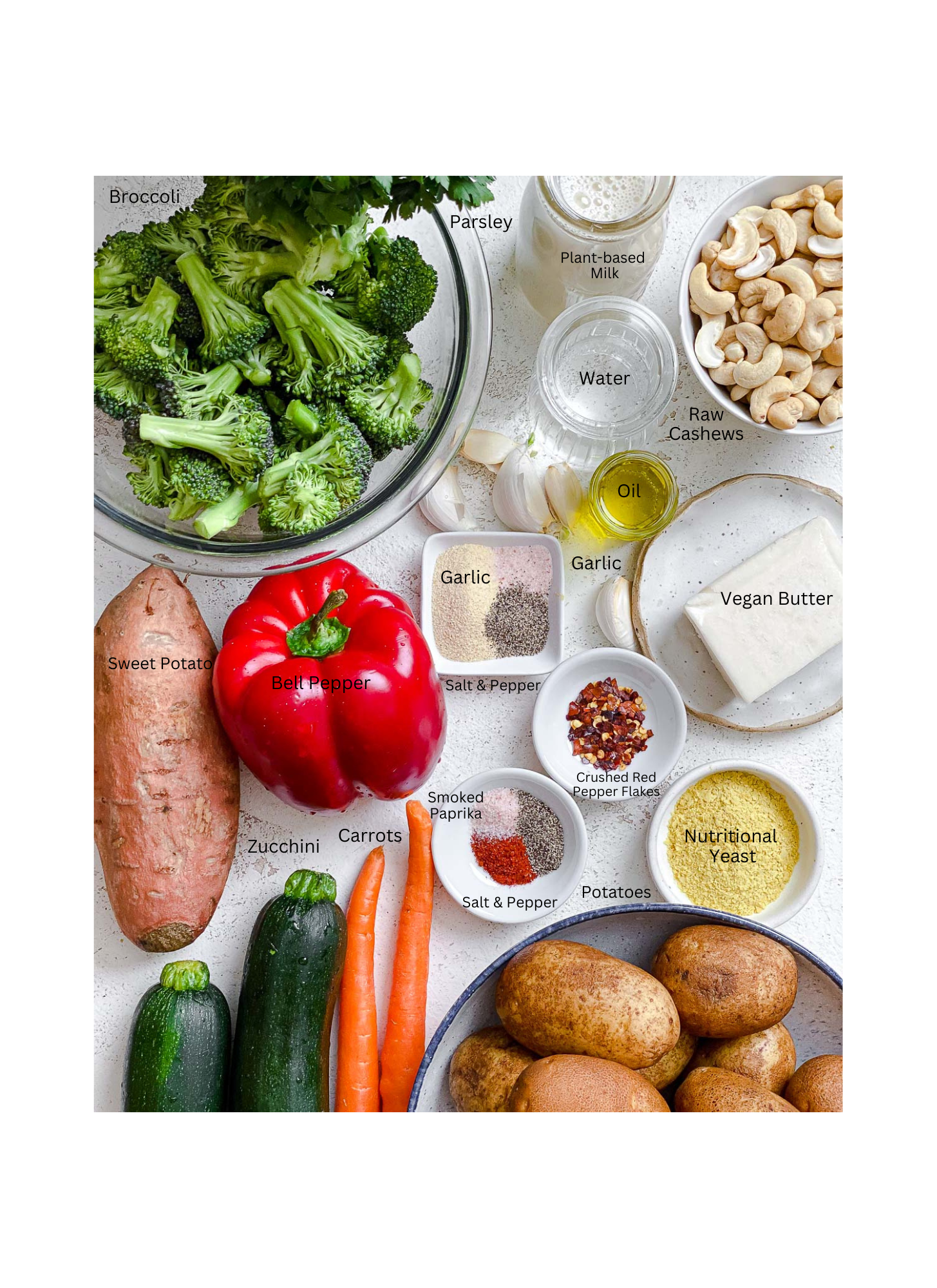 The Best Vegan Mashed Potatoes
Potatoes: Use Russet potatoes or Yukon Gold potatoes. Avoid waxy potatoes, which won't break down easily and may become gummy rather than creamy. You could also make sweet potato bowls.
Garlic: I love using fresh garlic, but garlic puree or powder work in a pinch.
Plant-based milk: Use any unsweetened milk like almond milk, soy milk, coconut milk, oat milk, etc. Use a portion of (or all) non-dairy cream / full-fat canned coconut milk for creamier vegan mashed potatoes.
Vegan butter: It's best to use unsalted dairy-free butter for rich, creamy potatoes.
Salt & black pepper: Added to taste.
For more flavor, optionally cook the potatoes in vegetable stock, add a little vegan cream cheese (or nutritional yeast) to the plant-based mashed potatoes, sprinkle in a pinch of nutmeg, and/or infuse herby flavor by allowing herbs (like rosemary or thyme) to sit in the plant-based milk (heated) for 10-15 minutes.
The Roasted Vegetable Toppings
Vegetables: I used a delicious, nutritious, colorful combination of:

Carrots (any color or parsnip)
Sweet potato (or butternut squash/pumpkin)
Broccoli (and/or cauliflower)
Zucchini (or summer squash)
Bell pepper (any color)

Oil: Use a fairly neutral cooking oil, like olive oil.
Seasonings: Just a little garlic powder, salt, and pepper are all you need. I also like to garnish with red pepper flakes (optional) for a kick.
Fresh parsley: Or other fresh herbs, like fresh chives.
Optional Dressing
Cashews: This creamy sauce has a base of raw unsalted cashews. Leave them to soak overnight in cold water or in boiling hot water for 20-30 minutes.
Water: To bring the dressing to the correct consistency. Use vegetable stock or vegan chicken broth for extra flavor.
Nutritional yeast: This adds a nutty, 'cheesy', umami-rich flavor.
Seasonings: Smoked paprika, sea salt, and black pepper provide enough flavor for this simple yet moreish dressing. Optionally add chili/cayenne pepper or hot sauce for a kick.
Alternatively, meals with mashed potatoes pair well with BBQ sauce or vegan mushroom gravy, onion gravy, or sausage/ brown gravy.
Other Mashed Potato Bowl Ideas and Toppings?
Protein: i.e., marinated or crispy tofu/tempeh, mock meats (like vegan chicken nuggets, shredded chicken, meatballs, bacon, or sausages), or beans/pulses (like chickpeas, kidney/ white beans, etc.).
Spinach/kale: Sauteed or stirred into the mashed potato.
Cauliflower: For a lighter mash, swap ¼-1/2 potato for mashed cauliflower.
Other vegetables: There's a whole range of veggies that you could enjoy steamed, sautéed, or roasted, over the vegan mashed potato bowls:

Red onion (roasted)
Cherry tomatoes
Eggplant
Cabbage/ Brussels sprouts
Mushrooms
Peas/corn (frozen or canned)

Vegan cheese: Sprinkle over your favorite vegan melty cheese or cheese sauce.
Pickled vegetables: For tangy crunch - pickled onions, cabbage, or jalapenos.
Vegan KFC mash bowl copycat: Top with vegan popcorn chicken/ nuggets, corn kernels, shredded vegan cheddar, and vegan brown gravy.
Spanish-style potato bowl: Use regular or sweet potato mash with toppings like zucchini, bell pepper, tomato, grilled corn, black beans/pinto beans, spinach, and/or avocado. I like to garnish with vegan feta, lime, and avocado crema.
How to Make a Mashed Potato Bowl
Although there are three separate elements to this mashed potato bowl recipe, it comes together in just 8 simple steps.
Prepare the Roasted Vegetables
1) First, preheat the oven to 400F/200C. Then dice the bell pepper, halve (lengthwise) then slice the zucchini and carrot (about ½-inch thick), cut the broccoli into even-sized florets, and dice the sweet potato (1-inch pieces).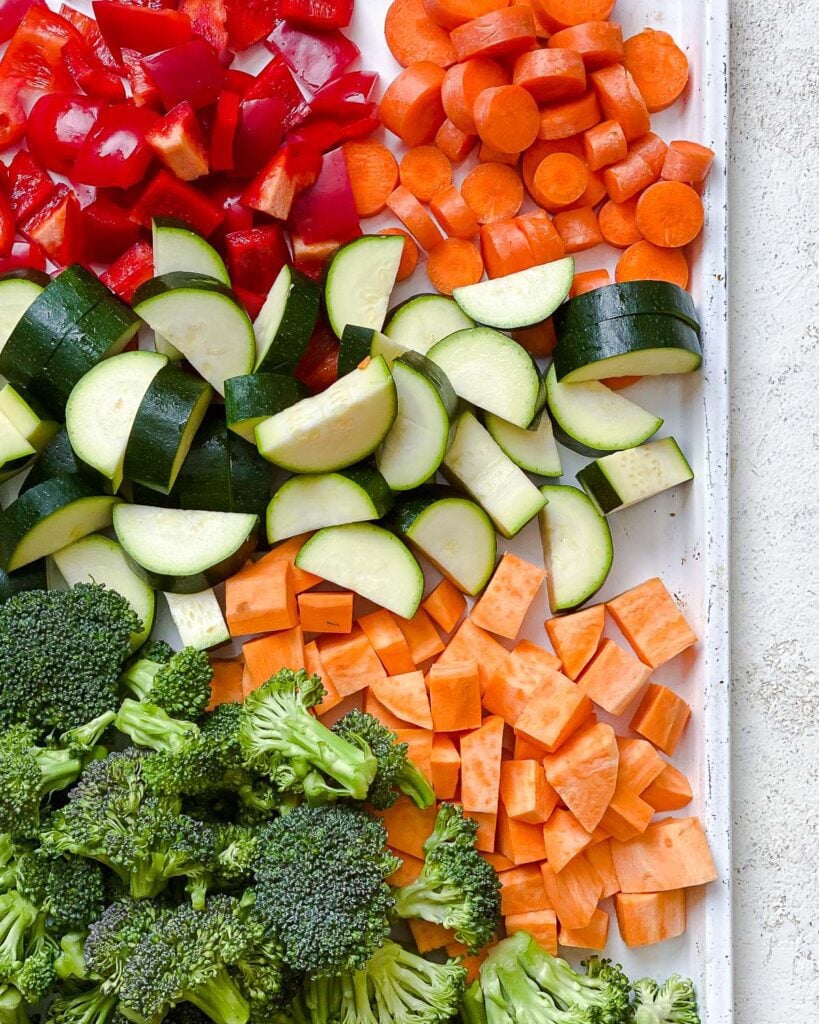 2) Toss the vegetables with olive oil, garlic powder, salt, and pepper, then spread them across a parchment-lined baking tray and bake for 30-40 minutes or until the sweet potatoes are tender. Toss/shake them halfway.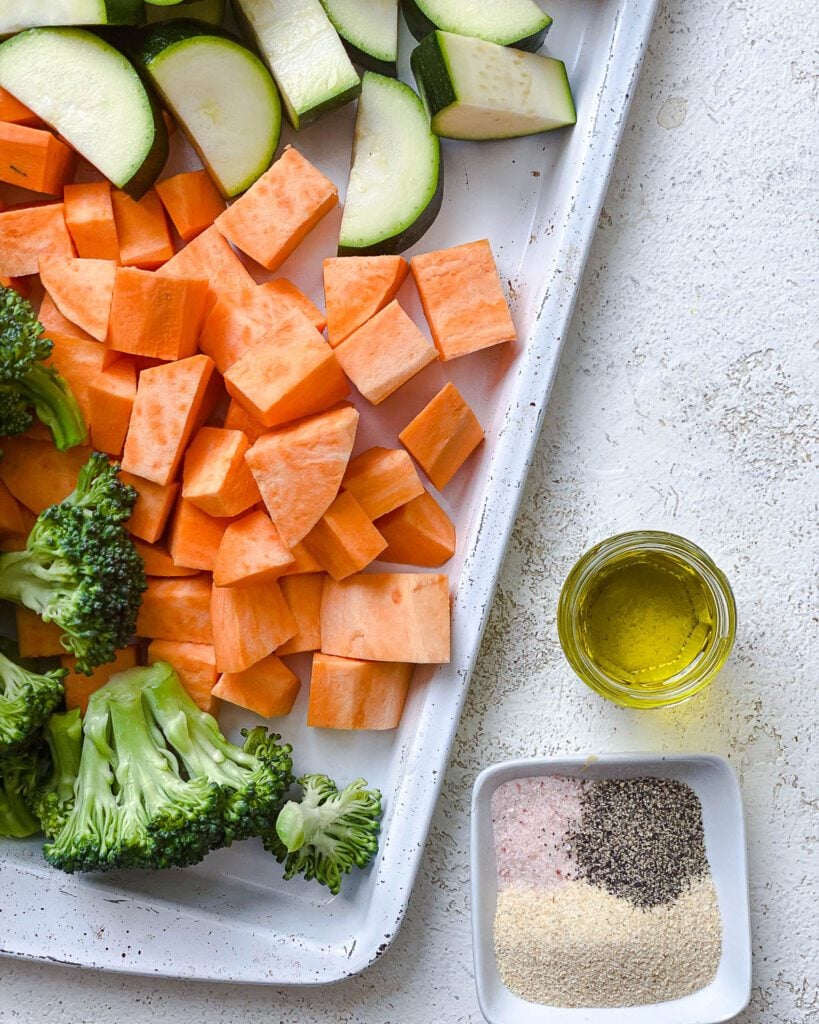 Boil and Mash the Potatoes
3) Meanwhile, peel (optional) and chop the potatoes into 2-inch cubes and peel the garlic cloves.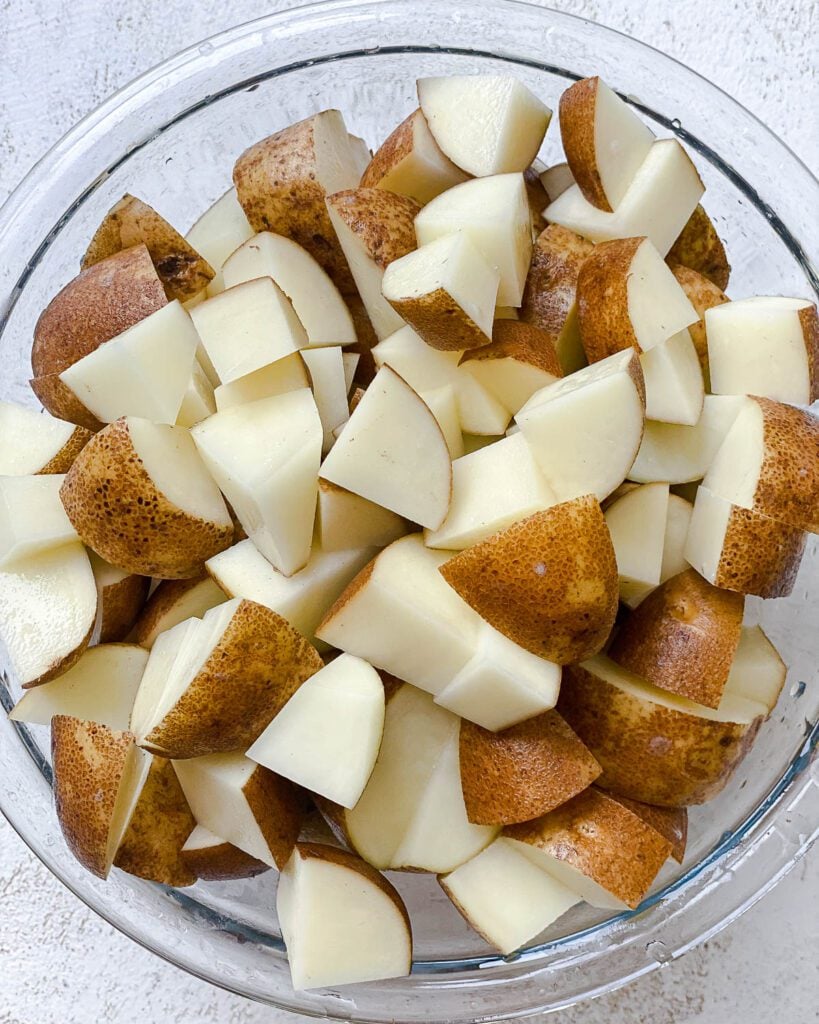 4) Transfer the potatoes and garlic to a large heavy-based saucepan and cover with cold water.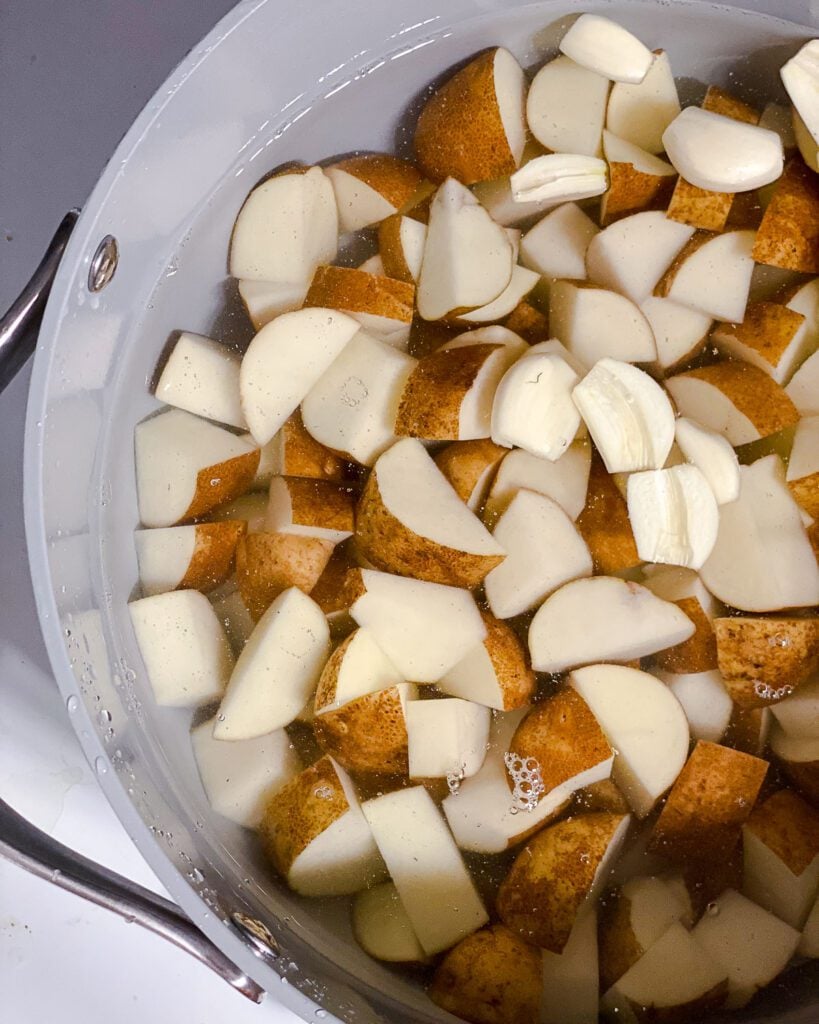 5) Bring the water to a boil, then lower it to a simmer, and cook for 20-25 minutes or until the potatoes are tender.
Alternatively, steam the potatoes until tender.
Drain the water, then add the plant-based milk, vegan butter, and seasonings to the saucepan. Mash the potatoes with a potato masher (or large, sturdy fork) to your desired consistency.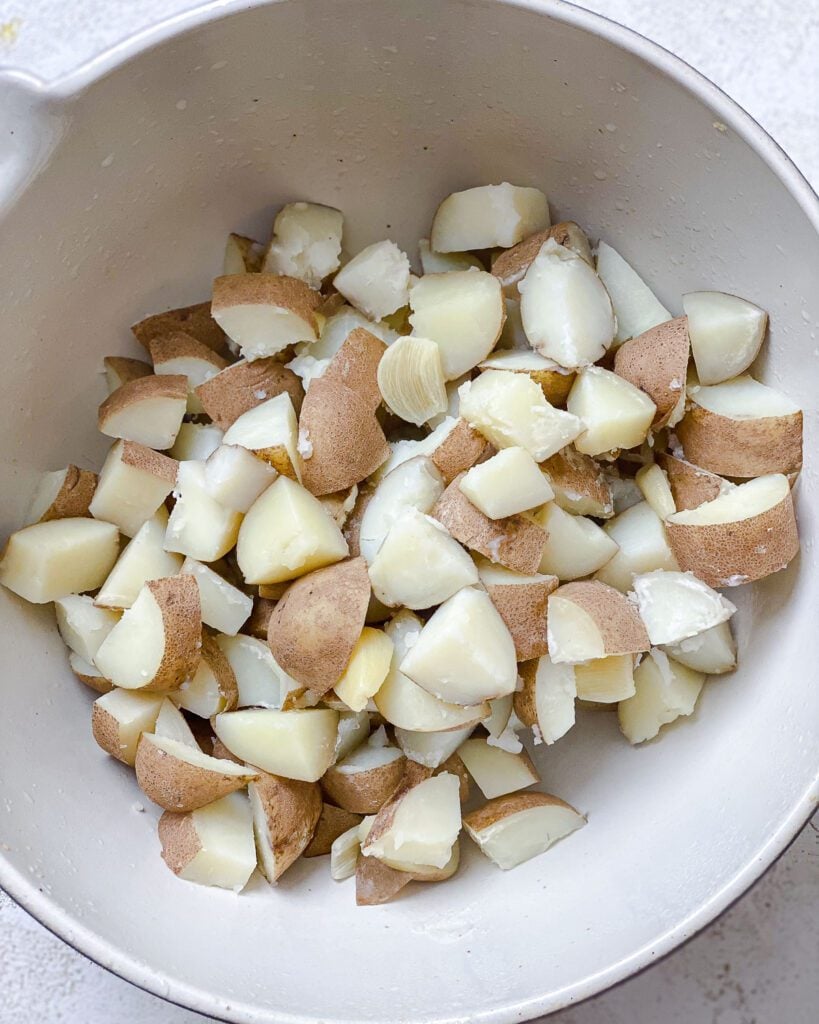 Prepare the Dressing and Assemble Mash Potato Bowls
If you're making the optional dressing, drain the soaked cashews and transfer them to a high-speed blender with ½ cup of water. Blend until smooth, adding more water if it's too thick. Then add the seasonings, blend to combine, and set aside.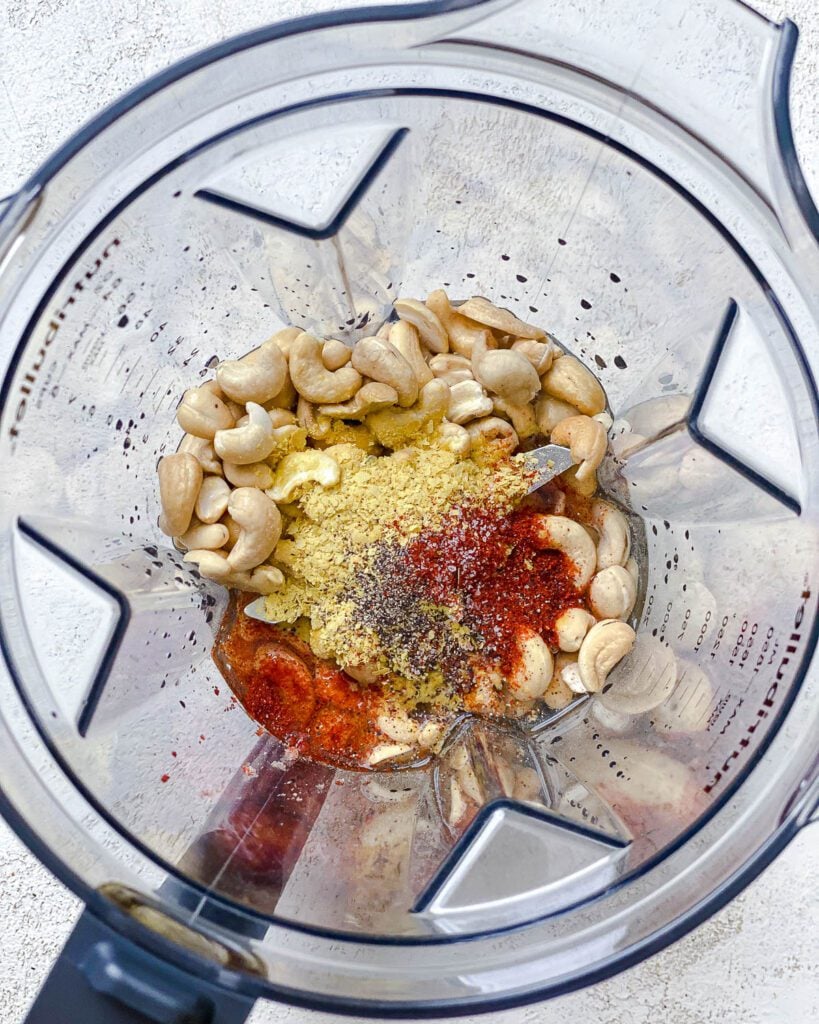 To assemble the loaded mashed potatoes, first add a generous base of mashed potato, top with the roasted veggies, and drizzle with the cashew cream dressing. Garnish with fresh parsley and red pepper flakes, and enjoy!
FAQs
What is the best milk substitute for vegan mashed potatoes?
Each plant-based milk provides a slightly different flavor/ creaminess. I particularly like soy milk or oat milk. Canned coconut milk will produce super creamy vegan mashed potatoes.
Can I use instant potatoes for mashed potato bowls?
Absolutely. Follow the package instructions to rehydrate the potato, then stir in the vegan butter and seasonings. This is particularly great if you have leftover cooked veggies/toppings to get dinner on the table in minutes.
Are instant potatoes vegan?
Instant mashed potato is primarily dehydrated potato flakes, so many brands will be 100% vegan. Check the ingredients, though, just in case.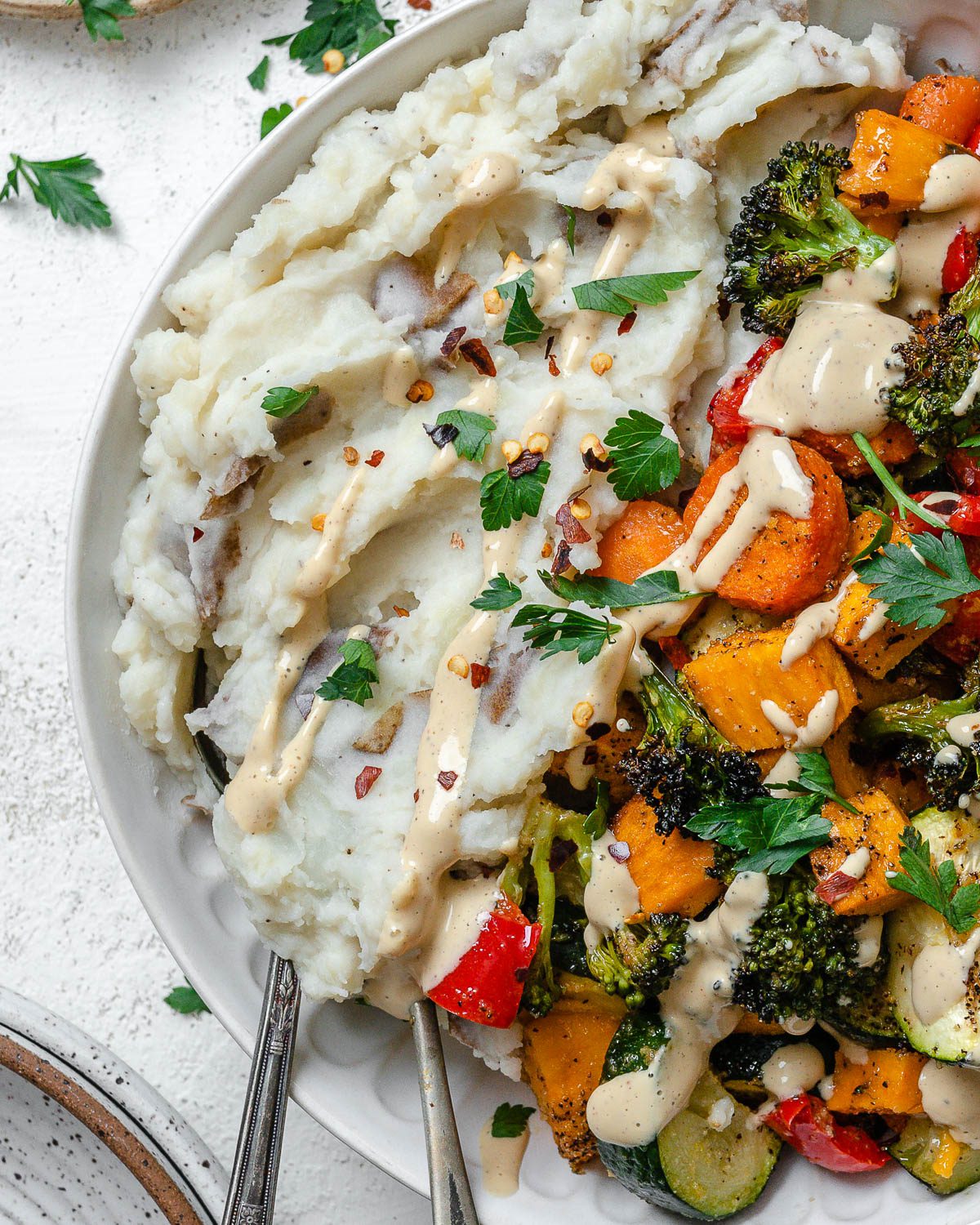 Serving Suggestions
Fully loaded mashed potato bowls make for a hearty meal alone, though they will become more 'complete' with a source of protein, like:
A vegan pie
Vegan meatballs, meatloaf, or sausages
Vegan chicken (popcorn, nuggets, pieces, shredded, etc.)
You could also enjoy it with a green salad (or shaved Brussels sprout salad) and/or bread or dinner rolls.
Storage Instructions
Fridge: I prefer to store any leftover vegan mashed potatoes, toppings, and/or sauce in separate airtight containers in the refrigerator for up to 4 days (making it great for meal prep, too!).
Freezer: Allow the potatoes and vegetables to cool completely, then store them in separate airtight containers/Ziplock/Stasher bags for up to 3 months.
Reheat: I prefer to use a microwave or the stovetop to reheat the mash, adding a splash of liquid (plant-based milk, water, or stock) and vegan butter as needed. The vegetables reheat best in the oven at 375/190C (10-15 minutes).
More Vegan Dinner Recipes
If you try this easy vegan mashed potato bowl recipe (as written or with changes), I'd love to know your thoughts in the comments below. I'd also really appreciate a recipe card rating!
Photos by Alfonso Revilla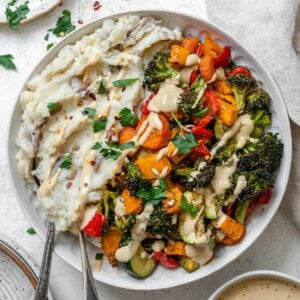 Loaded Mashed Potato Bowl
These mashed potato bowls combine creamy vegan garlic mashed potatoes with roasted vegetables and creamy cashew sauce (or gravy). It's delicious, nutritious, easily adaptable, cozy, comforting, and satisfying!
Equipment
knife set

measuring cups

measuring spoons
Ingredients
For the toppings:
2

carrots,

sliced

1

medium

sweet potato,

diced

2

cups

of broccoli florets

2

zucchinis,

halved lengthwise and sliced

1

red or green bell pepper,

diced

1

tablespoon

of garlic powder

Salt and pepper to taste

1

tablespoon

of olive oil

¼

cup

of fresh parsley,

chopped

Crushed red pepper flakes,

garnish
For the mashed potatoes:
2

pounds

of russet potatoes,

washed and cut into 1-inch cubes

5

whole garlic cloves,

peeled

1

cup

of plain, unsweetened plant-based milk

½

cup

of vegan butter

Salt and pepper

to taste
For the optional dressing:
1

cup

of raw cashews,

soaked in water for 20 minutes

½ to 1

cup

of water

2

tablespoons

of nutritional yeast

¼

teaspoon

of smoked paprika

Salt and pepper to taste
Instructions
Preheat oven at 400 degrees F.

In a large bowl, add the carrots, sweet potatoes, broccoli, zucchini, bell pepper, garlic powder, salt, and pepper. Add the oil, mix well and place them on a prepared baking sheet with parchment paper.

Bake for 30 to 40 minutes or until the sweet potatoes are tender.

In a large pot over medium-high heat, add potatoes and garlic cloves, and completely submerge them in water. Bring to a boil and cook for 25 minutes or until potatoes are completely tender.

When potatoes are completely tender, drain out the water with a colander. Place the potatoes and garlic back into the pot, add the plant-based milk, plant-based butter, salt, and pepper.

Mash the potatoes and garlic with a potato masher or a large, sturdy fork until you reach your desired consistency. Set aside.

If you're making the optional dressing, drain and rinse the soaked cashews. Add them to a high power blender and add ½ cup of water. Blend until smooth. Add more water if it's too thick. Then add the nutritional yeast, smoked paprika, salt and pepper. Blend until fully combined and set aside.

To assemble, add the mashed potatoes, then add the roasted veggies, and top with the optional cashew cream. Garnish with sprinkled parsley and crushed red pepper.
Notes
To adjust the mash texture/consistency: Decide how mashed you want it to be, use a potato ricer for the smoothest results, then adjust the amount of liquid for thick or thin/creamy potatoes.
Avoid using a blender/immersion blender: This can (and will) turn the potatoes gummy, so it is best avoided.
To save time: Use pre-prepared vegetables or frozen roasting vegetables to speed up the preparation time.
Nutrition
Calories:
666
kcal
Carbohydrates:
72
g
Protein:
16
g
Fat:
37
g
Saturated Fat:
8
g
Polyunsaturated Fat:
9
g
Monounsaturated Fat:
18
g
Trans Fat:
0.1
g
Sodium:
384
mg
Potassium:
1779
mg
Fiber:
12
g
Sugar:
9
g
Vitamin A:
14933
IU
Vitamin C:
110
mg
Calcium:
179
mg
Iron:
5
mg
Disclaimer: Although foodsharingvegan.com attempts to provide accurate nutritional information, kindly note that these are only estimates. Nutritional information may be affected based on the product type, the brand that was purchased, and in other unforeseeable ways. Foodsharingvegan.com will not be held liable for any loss or damage resulting for your reliance on nutritional information. If you need to follow a specific caloric regimen, please consult your doctor first.