Tender, lightly crisp, and subtly caramelized air fryer asparagus cooks in just 7 minutes with minimum oil and just 4 ingredients!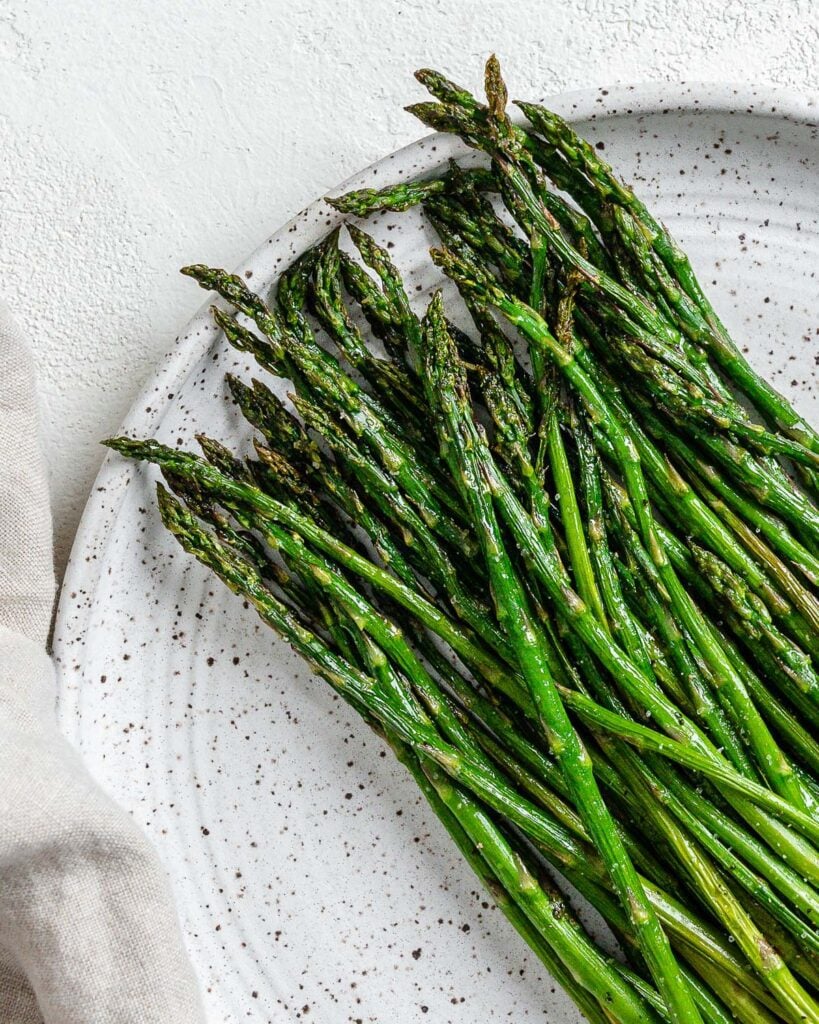 Crispy Air Fryer Asparagus In Under 15 Minutes
Does anyone else sometimes get halfway through preparing dinner and suddenly realize your meal could really do with some additional veggies (or some veggies full stop)? Even if you don't, this air fryer asparagus is still a must-try. Cooking in just 7 minutes, this air fryer asparagus recipe is perfect for a last-minute, nutritious, and delicious easy side dish.
As much as I love air fryer butternut squash, which is my other current favorite, it still takes a good 25-30 minutes from start to finish. In comparison, air-fried asparagus is ready from start to finish in under 15 minutes! Plus, the results are naturally gluten-free, WFPB, paleo, whole30, and vegan.
If you like steamed and boiled asparagus (and even if you don't), get ready to be blown away by this air fryer version. The air fryer process helps make the asparagus taste like it's been roasted, with a light caramelization and robust flavor I adore with just 4 ingredients.
The Ingredients
Asparagus: You can use fresh or frozen (method in FAQ) asparagus. Avoid stalks that are wilted or limp. Instead, choose ones that are rich green with compact tips.
Oil: Use any neutral cooking oil. I used avocado oil. You could toss them with a drizzle of vegan butter when serving for extra richness.
Seasoning: I used a simple combination of garlic salt (or salt and garlic powder) and black pepper. Keep reading for more seasoning recommendations.
Recipe Variations and Add-ins
The seasoning options for air fryer roasted butternut squash are incredibly versatile, including:
Lemon: My favorite way to brighten up the dish is with fresh lemon juice. You could also add lemon zest for a more robust flavor.
Nutritional yeast: Sprinkle the asparagus with nutritional yeast and/or a vegan parmesan cheese alternative for a delicious 'cheesy' flavor.
Other spices: There are plenty of ways to season air fryer asparagus based on the dish you're pairing it with. These include:

Smoked paprika
Onion powder
Garlic powder
Italian seasoning
Cajun seasoning
Cayenne pepper powder
Garlic and herb seasoning
Red pepper flakes

Herbs: Garnish the air-fried asparagus with fresh herbs such as parsley, chives, or dill. You could also cook it with herbs like rosemary, oregano, thyme, marjoram, etc.
Balsamic: You could toss the spears with a little balsamic vinegar or drizzle the air-fried asparagus with balsamic glaze.
Teriyaki sauce: To drizzle over the air-fried asparagus.
How to Cook Asparagus In an Air Fryer?
1) First, preheat your air fryer to 400F/205C if your model requires that step.
2) Then, rinse and trim the bottom 1-inch from the asparagus spears, or where the green meets the white/brown color in the spears.
You can also snap the ends off by hand. The woody end tends to come off at the right place each time.
3) Add the asparagus tips to a large bowl with the oil and seasonings and toss to coat.
4) Then, transfer the asparagus to your air fryer basket/tray in a single layer, and cook for 7 minutes, or until tender in the middle.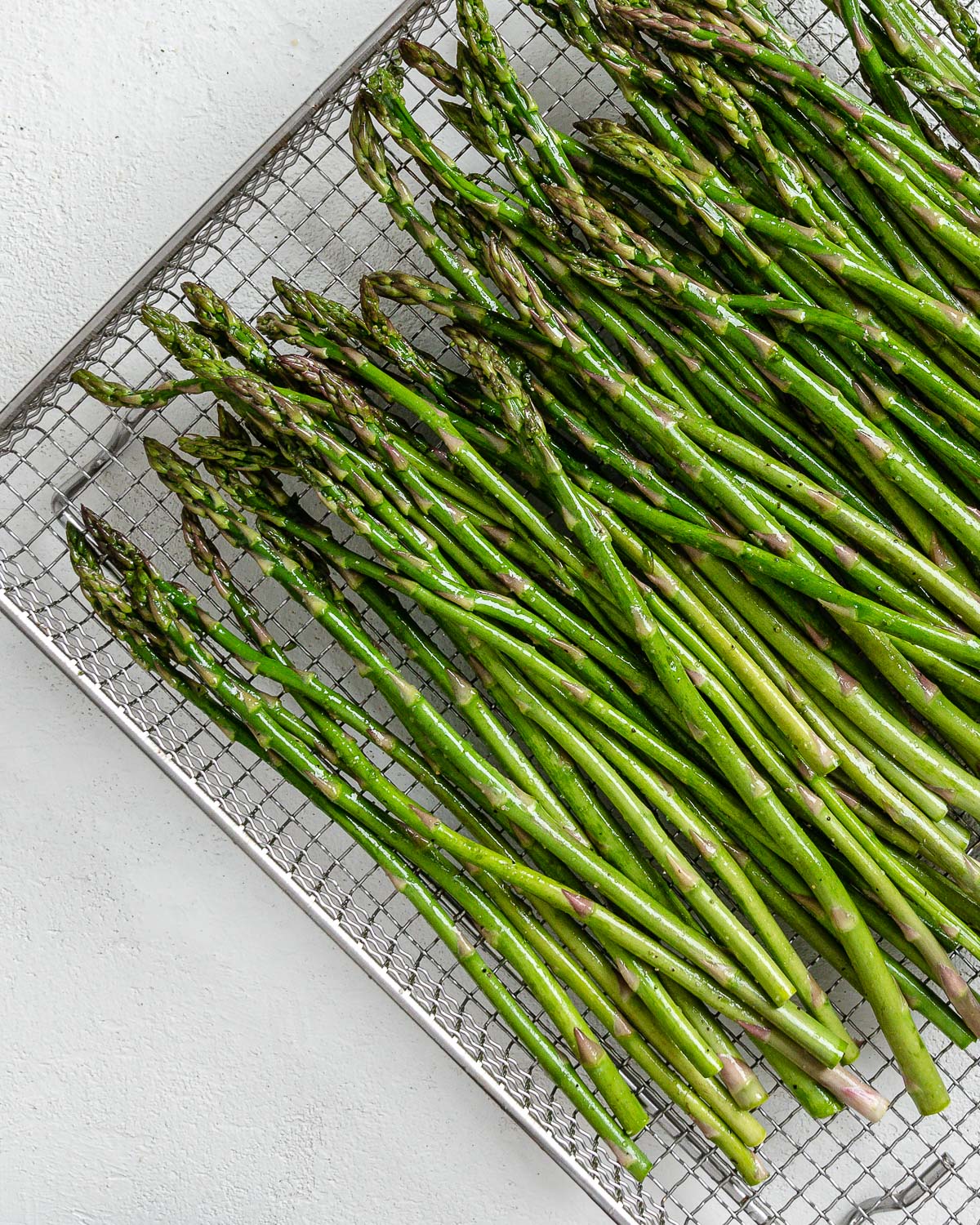 Note that your air fryer model and the size of the asparagus spears will affect the cooking time.
Air fryer asparagus is my go-to side dish while it's in season. For example, you might enjoy it.
To top risotto and serve alongside grains
Serve with (or in) pasta dishes like a one-pot veggie pasta or pasta salad
Add to leafy green salads
Enjoy them over a breakfast muffin with scrambled tofu
Serve as a green side with the protein and starch of your choice like these mashed potatoes
Add to potato salad
Enjoy with a vegan quiche, frittata, or omelette
Use as an avocado toast topping
What did you serve this air fryer asparagus with? Let me know in the comments.
FAQs
Can I use the leftover trimmed asparagus stalks?
There are a few culinary uses for the stalks, including asparagus stalk soup, asparagus stalk pesto, or using them in homemade vegetable broth.

If you don't want to use them immediately, place them in a bag in the freezer until needed.
How do I roast asparagus?
Prepare and season the asparagus spears, then spread them across a baking tray. Roast in the oven at 425F/218C for between 12-15 minutes.
Can I cook frozen asparagus in an air fryer?
To air fry frozen asparagus, make sure not to overcrowd the basket. Then air fry the asparagus from frozen, adding a few extra minutes to the cooking time.

However, note that frozen asparagus in the air fryer will be wetter and won't become as crisp. I prefer to use fresh when possible.
Why is the asparagus chewy or stringy?
If you don't remove the tough woody ends or if it's overcooked, then it can become chewy. Older asparagus is more woody and stringy, so make sure it's fresh.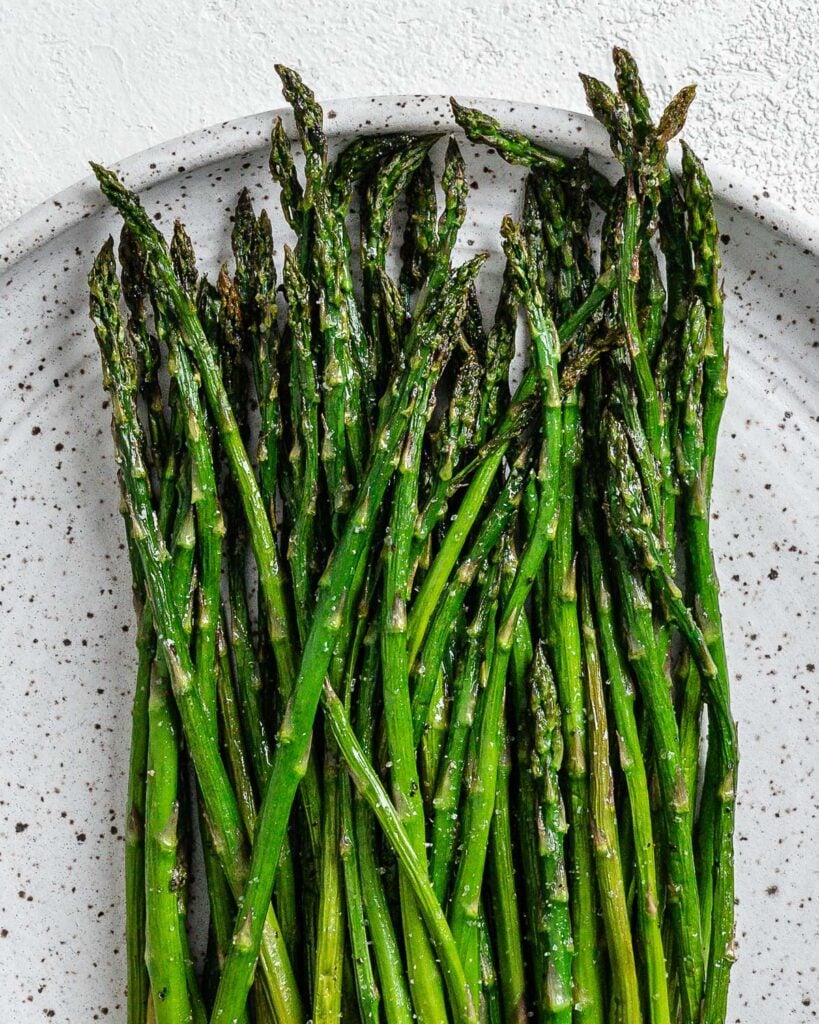 Top Recipe Tips and Notes
Remove the woody stalks: This part is tough, chewy, and unpleasant to eat.
Avoid non-stick cooking spray: Cooking spray like PAM wears away the non-stick lining in air fryers over time.
Cooking time can vary: According to the asparagus spear size and your air fryer model.
Don't overcrowd the basket: Otherwise, you'll have limp asparagus. Instead, cook in a single layer, with some space in between, and cook in batches if necessary.
Use similar sized pieces: To ensure they air fry at the same rate.
Make-Ahead and Storage Instructions
Make ahead: You may rinse, dry, and trim the asparagus a day in advance and store it in an airtight container in the fridge.
Store: Allow the air-fried asparagus to cool and then store in an airtight container in the fridge for between 3-4 days. I recommend enjoying them within 1-2, though, for the best texture.
Freeze: You can freeze cooked asparagus for up to 6 months (flash freeze the pieces on a tray, not touching, then transfer to a Ziplock/Stasher bag). It's best to reheat it from frozen, as they become very soft upon thawing.
Reheat: Pop it back in the air fryer for a few minutes until warm or pan fry.
More Vegan Air Fryer Recipes
If you try this air fryer asparagus recipe, I'd love to know what you think in the comments below. I'd also really appreciate a recipe card rating!
Photos by Alfonso Revilla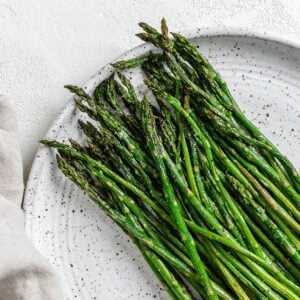 Air Fryer Asparagus
Tender, lightly crisp, and subtly caramelized air fryer asparagus cooks in just 7 minutes with minimum oil and just 4 ingredients!
Equipment
measuring spoons

large bowl

cutting knives

air fryer
Ingredients
1

pound

of asparagus

¼

tablespoon

of avocado oil

¼

teaspoon

of garlic salt

⅛

teaspoon

of black pepper
Instructions
Trim 1-inch off the bottoms of the asparagus.

In a large bowl, add the asparagus and drizzle with avocado oil, sprinkle with garlic salt and black pepper, and mix together until asparagus is evenly coated.

Place the asparagus in a single layer on the tray of your air fryer and cook at 400 degrees F for 7 minutes.
Notes
To ensure a crisp texture, avoid stalks that are wilted or limp. Instead, choose ones that are rich green with compact tips.
Nutrition
Calories:
36
kcal
Carbohydrates:
5
g
Protein:
2
g
Fat:
1
g
Saturated Fat:
1
g
Polyunsaturated Fat:
1
g
Monounsaturated Fat:
1
g
Vitamin A:
102
IU
Vitamin C:
15
mg
Calcium:
23
mg
Disclaimer: Although foodsharingvegan.com attempts to provide accurate nutritional information, kindly note that these are only estimates. Nutritional information may be affected based on the product type, the brand that was purchased, and in other unforeseeable ways. Foodsharingvegan.com will not be held liable for any loss or damage resulting for your reliance on nutritional information. If you need to follow a specific caloric regimen, please consult your doctor first.