These savory veggie muffins are packed with veggies, quick & easy to make, super customizable, and a delicious way to get the entire family to enjoy more veggies! Plus, they're egg-free, dairy-free, optionally gluten-free, & vegan!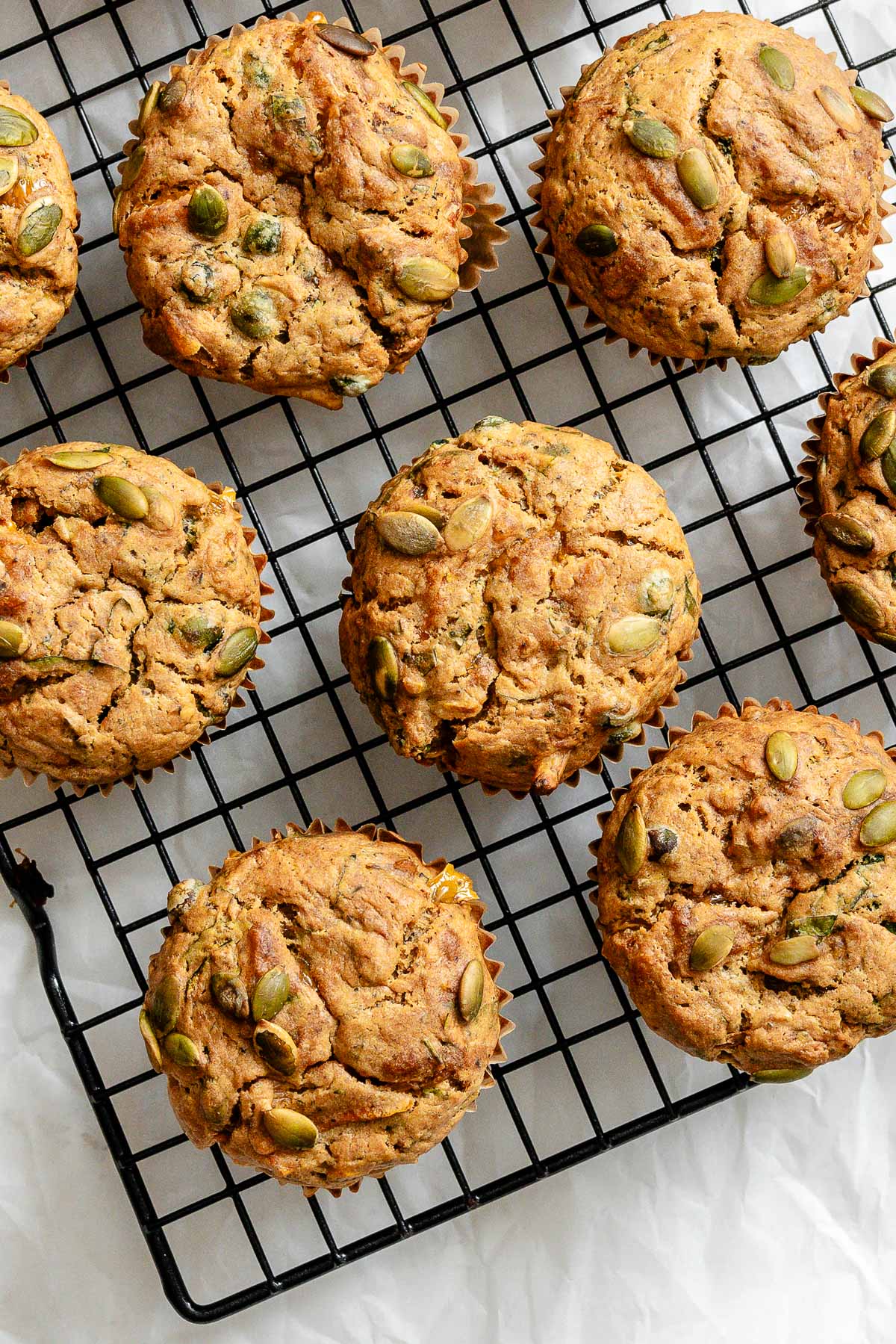 Super Customizable Zucchini and Carrot Veggie Muffins
Unlike the other muffin recipes on my site, today I'm sharing muffins 'with a twist' – they're savory! Swapping out ingredients like sugar and vegan chocolate chips for mixed vegetables (in this case, zucchini, carrots, and peas) and vegan cheese, these veggie muffins are a tasty child and adult-approved snack/side.
Not only are these healthy savory muffins a great way to enjoy extra nutrients (in a muffin-shaped package, who's going to complain?), but they're also really easily customizable to the veggies, herbs, and seasonings you have on hand. That makes it easy to experiment and find your family's favorite combinations.
You can even make them gluten-free and lower the sodium levels (for toddlers and babies). Plus, along with being sugar-free, this recipe is dairy and egg-free, too, relying on simple ingredient swaps for vegan savory muffins the entire family will love.
One baked, these pea, zucchini and carrot muffins are perfect for entertaining. Add them to picnic, potluck, party, and brunch spreads, and watch them disappear. They're also a great lunchbox snack or mid-afternoon pick-me-up. Plus, they store, freeze, and reheat well, so you can always have them to hand!
The Ingredients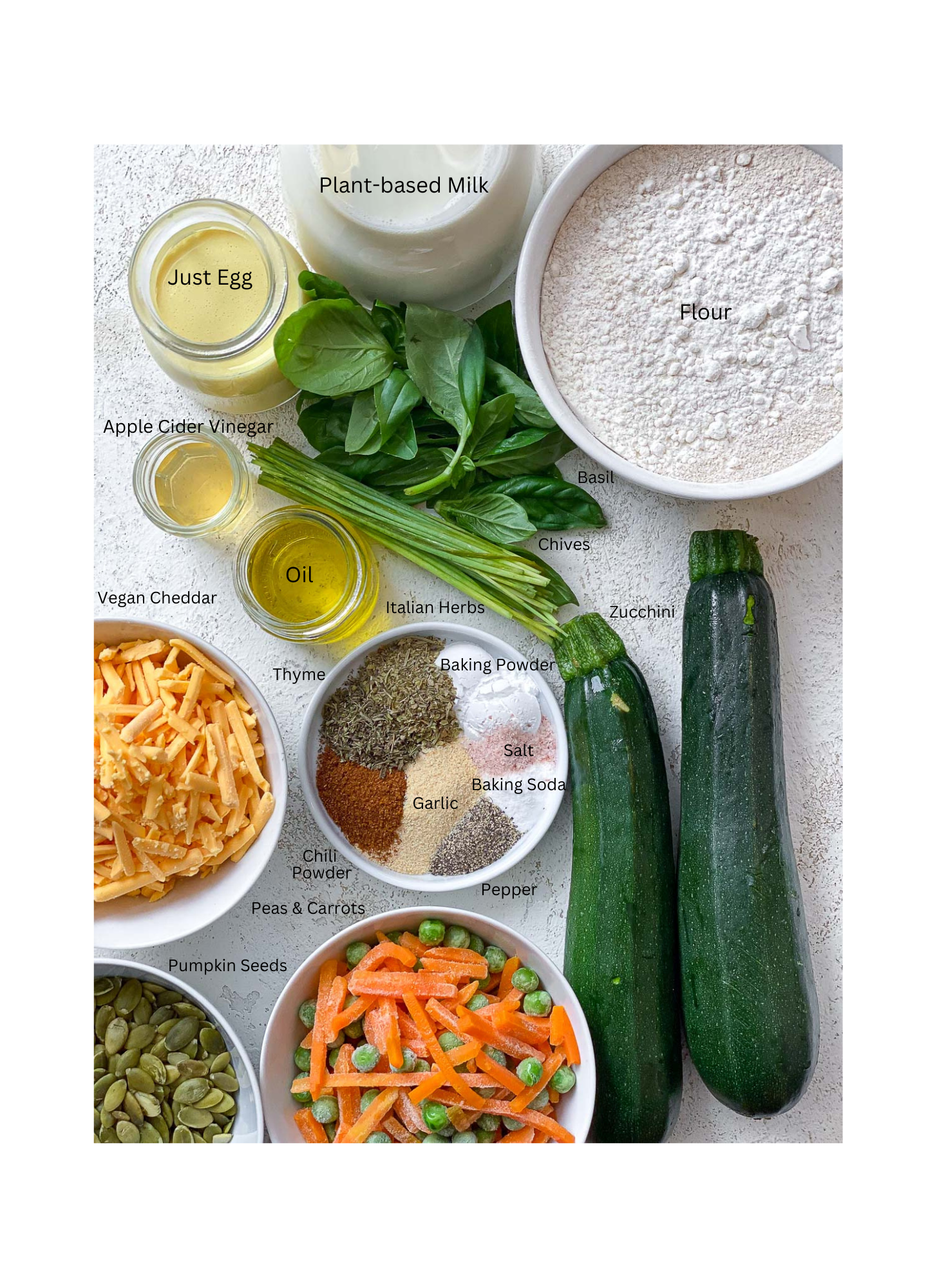 Flour: You can use regular all-purpose flour, whole wheat flour, a 50/50 combination, or even spelt flour. A gluten-free all-purpose flour blend, like Bob's Red Mill or King Arthur's will also work for gluten-free veggie muffins.
Vegan buttermilk: A combination of any unsweetened plant-based milk and apple cider vinegar will create a simple vegan buttermilk alternative.
Just Egg: Or another vegan egg alternative – this is essential for binding.
Leavening agents: A combination of baking powder and baking soda will help provide lift and texture to these vegan savory muffins.
Oil: Use any neutral cooking oil – I use olive oil.
The vegetables: While this is fairly adaptable, this time, I used

Frozen peas and carrots (or frozen peas and separate shredded carrots)

The seasonings: This veggie muffins recipe only requires a simple blend for heaps of flavor.

Garlic powder (or fresh garlic, if preferred)

Italian herbs (or dried oregano if that's all you have)

Chili powder (or cayenne pepper/red pepper flakes)

Vegan cheddar cheese: Use a brand that melts well or other vegan cheese.
Fresh herbs: Chives and green onion pair particularly well in these savory zucchini muffins.
Pumpkin seeds: To add crunch, protein, and healthy fats. Sunflower seeds, walnuts, or slivered almonds would also work.
Optional Add-ins or Variations
What Other Vegetables Could I Add to the Muffins?
As long as you stick to a similar volume amount, the vegetables you use in these healthy vegetable muffins are entirely up to you. Have fun experimenting with different flavors, textures, and nutrient profiles.
Spinach (finely chopped or pre-sautéed)
Broccoli/cauliflower (steamed and finely shredded)
Sweet potato (finely shredded)
Corn (frozen, canned, or fresh)
Bell peppers (finely diced)
Onion (finely diced and sautéed)
Leeks (finely sliced and sautéed)
Tomatoes (diced, de-seeded, and excess moisture blotted away)
Sun-dried tomatoes (finely chopped)
Olives (black or green – sliced)
Mushrooms (thinly sliced and sautéed)
Chickpeas (or white beans – for extra protein)
What Else Could I Add to This Veggie Muffin Recipe?
Smoked paprika: For a subtle smoky flavor.
Ground cumin: For a savory, earthy flavor.
Turmeric: An earthy, peppery flavor with impressive health benefits (when paired with freshly cracked black pepper).
Nutritional yeast: For extra savory, umami-rich, slightly 'cheesy' flavor.
Other herbs: i.e., basil, rosemary, parsley, cilantro.
Tomato paste: Just a little for an umami-rich, slightly tomatoey depth.
Cornmeal: Replace up to 50% of the flour with cornmeal for extra flavor.
Savory frosting: There are several options, including savory vegan cream cheese frosting, hummus frosting, or even whipped avocado frosting.
How to Make Healthy Veggie Muffins
1) First, preheat the oven to 375F/190C, add lightly greased paper/silicone cups to a muffin tin, and whisk the plant-based milk and apple cider vinegar together in a medium bowl, setting it aside for 5 minutes.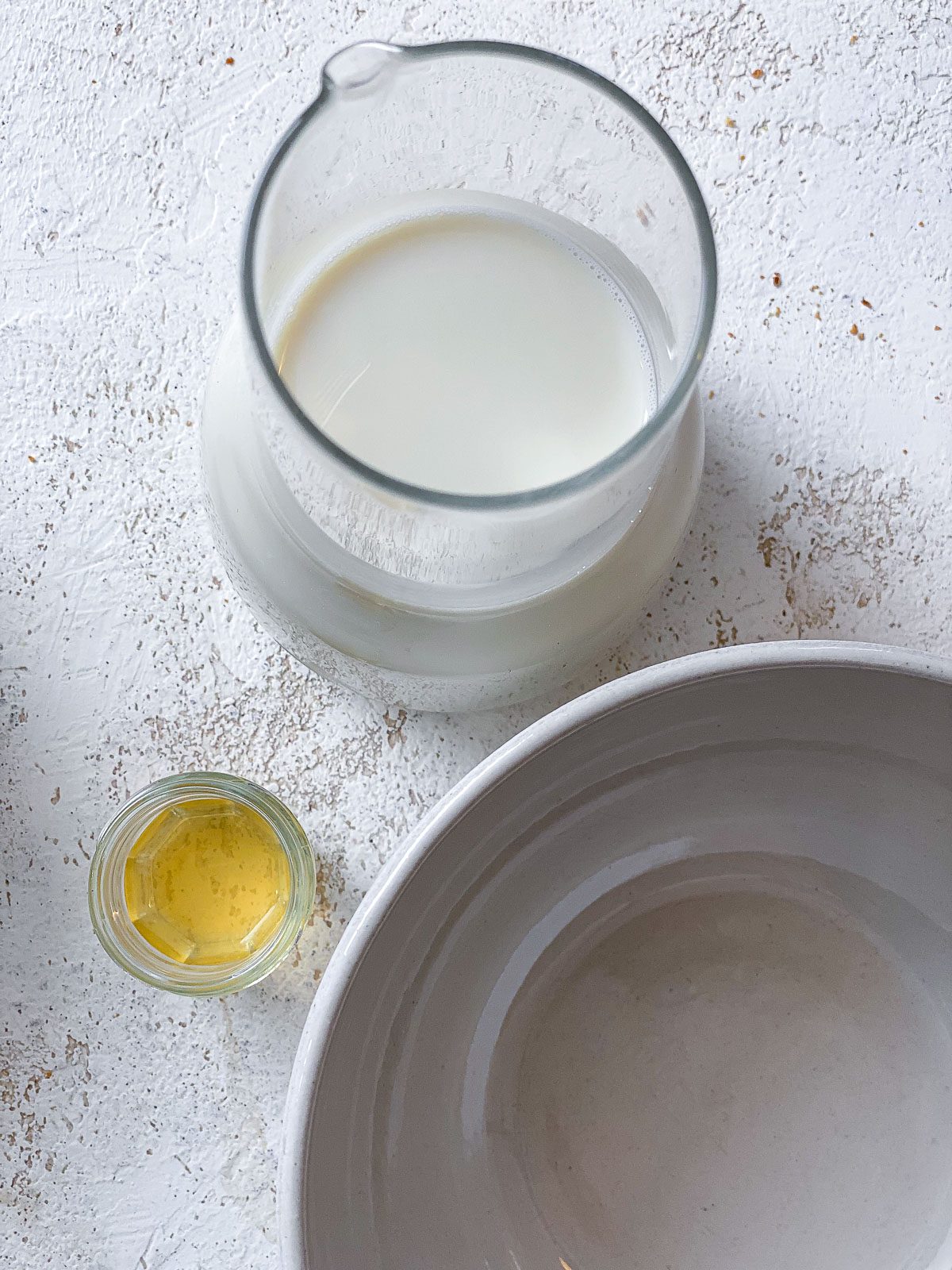 2) Then, add the Just Egg and olive oil, mix well, and set aside again.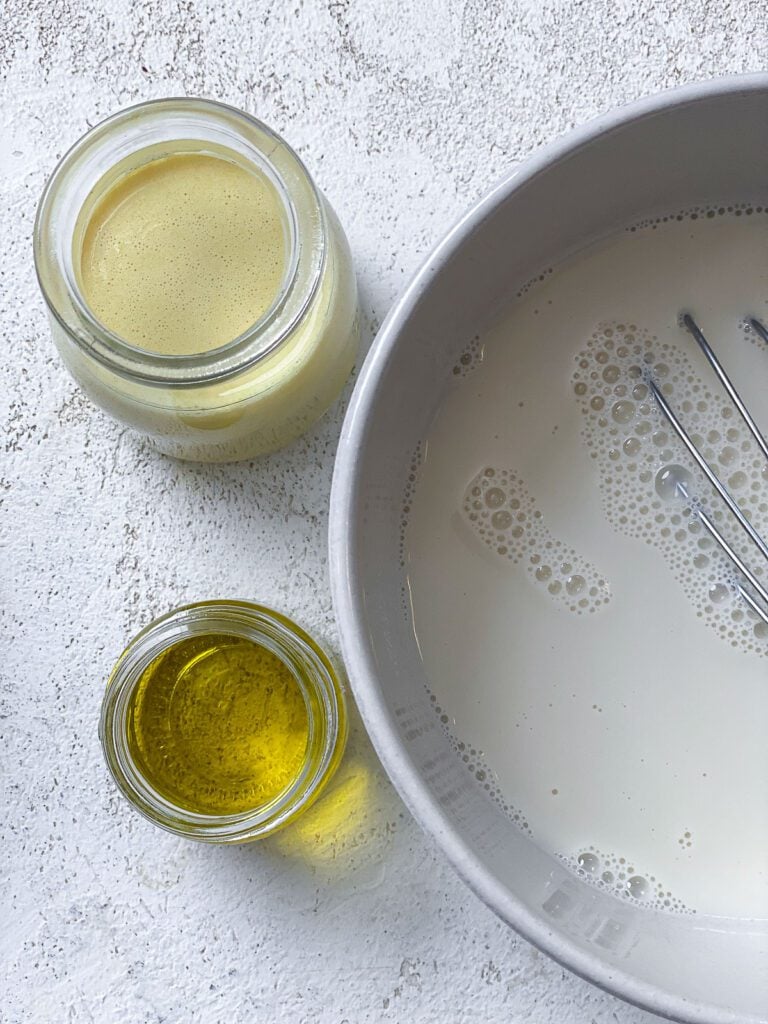 3) In a large bowl, combine the flour, leavening agents, and all the spices, and whisk until well combined.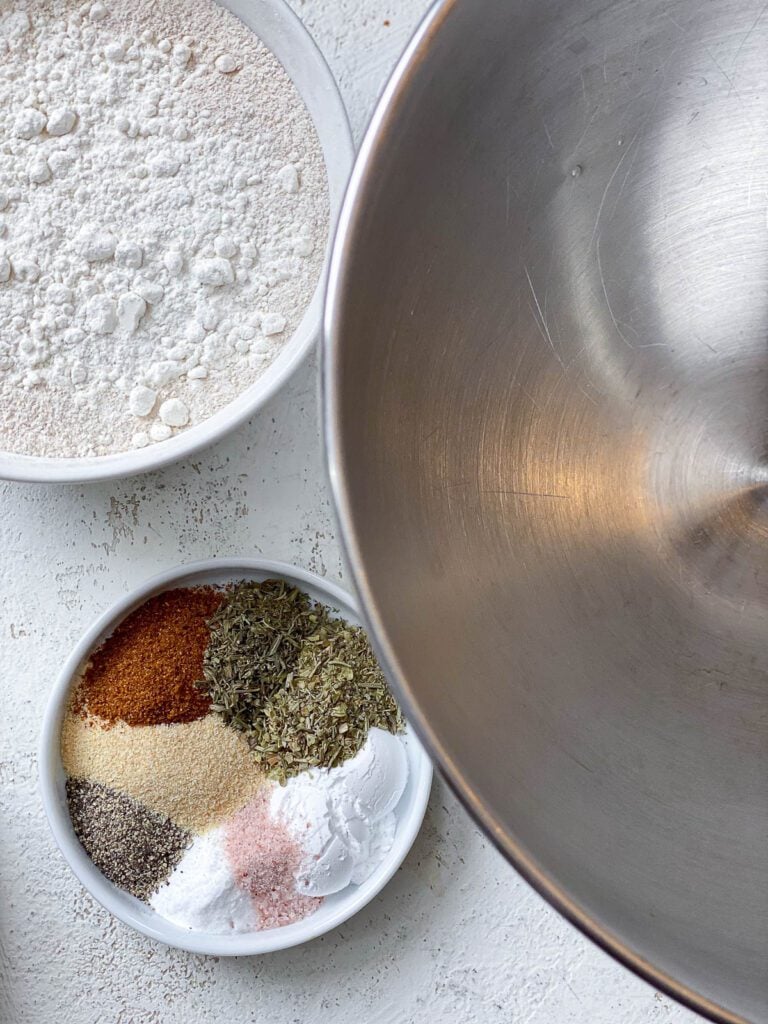 4) Pour the bowl of wet ingredients into the dry one and mix until just combined.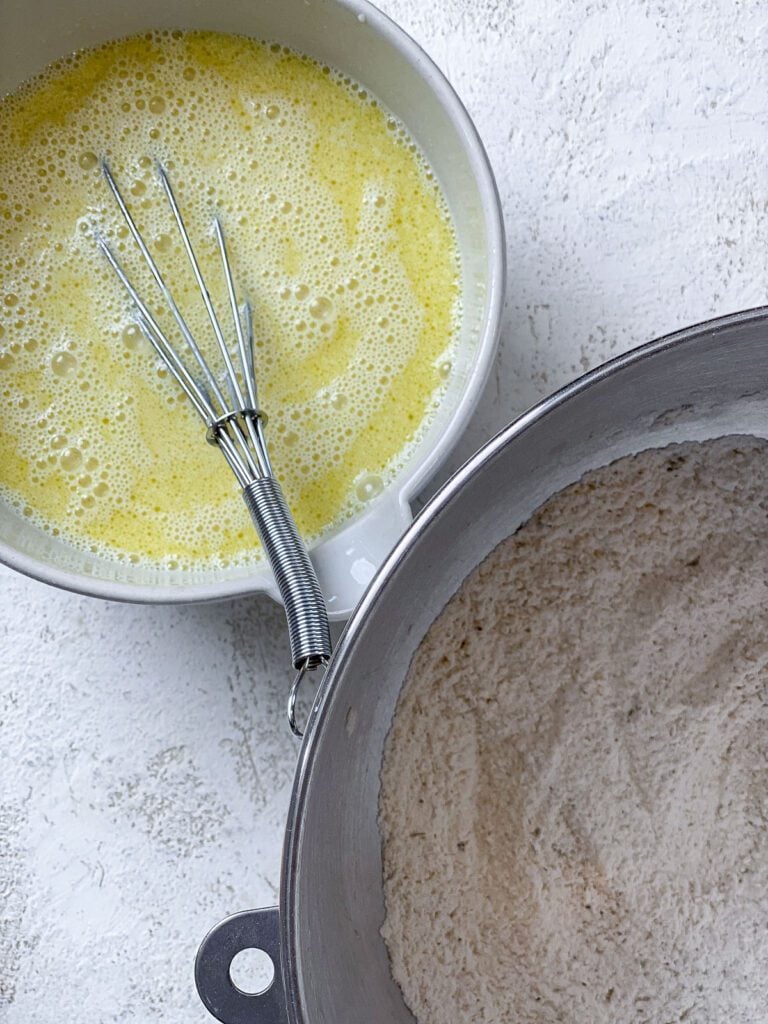 It's important not to overwork the gluten in the veggie muffin batter. Otherwise, the muffins can become tough, sunken, etc.
5) Rinse, then shred the zucchini (using a box grater or save time with a food processor shredding disk) and add it to a kitchen towel/cheesecloth. Wrap that around the zucchini and squeeze to remove as much excess liquid as possible.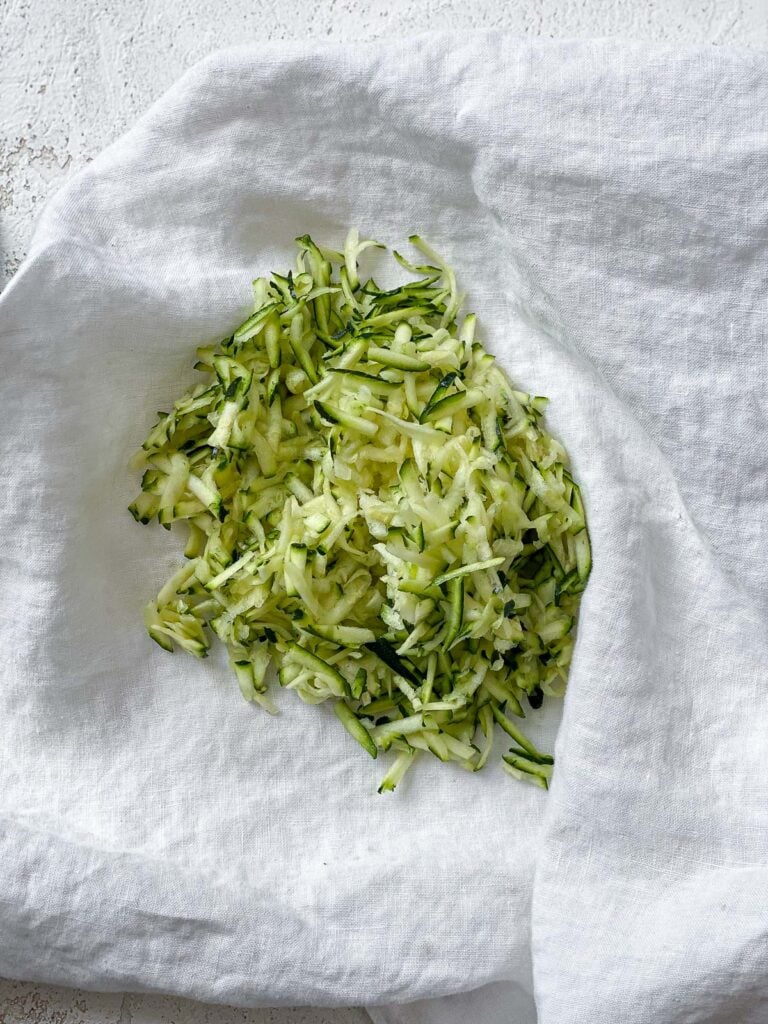 You can save this liquid to add to sauces, soups, smoothies, etc.
6) Then, fold the zucchini, thawed carrot and peas mixture, basil, chives, and pumpkin seeds (save some for pressing into the top) into the muffin batter.
7) Divide the vegan carrot zucchini muffins between the muffin liners, fill them to the top, and sprinkle them with some pumpkin seeds and black pepper.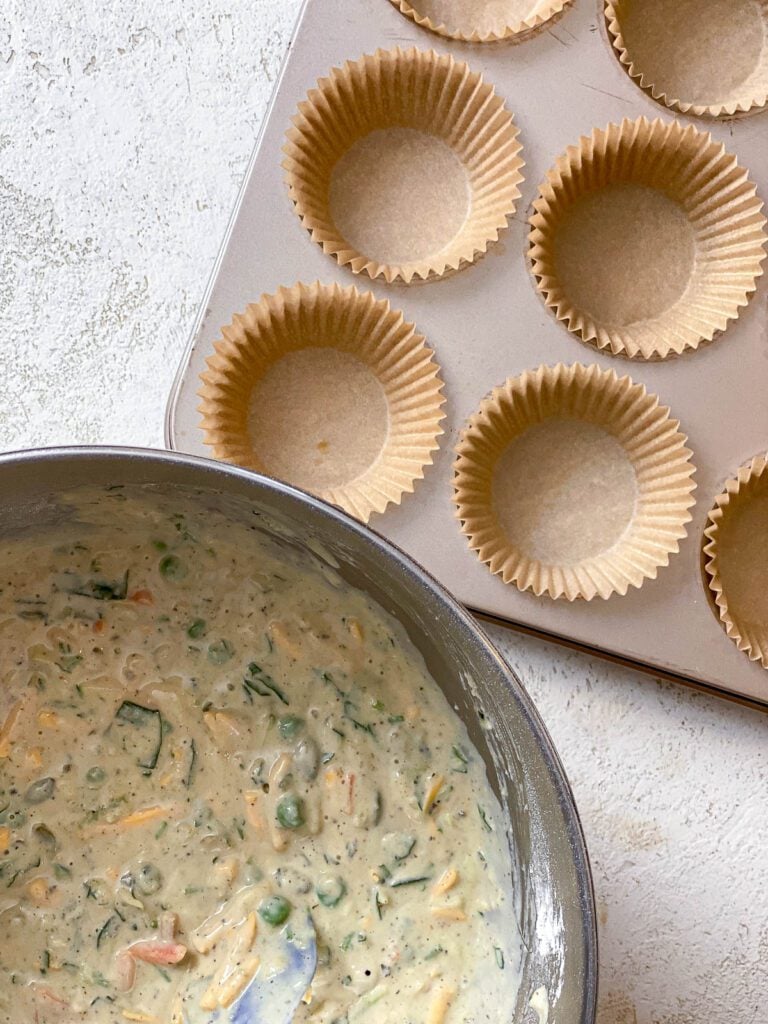 8) Bake the vegetable muffins for 40 minutes, or until they're golden brown on top and a toothpick inserted into the center comes out clean.
9) Finally, leave them to cool in the muffin tray for 5 minutes before transferring them to a wire cooling rack. Enjoy warm or allow them to cool completely.
Don't leave them to cool in the muffin tray for too long. Otherwise, they risk the chance of becoming soggy.
FAQs
Can I replace the Just Egg?
You could make this vegan vegetable muffin recipe with two flax eggs instead, though I haven't tried it.
Can I make vegan gluten-free veggie muffins?
Make a 1:1 swap from regular all-purpose flour to an all-purpose gluten-free flour blend, like King Arthur's or Bob's Red Mill. They may be denser, but it should work.
Can I use a mini or jumbo muffin tin?
Yes, you should be able to easily adapt this vegetable muffins recipe to mini or jumbo muffins by adjusting the baking time (use a toothpick to check for doneness). Of course, the yield will change, too.
Top Recipe Tips and Notes
Measure the flour correctly: Fluff it up in its bag, spoon it into the measuring cup, then level it with the back of a knife. This method ensures you don't add too much and end up with dense zucchini and carrot muffins.
Be careful of 'wet' veggies: It's important to pre-sauté or squeeze out excess liquid from particularly wet veggies before adding them to the batter. I.e., mushrooms, zucchini, spinach, etc.
Don't over-mix the batter: Or you'll overwork the gluten in the flour and bake dense, rubbery vegetable muffins. Mix it until only just combined.
Experiment with add-ins: The key is experimenting with a balance of flavors and textures. Luckily, there are plenty of options (veggies, herbs, spices, etc.) to choose from when making these veggie muffins.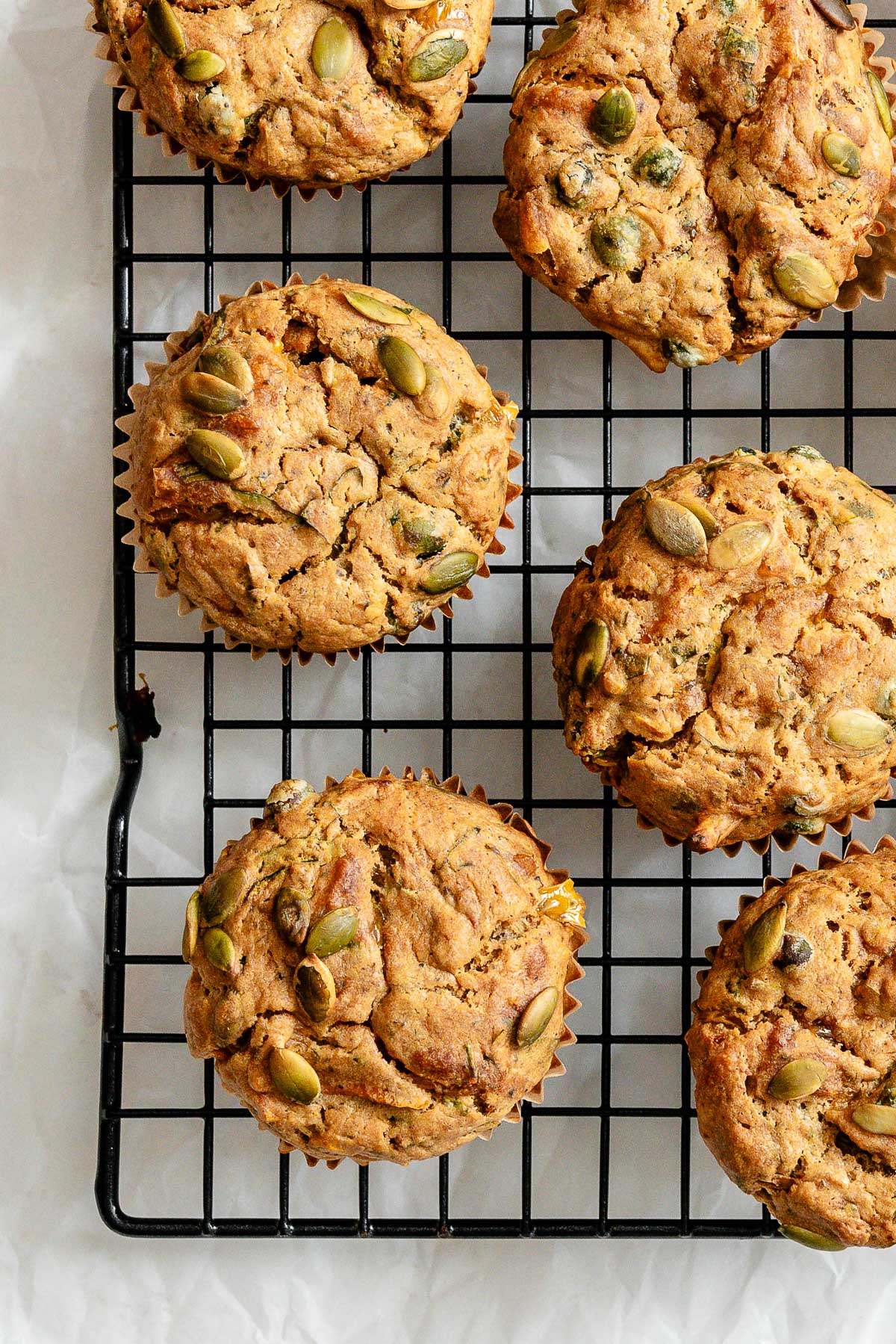 How to Serve Veggie Muffins?
You can enjoy one of these vegan carrot zucchini muffins as part of breakfast, a snack (including in lunchboxes), a side dish, or even a light meal alongside:
Enjoyed warm with lashings of vegan butter or dairy-free cream cheese
Alongside a salad
Dips – like hummus, salsa, guacamole, etc.
As part of a brunch spread with scrambled tofu, bagels, French toast, pancakes, fruit, etc.
Other fingers foods and appetizers/ a charcuterie board/ a picnic spread
Storage Instructions
Store: Allow them to cool completely, then store the leftovers in an airtight container at room temperature for 1-2 days or in the refrigerator for up to 5 days. Bring them back to room temperature before eating.
Freeze: Spread them on a tray to flash freeze, then transfer to a Ziplock bag for up to 3 months. Allow one/them to thaw in the fridge overnight or at room temperature.
Reheat: Optionally warm one/them up in a toaster oven or under a broiler, in a microwave, or even place several in a muffin tin in the oven (at 350F/175C).
Related Vegan Recipes
Photos by Alfonso Revilla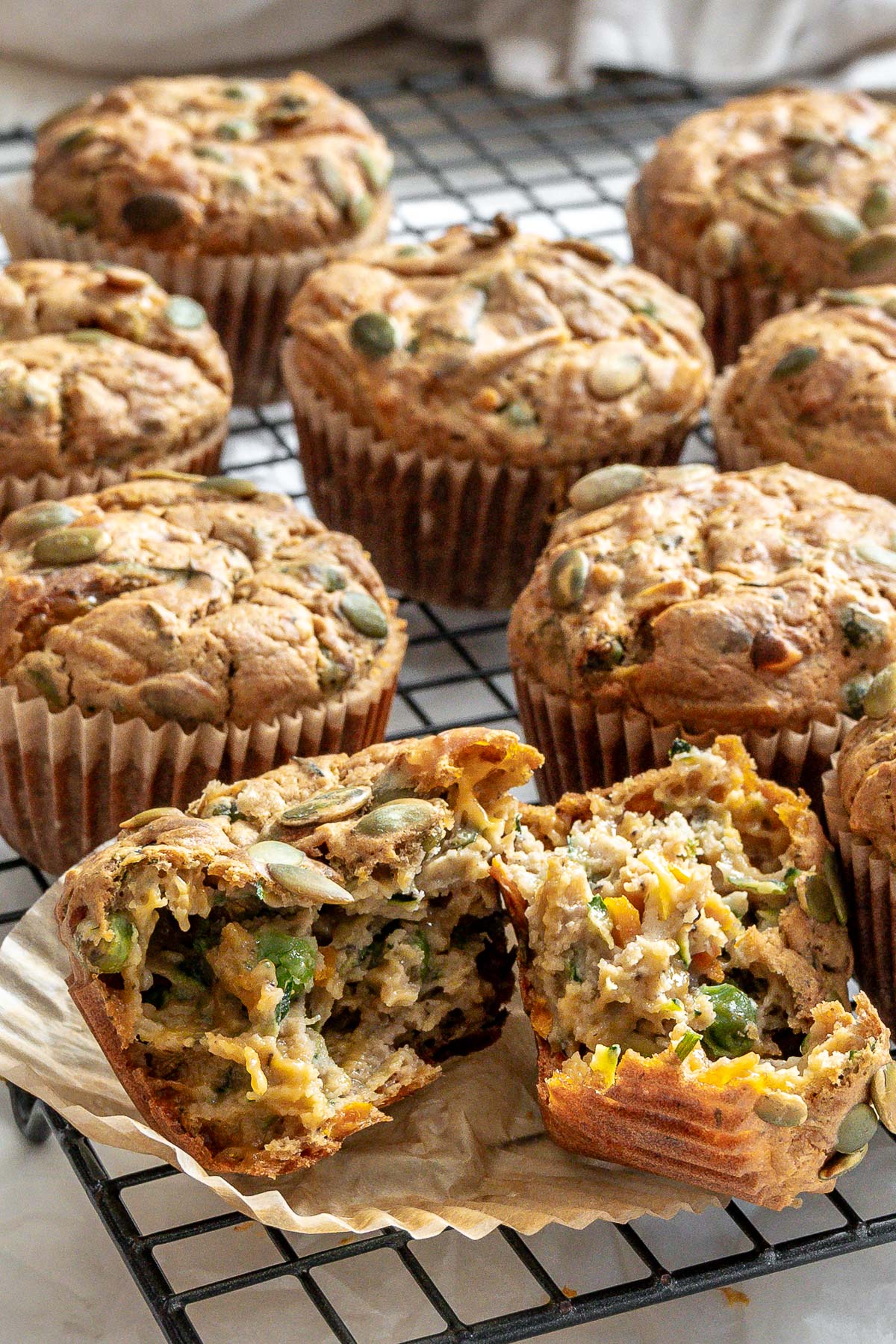 Healthy Veggie Muffins
These savory veggie muffins are packed with veggies, quick & easy to make, super customizable, and a delicious way to get the entire family to enjoy more veggies! Plus, they're egg-free, dairy-free, optionally gluten-free, & vegan!
Equipment
measuring cups

measuring spoons

whisk
Ingredients
1 ¼

cup

of plant-based milk

1

teaspoon

of apple cider vinegar

½

cup

of Just Egg

3

tablespoons

olive oil

2

cups

of all-purpose flour

2

teaspoons

of baking powder

½

teaspoon

of baking soda

½

teaspoon

of salt

½

teaspoon

of black pepper

1

tablespoon

of garlic powder

1

teaspoon

of chili powder

1

teaspoon

of dried thyme

1

teaspoon

dried Italian herbs

1

cup

of shredded zucchini

1

cup

of vegan cheddar

1

cup

of frozen peas and carrots

¼

cup

of sliced fresh basil

¼

cup

of chives or green onions,

thinly sliced

½

cup

of pumpkin seeds,

plus more for topping
Instructions
Preheat the oven to 350 degrees F.

In a medium bowl, whisk the plant-based milk and apple cider vinegar and set it aside for 5 minutes. Then add the olive oil and Just Egg. Mix well and set aside.

Prep a muffin tin with paper or silicone cups.

In a large bowl whisk all the dry ingredients.

Pour the wet ingredients into the dry ingredients and mix until just combined.

Prep the zucchini by removing most of the water using a cheese cloth or towel.

Fold the zucchini, vegan cheese, peas, carrots, basil, chives, and pumpkin seeds. Mix well.

Scoop batter into the muffin tin, fill to the top of the cups. Sprinkle some pumpkin seeds on top and black pepper.

Bake for 40 minutes or until golden brown on top. Insert a toothpick or a knife, if it comes out clean, the muffins are ready.

Transfer to a cooling rack and enjoy warm or cool.
Nutrition
Calories:
185
kcal
Carbohydrates:
22
g
Protein:
5
g
Fat:
9
g
Saturated Fat:
1
g
Polyunsaturated Fat:
1
g
Monounsaturated Fat:
3
g
Trans Fat:
0.002
g
Sodium:
355
mg
Potassium:
117
mg
Fiber:
2
g
Sugar:
0.5
g
Vitamin A:
1237
IU
Vitamin C:
4
mg
Calcium:
94
mg
Iron:
2
mg
Disclaimer: Although foodsharingvegan.com attempts to provide accurate nutritional information, kindly note that these are only estimates. Nutritional information may be affected based on the product type, the brand that was purchased, and in other unforeseeable ways. Foodsharingvegan.com will not be held liable for any loss or damage resulting for your reliance on nutritional information. If you need to follow a specific caloric regimen, please consult your doctor first.