Coconut lovers rejoice at this rich, creamy coconut shake recipe – combining coconut ice cream, coconut milk, and shredded coconut for a cold & refreshing treat ready in just 5 minutes.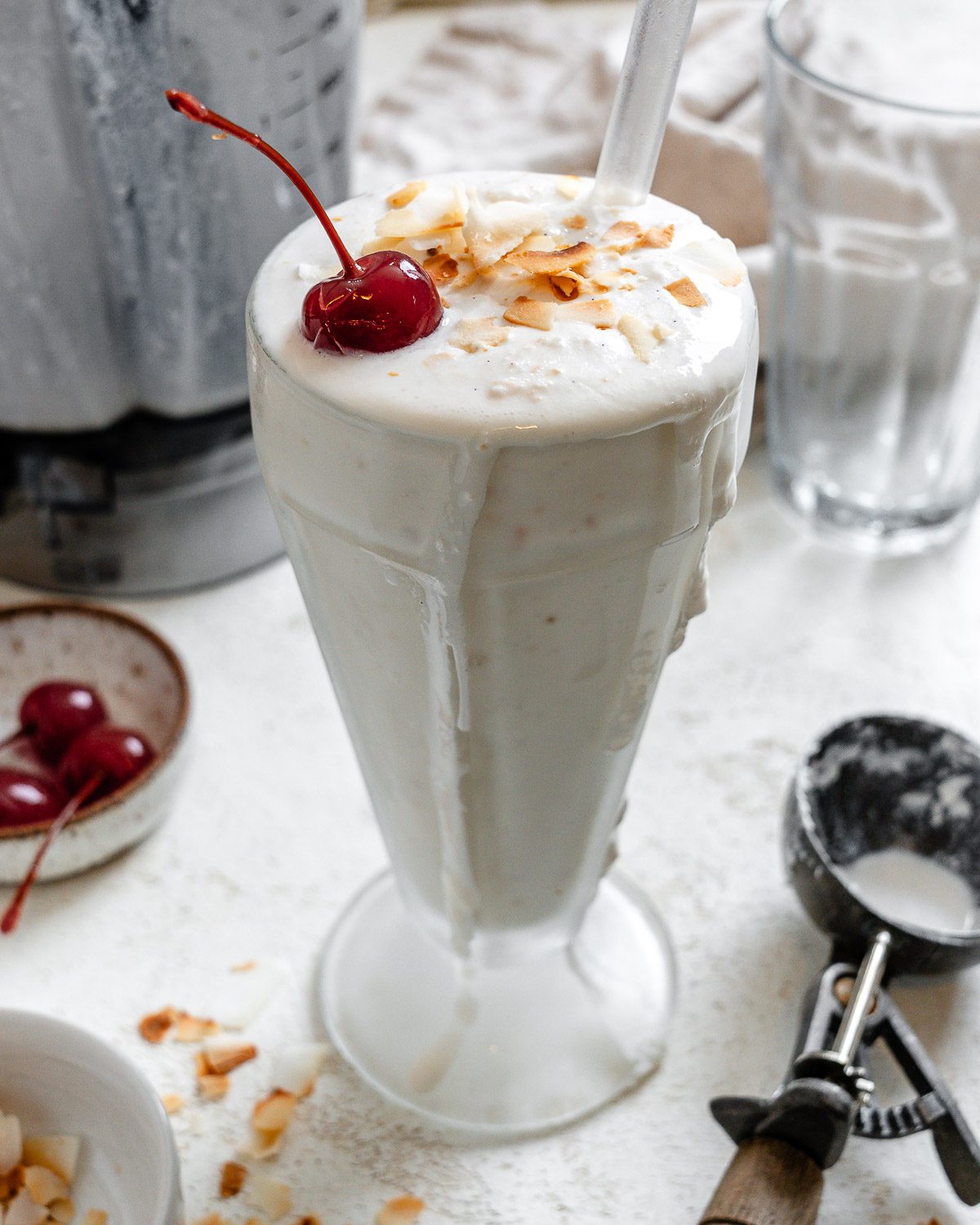 Thick and Creamy Coconut Milk Shake Recipe
This creamy coconut shake is a delicious, refreshing summer treat that I can't help but enjoy year-round as it's so flippin' delicious! Combining just THREE ingredients, this coconut milkshake is naturally dairy-free, gluten-free, loaded with coconut flavor, and can be thrown together in just minutes in a blender!
Even better, it's easy to customize, kid-friendly, and perfect for satisfying a sweet tooth. Once blended, choose from several optional toppings, then enjoy this decadent treat at breakfast or dessert time.
Have any leftover coconut milk? Make fragrant coconut basmati rice. As a coconut fan, you might also enjoy this fluffy vegan coconut cake.
The Ingredients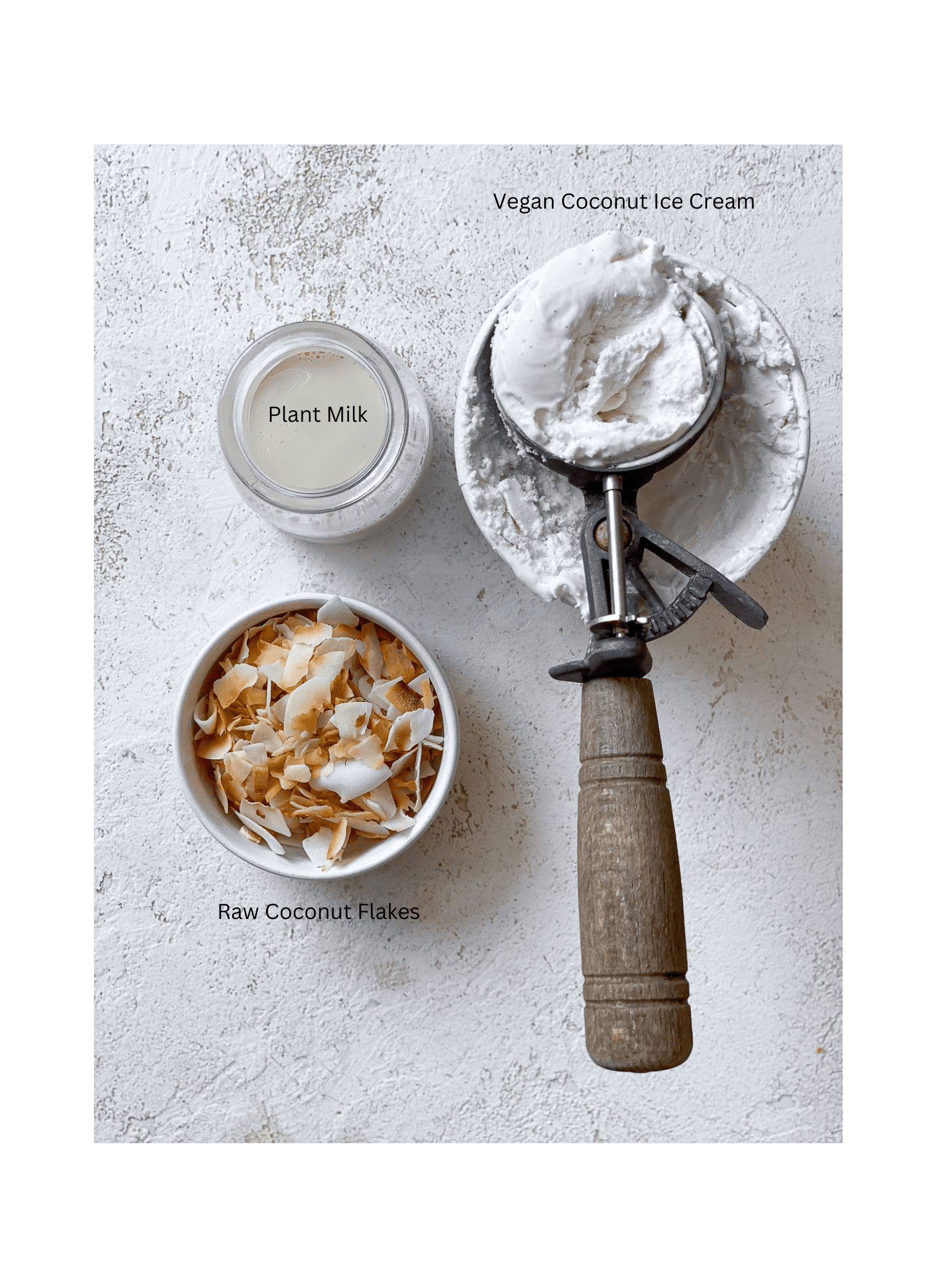 Coconut ice cream: Use your favorite dairy-free coconut ice cream or a coconut-cream-based vanilla ice cream + ¼ teaspoon coconut extract. Frozen dairy-free yogurt will also work.
Plant-based milk: Any dairy-free milk will work, but for the most decadent coconutty shake, use canned coconut milk (full-fat/lite) in this coconut milkshake recipe.
Coconut flakes: Use raw or toasted coconut flakes/shredded coconut (I highly recommend toasted for extra crunch and delicious toastiness).
Optional add-ins & Flavor Variations
Vanilla extract: Just ½ teaspoon for wonderful warm depth in the coconut shake.
Sweetener: If you have a sweet tooth, add a small amount of maple syrup, agave, date paste, sugar-free sweetener, etc., to taste.
Chocolate coconut milkshake: Add 1-2 tablespoon raw cacao/cocoa powder.
Berry coconut milkshake: Add ½ cup raspberries or strawberries.
Tropical coconut shake: Add ½-1 cup frozen pineapple or mango.
Coffee coconut shake: Replace the plant-based milk with strong brewed coffee/espresso.
Cinnamon: For a subtle warm depth - add to taste.
Hemp seeds: 1-2 tablespoon for creaminess, protein, and heart-healthy omegas.
Coconut protein shake: Add ½ scoop plain/vanilla/coconut vegan protein powder.
Banana coconut shake: Replace some or all plant-based ice cream with frozen banana.
Coconut avocado shake: Add ½-1 avocado for its rich creaminess, healthy fats, vitamins, & antioxidants.
How to Make a Coconut Shake
1) First, transfer the shake glasses to the fridge for 30 minutes. This will help keep the coconut milk milkshake cooler for longer.
2) Then, add the vegan ice cream and just a splash of coconut milk (or your choice of plant-based milk) to a blender and blend for about 10 seconds, adding more plant-based milk if needed to achieve your desired consistency.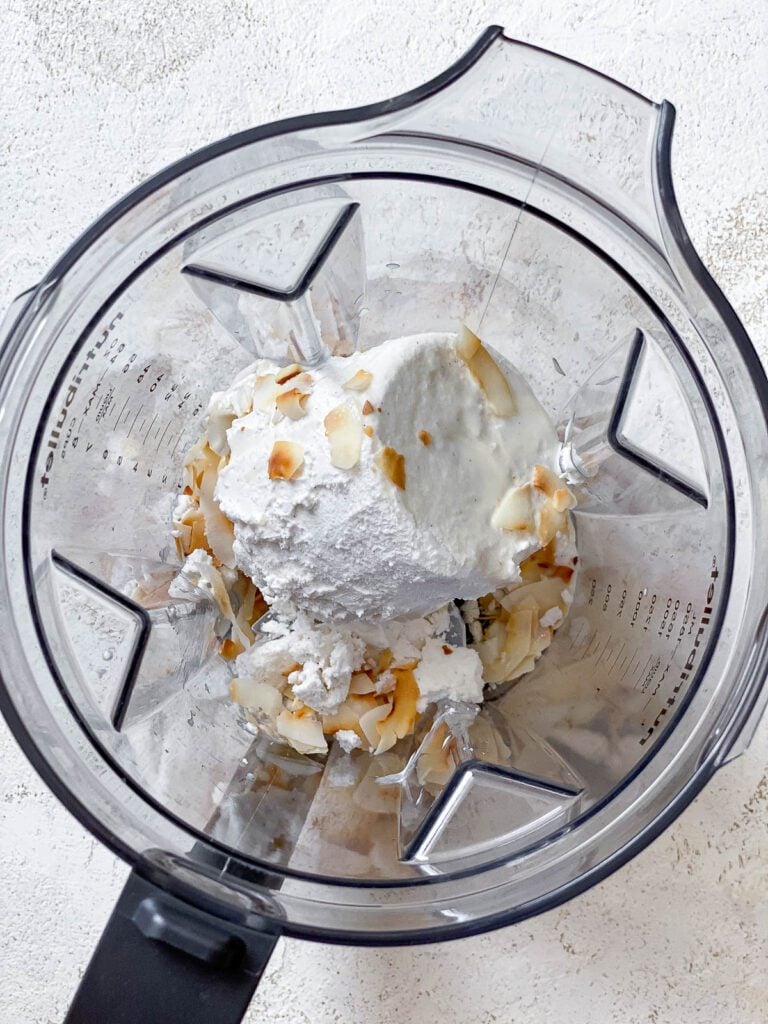 3) Add the coconut flakes and pulse a few times, just enough to mix them into the shake.
To toast the coconut flakes, add them to a dry pan over medium heat and stir constantly until they smell fragrant and toasty and are lightly browned.
4) Divide the mixture between the chilled glasses, sprinkle with more coconut flakes, and enjoy your delicious, refreshing coconut shake.
Coconut Milkshake Topping Ideas
An extra small scoop of vegan ice cream
Coconut whipped cream
Chopped nuts
Vegan caramel or chocolate syrup/sauce
Crushed biscuits (like Biscoff/Oreos)
Vegan chocolate chips
A maraschino cherry (or 2!)
FAQs
Can I substitute the ice cream?
You could use vegan frozen yogurt or combine coconut yogurt and frozen banana (which helps make super creamy shakes and smoothies). However, it's important to note that frozen banana has a strong flavor and can overpower the coconut slightly.
Are coconut shakes healthy?
As this coconut shake recipe has vegan ice cream as a base ingredient, I wouldn't consider it healthy. However, it depends on the ingredients in the vegan ice cream.

You can also lighten it by replacing the dairy-free ice cream with frozen yogurt or frozen banana or home-frozen plain coconut yogurt (not whipped fro-yo).
Pro Recipe Tips
Sweeten to taste: Taste it after blending and add sweetener to taste.
Adjust the texture: For smaller coconut pieces within the coconut shake recipe, pulse the toasted coconut flakes/shreds into smaller pieces before blending the shake.
Adjust the consistency: Adjust the amount of plant-based milk you add based on how thick or thin you'd prefer the coconut milkshake. If it ends up too thin, a few ice cubes can help thicken it up.  
Be careful not to over-blend: Or the heat of the blender blades can cause the dairy-free ice cream to melt.
Serve it in chilled cups: This will keep the vegan ice cream from melting too soon, so you can enjoy this treat for longer on warmer days.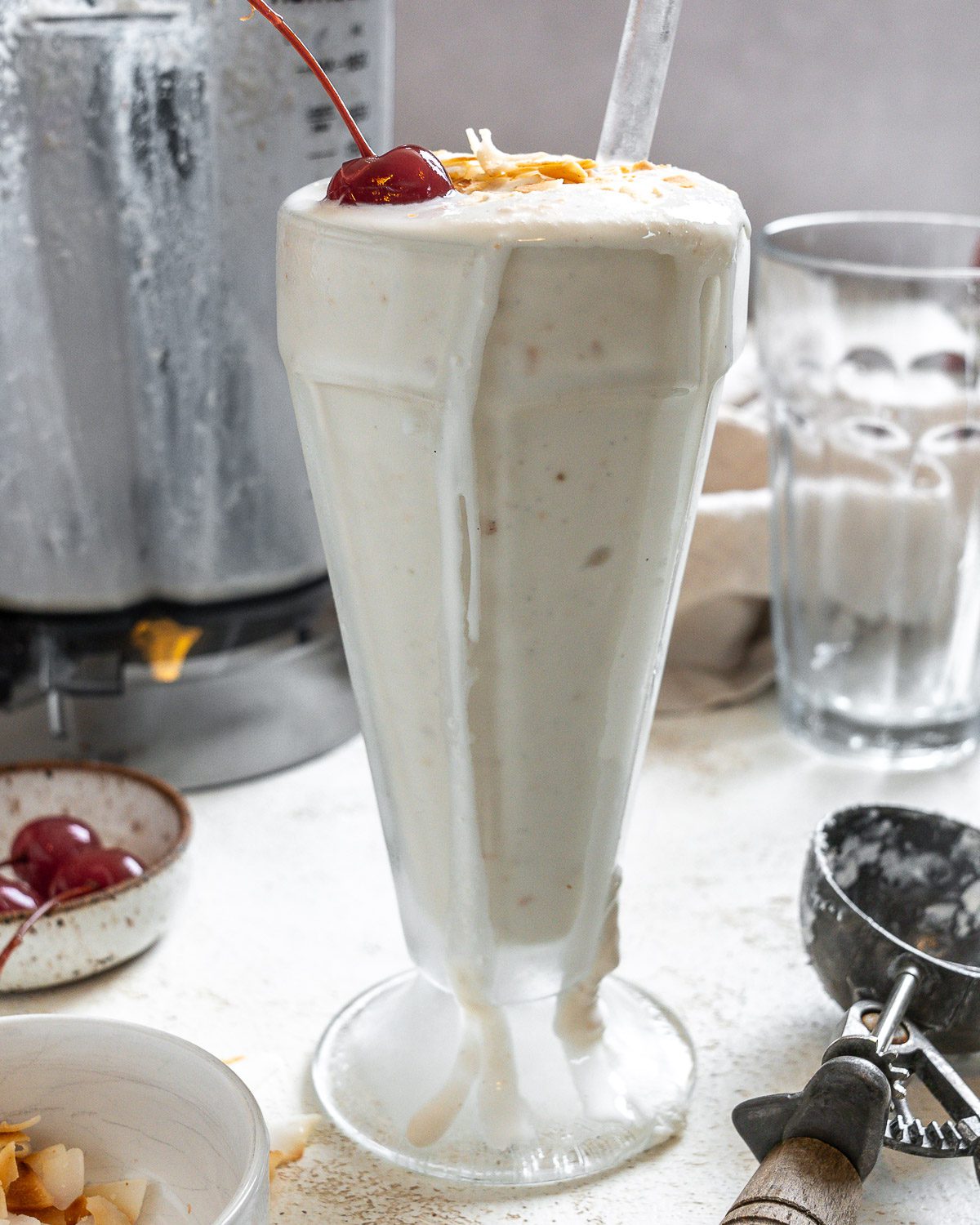 More Vegan Drink Recipes
Photos by Alfonso Revilla
3-Ingredient Coconut Shake
Coconut lovers rejoice at this rich, creamy coconut shake recipe – combining coconut ice cream, coconut milk, and shredded coconut for a cold & refreshing treat ready in just 5 minutes.
Ingredients
1

pint

of coconut vegan ice cream

Plant-based milk,

to taste

¼

cup

of toasted or raw coconut flakes,

plus more for garnish
Instructions
Put your serving glasses in the fridge for at least 30 minutes.

To the cup of a blender, add the vegan ice cream and add a splash of coconut milk.

Blend for 10 seconds, then add more plant-based milk to achieve the desired milk shake consistency.

Add the coconut flakes and blend for 3 seconds just to mix them in the milk shake.

Pour the milkshake into your cold glasses and top with more coconut flakes.
Nutrition
Calories:
496
kcal
Carbohydrates:
72
g
Protein:
12
g
Fat:
18
g
Saturated Fat:
13
g
Polyunsaturated Fat:
1
g
Monounsaturated Fat:
3
g
Cholesterol:
64
mg
Sodium:
180
mg
Potassium:
550
mg
Fiber:
2
g
Sugar:
53
g
Vitamin A:
1060
IU
Vitamin C:
3
mg
Calcium:
384
mg
Iron:
1
mg
Disclaimer: Although foodsharingvegan.com attempts to provide accurate nutritional information, kindly note that these are only estimates. Nutritional information may be affected based on the product type, the brand that was purchased, and in other unforeseeable ways. Foodsharingvegan.com will not be held liable for any loss or damage resulting for your reliance on nutritional information. If you need to follow a specific caloric regimen, please consult your doctor first.