Enjoy a thick and creamy 3-ingredient dairy-free banana milkshake without dairy-based ice cream, thanks to the use of frozen banana! This vegan milkshake contains no added sugar, is packed with real banana flavor, and is super flexible with optional add-ins and ingredient variations!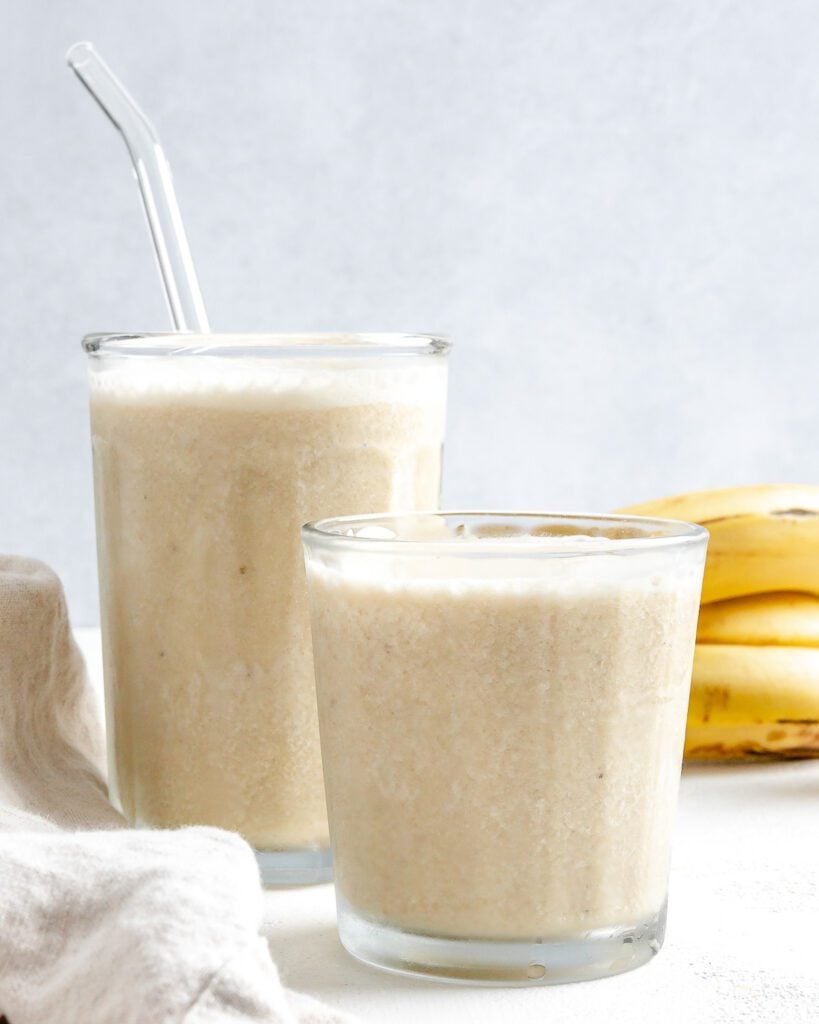 3-Ingredient Sugar-Free Vegan Milkshake with Banana
As much as I love a milkshake, I'm not a fan of the big-brand ingredients list - in order of amount - of 'sugar, maltodextrin, and natural flavoring.' More so, those fortified with vitamin D usually aren't vegan-friendly, anyway. Luckily, you can make a delicious vegan milkshake at home with just 3 all-natural, simple ingredients and tons of ways to adapt it to your liking!
By using frozen bananas, you can enjoy a super thick and creamy vegan milkshake without ice cream, which is amazing for those who want a healthier option to satisfy milkshake cravings! Plus, you get to avoid adding ice, which just waters down the shake into 'mediocre' territory.
For those who prefer a vegan milkshake on the decadent side, I've got a treat in store for you. Keep reading for 12+ flavor variations. From fruity mango, blueberry, or a strawberry banana milkshake recipe to more dessert-like treats, including vegan chocolate, caramel, peanut butter banana milkshake, etc.
Best of all, no matter which version you wish to enjoy, this dairy-free milkshake with banana is ready in just a few minutes, with a handful of ingredients!
The Ingredients
Bananas: Use medium, ripe bananas (not too overripe) for the best results. I use frozen, but fresh will work, too.
Plant-based milk: Use your preferred dairy-free milk. Soy milk, almond milk, oat, cashew, etc. For a richer version, use full-fat canned coconut milk.
Vanilla extract: A little natural vanilla helps this non-dairy milkshake taste like an ice cream treat.
Optional add-ins
Salt: (optional) Just a pinch will enhance the various flavors in the vegan banana shake.
Sweetener: If you want to enjoy a lower sugar, healthy banana milkshake, the sweetness of the bananas may be enough. However, if you have more of a sweet tooth, you could add a liquid sweetener (maple syrup, agave, or even a sugar-free syrup) to taste. You could also use dates to naturally sweeten the healthy banana vegan milkshake.
Spices: Several spices will work in this banana-flavored vegan milkshake recipe. Cinnamon is my favorite, but ginger, cardamom, or chai spice would also work. Add a pinch or more to taste.
Toppings: For more of a treat, top the homemade banana vegan milkshake with some vegan whipped cream/ whipped coconut cream, a drizzle of caramel sauce, some chocolate shavings, etc.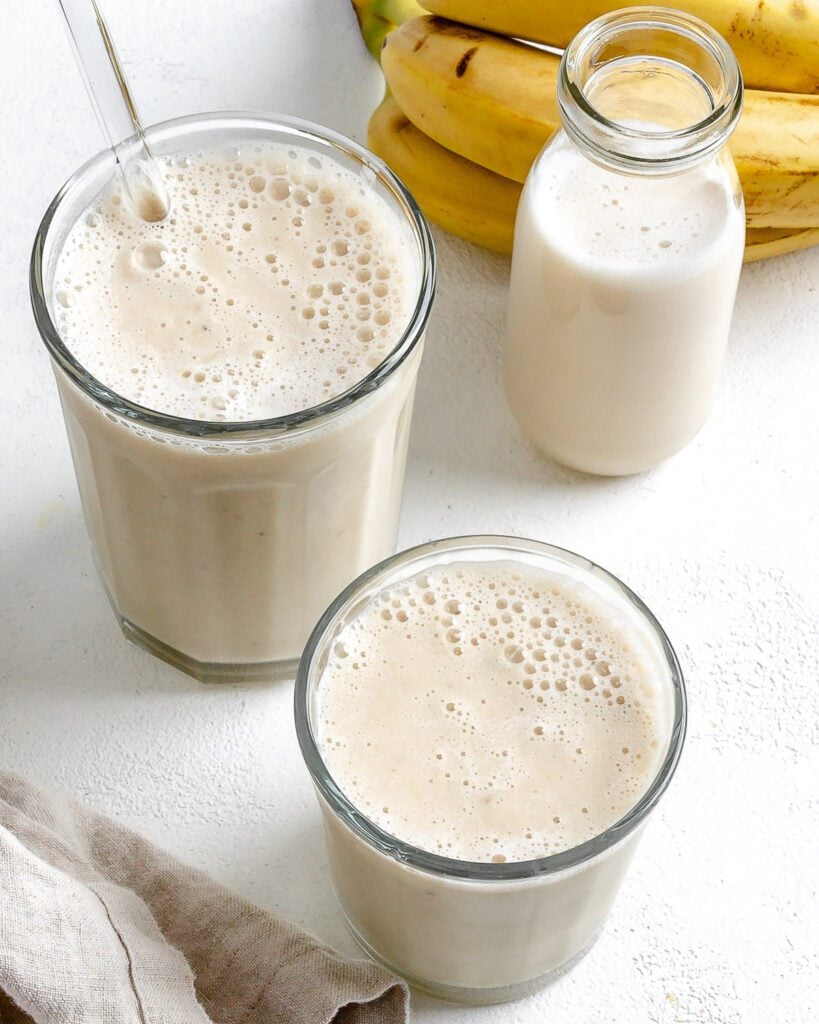 Flavor Variations
This vegan milkshake is extremely versatile. Here are just a few ways to experiment with it!
Vegan banana chocolate milkshake: Add a tablespoon or so (per portion) of unsweetened cacao/cocoa powder OR some vegan Nutella for a delicious chocolate banana milkshake.
Nut Butter: Add 1-2 tablespoons of the nut (or seed) butter of your choice for extra creamy richness and protein. I particularly like an almond or peanut butter banana milkshake.
Chocolate peanut butter banana milkshake: Combine both of the above for a truly decadent treat.
Berries: Make a strawberry banana milkshake or blueberry banana milkshake recipe (or use other berries like raspberries) with the addition of around ⅔-1 cup of fresh or frozen berries.
Caramel: Add a traditional or healthy (date or nut-butter-based) caramel to taste.
Oreos: Add 8-12 Oreos (or double mini Oreos) to taste.
Mango banana milkshake: Add around 1 mango (fresh or frozen) or increase to taste.
Apple banana milkshake: Add 1-2 small apples, peeled (optional), and chopped.
Coffee: Use Instant coffee or espresso powder. Add 1-2 teaspoons (to taste). The best way is to dilute it in a little hot water first.
Vegan ice cream: Add a scoop (or 2) of your favorite dairy-free ice cream/fro-yo. Dairy-free vanilla ice cream is a classic, but you could also make a homemade banana milkshake with chocolate, peanut butter, coffee, salted caramel, etc.
Protein: Add 2-3 tablespoons (or around ½ scoop) of your favorite plain, vanilla, banana, peanut butter, chocolate, or coffee-flavored vegan protein powder. You may need an extra splash or two of plant milk if the vegan banana shake is too thick. Use soy milk, too, or another higher protein option.
How to Make a Banana Milkshake?
If you don't already have frozen bananas, first prepare them. Peel and chop the bananas in half. Spread the pieces across a baking tray and freeze until solid. Then transfer to an airtight container/Ziplock/Stasher bag.
This is best done overnight. I prefer to always freeze extras for other shakes/smoothies/nice cream, etc. If you're using a lower speed blender, slice the banana into small slices (it'll make them easier to blend).
Then, add all the ingredients to a high-speed blender and blend until smooth and creamy. Pour it into your glass of choice and enjoy the banana milkshake immediately!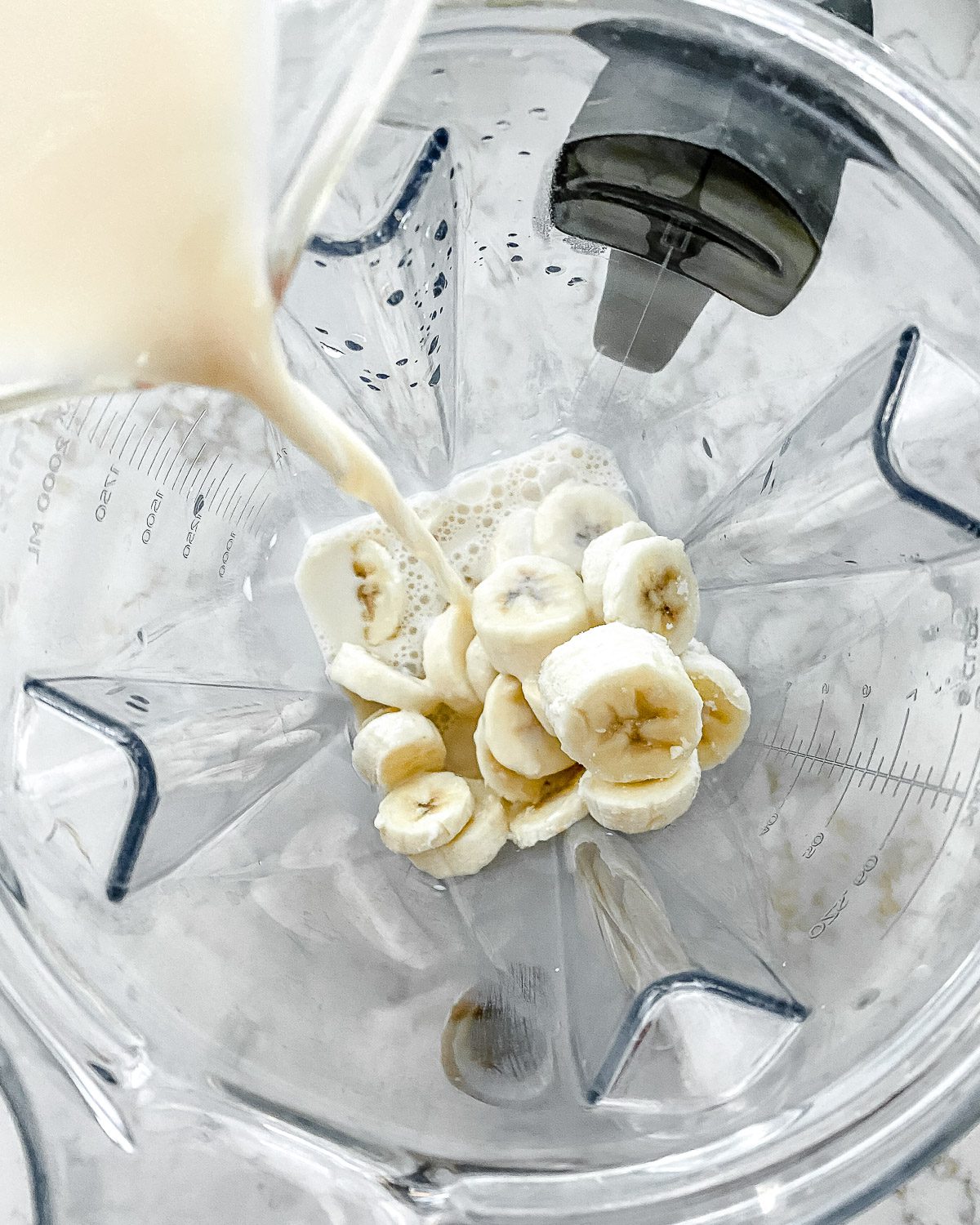 How to Make Ahead and Store?
Make-Ahead: You can peel, chop, and store the bananas in the freezer for up to 6 months. Then simply use them as needed to make this delicious vegan banana milk treat.
Once prepared, it's best to enjoy the homemade banana shake immediately, as the frozen bananas will thaw over time.
FAQs
Do I have to use frozen bananas?
Frozen bananas allow me to skip the addition of vegan ice cream while still achieving the ice-cream shake consistency (which makes this healthy banana milkshake recipe feel like more of a treat). If you'd prefer a regular shake, use unfrozen bananas.
What is the best plant milk for a banana milkshake?
Again, this will come down to personal taste. Cashew milk and oat milk work wonderfully for making a super creamy dairy-free milkshake. Meanwhile, soy milk isn't to everyone's liking but will pack in more protein.
Can I make it without a blender?
You should also be able to make this dairy-free banana milkshake with a food processor and possibly an immersion blender (though the latter is best with fresh bananas).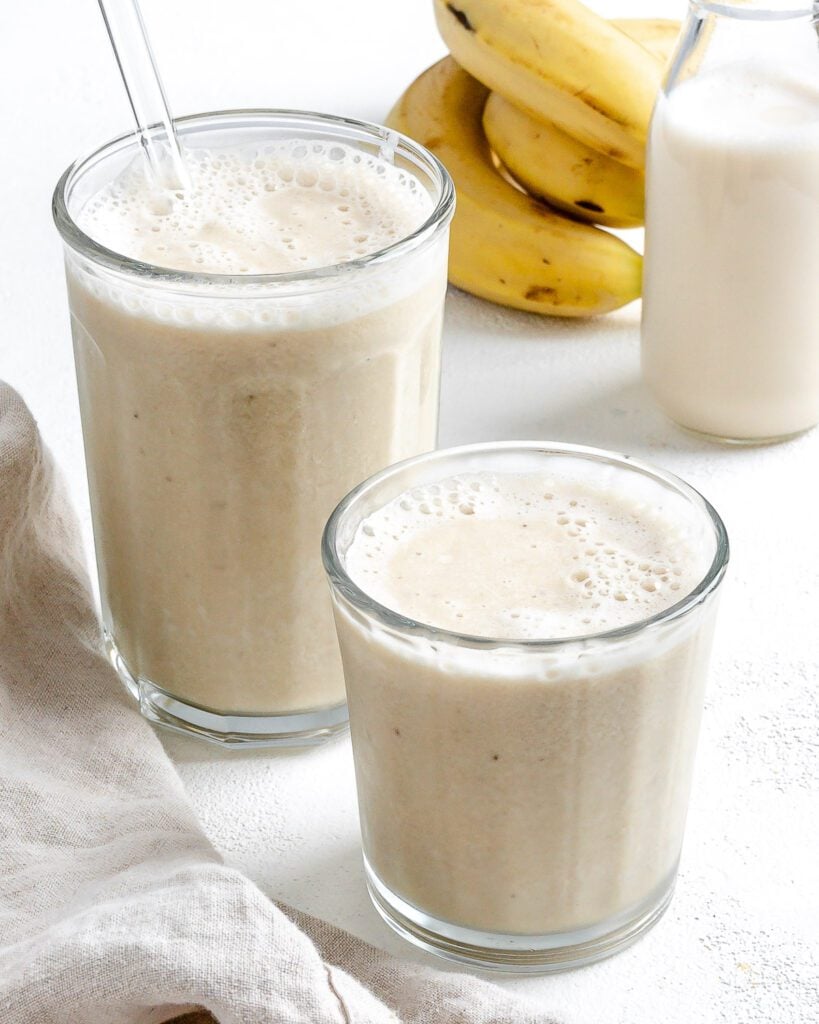 Top Recipe Tips and Notes
For lower-speed blenders: It's best to freeze the banana in slices (spread across a tray to avoid sticking) rather than in halves or whole.
Reduce prep time: I love to keep bananas in my freezer at all times. They work for shakes, smoothies, nice cream, and more! Plus, you can then enjoy a frozen vegan milkshake whenever the desire strikes.
Pre-chill your cup/s: Placing them in the refrigerator or freezer beforehand will help to keep your banana milkshake without ice cream chilled for longer.
More Dessert Ideas:
If you try this vegan banana milkshake recipe, I'd love to know what you think in the comments below. I'd also really appreciate a recipe card rating!
Photos by Alfonso Revilla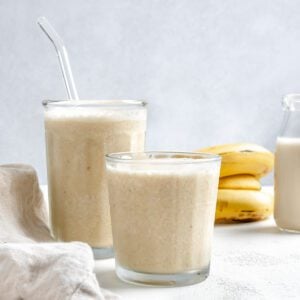 Banana Milkshake [Without Ice Cream| + Mix-Ins]
Enjoy a thick and creamy 3-ingredient dairy-free banana milkshake without dairy-based ice cream, thanks to the use of frozen banana! This vegan milkshake contains no added sugar, is packed with real banana flavor, and is super flexible with optional add-ins and ingredient variations!
Equipment
my favorite knives

measuring cups

blender
Ingredients
3

frozen bananas

1 ½

cup

of plant-based milk

1

teaspoon

of vanilla extract
Instructions
Add all ingredients to a blender and blend until completely creamy.
Nutrition
Calories:
190
kcal
Carbohydrates:
41
g
Protein:
3
g
Fat:
3
g
Saturated Fat:
1
g
Polyunsaturated Fat:
1
g
Monounsaturated Fat:
1
g
Sodium:
246
mg
Potassium:
637
mg
Fiber:
5
g
Sugar:
22
g
Vitamin A:
113
IU
Vitamin C:
15
mg
Calcium:
234
mg
Iron:
1
mg
Disclaimer: Although foodsharingvegan.com attempts to provide accurate nutritional information, kindly note that these are only estimates. Nutritional information may be affected based on the product type, the brand that was purchased, and in other unforeseeable ways. Foodsharingvegan.com will not be held liable for any loss or damage resulting for your reliance on nutritional information. If you need to follow a specific caloric regimen, please consult your doctor first.