Tender, crisp, and lightly caramelized air fryer butternut squash cooks in just 15 minutes as a delicious gluten-free, WFPB, paleo, whole30, vegan main, or great side dish for almost any main (and your Thanksgiving table)!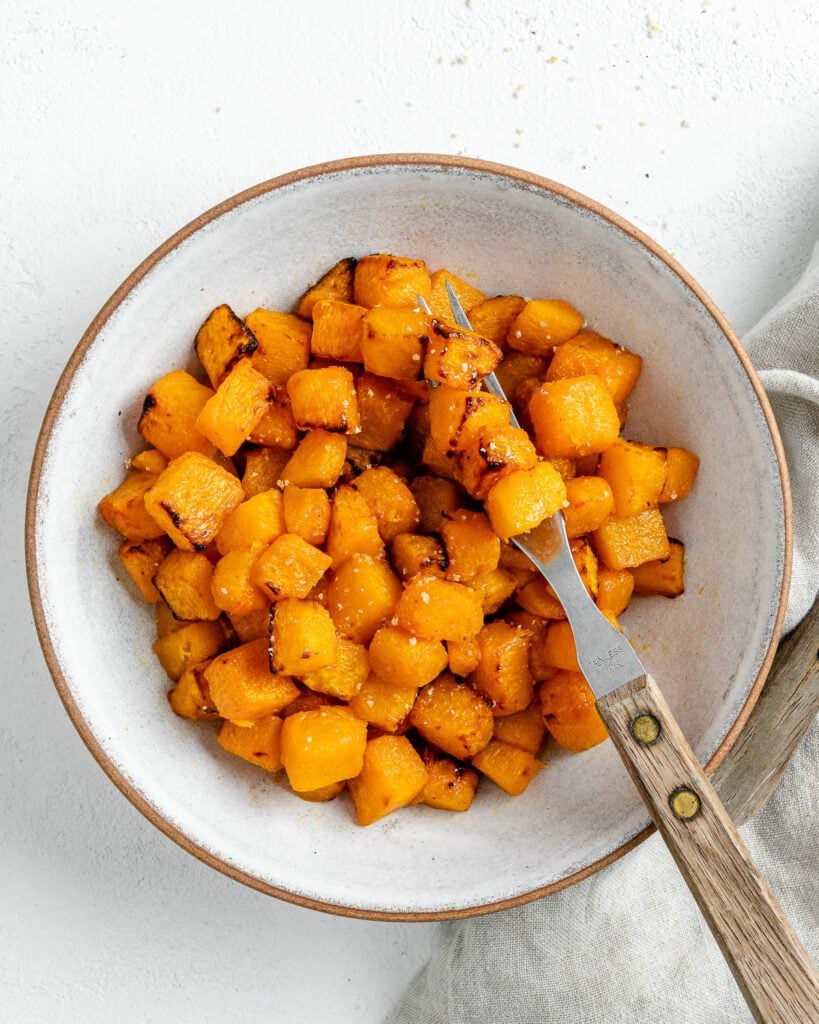 Crisp and Caramelized Air Fryer Butternut Squash
Whenever I struggle to think of what to make for dinner, I often rely on the age-old protein + carbs + lots and lots of veggies formula to pull together a quick, delicious, and nutritious meal. Luckily, recipes like this simple air fryer butternut squash make that super easy to do!
This versatile veggie side dish requires just 3 base ingredients (the squash, a little oil, and salt or the seasoning of your choice) and cooks in just 15 minutes thanks to this simple air fryer method. Even better, with its naturally sweet-savory flavor, you can enjoy it with sweet or savory seasonings and easily adapt the seasonings to your dish and dietary needs.
When you air fry butternut squash, you get the same delicious results as roasting (method in FAQs) but in a fraction of the time. The cubes become tender in the middle with a crispy and lightly caramelized outside.
Although butternut squash is available year-round, unsurprisingly, the best flavor is in season (September to the end of the year). Luckily, this air fryer squash is freezer-friendly for up to 4 months! So you can enjoy it all winter long (and once you've tried it, you'll want to!)
The Ingredients
Butternut squash: Use squash that is heavy for its size, with a smooth, matte skin that's blemish-free.
Olive oil: I used extra-virgin olive oil. Alternatively, another neutral cooking oil would work, like avocado oil or coconut oil (melted).
To use less oil, use an oil spray instead. However, avoid using PAM spray and similar cooking sprays, as they can wear away the non-stick lining in your air fryer basket.
Garlic salt: Or a combination of salt and garlic powder (or even just salt if that's the mood you're in).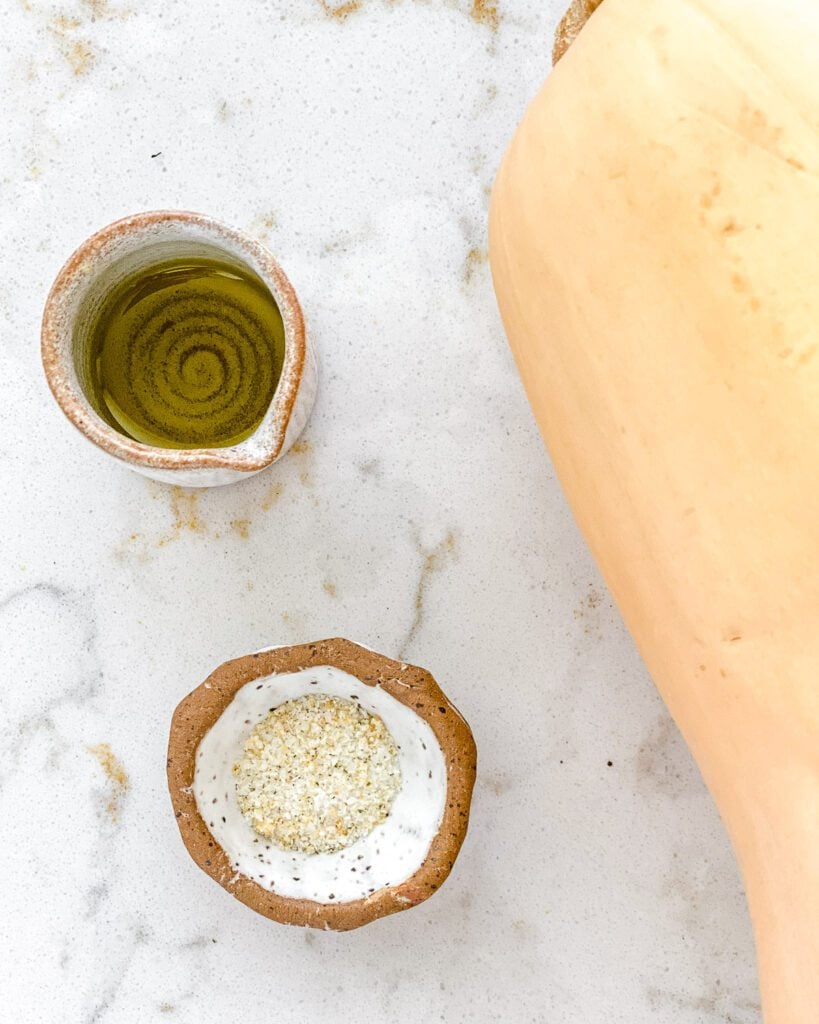 Optional add-ins & Recipe Variations
The seasoning options for air fryer roasted butternut squash are incredibly versatile, including:
Other spices: There are plenty of ways to season the air fryer squash to your liking. Here are just a few options that pair well with the flavor of the sweet-savory squash.

Garam masala or Curry powder

Dried rosemary, sage, or thyme (or use fresh in the last few minutes of cooking)
Avoid fresh herbs and garlic, as they're likely to burn in the air fryer. If you want to add them, only do so in the last 5-7 minutes.
Sweet version: You could combine brown sugar and cinnamon or even glaze the pieces with a spoonful of maple syrup.
Parsley: Some finely chopped fresh parsley is perfect for garnishing the air-fried butternut squash.
Everything bagel seasoning: Will add flavor and crunch.
Dried cranberries: Cook the air-fried squash with brown sugar or maple syrup and optionally cinnamon. Once cooked, stir in a handful of cranberries (and optionally some pumpkin seeds).
How to Make Air Fryer Butternut Squash?
Air frying butternut squash is ridiculously simple and requires only 4 steps!
First, preheat the oven to 400F/205C.
Then, peel and dice the butternut squash into ½-inch pieces.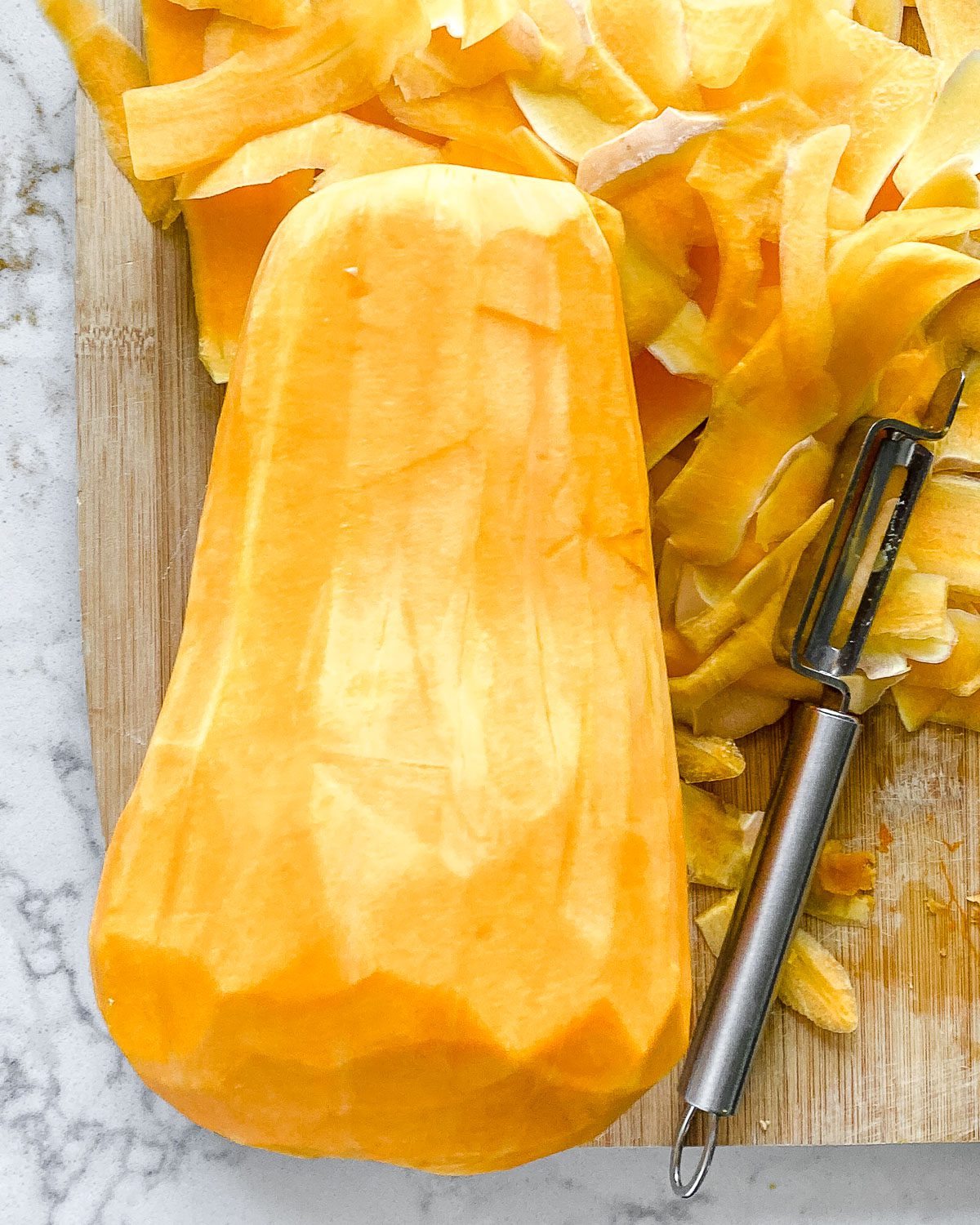 How to peel and cut butternut squash?
Rinse the squash and pat it dry with a paper towel. Then, slice a small amount of each end of the squash (about ½-inch) with a sharp chef's knife.
Next, use a vegetable peeler to peel off the peel until there are no light streaks left.
Next, standing the squash upright (with the thickest part at the bottom), carefully slice it in half and use a spoon to scoop out the fleshy/seedy part.
To chop the ½-inch pieces, simply make ½-inch slices across the length of both squash halves and then cut those down into ½-inch cubes.
Transfer the cubes to a large bowl and toss with the oil and garlic salt.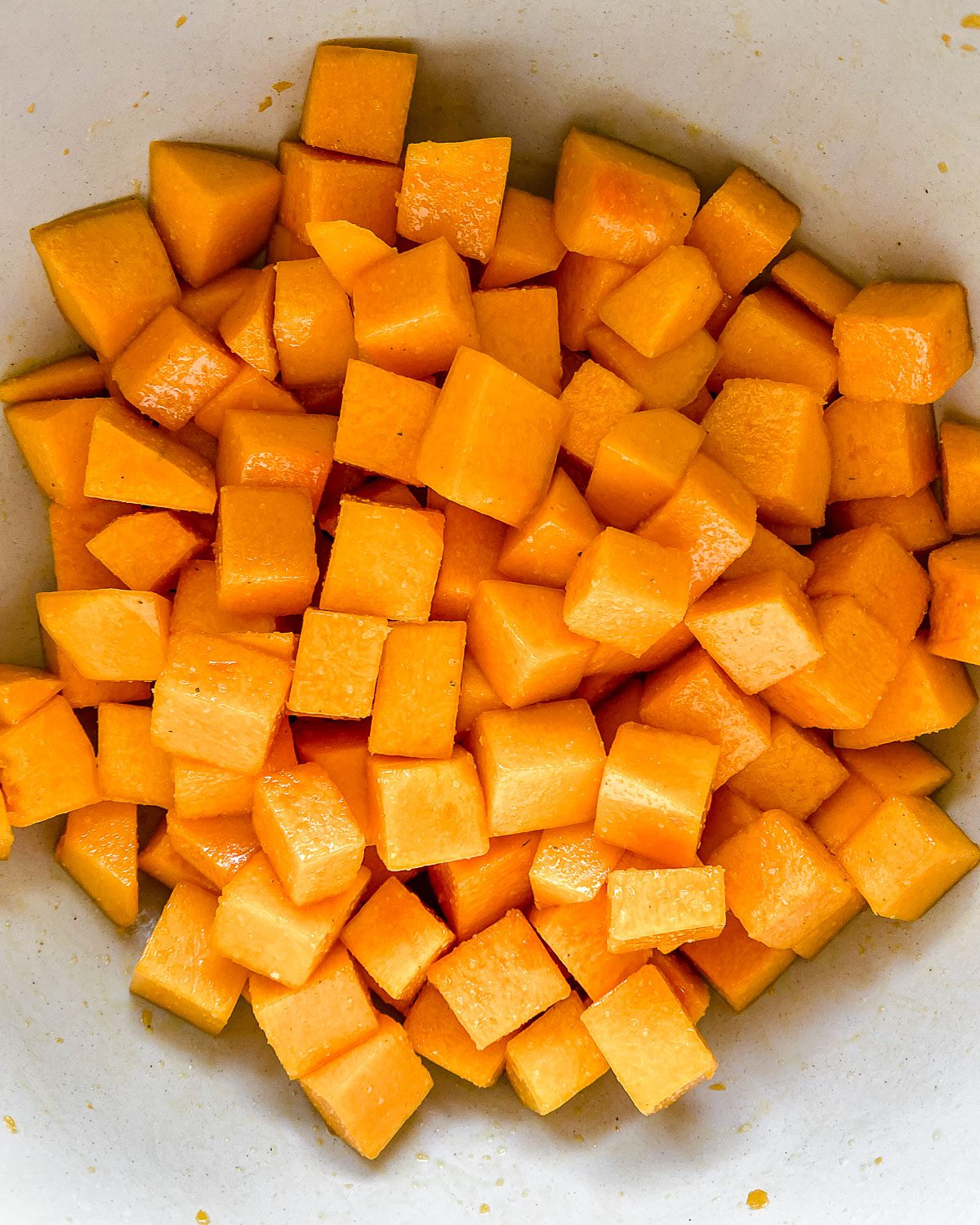 4. Then spread the butternut squash in the air fryer, making sure to place them in a single layer (only slight overlapping is allowed, but space between is best). Cook for 14 minutes, giving the basket a shake halfway.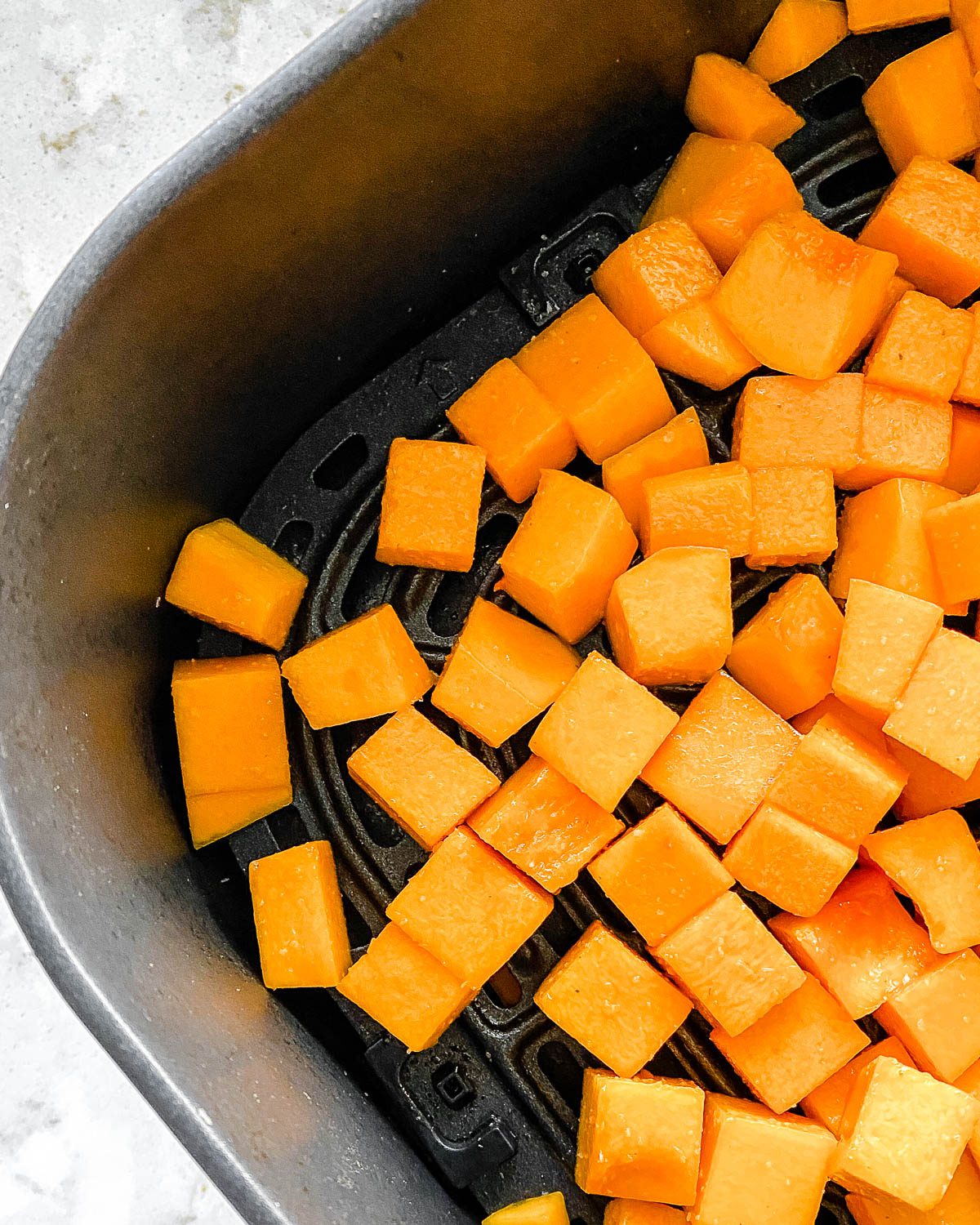 If you'd prefer them slightly more caramelized/crisp, then cook for a further 1-3 minutes, monitoring them carefully.
For Air Fryer Butternut Squash Halves
Place the halved squash (no need to peel them), cut-side down in the air fryer, and cook for 20 minutes. Then flip it over and cook for a further 8-12 minutes, or until fork-tender.
This way of cooking the squash is perfect for scooping out the flesh and using within sauces, risotto, as a pasta filling, for soup, etc.
Note that your air fryer model and the exact size of your squash can affect the time it will take to cook.
Serving Recommendations
Air-fried butternut squash is a wonderfully versatile and healthy side dish for all sorts of mains. You can also use it for:
Vegan tacos
Sprinkling over vegan pizza
Mixed into a vegan frittata
Tossed into salad bowls
Add to vegan burritos (and burrito bowls)
In vegan enchiladas and quesadillas
As a soup and risotto topper
The halved butternut squash: This way of cooking the squash is perfect for scooping out the flesh and using as an alternative mash, within sauces, risotto, as a pasta filling, for butternut squash soup, add to baked goods, etc.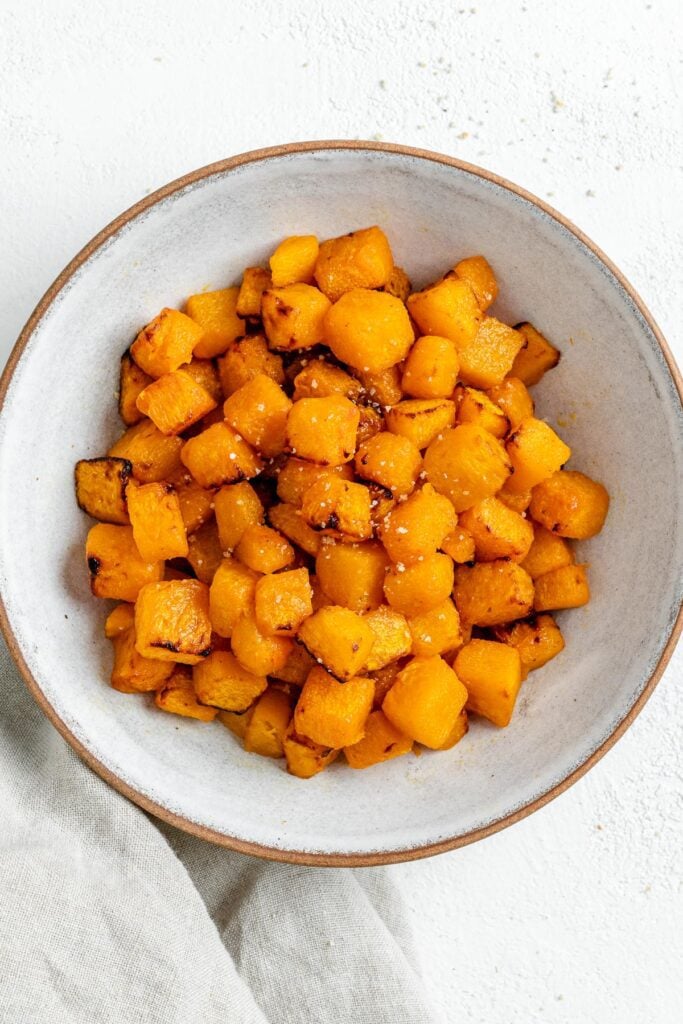 Make-Ahead and Storage Instructions
Make ahead: Peel and chop the butternut squash up to 2 days in advance and store it in an airtight container in the refrigerator.
Store: Air fryer butternut squash is best eaten immediately for the best texture. However, feel free to allow it to cool and store the leftovers in an airtight container or Ziplock/Stasher bag for between 4-5 days. They will soften and lose their crispiness in this time, though.
Freeze: Spread the pieces on a baking tray to flash-freeze until solid. Then transfer to an airtight Ziplock/Stasher bag and freeze for 3-4 months. Allow it to thaw in the refrigerator overnight before reheating.
Reheat: The best way to reheat the squash is to pop it back in the air fryer for a few minutes (4-6) until it is heated through and slightly crisp. You can also pan-fry the pieces with a bit of oil (to try bringing back crispiness). While it's possible to microwave the pieces, too, they'll be soft.
FAQs
Can I use this method with other squash?
This method should work similarly with other hard, slightly sweet winter squash like delicata, acorn, or kabocha squash (and possibly pumpkin, too). Monitor them while cooking, though, as the times may vary slightly.
Can I bake the butternut squash in the oven?
Absolutely. Preheat the oven to 400F/205C, prepare the ½-inch butternut squash cubes, and bake for between 20-25 minutes, or until tender and lightly caramelized. To bake the squash halves, this will take between 35-45 minutes, depending on your oven and the size of the squash.
Do you need to peel butternut squash?
Technically, the peel is edible, though not everyone enjoys the texture as it's thick and papery once cooked. For this air-fried butternut squash recipe using squash cubes, it's best to peel it first.
If you're cooking the halved squash, though, I prefer to leave the peel on and then peel it (or scoop the flesh out) after it's cooked.
Can I use frozen butternut squash?
Yes, and there's no need to thaw it first. Just increase the cooking time by a few minutes (or longer, depending on the size of the pieces). Keep an eye on the machine to avoid burning.

Also, when using frozen squash, leave plenty of space between the pieces (cook in batches if necessary), so they don't just steam and become mushy.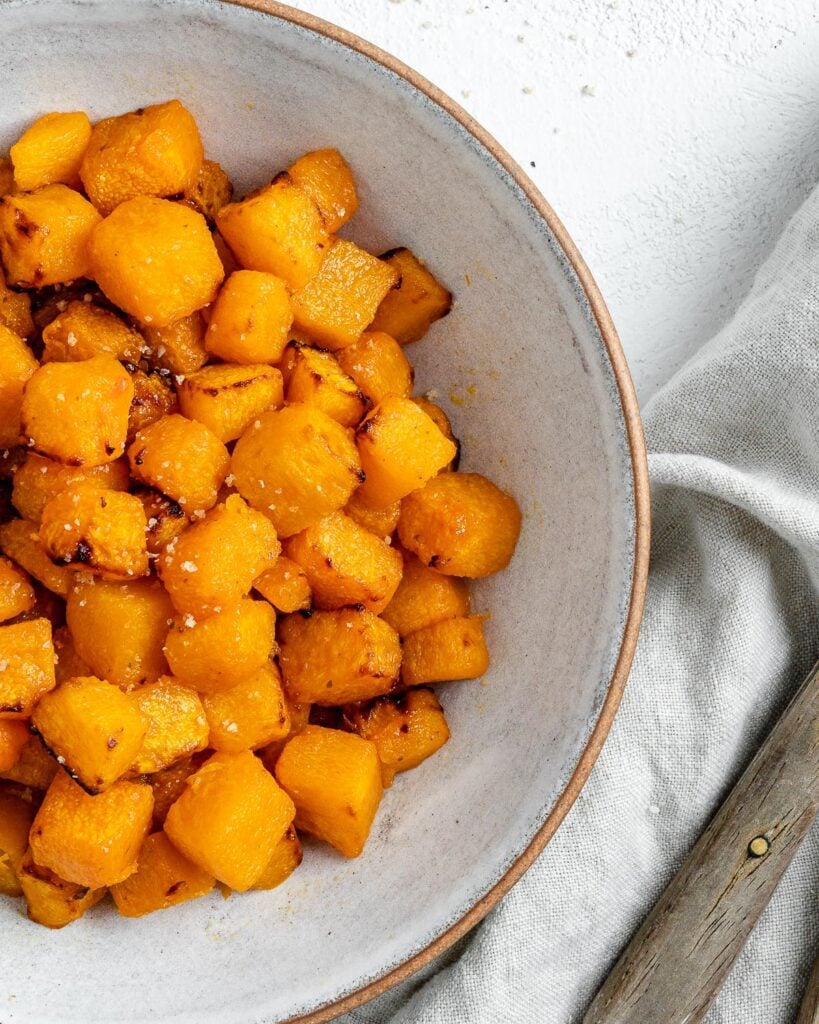 Top Recipe Tips and Notes
Cooking time can vary: According to the size of the squash pieces (if larger than ½-inch) and your individual air fryer. So monitor the pieces and adjust accordingly.
Don't overcrowd the basket: Otherwise, the squash will steam rather than become caramelized and crisp. Spread the squash in a single layer, with space between (slight overlapping is allowed). Cook in batches if necessary.
Time-saving hack: Some supermarkets sell pre-chopped butternut squash. I haven't actually tried it to see if the flavor differs, but it will reduce the prep time to practically seconds. If the pieces are 1-inch cubes, though, it's best to chop them down to ½-inch pieces for the best results.
Cooking different sized pieces: This will obviously affect the cooking time, so adjust accordingly.
If cooking butternut squash halves: Make sure to use squash that fits the inside of your machine. Otherwise, it will need to be quartered. Adjust the cooking time accordingly.
For air fryer butternut squash fries: Slice them ¼-½ inch thick and adjust the cooking time accordingly.
If you try this air fryer butternut squash recipe, I'd love to know what you think in the comments below. I'd also really appreciate a recipe card rating!
Photos by Alfonso Revilla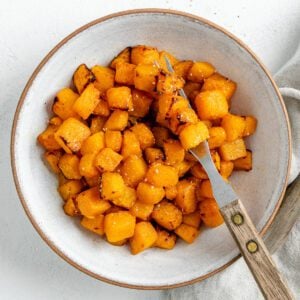 Air Fryer Butternut Squash [Cubes + Halves]
Tender, crisp, and lightly caramelized air fryer butternut squash cooks in just 15 minutes as a delicious gluten-free, WFPB, paleo, whole30, vegan main, or great side dish for almost any main (and your Thanksgiving table)!
Equipment
measuring cups

measuring spoons

my favorite knives

air fryer

large bowl
Ingredients
4

cups

of peeled and diced butternut squash (½-inch pieces)

1 ½

teaspoons

of olive oil

½

teaspoon

of garlic salt
Instructions
Preheat the air fryer to 400 degrees F.

In a large bowl, combine the butternut squash, olive oil, and garlic salt until thoroughly mixed.

Place butternut squash in a single layer in the air fryer and cook for 7 minutes.

Shake the basket and cook for another 7 minutes.
Nutrition
Calories:
76
kcal
Carbohydrates:
16
g
Protein:
1
g
Fat:
2
g
Saturated Fat:
1
g
Polyunsaturated Fat:
1
g
Monounsaturated Fat:
1
g
Sodium:
296
mg
Potassium:
493
mg
Fiber:
3
g
Sugar:
3
g
Vitamin A:
14882
IU
Vitamin C:
29
mg
Calcium:
67
mg
Iron:
1
mg
Disclaimer: Although foodsharingvegan.com attempts to provide accurate nutritional information, kindly note that these are only estimates. Nutritional information may be affected based on the product type, the brand that was purchased, and in other unforeseeable ways. Foodsharingvegan.com will not be held liable for any loss or damage resulting for your reliance on nutritional information. If you need to follow a specific caloric regimen, please consult your doctor first.