How to air fry tater tots (from frozen) in just 12 minutes with NO OIL! These frozen air fryer tater tots are fuss-free, require just 2 ingredients, and are wonderfully crispy outside and tender in the middle!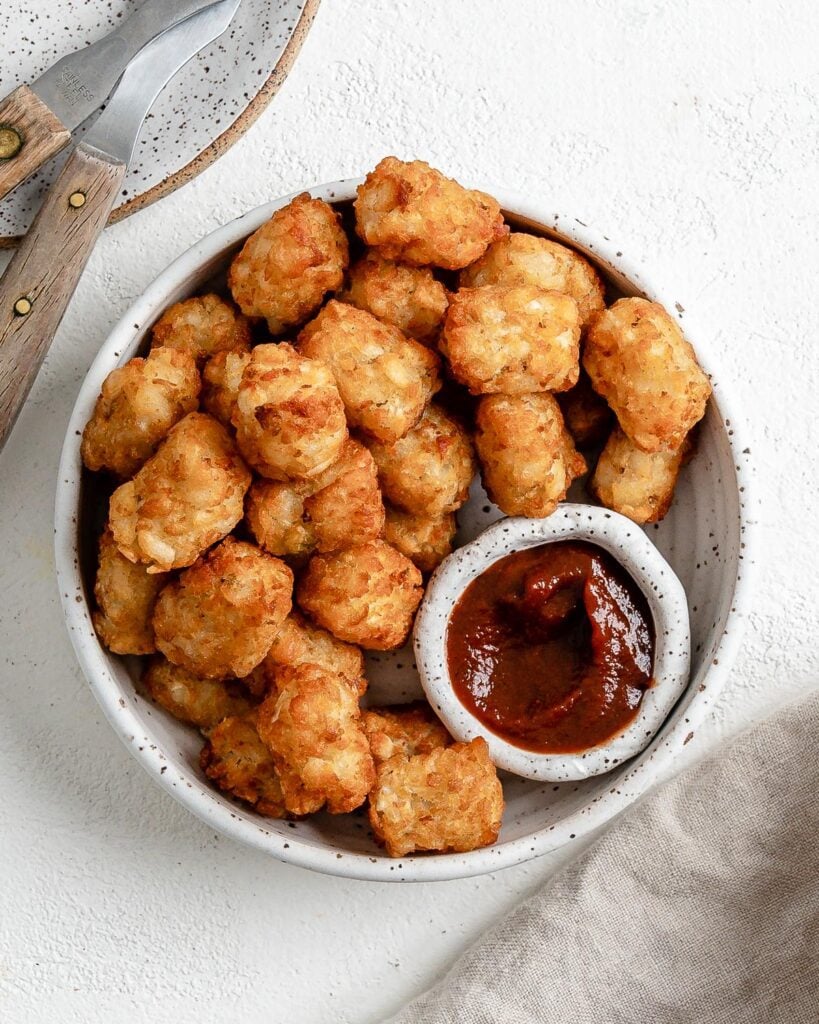 Oil-Free Crispy Air Fryer Tater Tots (From Frozen)
Jump to:
It's a sad truth that often, the deep-fried version of foods is far superior to other cooking methods. Until the Air Fryer came along to challenge that theory, that is. Air fryers cook in a fraction of the time needed to oven bake, with minimal (if any) oil or hands-on effort, but providing results that give the deep fryer a run for its money. Like with these crispy air fryer tater tots.
While I won't pretend these air fryer frozen tater tots taste EXACTLY the same as they would when deep-fried (after all, I made these completely oil-free!), they are amazingly crispy and crunchy outside with a melt-in-the-mouth middle. It has quickly become my favorite way to cook them. No more limp/ soggy baked tots for me!
What are Tater Tots?
Delicious! No, but seriously—tater tots are a popular side dish for any potato lover. They are made with grated potatoes formed into tiny tots and then deep-fried until golden-brown and crisp on the outside with a tender middle. They are also naturally vegan (yay!).
While, for most of us, we now rely on baking them from frozen for 'okay' results. You don't have to settle for just 'ok'… not when air fryer tater tots create such superior results!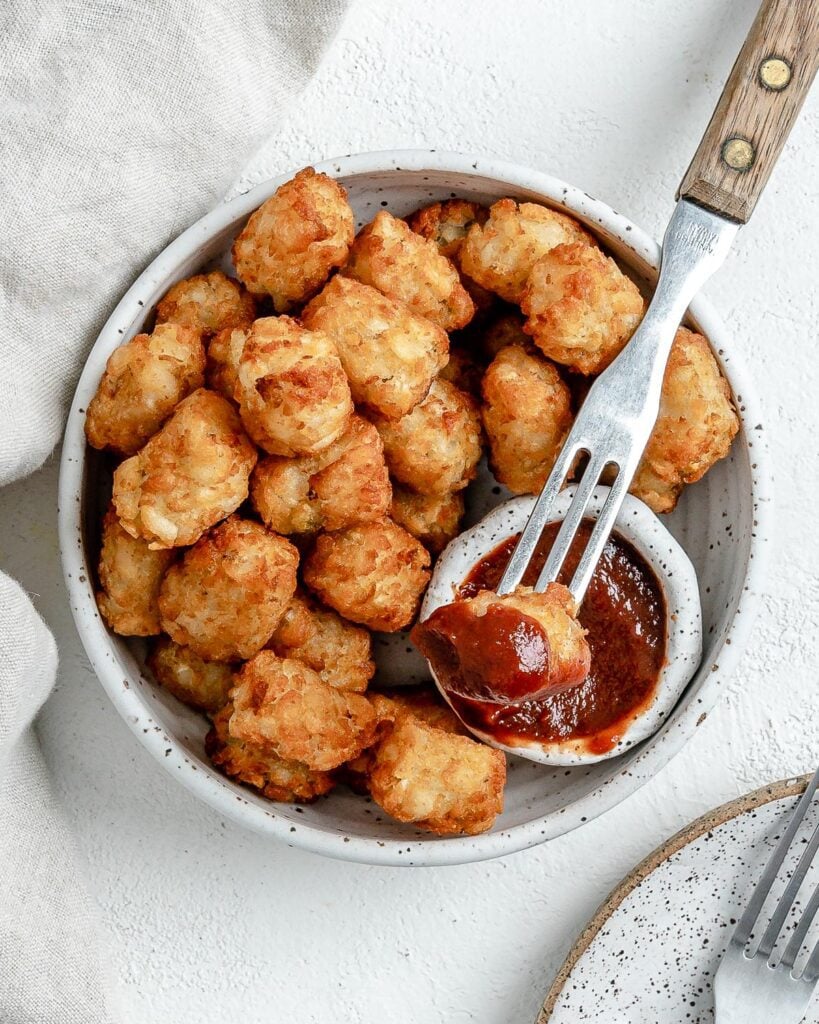 The Ingredients
Tater tots: Use your preferred bag of frozen tater tots (sometimes labeled potato puffs), like Ore-Ida or Alexia brands. Organic will be the healthiest.
Herbs (optional): To boost the flavor of the tots, I love adding ½ tablespoon of chopped rosemary or parsley.
I've found that I love the results of these air-fried tater tots without any oil at all. However, if you want even crispier results, a light spritz of olive oil spray/cooking spray should be more than enough.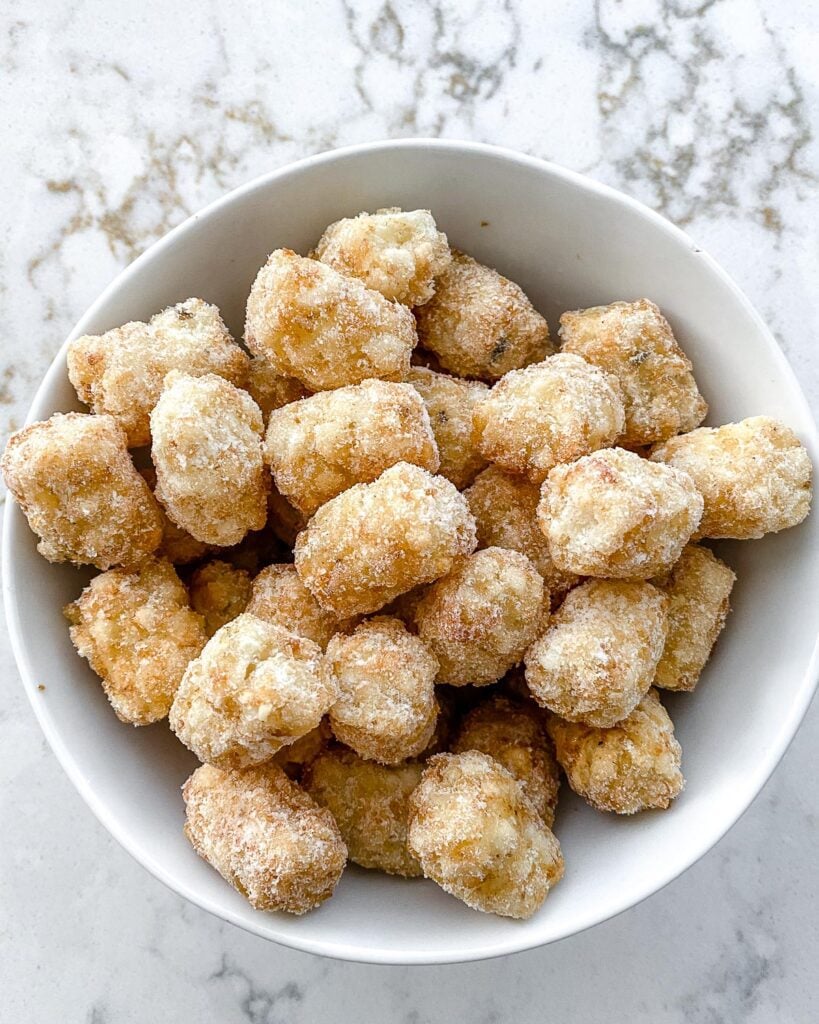 Optional Seasonings
Like regular potato fries, there are tons of ways to adapt the seasoning of these tots to match your meal (or cravings). Here are just a few options.
I recommend using around 1 teaspoon in total either of a single seasoning or blend of spices for the crispy tater tots. Add salt to taste.
Salt & black pepper
Seasoned salt
Smoked paprika
Onion powder
Garlic powder
Chili/Cayenne powder
Old Bay seasoning
Italian seasoning
Cajun seasoning
Taco seasoning
Tajin
You could also make 'cheesy' air fryer tater tots by sprinkling the tots with your favorite vegan melty cheese once they're ready, closing the air fryer for 2-3 minutes until it's melted.
How to Air Fry Tater Tots?
It's practically effortless to air fry frozen tater tots and requires just three steps!
1) First, preheat the air fryer to 400F/205C.
2) Then, spread the frozen tater tots in the air fryer basket in a single layer. Slight touching is okay, but they'll be even better when arranged with space in between.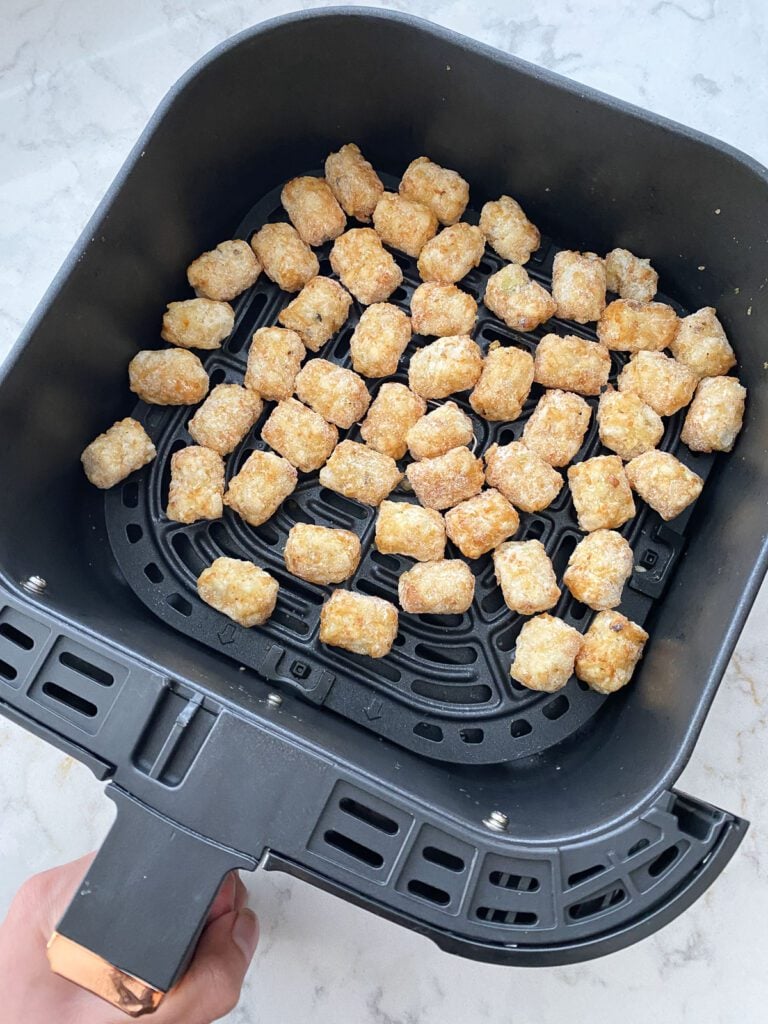 3) Cook for 6 minutes, then pause and shake the basket, add the fresh herbs (if using), and cook for a further 6 minutes.
If you'd like even crispier air fryer frozen tater tots, continue to air fry in 1-minute increments until you reach your desired texture. Then serve immediately with the condiment/s of your choice!
Serving Recommendations
I enjoy these air-fried tots like french fries. i.e., either fully loaded or with my favorite dipping sauce (ketchup, vegan mayo, vegan ranch, vegan sour cream, BBQ sauce, sriracha, vegan buffalo sauce, vegan queso/cheese sauce, etc.)
When I'm feeling particularly hungry (or as a vegan game day appetizer/snack), I love to load them up like nachos with salsa, guacamole, and melty vegan cheese—yummy!
Plus, this all-purpose potato side dish pairs with so many meals! Burgers, sandwiches, wraps, tacos, salad, chili, to top casseroles, and more!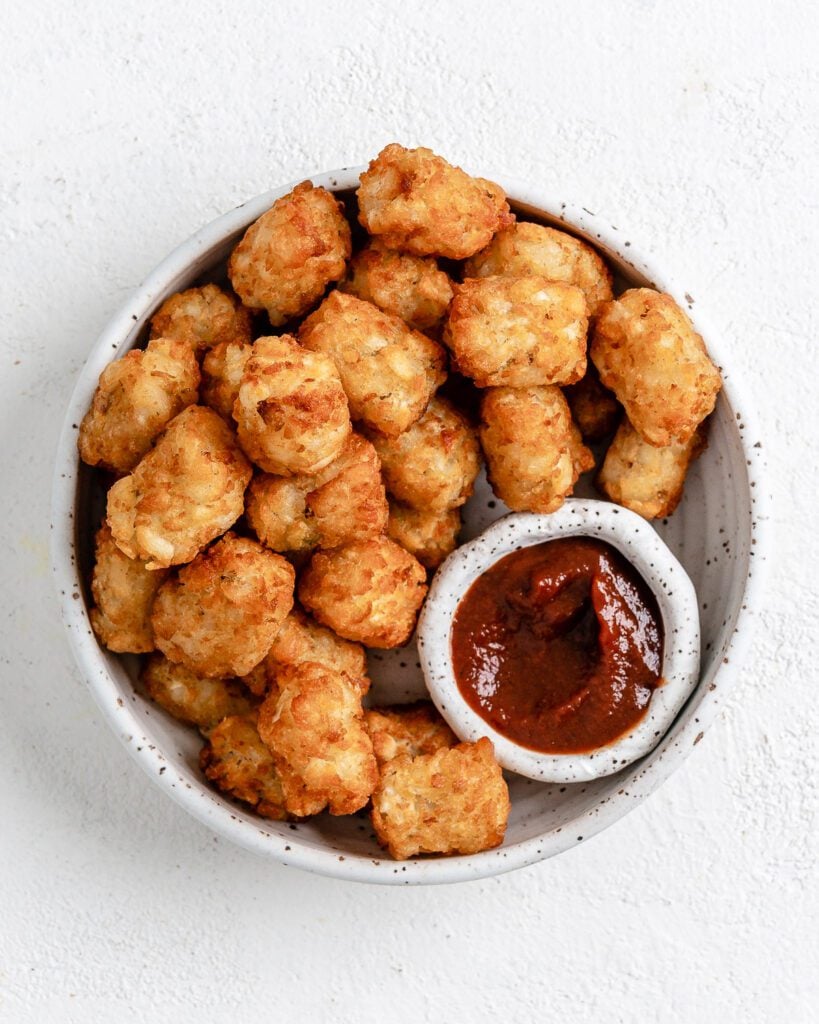 FAQs
Are tater tots vegan?
Yes, most brands are 100% vegan, though check the ingredients for any dairy and what oil is used in the product, just in case. 
How long to air fry tater tots?
In this method, I recommend 12 minutes as the perfect 'checking' point for the air fryer frozen tater tots. Then, if you want them even crispier, you can increase the time by a minute or two. 
What is the best way to cook frozen tater tots?
Air frying tater tots is best, of course! Oven methods, while okay, can be iffy and sometimes come out even soggy. Meanwhile, deep fryer methods require more effort, a ton of oil, and more cleanup. With this air fryer method, you'll achieve super crispy results every single time and with NO OIL!
Do I need to thaw tater tots before air frying?
Not at all. Just chuck them in straight from frozen. 
Can I use this method for chilled tater tots?
Chilled tots will take less time to cook. I haven't tried this before, but I recommend checking on them at 8-9 minutes. Then increase the time in 1-minute increments until you reach your desired level of crispiness.  
Can I store air fryer tater tots?
Generally, I'd say that tater tots are best eaten fresh. However, if you have leftovers, store them for 2-3 days in an airtight container. Reheat them in the air fryer (never a microwave) for several minutes to try bringing back some of the crisp texture.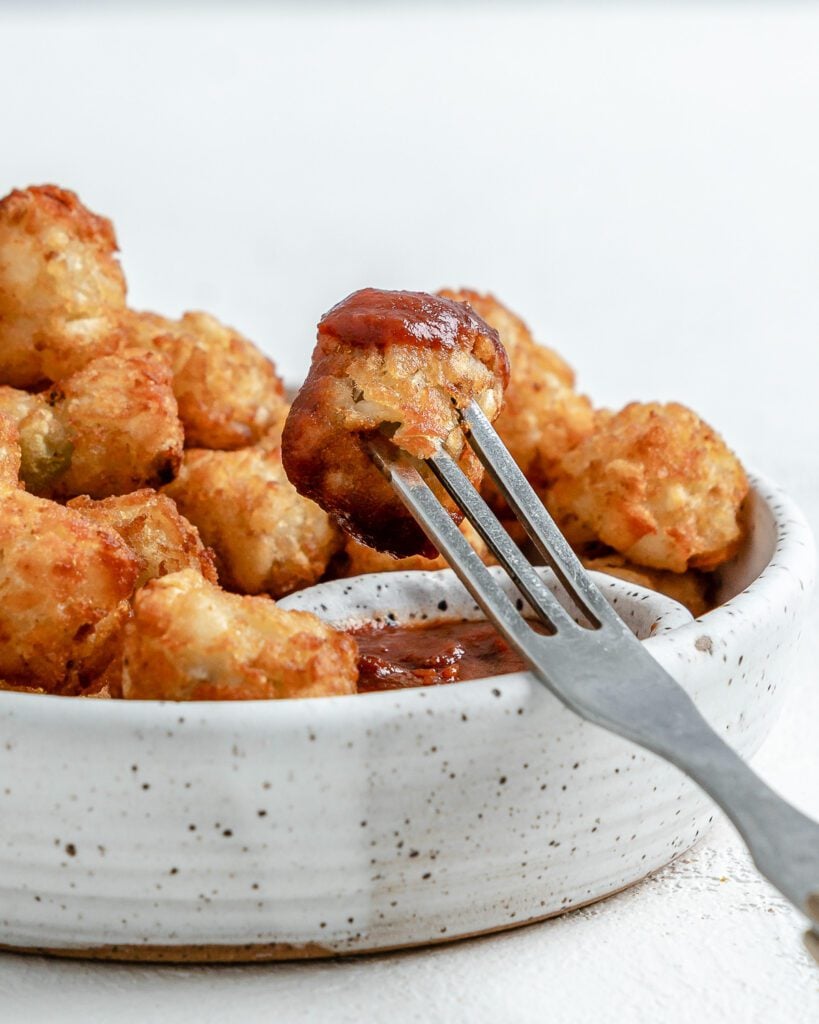 Top Recipe Tips and Notes
Don't skip the preheating: This will ensure that the air fryer frozen tater tots cook evenly.
For the crispiest results: Use a light spray of olive oil or cooking spray. This will provide more of a 'deep-fried result.' However, even without oil, they are wonderfully crispy.
Cooking time can vary: Times vary according to the size and type of your air fryer (basket vs. air fryer vs. rotating) as well as the tater tots used. I recommend checking on them at 10 minutes to begin and adjusting the time accordingly.
Don't overcrowd the basket: Otherwise, the tater tots won't become crispy. This is even more important when omitting all oil! While they can touch, it's best to make them in a single layer with some space between. Cook in batches if necessary and then chuck them all back into the air fryer for 1-2 minutes at the end to reheat before serving (if necessary).
Enjoy immediately: These tots taste best when fresh from the air fryer and super crispy!
More Air Fryer Recipes
If you try this method for air fryer frozen tater tots, I'd love to know what you think in the comments below. I'd also really appreciate a recipe card rating!
Photos by Alfonso Revilla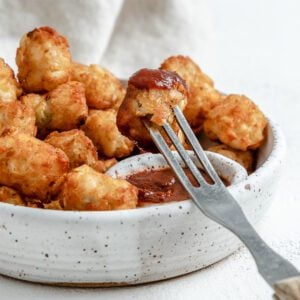 Air Fryer Tater Tots
These Air Fryer Tater Tots are fuss-free, require just 2 ingredients, and are wonderfully crispy outside and tender in the middle!
Equipment
air fryer

measuring spoons

measuring cups
Ingredients
3

cups

of tater tots

½

tablespoon

of chopped rosemary or parsley (optional)

Ketchup, for serving (optional)
Instructions
Preheat your air fryer to 400 degrees F.

Spread the tots in a single layer and cook for 6 minutes. Pause the air fryer and shake the basket, add fresh herbs (if using), and cook for another 6 minutes.

If you'd like them to be crispier, cook in 1-minute increments until you reach your desired texture.

Serve immediately with ketchup, if using.
Nutrition
Calories:
228
kcal
Carbohydrates:
33
g
Protein:
3
g
Fat:
11
g
Saturated Fat:
2
g
Polyunsaturated Fat:
3
g
Monounsaturated Fat:
5
g
Sodium:
548
mg
Potassium:
342
mg
Fiber:
3
g
Sugar:
1
g
Vitamin A:
16
IU
Vitamin C:
10
mg
Calcium:
21
mg
Iron:
1
mg
Disclaimer: Although foodsharingvegan.com attempts to provide accurate nutritional information, kindly note that these are only estimates. Nutritional information may be affected based on the product type, the brand that was purchased, and in other unforeseeable ways. Foodsharingvegan.com will not be held liable for any loss or damage resulting for your reliance on nutritional information. If you need to follow a specific caloric regimen, please consult your doctor first.