Spiced roasted sweet potato wedges are crispy on the outside and tender in the middle with just a handful of ingredients, top tips, and an oven-baked or air fryer method!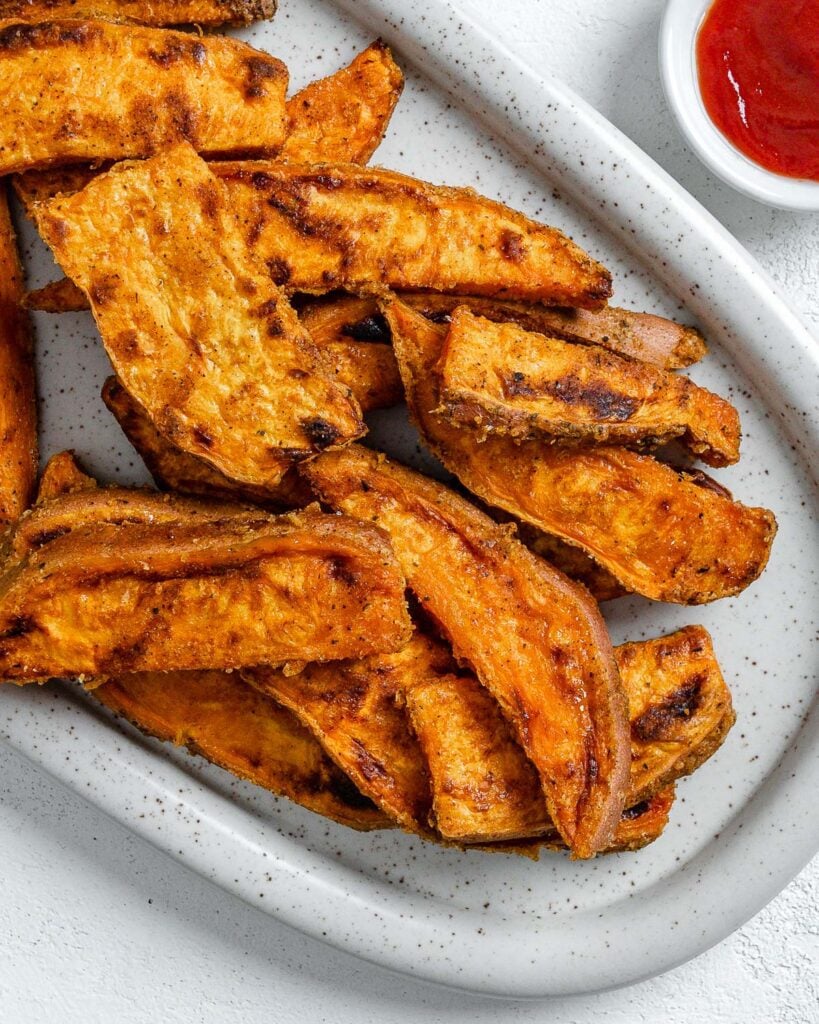 5-Ingredient Oven or Air Fryer Sweet Potato Wedges
Let's take a moment to just appreciate sweet potatoes, please. Of course, I've baked, boiled, and mashed them like a champ over the years, but my favorite dishes always come back to sweet potato chili, curry, and tacos. It didn't take long for me to realize that I adore the way the sweetness of the potato pairs with spicy dishes, which is perhaps why I'm obsessed with these lightly spiced (air fryer or) roasted sweet potato wedges.
All you need is just 5 ingredients and the simple process below to prepare drool-worthy, crispy, sweet potato wedges. For this version, I used taco seasoning as a flavorful and moderately spicy option. However, there are endless ways to mix and match the seasonings according to your taste and meal.
No matter which you use, you'll enjoy these wedges as a side dish with practically every meal. Plus, with extra fiber, vitamin C, and vitamin A (antioxidants!) compared to regular potatoes, they make for a great guilt-free snack or appetizer, too!
The Ingredients
Sweet potatoes: Choose medium (they're easier to cut) sweet potatoes with a fairly regular, oblong (not wonky) shape. That way, it's easier to cut them into even-sized pieces.
Olive oil: Alternatively, a cooking oil like avocado oil or coconut oil (melted) would work to drizzle over the sweet potato.
Starch: We used potato starch, though cornstarch will also work. This will help achieve the crispiest sweet potato wedges in the oven (or air fryer).
Seasoning: We used a combination of salt and taco seasoning for lightly spiced baked sweet potato wedges.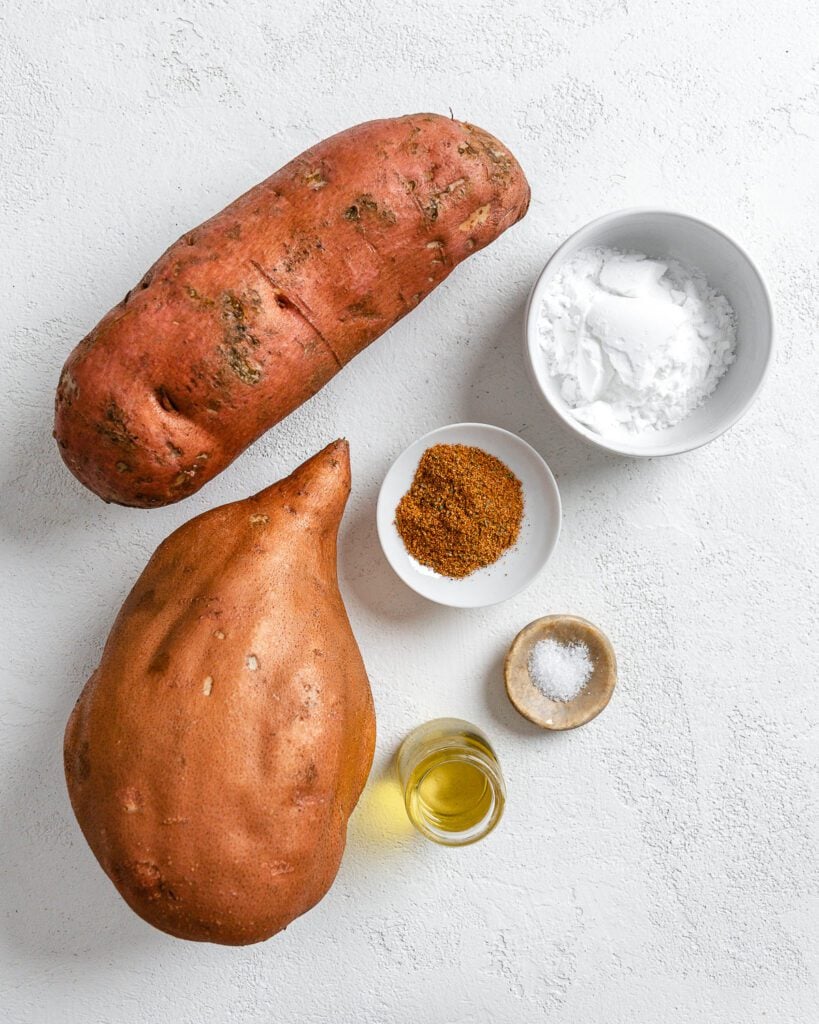 Optional add-ins & Recipe Variations
Like regular fries, there are plenty of ways to adapt the flavor of this sweet potato wedges recipe by swapping out the seasoning.
Other spices:

Black pepper
Smoked paprika (I like to combine paprika with onion and garlic powder)
Onion powder
Garlic powder
Cumin
Garam masala/ Curry powder
Chili powder/Cayenne powder
Dried rosemary, sage, or thyme (or use fresh in the last few minutes of cooking)
Italian seasoning
Cajun seasoning
Tajin (chili and lime)
Pumpkin pie spice
Cinnamon sugar
Parsley: You can garnish the oven baked sweet potato wedges with fresh, finely chopped parsley (or dill/chives) for extra fresh flavor.
If you want to use fresh herbs, only add them in the last 5 minutes, so they don't burn in the oven.
How to Cut a Sweet Potato Into Wedges?
First, wash the sweet potatoes well using a scrubber brush to clean them thoroughly (this is important if you plan to keep the peel on; otherwise, just rinse them).
Then, trim off both ends.
Slice the sweet potato in half, lengthwise,
Finally, cut each half into wedges by slicing diagonally every ½-inch apart.
If the sweet potato is particularly long, cut it in half width-wise before slicing the wedges.
For thin 'matchstick' sweet potato fries
Trim off the ends, stand the potato upright, and slice through every ¼-inch apart. Then chop those slices down into ¼-inch sticks.
Alternatively, chop it in half lengthwise, then slice every ¼-inch across. Then cut each of those pieces down to ¼-inch matchsticks.
You could also use a 'chipper' or a mandoline with a fries blade.
To make the sweet potato easier to cut, you can bake it whole in the oven for 8-10 minutes before slicing them.
How to Make Crispy Sweet Potato Wedges?
Just 3 steps transform your raw chopped sweet potatoes into crispy, tender, moreish roasted sweet potato wedges.
1) First, preheat the oven to 425F/220C and line a baking sheet with parchment paper or a silicone mat.
2) Then, transfer the sweet potato wedges to a large bowl with the oil, starch, and seasonings. Toss until well combined and coated.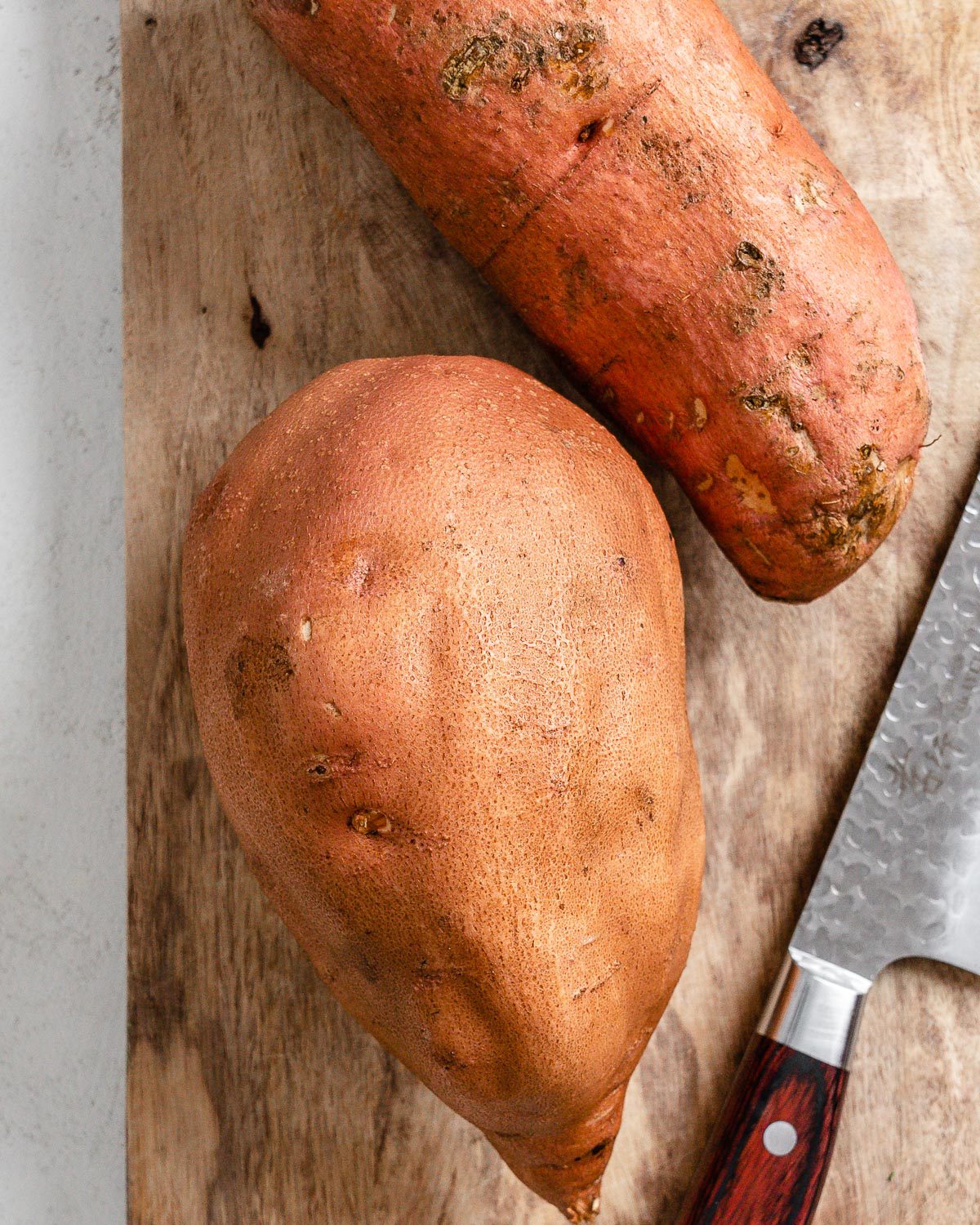 3) Then, spread the wedges across the baking pan in a single layer, with some space in between. Roast them for 20-25 minutes (based on their size), or until crispy and browned.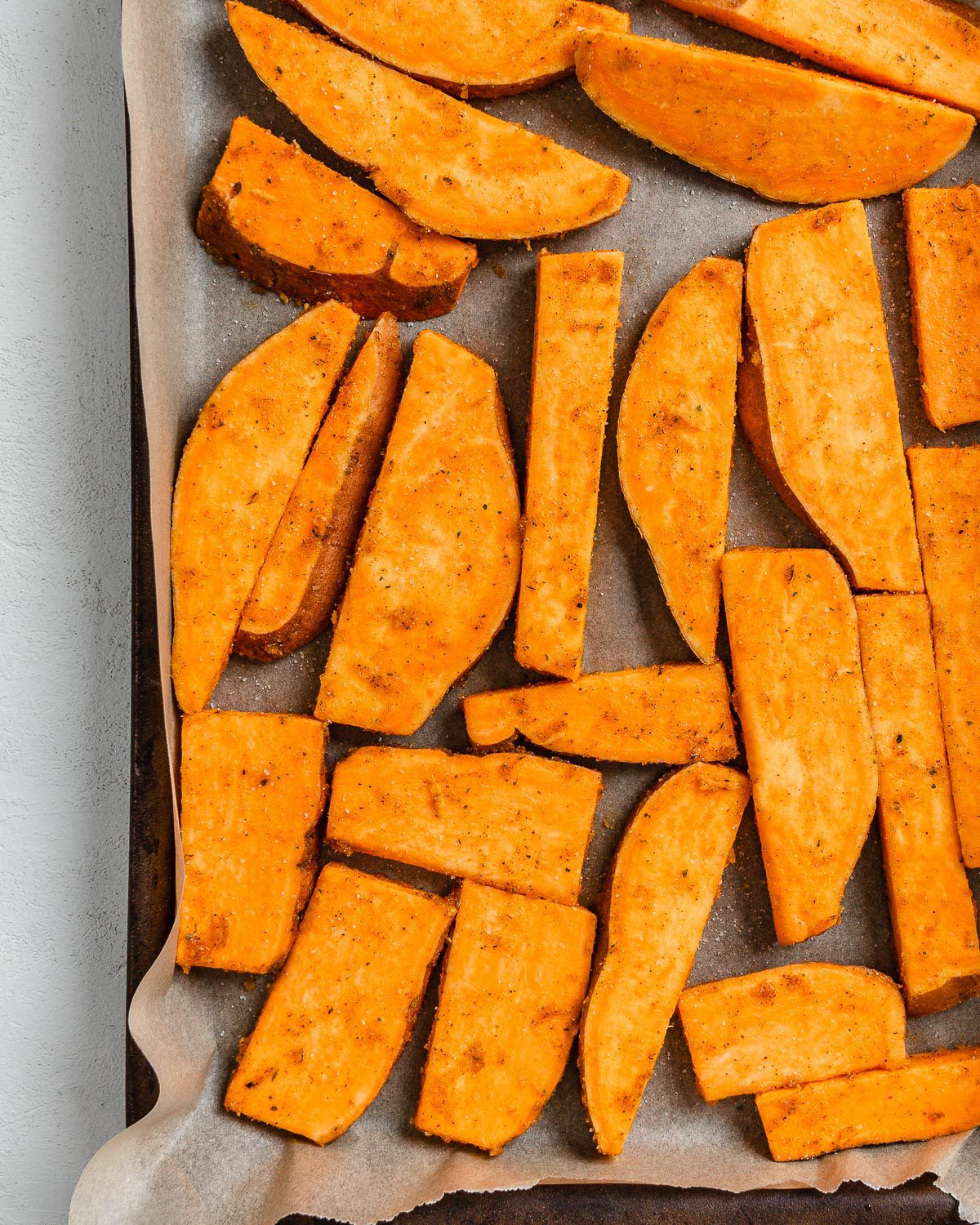 It can help to flip them in the last five minutes to get both sides crispy. You could also broil them for 2-3 minutes right at the end for even crispier results. But keep an eye on them, as they'll burn easily if not watched.
They will continue to crisp up slightly as they cool. So, I recommend allowing them to 'rest' for a few minutes before serving.
For Air Fryer Sweet Potato Wedges
Follow steps 1-3 above. Then place the wedges in a single row in your air fryer basket (work in batches if necessary), leaving some space in-between for the crispiest results.
Air fry for around 12 minutes at 380F/195C, shaking halfway.
Note that your air fryer model can affect the exact time they take to cook.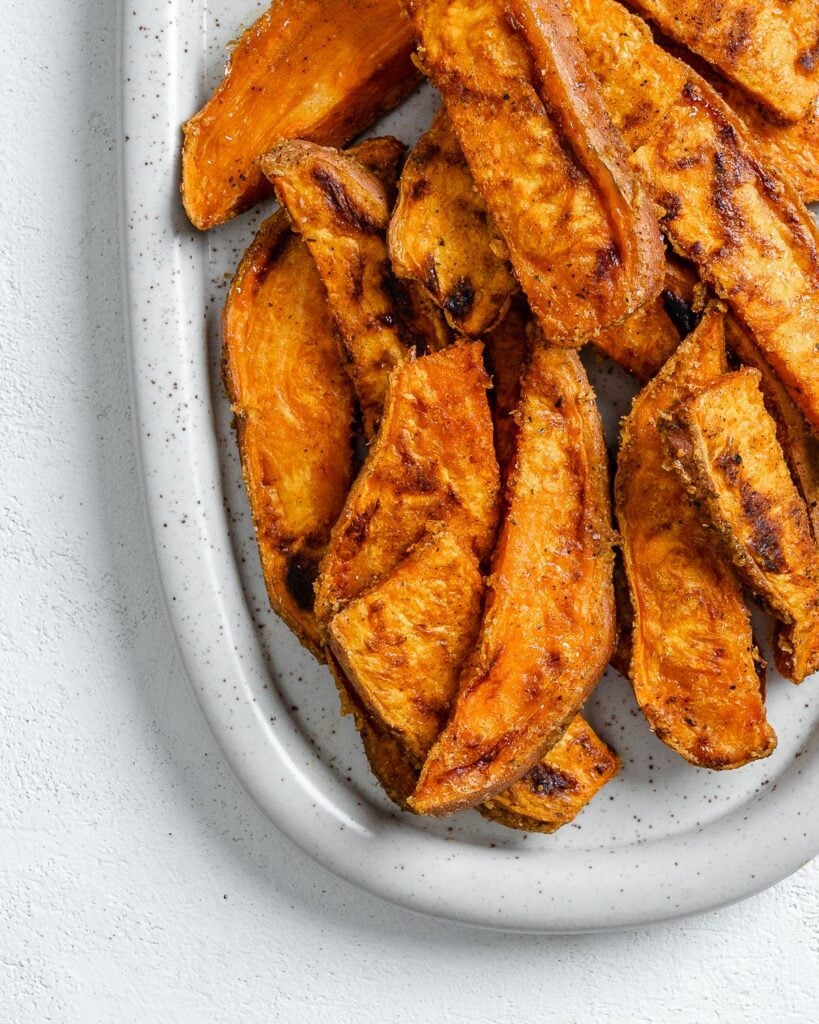 FAQs
Do you need to peel the sweet potato?
It's up to personal preference. Leave the peel on for extra fiber and nutrients, or remove it if you don't like the texture.
Can I omit the oil?
I wouldn't recommend it, as they won't become as crispy, and the seasonings won't adhere to the wedges.
Can I freeze sweet potato fries?
Yes, you can freeze the pre-baked fries/wedges.

-First, wash and then slice the fries. Then, transfer them to a saucepan with boiling water and blanch for 3 minutes.
-Immediately transfer them to an ice bath to halt the cooking process. Leave them to soak for 15-20 minutes.
-Drain and rinse them well, then transfer them to a clean kitchen towel and thoroughly dry.
-Then, spread them across a tray, not touching, and flash freeze until solid.
-Finally, transfer to a large Ziplock/Stasher bag or freezer-safe container and store for up to 6 months. Cook them from frozen, adding a few extra minutes to the cooking time.

You can season them before or directly after cooking.
Top Recipe Tips and Notes
Cooking time can vary: Based on how thick you slice the sweet potato fries/wedges and your oven. Really thick or large wedges can take up to 40 minutes.
Don't overcrowd the wedges: Otherwise, they end up steaming and won't become crispy. The air in the oven/air fryer needs to circulate around and between them.
Chop even pieces: As much as you can, anyway, to ensure they cook at an even rate.
Don't skip the soaking step: This helps remove excess starch from the sweet potato for crispier wedges. If you have the time, I recommend soaking them for 60 minutes.
Make sure they're dry: After soaking, it's imperative that you thoroughly dry the sweet potato wedges if you want the crispiest results.
Use a broiler for extra crispiness: Just for 2-3 minutes at the end. Keep an eye on them, though, as they'll burn quickly if not watched.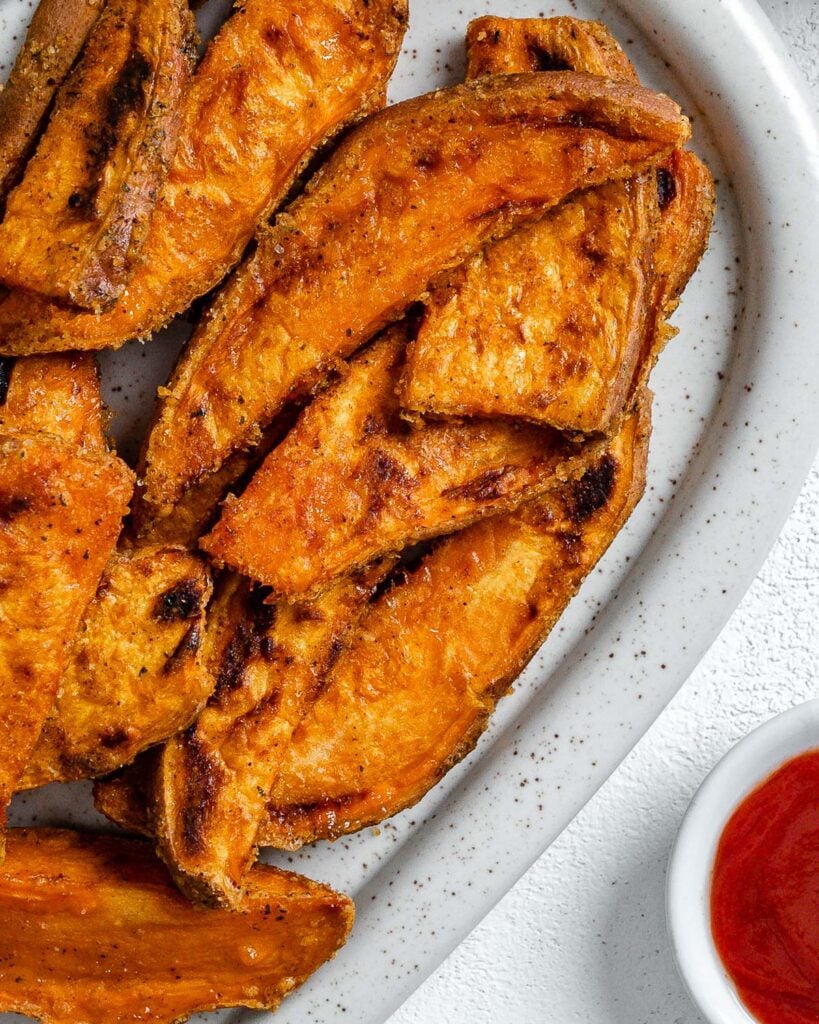 Serving Recommendations
Enjoy the air fried/roasted sweet potato wedges as an appetizer, snack, or side with:
Dipping sauces (such as ketchup, BBQ, vegan mayo, guacamole, etc. all work to dip.)
Burgers and sandwiches
Vegan frittatas, omelettes, and quiche
Salad bowls (particularly South-West/Mexican salads)
Chili (and to make chili fries)
In or alongside burritos (and burrito bowls) or tacos
Turn into 'fully loaded' sweet potato 'nachos' with chili, salsa, guac, vegan sour cream, vegan cheese, etc.
And that's just the tip of the iceberg. Let me know in the comments how you served these baked sweet potato wedges.
Make-Ahead and Storage Instructions
Make ahead: You can chop the sweet potato wedges up to 2 days in advance and store them in an airtight container filled with water in the fridge.
Store: Like regular fries, these baked/ air fryer sweet potato wedges are best when still warm from the oven. However, store any leftovers in an airtight container in the fridge for 2-3 days.
Freeze: You can freeze the baked sweet potato wedges for up to 3 months in an airtight container in the freezer. However, I prefer to freeze the wedges pre-baked.
Refer to the FAQs for how to meal-prep frozen sweet potato fries for 6 months of storage.
Reheat: The best way to reheat the wedges and bring back some crisp texture is to place them back in the oven (10-15 minutes) or air fryer (3-4 minutes). Avoid a microwave unless you're a fan of soggy wedges.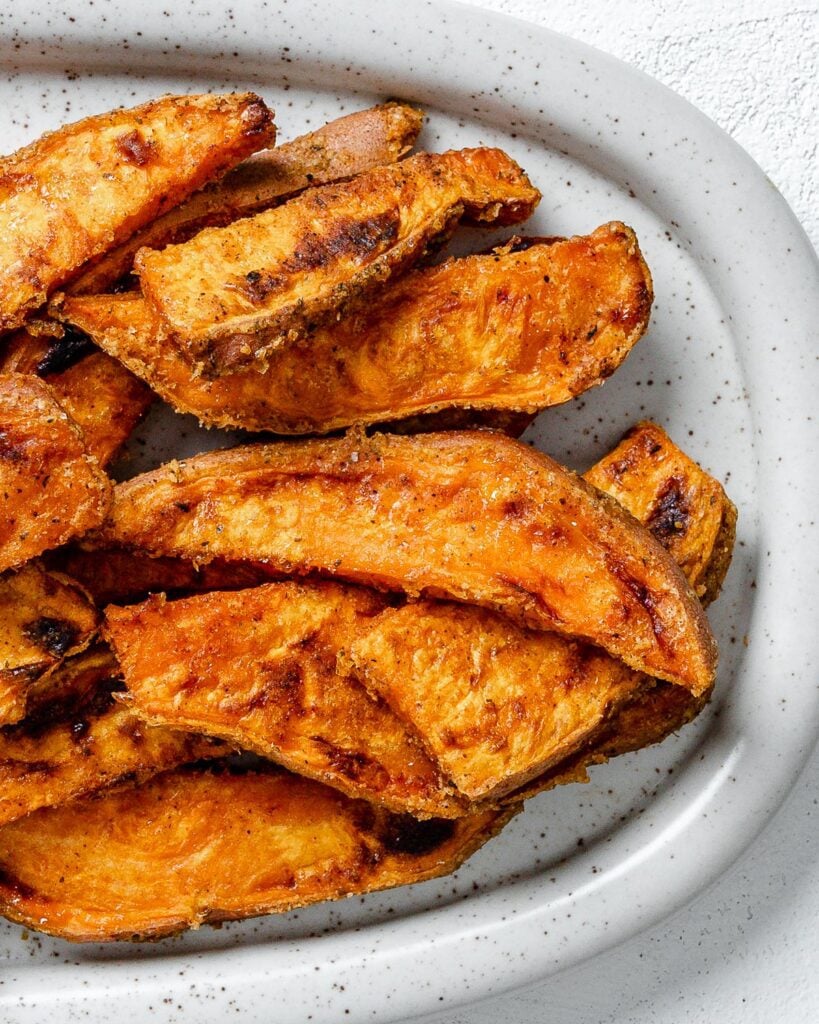 Related Recipes
If you try this air fryer or roasted sweet potato wedges recipe, I'd love to know what you think in the comments below. I'd also really appreciate a recipe card rating!
Photos by Alfonso Revilla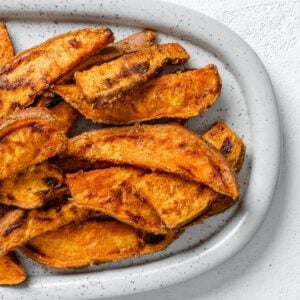 Crispy Roasted Sweet Potato Wedges
Spiced roasted sweet potato wedges are crispy on the outside and tender in the middle with just a handful of ingredients, top tips, and an oven-baked or air fryer method!
Equipment
cutting knives

measuring spoons

large bowl

baking sheet
Ingredients
2

large

sweet potatoes

cut into ½ wedges

2

tablespoons

of olive oil

2

tablespoons

of potato starch

2

teaspoons

of taco seasoning

½

teaspoon

of salt
Instructions
Preheat the oven to 425 degrees F. Line a baking sheet with a silicone mat or parchment paper.

In a large bowl, drizzle the potatoes with oil, and sprinkle with potato starch, taco seasoning, and salt. Mix thoroughly.

Spread the sweet potatoes in a single layer on the baking sheet and bake for 20 minutes.
Notes
Remember to not overcrowd the wedges, otherwise, they end up steaming and won't become crispy as the air in the oven /air fryer needs to circulate around and between them.
Chop the wedges into even pieces as much as you can to ensure they cook at an even rate.
Nutrition
Calories:
96
kcal
Carbohydrates:
23
g
Protein:
2
g
Fat:
1
g
Sodium:
36
mg
Potassium:
428
mg
Fiber:
2
g
Vitamin A:
865
IU
Vitamin C:
18
mg
Iron:
1
mg
Disclaimer: Although foodsharingvegan.com attempts to provide accurate nutritional information, kindly note that these are only estimates. Nutritional information may be affected based on the product type, the brand that was purchased, and in other unforeseeable ways. Foodsharingvegan.com will not be held liable for any loss or damage resulting for your reliance on nutritional information. If you need to follow a specific caloric regimen, please consult your doctor first.