3-Ingredient vegan coffee nice cream made with frozen bananas, coffee, and vanilla, blended to soft-serve consistency! This frozen banana ice cream is dairy-free, gluten-free, contains no added sugar, and makes for a delicious low-calorie, low-fat nice cream!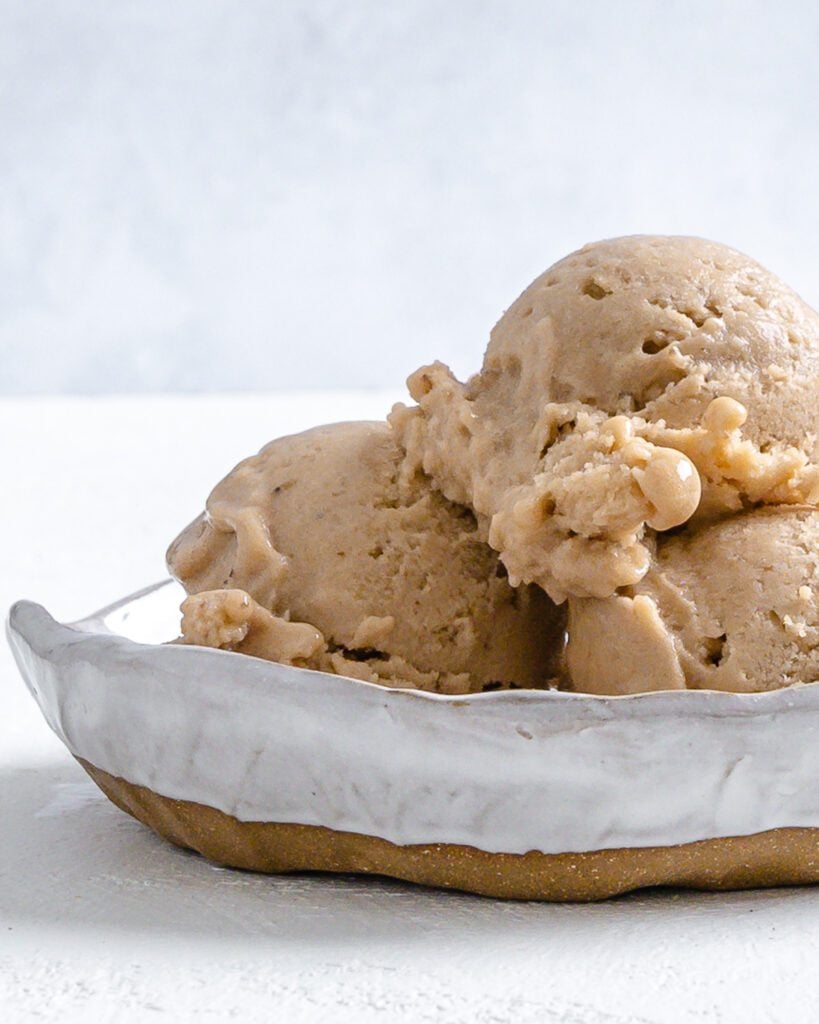 Frozen Banana Ice Cream With Coffee
As a vegan, I'm used to seeing fantastic and innovative use of ingredients, and yet I still couldn't help but be shocked the first time I tried a nice cream recipe and again when trying this coffee nice cream a year later.
This vegan coffee ice cream is 100% dairy-free, egg-free, and even sugar-free yet has a smooth, creamy texture like soft serve. The magic ingredient in this low-calorie vegan ice cream is frozen bananas!
When blended (no churner or long labor-intensive processes here!), they break down into the creamiest consistency that we happily enjoy in smoothie bowls and make for impressive guilt-free ice cream.
As long as you have bananas in the freezer, you can enjoy smoothies, a creamy banana milkshake, and this non-dairy coffee ice cream within just a few minutes. It's a versatile, guilt-free snack packed with flavor and nutrients!
What is Nice Cream?
Nice cream is a play on ice cream while ditching the copious amounts of dairy and sugar in place of 'nice-for-you' ingredients, like frozen fruits (usually banana) and other plant-based ingredients. By blending the frozen banana, you can have a kind of 'instant' frozen banana dessert that is easy to flavor and can be enjoyed immediately as a healthy vegan ice cream treat.
Once blended, frozen bananas mimic a soft-serve style ice-cream consistency perfectly. Place it back in the freezer for an hour or two for a scoopable consistency. When combined with coffee and a small amount of natural, unrefined sweetener, this vegan coffee ice cream recipe is gluten-free, dairy-free, and a low-fat ice cream with no artificial flavors or colors!
The Ingredients
Just three ingredients make up the base of this vegan coffee banana ice cream, including:
Bananas: This nice cream recipe needs frozen bananas. If they aren't already frozen, follow our instructions below for the best results. It's best to use ripe bananas with a few spots, but that aren't too soft.
Coffee: I used leftover strongly brewed coffee (liquid, not powder). Espresso would also work (adjust the amount to taste). Caffeinated or decaf will work.
Make sure that it's 100% cooled, or even use cold brew coffee.
Vanilla extract: Use natural, pure vanilla for the best flavor.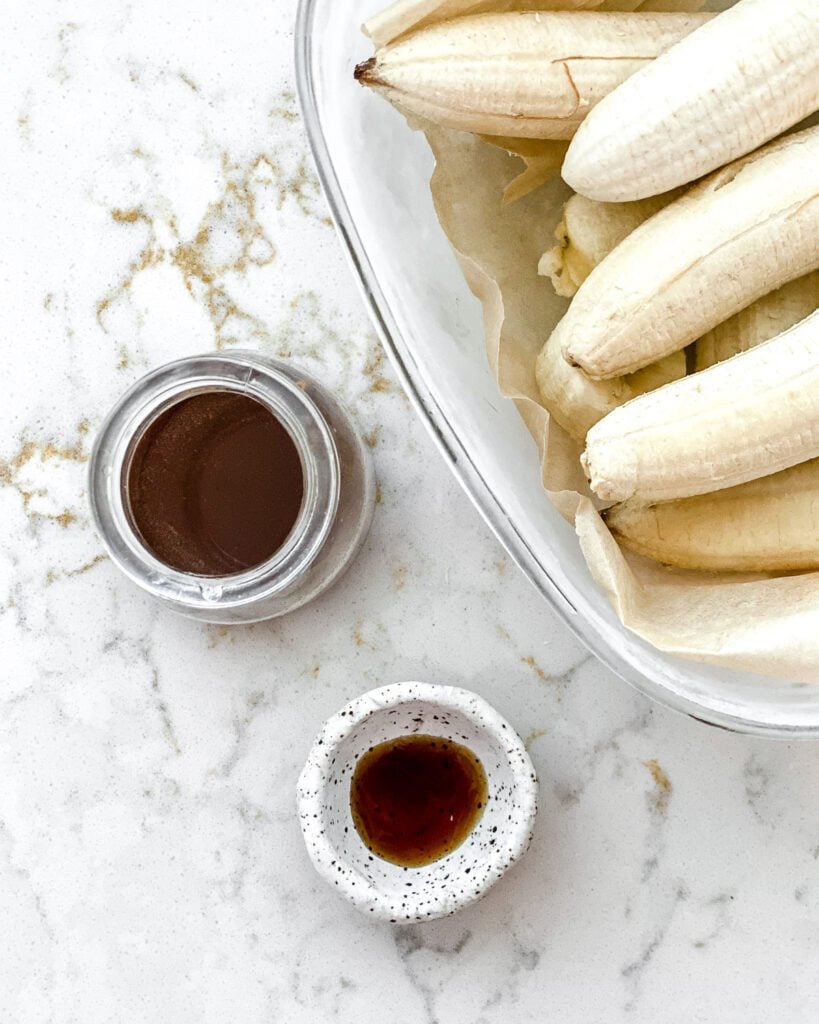 What can I add to the banana coffee nice cream?
Sweetener: The banana is already naturally sweet. However, if you want to add slightly more sweetness, you could use maple syrup, agave, brown rice syrup, or even a date/date paste. Add to taste.
Sea salt: A pinch of salt will help to enhance the various flavors in the vegan coffee ice cream.
Vegan chocolate chips: Pulse in a small handful at the end so they don't break up too much. Use regular or sugar-free vegan chocolate chips or even antioxidant-rich cacao nibs.
Cocoa powder: Coffee chocolate nice cream (aka mocha nice cream) is super simple to make and requires the addition of just 1-2 tablespoons of cocoa powder.
Nut butter: The addition of nut butter makes for a richer, creamier coffee banana nice cream. As a general rule, I recommend one tablespoon per frozen banana. My favorite is peanut butter, but almond butter and hazelnut butter also work wonderfully.
Tahini: Add ½-1 tablespoon per frozen banana for an interesting depth to this coffee-flavored nice cream.
Hemp seeds: Add 2-3 tablespoons to boost the protein, omegas, and heart-healthy fats in this healthy banana nice cream.
How to Freeze Bananas?
I love having frozen fruit in my freezer, ready to add to smoothies and nice cream.
With bananas, while it's possible to freeze them whole or halved, it's best to do so in smaller pieces. That way, they'll break down faster, which is best for your machine and for not overheating the frozen banana ice cream.
First, peel your bananas. They should have a few spots on them ('just' overripe) but not be overly soft.
Then, using a sharp knife, cut the banana into ½-inch pieces (no need to be too precise about this) and spread them on a parchment-lined baking tray. Ensure the pieces aren't touching.
Transfer the tray to the freezer to 'flash freeze' until the pieces are solid. Then transfer them to an airtight container/Ziploc/Stasher bag and store them for 6 months.
When making frozen banana nice cream, I recommend removing the banana from the freezer 5-10 minutes before blending them to make it easier on the machine.
How to Make Vegan Coffee Nice Cream?
Add all the ingredients to a high-speed blender or food processor and blend for one minute.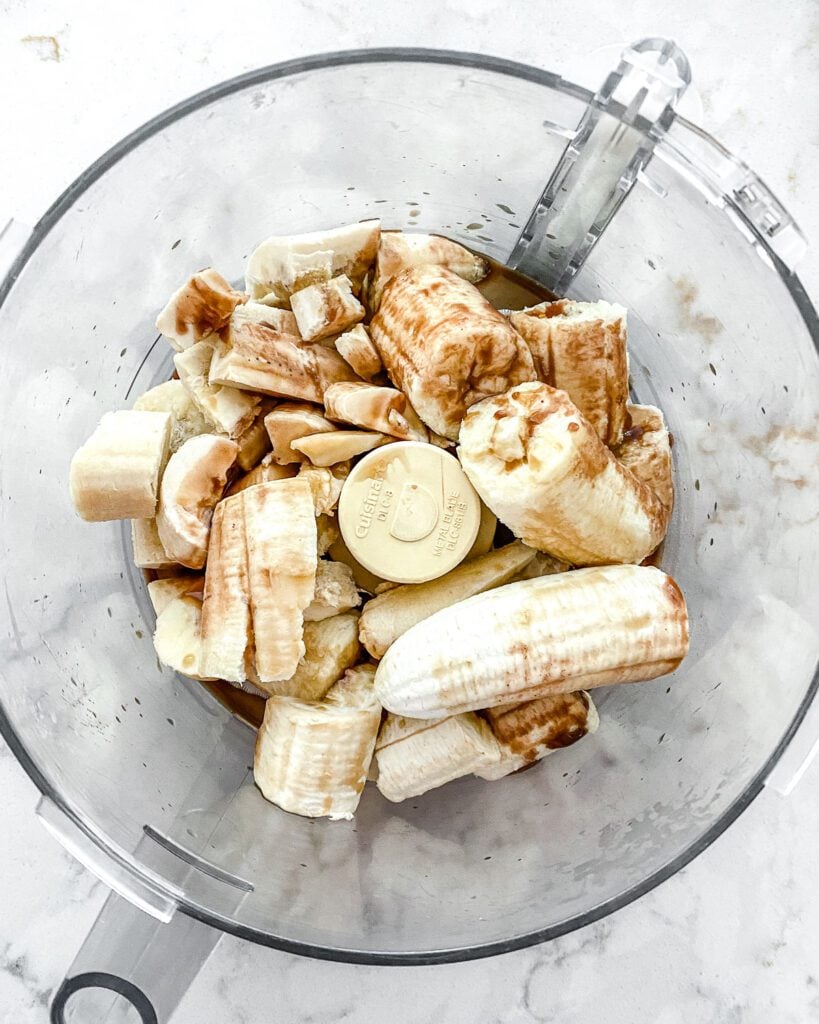 The exact time it takes to blend will depend on your machine and size of the banana pieces.
Then stop the machine and give it a stir. If it needs more liquid, add another tablespoon of coffee (or dairy-free milk) and then continue to process until smooth. Stop to scrape down the sides as necessary.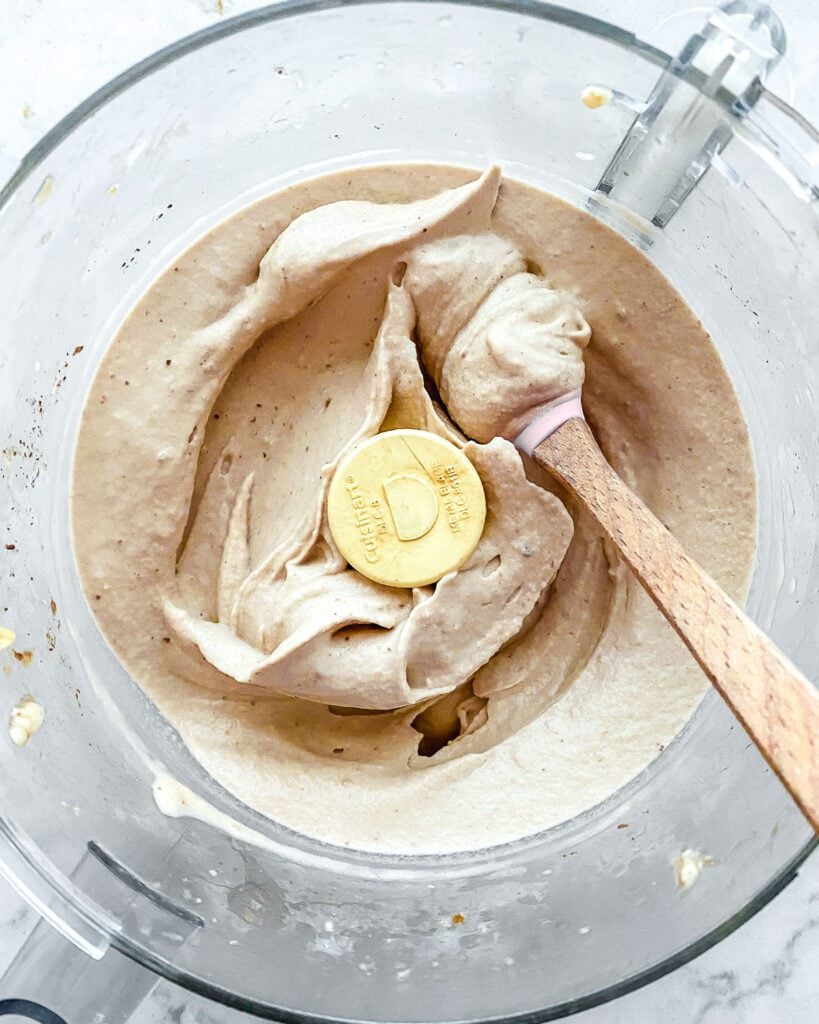 Give it a final taste and adjust any of the elements if needed. Then transfer the coffee banana nice cream to a bowl and enjoy!
You can enjoy it alone or drizzle with vegan caramel/chocolate syrup and/or sprinkle with toppings like crushed vegan cookies, chocolate chips, coconut flakes, some chopped nuts, etc.
Storage Instructions
I usually prepare this frozen banana dessert in single-serving amounts, eating it immediately since it's quick and simple to prepare. However, you can make a large batch to use up leftover bananas and store it for longer:
Freezer: Transfer the blended vegan coffee ice cream to a freezer-safe container and wrap tightly in plastic wrap or foil (to reduce the risk of freezer burn). Then store in the freezer for up to 3 weeks. Allow it to soften for 10-15 minutes before scooping.
If you find it too hard to scoop even after 15 minutes, dip your scoop in hot water for a short period between scoops. You could also re-whip it for a few seconds to bring back the soft-serve consistency if preferred.
FAQs
Can I use a blender instead of a food processor?
Yes, both machines will work to make coffee banana nice cream. A food processor can take slightly longer to become smooth. In comparison, a high-speed blender can take less time but may require more breaks to avoid the motor/blades overworking and/or overheating.
How long do bananas take to freeze?
When cut in ½-inch chunks, they should take only two hours to freeze.
Can I use powdered coffee?
The liquid helps to get the blending done quicker and easier. However, yes, it is possible to use instant coffee/ espresso instead of brewed liquid.
Does coffee nice cream taste like bananas?
Yes. If you're not a fan of bananas, then I'd give this recipe a pass.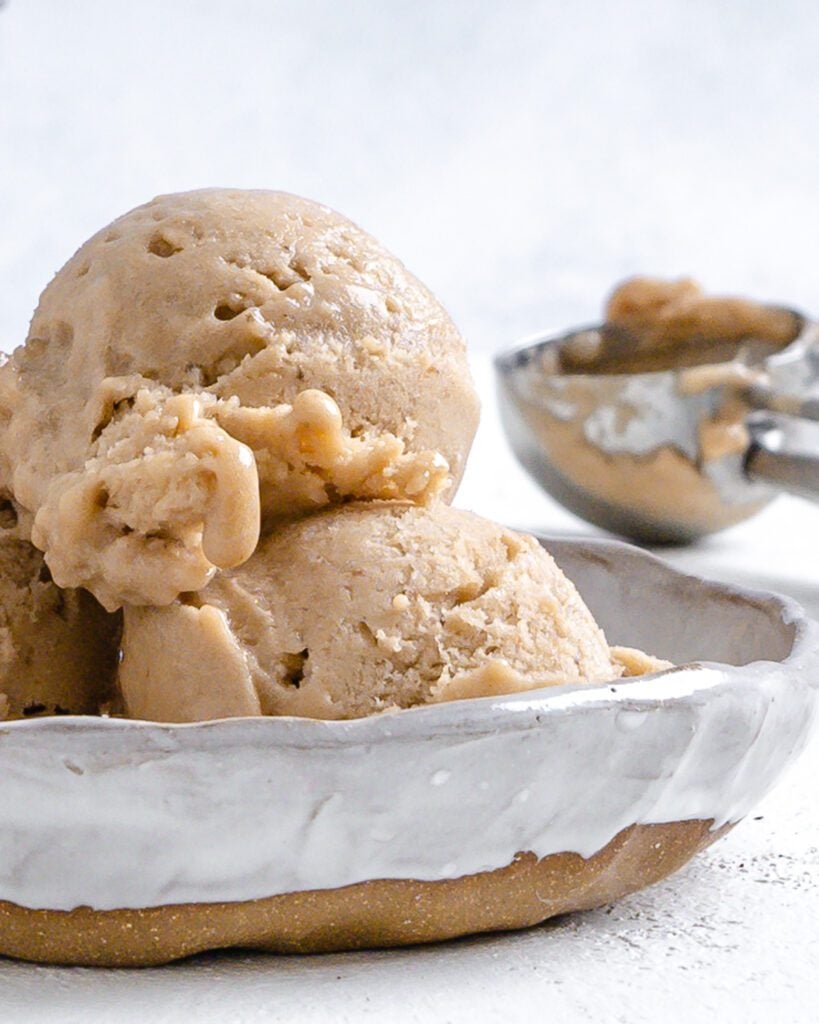 Top Recipe Tips and Notes
Adjust the sweetness: The bananas are usually sweet enough but add some additional sweetness if preferred.
To save prep time: Keep frozen bananas in your freezer at all times.
For a stronger coffee flavor: If you want a real punch of coffee flavor without adding too much liquid, then powdered instant coffee or espresso powder is your friend. Dilute it with just enough liquid to 'melt' it before adding it to the nice cream.
For a scoopable texture: After blending, transfer the coffee nice cream to a freezer-safe container and pop it back in the freezer for between 1-2 hours, until 'scooping' consistency. If it's too firm, allow it to thaw for 10-15 minutes.
To help when blending: If your machine has a tamper, it can help to use it. If it isn't a high-powered machine, it can help to take several breaks. Otherwise, it will heat and melt the bananas quickly.
Make sure the bananas are ripe: Otherwise, the banana nice cream will lack flavor and sweetness.
Turn it into a vegan milkshake: Simply add some of your favorite dairy-free milk until it's a thick milkshake consistency. Add more coffee, too, if needed.
If you try this healthy coffee nice cream recipe, I'd love to know what you think in the comments below. I'd also really appreciate a recipe card rating!
Photos by Alfonso Revilla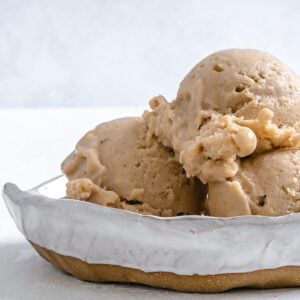 Vegan Coffee Nice Cream
3-Ingredient vegan coffee nice cream made with frozen bananas, coffee, and vanilla, blended to soft-serve consistency! This frozen banana ice cream is dairy-free, gluten-free, contains no added sugar, and makes for a delicious low-calorie, low-fat nice cream!
Equipment
blender

food processor

measuring spoons
Ingredients
3

peeled frozen bananas

4 to 5

tablespoons

of leftover coffee

½

teaspoon

of vanilla
Instructions
In the bowl of a food processor, add bananas, 4 tablespoons of coffee, and vanilla and blend for 1 minute.

Stop the food processor and stir the bananas. If you need more liquid, add another tablespoon of coffee. Process until smooth.
Nutrition
Calories:
321
kcal
Carbohydrates:
81
g
Protein:
4
g
Fat:
1
g
Saturated Fat:
1
g
Polyunsaturated Fat:
1
g
Monounsaturated Fat:
1
g
Sodium:
5
mg
Potassium:
1299
mg
Fiber:
9
g
Sugar:
44
g
Vitamin A:
227
IU
Vitamin C:
31
mg
Calcium:
19
mg
Iron:
1
mg
Disclaimer: Although foodsharingvegan.com attempts to provide accurate nutritional information, kindly note that these are only estimates. Nutritional information may be affected based on the product type, the brand that was purchased, and in other unforeseeable ways. Foodsharingvegan.com will not be held liable for any loss or damage resulting for your reliance on nutritional information. If you need to follow a specific caloric regimen, please consult your doctor first.