This quick, easy 4-ingredient vegan orange buttercream (keto + flavored options included below) is light, fluffy, and perfect for piping or spreading over cakes, cupcakes, cookies, and more!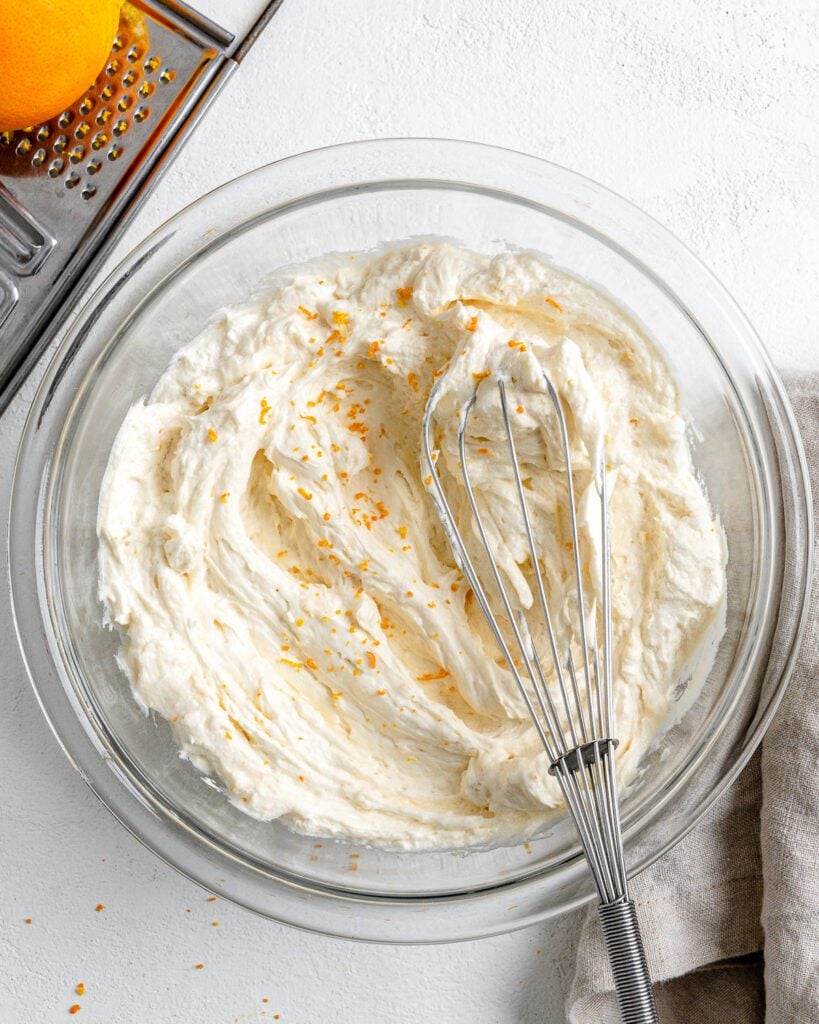 Light, Creamy, Orange Buttercream Frosting Recipe
Free-from baking has a reputation for being tricky. However, some kitchen basics are as simple as swapping out the dairy for a vegan alternative. That includes this light and fluffy vegan orange buttercream frosting! Not only is this vegan orange frosting bursting with citrusy flavor, but it's easy to adapt and made with just 4 simple pantry staples (with a keto option available!)
With a combination of vanilla and orange, this vegan frosting is sweet, zesty, and bursting with citrusy flavor that's perfect for using year-round to pipe or spread over dairy-free cakes, cupcakes, cookies, macarons, and more! Even better, there are a few ways to adapt this recipe to whatever you're making. Keep reading for all my top variations and mix-ins, including keto buttercream frosting, chocolate orange, etc.!
Even better, I made this vegan frosting recipe with 100% natural orange juice and zest, so you don't have that horribly artificial flavor ruining your bakes! So, let's jump right in!
The Ingredients
This simple vegan orange frosting requires just 4 ingredients, including:
Orange: Use an organic, unwaxed orange (as we're using the zest, too) for orange juice and orange zest.
Powdered sugar: Use regular powdered sugar (also called confectioner's sugar/icing sugar). Use a vegan labeled brand to ensure it's vegan.
For keto vegan orange buttercream, use a powdered sugar-free sweetener like erythritol.

If you've run out of powdered sugar, you can even make your own in a high-speed blender or coffee/spice grinder (sift before using).
Vegan butter: Use softened vegan butter (not margarine), like Miyoko's or Earth Balance. Unsalted is best, but salted will work if that's all you have.
Vanilla extract: Use pure, natural vanilla for the best flavor.
For a plain vegan buttercream frosting, omit the orange entirely and just use vanilla (added to taste).
Salt: (optional) If you've used unsalted butter, then a pinch of salt will help to enhance the flavors and balance against the super sweet sugar in this vegan frosting.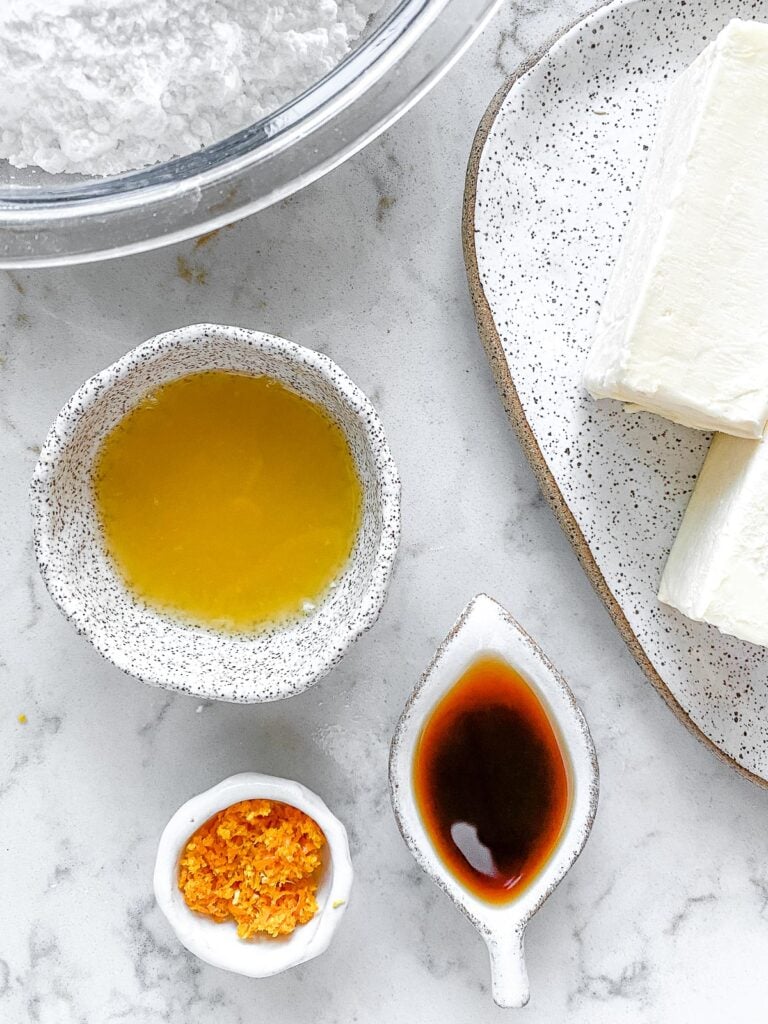 Optional add-ins and Recipe Variations
There are several ways to easily adjust this vegan orange frosting, including:
Another citrus: This orange frosting recipe will also work with lemon, tangerine, grapefruit, and other citrus fruits.
Color: Use a natural food coloring and adjust the amount based on how vibrant you want the vegan orange buttercream frosting. Using a combination of red and yellow food coloring is best for a vibrant orange shade.
Almond extract: A few drops of almond extract enhances the flavors wonderfully and pairs well with almond cupcakes and cake.
Orange Blossom: Add ½-1 teaspoon of orange blossom water for subtle floral flavor.
Vegan chocolate orange frosting: Substitute 1-2 tablespoons of powdered sugar for unsweetened cocoa powder or dark cocoa powder.
Spices: Several spices pair well with orange, including cardamom, ginger, and cinnamon. Chai spice and gingerbread also pair well with this orange icing.
Plant-Based milk or Cream: For a creamier, lighter vegan buttercream frosting, add in your favorite plant-based milk/cream, one teaspoon at a time.
How to Make Orange Buttercream Frosting?
First, zest and juice the orange, avoiding the bitter white pith.
Then, add the room temperature vegan butter to either the stand mixer bowl or a large bowl (if using a handheld electric mixer). Beat the vegan butter for around 2 minutes at medium speed.
Slowly add the confectioner's sugar, a few spoonfuls at a time, while beating the vegan butter. Continue until all the sugar is well combined.
Though not always necessary, sift the confectioner's sugar to avoid any tiny lumps in the vegan buttercream. If you prefer a thinner frosting, only add enough sugar to reach your desired consistency.
Then, add the orange juice and zest, and vanilla extract. Continue to beat until light and fluffy (around 3 minutes).
Finally, taste the orange frosting and adjust the amount of orange juice/zest added for more orange flavor, if desired. Enjoy!
The consistency should be thick and creamy, perfect for piping. If you'd prefer a slightly smoother, thinner vegan buttercream, add some plant-based milk, one teaspoon at a time until you reach your desired consistency.
Storage Instructions
In the fridge: You can store the vegan orange frosting in the refrigerator for 7-10 days. Store it in a piping bag or in a bowl covered with plastic wrap.
In the freezer: Store the vegan orange frosting for up to 3 months in the freezer in an airtight container (not a piping bag). To use it, allow it to thaw to room temperature and then re-whip until fluffy.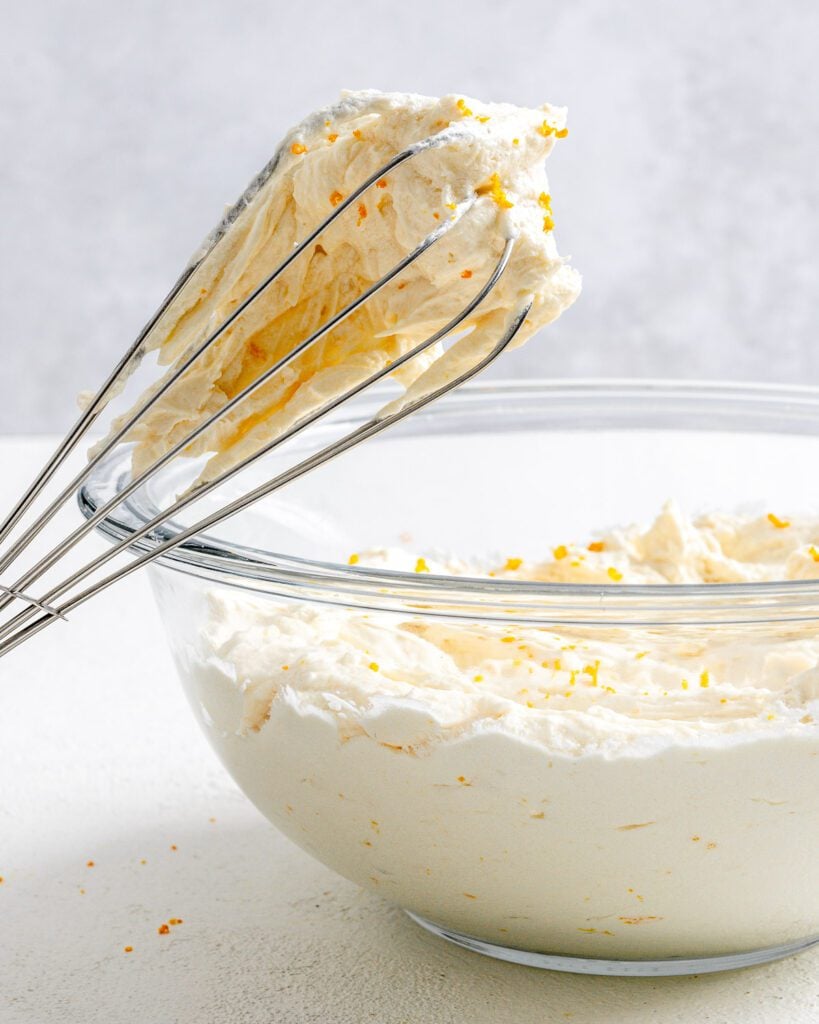 FAQs
How much juice is in standard orange?
This really depends on the size and type of orange. However, a standard orange seems to have between 4-6 tablespoons of liquid and 2-3 tablespoon zest.
How to use orange buttercream frosting?
This citrusy buttercream frosting is surprisingly versatile. Along with using it for orange-flavored bakes (cakes, cupcakes, sandwich cookies, macarons, brownies, etc.), it also pairs well with flavors including vegan chocolate, almond, pistachio, strawberry, cardamom, maple syrup, pumpkin spice, lemon (like this simple lemon cake), etc.

It even tastes delicious over carrot cake, gingerbread, and chai spice baked goodies. Let me know in the comments what your favorite ways to use this orange icing are!
How do you thicken the buttercream?
Aside from adding extra powdered sugar, the best option is to use some vegan shortening in place of the vegan butter (half of it) in the recipe. Chilling the vegan orange cake frosting can also help.
Top Recipe Tips and Notes
Save leftover orange juice/zest: Drink the juice or save it and the zest for later either in the fridge for a few days or in the freezer for 3-4 months.
Avoid vegan margarine: Stick plant-based butter is best for the correct consistency. You can use vegan margarine in a pinch, but the frosting will probably be best for spreading rather than piping.
Use softened plant-based butter: It needs to be at room temperature to beat smoothly. If you need to soften it quickly, grate it into the bowl, and it should soften in 5-10 minutes.
The yield: This recipe should make enough for 12-16 piped cupcakes (depending on how much you add) or more when spread with a knife, a 9x13-inch sheet cake, or a small 2-layer 8-inch cake.
For the best piping: It's best to chill the frosting (in the piping bag) for 10-20 minutes for the cleanest piping. Don't overchill the mixture, though, or you may find it tricky to pipe.
Use on fully cooled bakes: Otherwise, it will melt.
Adjust the consistency: If the frosting is too thick, add a little more orange juice or vegan milk/cream (one teaspoon at a time). If it's too thin, add more sugar.
If you try this vegan orange buttercream frosting recipe, I'd love to know what you think in the comments below. I'd also really appreciate a recipe card rating!
Photos by Alfonso Revilla
Vegan Orange Buttercream Frosting
This quick, easy 4-ingredient vegan orange buttercream (keto + flavored options included below) is light, fluffy, and perfect for piping or spreading over cakes, cupcakes, cookies, and more!
Equipment
mixing bowl

measuing spoons

measuring cups

stand mixer

electric mixer
Ingredients
1

cup

of softened unsalted vegan butter at room temperature (salted is fine, if that's what you have)

1

(1-pound) package confectioner's sugar (3 ½ cups)

2

tablespoons

of squeezed orange juice

2

teaspoons

of orange zest

2

teaspoons

of vanilla extract
Instructions
In the bowl of a stand mixer (or a large bowl if you're using a handheld electric mixer), add the room temperature vegan butter. Whisk the butter on medium speed for 2 minutes.

Slowly add the confectioner's sugar while continuously beating the vegan butter. Add in the orange juice, zest, and vanilla extract and beat for an additional three minutes until light and fluffy.
Notes
This frosting is thicker and best used for piping. If you'd like it to be a little smoother, add in more plant-based milk by the teaspoon until you reach your desired consistency.
Nutrition
Calories:
260
kcal
Carbohydrates:
38
g
Protein:
1
g
Fat:
12
g
Saturated Fat:
3
g
Polyunsaturated Fat:
3
g
Monounsaturated Fat:
5
g
Trans Fat:
1
g
Sodium:
123
mg
Potassium:
13
mg
Fiber:
1
g
Sugar:
37
g
Vitamin A:
726
IU
Vitamin C:
2
mg
Calcium:
1
mg
Iron:
1
mg
Disclaimer: Although foodsharingvegan.com attempts to provide accurate nutritional information, kindly note that these are only estimates. Nutritional information may be affected based on the product type, the brand that was purchased, and in other unforeseeable ways. Foodsharingvegan.com will not be held liable for any loss or damage resulting for your reliance on nutritional information. If you need to follow a specific caloric regimen, please consult your doctor first.