These healthy vegan tostadas are loaded with shredded jackfruit 'carnitas,' black beans or refried beans, salad veggies, and optional vegan cheese and avocado for a hearty, delicious appetizer or side in under 20 minutes. Gluten-free, dairy-free, vegan!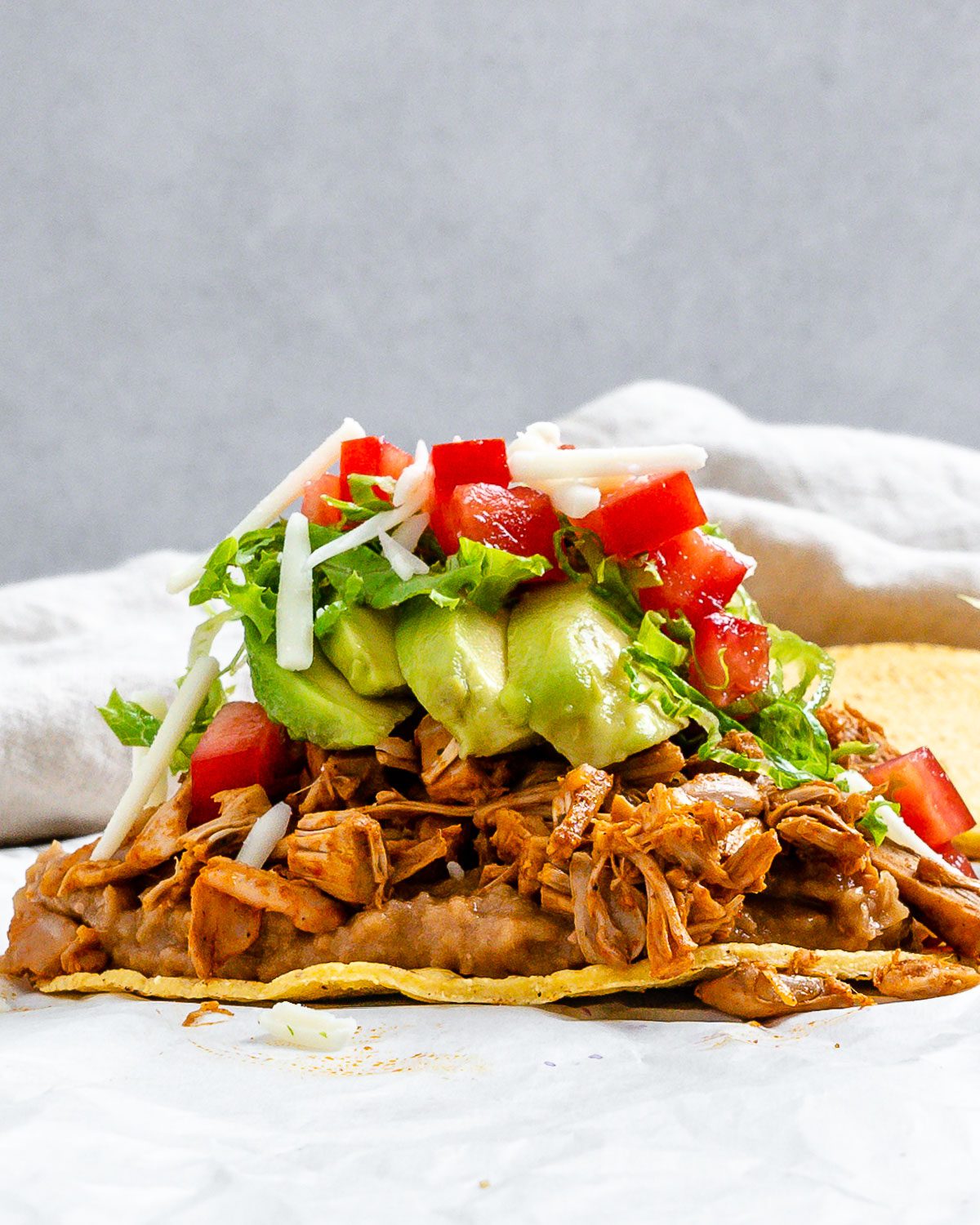 Vegan Tostadas with Jackfruit Carnitas, Beans, + Vegetables
I'm a big fan of taco Tuesdays, but tostada Tuesdays are just as worthy. Swapping out a hard tortilla shell for a crisp, open-faced tortilla base means you can load the jackfruit carnitas vegan tostadas with a higher filling to tortilla ratio, and that's definitely a win!
These jackfruit black bean tostadas may be a little messy to eat, but the crispy tortilla shell base is a weakness of mine. Like tacos, these vegan tostadas are quick, easy to prepare, super versatile, and make for a crowd-pleasing appetizer, side, or light main. They're also ready in under 20 minutes, even if you make the tostada shells yourself (oven or air fryer tostadas methods included below)!
What Are Tostadas?
Tostadas are a popular Mexican appetizer/side dish named after the word 'tostad,' which means 'toasted'. This refers to the crisp, usually fried, corn tortilla base (usually flat or in a bowl shape- and traditionally made using tortillas that were slightly stale) used to load with the toppings of your choice. I.e., beans, salad veggies, guacamole, salsa, and more.
For these vegan tostadas, I use shredded jackfruit 'carnitas' for a healthy, meat-free vegan tostada recipe.
Tostadas vs. Tacos?
These dishes are fairly similar and use most of the same ingredients. The main difference is the tortilla and the way it's compiled. Unlike tacos, which stuff a folded tortilla (soft or hard shell) with fillings, tostadas fry/bake the tortilla flat (or in a slight bowl shape) until crispy and load them up as an open-faced version of a taco, using the tortilla as an edible plate.
The Ingredients
This vegan tostadas recipe is made with a combination of a jackfruit topping and popular taco-style toppings.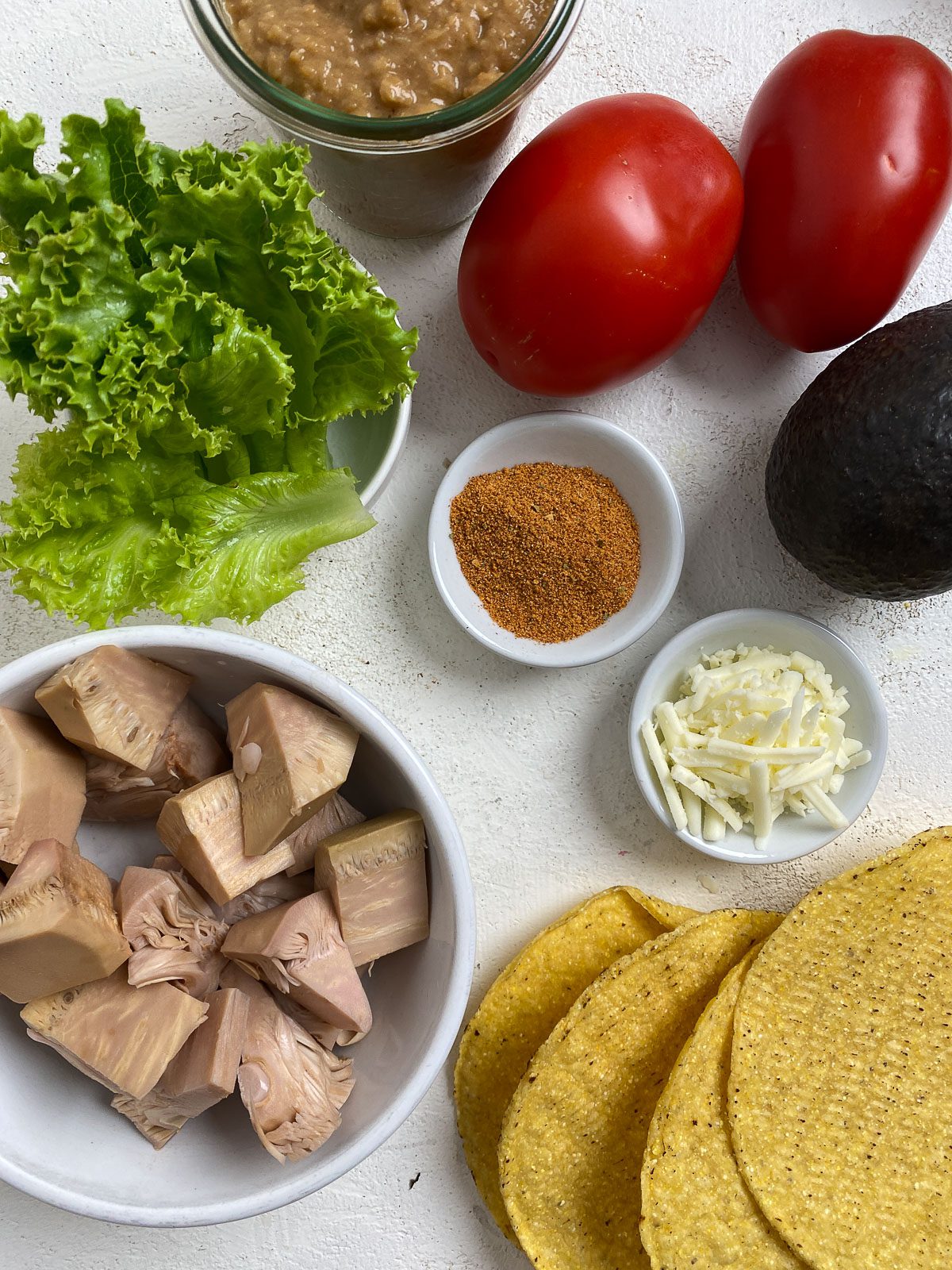 The Jackfruit Carnitas
Jackfruit: Use canned young jackfruit, drained. Available in most grocery stores and Asian supermarkets.
Oil: Any neutral cooking oil like avocado oil, vegetable oil, etc.
Taco seasoning: Choose a taco seasoning according to your desired spice level or make your own with a combination of smoked paprika, cumin, onion powder, garlic powder, and chili powder (add to taste).
Other Ingredients
Tostada shells: If you cannot purchase tostada shells, you can make homemade tostadas (method below) with small corn tortillas (or tiny 'street taco tortillas').
Try to use the thinnest ones you can find (for a crispier shell), though thicker ones will also work for these vegetable tostadas. Experiment to find your favorite results.
Beans: Use refried beans or black beans (semi-mashed) for these vegan tostadas.
Lettuce: Shredded iceberg lettuce works great. Shred it yourself or buy it pre-shredded.
Tomatoes: You can either use diced tomatoes or Pico de Gallo (or both).
Avocado: (optional) Avocado slices or guacamole.
Vegan cheese: (optional) Shredded vegan cheese or a vegan feta alternative would work for these healthy veggie tostadas.
Other Toppings For Tostadas
Just like tacos, there are plenty of toppings to choose from for these vegan/ vegetarian tostadas.
Corn kernels: Roasted or grilled corn.
Sliced radish: For a fresh, crunchy element.
Diced/sliced jalapeños: Added to taste.
Pickled vegetables: Like jalapenos, pink onions, etc.
Vegan' slaw: Homemade or store-bought.
Vegan sour cream: (optional) To drizzle over the jackfruit tostadas.
Hot sauce: Added to taste.
Nacho cheese sauce: To drizzle over the black bean tostadas.
Salsa Verde: In place of tomato salsa.
Herbs: Cilantro, parsley, or green onions would work to garnish the jackfruit tostadas.
Lemon/Lime wedges: To serve alongside the refried bean tostadas.
How to Make Vegan Tostadas?
This vegan tostadas recipe only requires three simple steps, four if you're making your own oven/air fryer tostadas.
1) First, use your fingers or a fork to shred the jackfruit, removing any tough pieces.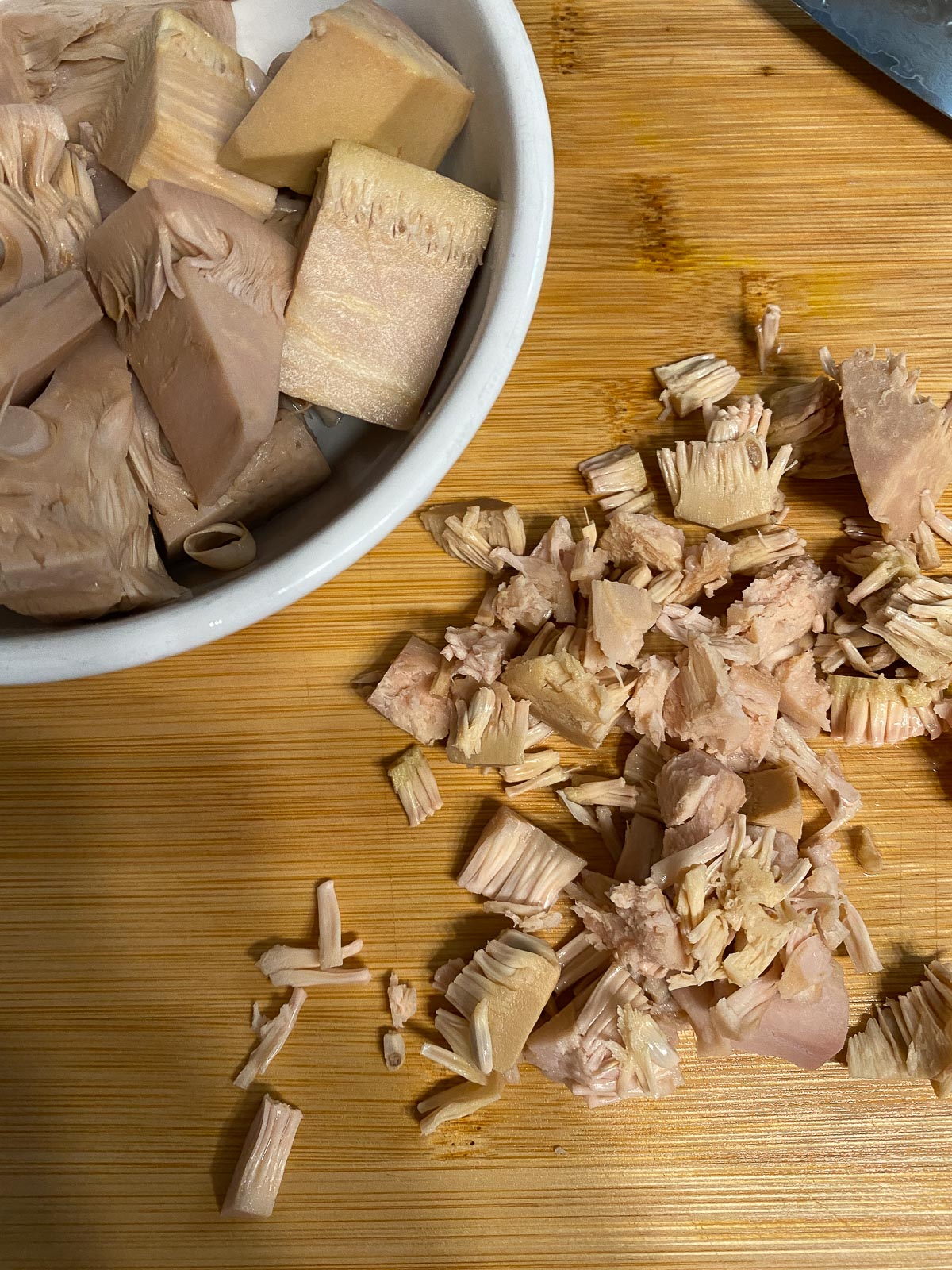 2) Meanwhile, heat the oil in a large pan over medium-high heat. Once hot, add the jackfruit and cook for 8-10 minutes, adding the taco seasoning halfway and stirring occasionally.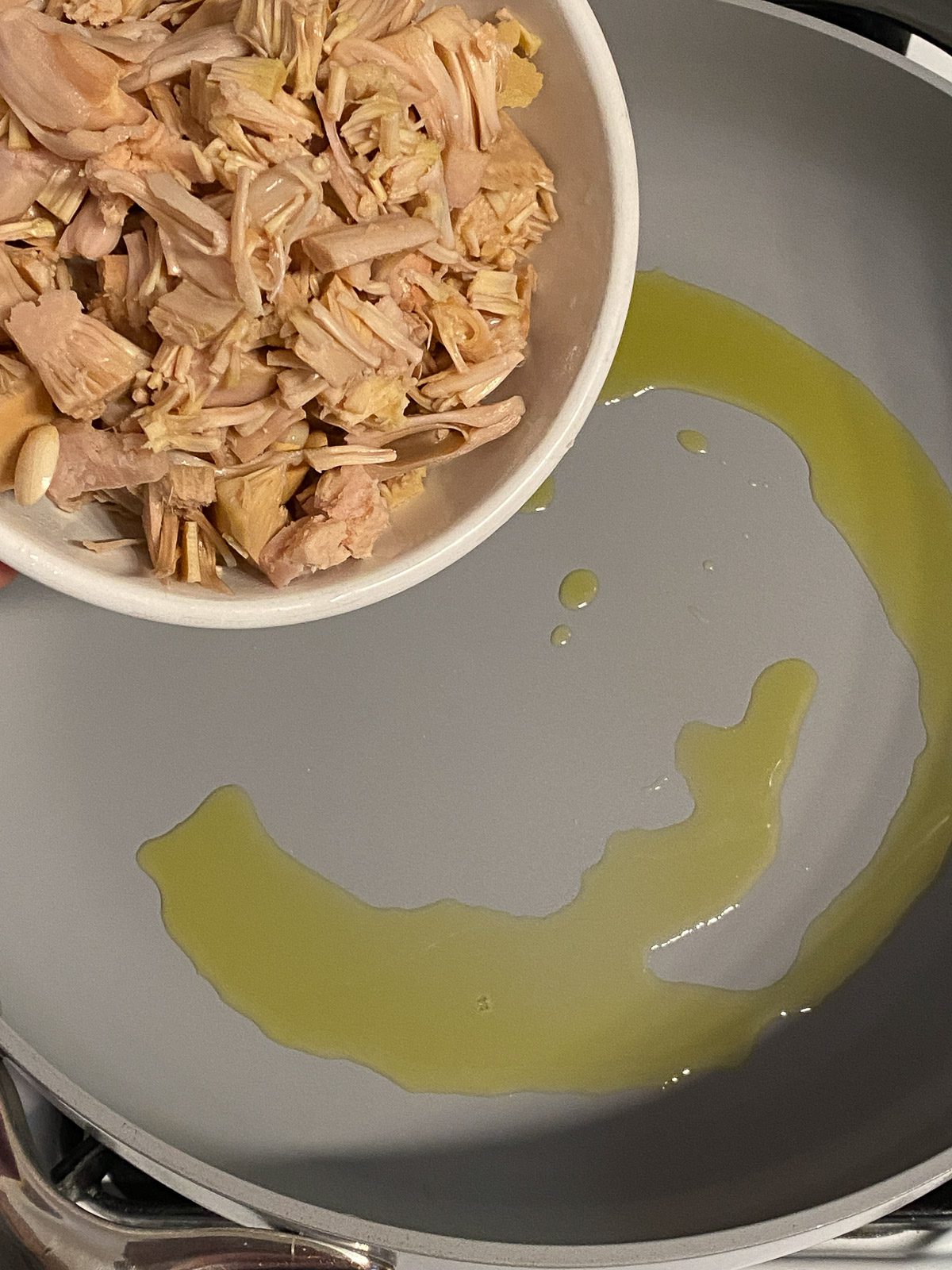 3) To assemble the tostadas, first slather on a layer of refried bean mixture (or use mashed black beans—at room temp or warmed first) onto each tostada shell, then add a scoop of the jackfruit, the lettuce, tomatoes, and (if you're using them) avocado and vegan cheese. Enjoy!
You can enjoy the tostadas alone, as a hearty appetizer, or serve them alongside a hearty bean salad, roasted corn on the cob, and/or Mexican rice.
How To Make Tostada Shells?
If you're unable to purchase pre-prepared tostada shells, you can prepare them at home in an oven or air fryer with a super simple process.
Oven-baked tostada shells: Preheat the oven to 400F/200C and brush the tortillas with oil. Then, spread a layer of the tortillas on a baking sheet and bake until they just start browning (3-5 minutes), flip them, and repeat.
Monitor them closely, as they will burn easily. Also, note that they will crisp up further as they cool, so it's okay if they're still slightly soft when removed from the oven.
Air Fryer Tostadas: Preheat the air fryer to 375F/190C, brush (or spray) the corn tortillas with a bit of oil and then add them to your air fryer basket. A minimal amount of overlapping is fine, but try to leave space between each one.
Cook for 4 minutes, flip and cook for a further 1-2 minutes until browned and crispy. Use tongs to remove them from the air fryer to avoid burns.
If your air fryer is moving the tortillas, use a trivet or other weight.
How To Eat Tostadas
Some like to dig right up with their teeth. Others prefer to pick off toppings with a fork and then eat the more 'manageable' remaining tostada shell by hand. The way you enjoy these jackfruit tostadas is entirely up to you; just don't take too big of a bite right from the get-go. Smaller bites around the edges are best when eating these veggie tostadas, slowly working your way to the middle.
I like to hold them with both hands, using my thumbs beneath (without pressing, just supporting) to help support the middle and avoid it breaking. Have a fork nearby, so you can scoop up any fallen toppings, which are inevitable is a good idea, too. Napkins on standby are also a good idea!
FAQs
Can I omit or substitute the jackfruit?
You could use crumbled/fried tofu instead of jackfruit or make vegan carnitas with soy protein. Alternatively, grilled vegetables like zucchini and peppers would also work well. These will also work by omitting it entirely and enjoying delicious vegetable tostadas with black beans/refried beans.
Are tostadas gluten-free?
Tostadas are traditionally prepared with corn tortillas that are naturally gluten-free. However, check the packaging of your tostada shells for potential cross-contamination issues. In terms of the toppings, all those mentioned for these jackfruit black bean tostadas are naturally gluten-free.
Can I use flour tortillas?
Technically, flour tortillas will work to make these air fryer/oven tostadas, but nowhere near as well. They are flimsier and won't crisp as well, so are more likely to make a mess.
Are tostadas healthy?
Using baked or air-fried tostada shells (over traditional fried ones) helps make these vegan tostadas healthier. In terms of toppings, these are already pretty healthy. Just watch the sodium content in your taco seasoning. Otherwise, these are fairly healthy tostadas.
Top Recipe Tips and Notes
If making tostada shells: You can season them with salt or add more flavor with garlic powder, chili powder, smoked paprika, taco seasoning, etc.
Dice the toppings finely: To enjoy everything in a single bite with less chance of making a mess.
Prepare a tostada station: If you have picky eaters, I'm a big fan of food stations. Place all the toppings in individual bowls or across a large platter, placing the tostada shells on everyone's plates to load up themselves.
Black bean tostadas: Either mash them lightly to spread across your black bean tostadas OR use guacamole as the base layer. Having something spreadable as the base will help glue the toppings to the tortilla.
Be gentle & don't overload the vegan tostadas: Otherwise, they are likely to break.
Make-Ahead and Storage Instructions
Make ahead: You can prepare the tostada shells in advance, storing them in a Ziploc/Stasher bag with a dry paper towel at room temperature for 2-3 days. If they soften again, pop them back in the oven for a few minutes.
You could also prepare the jackfruit carnitas several days in advance and store them in an airtight container in the fridge. Reheat it in a skillet or in the microwave.
Store: Once assembled, eat the vegan/vegetarian tostadas as soon as possible, before the toppings make the tortilla shell soggy. If you have any leftover individual toppings, store them in separate airtight containers in the fridge for a further day or two.
How To Use The Leftovers?
You can use them to prepare more vegan tostadas, tacos, make a Mexican bowl with rice, or add to salads.
More Vegan Appetizers and Sides
If you try this jackfruit and refried bean vegan tostadas recipe, I'd love to know what you think in the comments below. I'd also really appreciate a recipe card rating!
Photos by Alfonso Revilla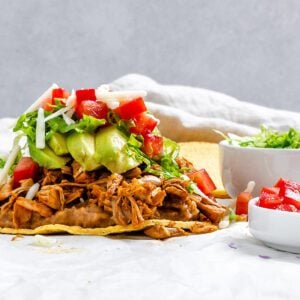 Vegan Tostadas [Jackfruit Carnitas Tostadas]
These healthy vegan tostadas are loaded with shredded jackfruit 'carnitas,' black beans or refried beans, salad veggies, and optional vegan cheese and avocado for a hearty, delicious appetizer or side in under 20 minutes. Gluten-free, dairy-free, vegan!
Equipment
measuring spoons

measuring cups

large pan

knife set
Ingredients
15

ounces

of canned jackfruit

drained

½

tablespoon

of oil

½

tablespoon

of taco seasoning

6

tostada shells

1

(15-ounce) can of vegan refried beans

½

cup

of shredded lettuce

2

roma tomatoes

diced

Handful of vegan cheese

optional

1

avocado

sliced, optional
Instructions
Using your fingers, shred the jackfruit and remove any tough pieces.

In a large pan over medium-high heat, heat the oil. Once heated, add the jackfruit and cook for 8 to 10 minutes, adding the taco seasoning halfway through.

Slather on a layer of refried beans on each tostada shell, scoop on jackfruit, and top with lettuce, tomatoes, vegan cheese (if using), and avocado.
Notes
If making tostada shells: You can season them with salt or add more flavor with garlic powder, chili powder, smoked paprika, taco seasoning, etc.
Dice the toppings finely: To enjoy everything in a single bite with less chance of making a mess.
Nutrition
Calories:
270
kcal
Carbohydrates:
40
g
Protein:
5
g
Fat:
11
g
Saturated Fat:
2
g
Polyunsaturated Fat:
2
g
Monounsaturated Fat:
5
g
Trans Fat:
0.03
g
Sodium:
578
mg
Potassium:
327
mg
Fiber:
7
g
Sugar:
3
g
Vitamin A:
331
IU
Vitamin C:
7
mg
Calcium:
77
mg
Iron:
1
mg
Disclaimer: Although foodsharingvegan.com attempts to provide accurate nutritional information, kindly note that these are only estimates. Nutritional information may be affected based on the product type, the brand that was purchased, and in other unforeseeable ways. Foodsharingvegan.com will not be held liable for any loss or damage resulting for your reliance on nutritional information. If you need to follow a specific caloric regimen, please consult your doctor first.